The Oldies Club is a heartwarming British charity dedicated to providing foster homes and a second chance at happiness for senior dogs. With their mission to ensure help is available and no older dog is left behind, the Oldies Club works tirelessly to find loving foster homes for every deserving canine under their care. The charity covers all veterinary bills and provides transport to a foster home, ensuring a seamless transition for the new foster family and their senior dog.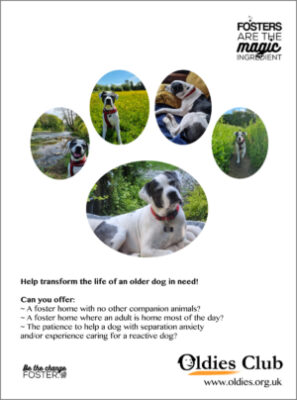 Oldies Club is a small, national charity that has been running for over eighteen years. They specialise in rescuing and finding foster homes for older dogs aged 7- years and above who have sadly found themselves homeless. These loveable old seniors are assessed during their stay in a foster home.
When a dog completes its assessment, they are ready for adoption. The Oldies Club showcases every sweet-natured dog with a captivating profile filled with natural images, temperament, preferences and special needs, if applicable.
This video was created to show that not all rescue dogs are 'broken' but have genuine reasons for wanting a new loving home. It is pretty heartbreaking.
Watch the Video: Why do dogs comes into the Oldies Club care?
Oldies Club aims to connect these deserving senior dogs with loveable foster or adopted parents across the UK so each one can experience the love, care and future it deserves. Occasionally, after veterinary intervention, a dog may need palliative care for the rest of its days too – the Oldies Club believes every dog deserves love until the end of its days.
If unable to foster or adopt an Oldies Club dog, there are so other many you can help:
Donating £2 to the Spring Appeal will contribute to veterinary care
Set up a Standing Order Sunday
Transporting a dog to its foster home, or part of the journey
Home visiting potential foster and adopted homes (experience required)
Fundraising with coffee morning, cakes, doggy walks, craft stalls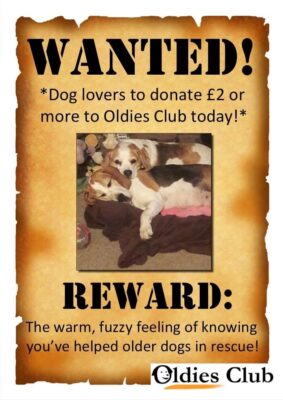 Table of Contents:
Become a foster parent for a senior Oldies Club dog
"YOU can make a huge difference to an older dogs' life." 

Olive – Oldies Club
As well as funds, they desperately need fosterers across the UK to open their doors and welcome an oldie into their home. The charity welcomes all applicants, including child- and pet-free households. Fostering an elderly dog allows the Oldies Club to give refuge to another needy senior dog.
After registering your interest to become a foster parent, a volunteer from the Oldies Club will suggest a particular foster dog and give information to decide on suitability. You have the overall choice to agree to foster or decline any dog presented to you.
The Oldies Club appreciates how heartbreaking it is to foster a dog which is later adopted and goes to a new home. So remember, as a foster family, you supported a senior dog in desperate need with love, a home, food and warmth. Witnessing an oldie grow into a confident and happy pooch is so rewarding and giving another elderly dog in need the same opportunity increases that sense of achievement.
You get to meet your foster dog's forever family too.
Assessment in a foster home:
Both Max and Daisy arrived in the care of the Oldies Club in May 2023 and are in a foster home where each dog will be assessed throughout the next few weeks. When either is ready to find a forever home, a profile will appear on the Oldies Club website and be announced on Facebook.
Get in touch if you would love to learn more about fostering an elderly dog by emailing fosterrecruit@oldies.org.uk.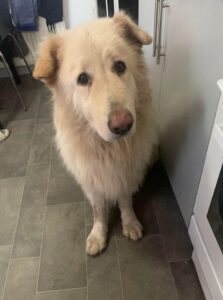 Max:
He is an 8-year-old German Shepherd in a foster home in Lancashire.
Daisy:
She is 14-years-old and in a foster home in Essex.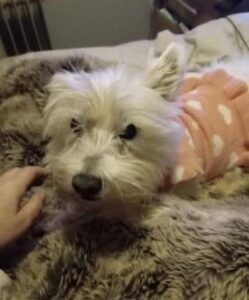 Failed fosterer:
Some dogs meet their soul mate in a foster home, and a foster parent cannot bear to part with a senior, so that dog gets adopted. The good news is always posted on Facebook; you'll find lots of 'Failed Foster' posts!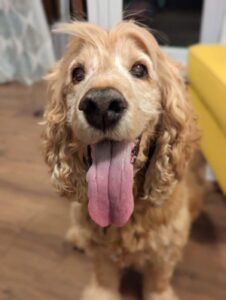 Bailey:
Bailey, a Cocker Spaniel, was 13 when he arrived in the care of the Oldies Club in January 2023.
His foster home is in Cheshire, but little did anyone know, Bailey met his soul mate family and was officially adopted, and his foster parents gained their very own 'failed foster badge'!
Sponsor a Dog on palliative care
"If you decide to sponsor one of our oldies, you will receive a sponsor pack containing a certificate, a personalised letter from your sponsor dog pal (which includes several photos of the dog) and our sponsor dog car sticker."

Oldies Club
Occasionally, a courageous elderly dog comes along who remains under the Oldies Club foster home scheme because following veterinary tests and assessments it has revealed a long-term illness with ongoing medication, tests and consultations, or palliative care or little behaviour issues. Each dog requiring special care and attention is given the best possible care the charity can offer but funds are needed to support each sponsor dogs. Join the Oldies Club sponsor scheme and make a positive difference in the lives of dogs and their health needs.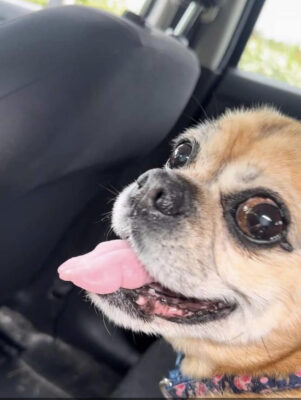 "Saffy will shortly join our gaggle of sponsor dogs."

Oldies Club
Saffy became a Sponsor Dog in May 2023. A Just Giving page was set up for donations towards initial veterinary costs. She did brilliantly after her operation but her vet discovered more lumps in an inoperable area. So sweet Saffy will remain under the Oldies Club with palliative care instead of adoption.
Why not watch Mary's heartwarming video and see images of the Oldies Club sponsor dogs:
To Sponsor a Dog, please email sponsor@oldies.org.uk. Their suggested minimum yearly donation is £15, but the Oldies Club will always be very grateful if you have extra pennies. Paypal, bank transfer or cheque made out to Oldies Club by post is accepted.
The Treasurer, The Oldies Club, 49A Kinross Close, Cinnamon Brow, Warrington, Cheshire WA2 0UT
Join the Oldies Club Transport Volunteers
"Next time you see a car pull up in a motorway service station and see a dog exchange hands you may well be witnessing the saving of a life; you'd be surprised quite how regular an occurrence it can be."
Oldies Club
Senior dogs may be miles away from a loving foster home and that's where Transport Volunteers come in. Coordinators organise transport volunteers, sometimes more than one, to save the same dog and help it to a home offering a new start.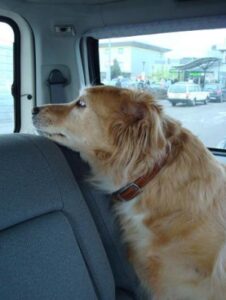 The story of Tuppence is heartbreaking but one with a happy ending. He was 13 when his owner surrendered him to a vet for euthanasia because being unable to care for him anymore, but luckily, an Oldies Club volunteer was at the practice and saved his life. Tuppence now lives in Norfolk after a six-link chain of transport drivers from Cardiff to reach his final destination. Each volunteer contributed to saving the life of Tuppence.
"Wherever you live, whatever distances you would be prepared to drive, there may come a time when we need you to assist a dog in a dire situation. Please think about offering your details to our transporters database, we may never call you but you may provide a vital link in a life saving chain for some dog, somewhere, sometime."

Oldies Club
However, if the transport is required at short notice, the Oldies Club sometimes has to use transport professionals which costs. By June 2023, £125 has been raised with another £875 if you can spare a few pounds.
If you'd like to help with a transportation request and can safely and securely transport an animal in your vehicle, please get in touch with the Oldies Club. Becoming part of the network allows you to join Oldies Club Transport Volunteer group on Facebook.
Join the Transport Volunteer database:
1: Complete a questionnaire or email oldies@oldies.org.uk
2: Include where you live
3: Be honest about the radius you are willing to travel
4: Give contact details
5: Consider joining The Oldies Club Transport Volunteer Group
Procedures for adopting a senior dog with the Oldies Club
"We offer lifetime backup for our dogs and they must not be rehomed to a third party without our written permission."

Oldies Club
Every adopted dog has a lifetime backup with the Oldies Club. If you cannot continue caring for your senior dog, the Oldies Club will step in with refuge. Never be afraid to tell the charity – life can change for anyone suddenly.
Pet insurance is excluded from the adoption package, and the Oldies Club strongly advises taking out a policy. Fluffy Pet Insurance gives a breakdown of its policies without the legal and technical jargon and the expectations of your budget and insuring an older pet without or with health issues.
A veterinary professional thoroughly checks all dogs under Oldies Club care. Each dog is neutered unless advised by a vet under medical grounds, vaccinated, microchipped, and any necessary veterinary treatment completed (for example – dental work).
Search for your Oldies Club soul mate: Dogs Needing Homes in Oldies Club Care.
Libby – loves cuddles & is clean in the house:
"Libby is a confident and alert little lady who is a great companion and has been a pleasure to foster."
She is 10 to 11 years old and a Jack Russell Terrier whose owner died. Oldies Club funded the removal of her right eye under medical advice, and she is blind in her left eye. The disability does not affect fun in her life, but like all blind animals, she will need time to suss the layout in a new home and garden.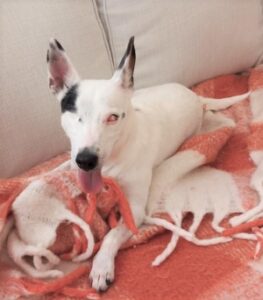 The Oldies Club have steps to follow when applying for and adopting their dogs:
The adoption charge is £150 (June 2023)
1: Email rehome@oldies.org.uk or telephone 0844 586 8656. Leave a brief message with your contact details if it goes to voicemail. A volunteer will return your call
2: A volunteer will send you an Adoption Form after you give standard information. Fill out the form giving details about your home and household. The form can be posted to the return address or emailed back to Oldies Club
3: Volunteers will review the form and contact you to book a Home Visit if they feel a dog is a match
4: Following a successful home visit, you will be invited to meet the dog at the foster carer's home. The visit must include all household members and your own dog to ensure everyone bonds. This is your opportunity to ask questions too and enjoy lots of time meeting your potential adopted dog.
If everyone, including the Oldies Club senior, is happy, your can take your new family member home.
5: You will be asked to sign the Adoption Contract
The Oldies Club have conditions if you are unable to take care of your dog:
Lifetime backup – you must return the senior to the Oldies Club only
Rehoming elsewhere – a dog cannot be rehomed to a third-party without the permission of the Oldies Club
Adoption procedures in full, Information for Adopters and keep in touch by joining The Refuge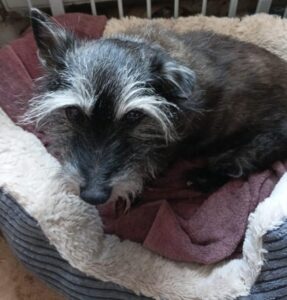 Scamp – happy to be left at home for a few hours:
"Scampy is a quiet plodder who is bright and happy."
Scamp is a 15-year-old Cairn Terrier X who arrived under Oldies Care because his owner died. He has just completed his assessment in Chard, Somerset.
Scamp is happy in a home with other dogs aged 10+ of similar size, dog-savvy cats and older visiting children.
Profiles by other charities:
When visiting the Oldies Club website, you will notice profiles uploaded by other animal charities. These are not Oldies Club dogs; you must contact individual charities directly.
Related articles:
Oldies Club home visits: adoption, foster or volunteer
"The main purpose of the visit is to make sure that the dog is going to be placed in a suitable home that will provide a stress-free and comfortable environment with people who will care for him properly. We aren't just looking at the size of the house and the height of the fences, we're looking at the whole family and the environment that the rescue will entrust the care of the dog to.

Oldies Club
Oldies Club requirements for foster and adoption homes nationally:
Physical environment: the size of the home, garden, fencing adequate height, escape routes
Family member & other pets: Although the Oldies Club typically ask for pet-free and child-free foster homes, they now consider ALL homes. All family members and pets should be present so the home visit volunteer can see who their oldie will live with
The Oldies Club would love to see a lived-in home and never expect perfection. Doggy happiness and the perfect family match are what the charity wants for its senior dogs. If it is your first time fostering or adopting a dog, don't worry, a volunteer will chat about feeding plans, training, health issues and vaccinations. And always, the Oldies Club offer continued support for you and your senior dog and invites you to contact them if any problems. Always be prepared with a list of questions and any concerns during the home visit – a volunteer would prefer you to ask!
Read more about the Oldies Club policy for home visits
Again, there is lifetime backup for an adopted Oldies Club dog. The video shows that many dogs arrive under the charity's care for different reasons. If you need to rehome your Oldies Club adopted dog, or as a foster parent, contact the charity ASAP and under their lifetime backup package, will step in and help.
An example is Max – he loves peace, and quiet, and is a "loyal old bear who loves being talked to and likes to mumble back to you."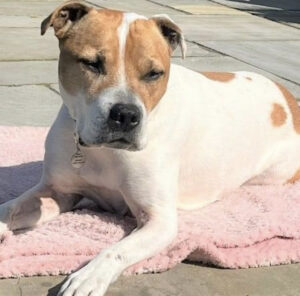 Experienced home visit volunteers wanted:
Do you have experience? The Oldies Club would love to hear from you if you can help in your area.
Email: home-check@oldies.org.uk
Oldies Club are facing a financial impact
"We recently (2023) launched the Spring Appeal – please help us continue rescuing/rehoming older dogs."

Oldies Club
Elderly dogs make fantastic companions and it is vital to increase the facility of foster homes as the Oldies Club has a never-ending list of dogs requiring help medically or a home. If unable to volunteer in some capacity, the Spring Appeal is asking for donations – as little as £2 would help. Oldies Club Treasurer has paid out £16,000 to cover the first three weeks of May 2023, helping dogs in need, and more often than not, continued medical treatment is required, especially if a dog is in palliative care.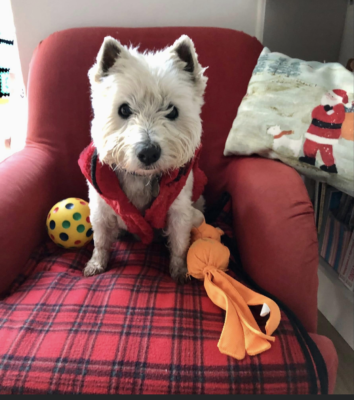 Volunteers work very hard to ensure finances are available to provide for each dog in the Oldies Club care. Often, senior dogs arrive in need of extensive veterinary examinations, treatment, and medication before adoption. Worryingly, if the charity does not have sufficient funds, it can't help more elderly dogs in need.  Like all charities today, the Oldies Club is now desperately short of funds.
Because of an ever-increasing figure, month by month, the Oldies Club decided to launch the Spring Appeal and Standing Order Sunday.  Or donate by cheque made out to Oldies Club and post to The Treasurer, The Oldies Club, 49A Kinross Close, Cinnamon Brow, Warrington, Cheshire WA2 0UT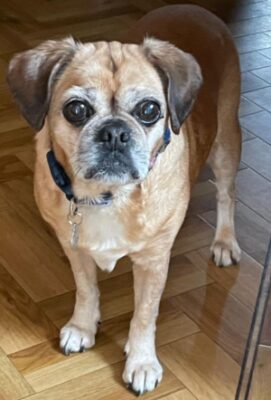 Saffy – recovering from an op:
Helping dogs like Saffy can mean huge veterinary bills. Saffy required extensive dental treatment and mammary mass surgery, totalling £966.77.
Thanks to supporters, a staggering £773 has been donated so far, with just £193 before clearing an outstanding bill.
Visit Saffy's Just Giving Fund. Don't forget, she is now a Sponsor Dog on palliative care.
Organise a mini fundraiser
The Oldies Club is excited to share fabulous opportunities for how you help elderly dogs by organising fundraising events with money raised for the charity's essential veterinary bills.
1 – Maxine, an Oldies Club supporter, raised a staggering £86 for the charity!
2 – Do you sell beautiful goods? Why not donate a percentage of sales? Visit the Online Shopping page
3 – Donate used stamps and ink cartridges – the Oldies Club receives a donation in exchange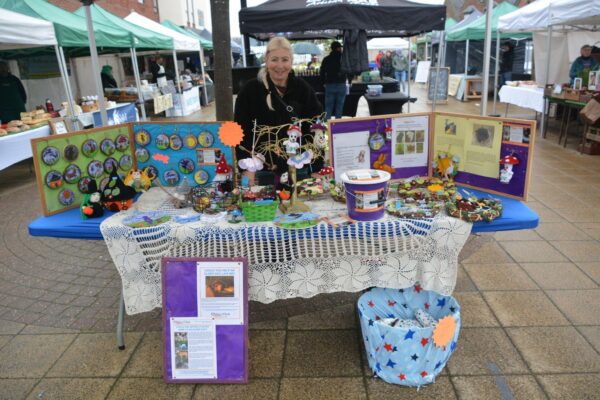 4 – Follow the charity's Online Auction page and bid for any donated products. You could reach out to your local businesses, artists, unique experiences or pet-related products and ask if any would like to contribute
Poppy's Pets ideas for fundraising:
5 – Speak to your local animal-friendly pub and organise an Oldies Club Charity Quiz Night. Either charge an entry fee or a donation per team
6 – Organise a Doggy Walk along the prom and back, a beach walk, around your local park, around a lake, or following a woodland path. Charge a small participant fee per dog. To bring awareness before and during, get your local paper interested, share on Facebook and tell fellow dog walkers when out with your walking your dog. Remember, keep your dog safe by walking early morning or evening
7 – Now the gorgeous weather is here, have a Coffee and Cake morning in your garden with all proceeds going to the Oldies Club. Alternatively, bring a picnic blanket and head to the nearest park – ask people to bring a cuppa, and you bake the cakes and people donate for a slice. Don't forget water, a cooling mat and a sunshade for your pooch in warmer weather
The Oldies Club website has lots of information about how to get involved.
Key takeaways
Elderly dogs are used to domestic home life
All vet bills paid for foster dogs
Transport volunteers will bring your foster dog to your home
Optional choice to adopt your foster dog
The adoption charge is only £150
By donating just £2 can contribute towards vet bills and help bring another dog under the Oldies Club care
Poppys Pets is a participant in affiliate programs which compensates us for referring traffic. A selection of articles on this website contains affiliate links. Further information: Disclaimer and Privacy Policy
Poppy's Pets has a column in an East Yorkshire newspaper.