Breed Specific Legislation is part of the Dangerous Dogs Act 1991. This means dogs can be seized purely for their appearance rather than adverse behaviour. There are four banned breeds in the UK, although ironically, most dogs Saved Our Siezed Dogs deal with are crossbreeds.
The Breed Specific Legislation (BSL) bans ownership of the following dogs in the UK because traditionally, they are bred for fighting:
Pit Bull Terrier "type"
Japanese Tosa
Dogo Argentino
Fila Braziliero
A Pit Bull is a "type" dog, not a breed recognised in the UK. If crossed with another breed, appearance continues to be a factor.
Website Author: Jayne from Save Our Siezed Dogs with additional information by Poppy's Pets
Newspaper Author: Written by Jayne
The reasons why a Pit Bull is seized need to be changed
Any dog that the authorities believe has the proportional measurements and appearance of the American Pit Bull Terrier is seized; they are held in secret locations, usually without any human contact in kennels, and are held until a court date can be arranged, which can be many months, sometimes years. This legislation carries a reverse burden of proof, meaning you are guilty unless you can prove otherwise, which is difficult when neither breed papers nor DNA is accepted.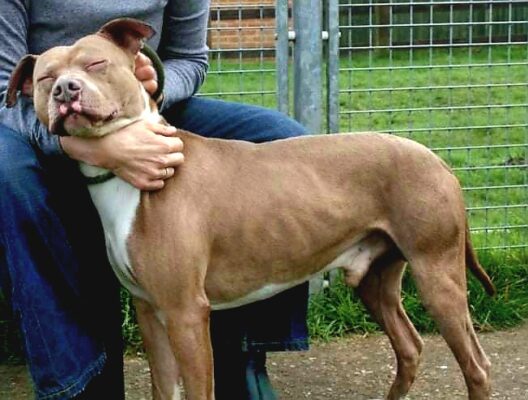 The "typing" of these dogs is vague and subjective. There aren't any definitive measurements, weight, height etc. Saved Our Siezed Dogs had several cases where a litter of pups was seized, and some were classed as Pit Bull "type" whilst the rest weren't classed as banned breeds and could live without restriction.
Did you know?
If it is believed you own a banned breed, the dog can be removed from your care by Police or a Dog Warden even if it hasn't acted dangerously or if there hasn't been a complaint about it.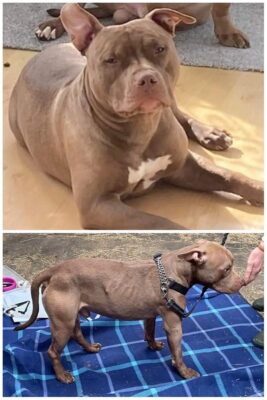 Top image: Bear at home with his family
Bottom Image: Bear in custody with Gwent Police
The dogs dealt with are family pets, and 82% of seized dogs haven't harmed anyone. They are not status dogs, and their owners had no idea that the little mixed breed puppy they homed would grow to resemble a banned breed.
They are distraught when the Police arrive, often with riot shields, to take away their dog, who has never even growled at anyone. Owning this dog means they must face a court process and may receive a criminal record if found guilty.
If the owners are unsuccessful at court, and the dog cannot be rehomed, it will be put to sleep.
Warning: You cannot be forced to give up your dog. If you do, you relinquish control and your dog can be euthanised without going to court. Never sign any Police paperwork; you cannot be forced.
Watch the Video: Why a breed-focused approach is flawed for BSL – RSPCA's fight to end BSL—supported by Battersea Dog & Cat Home, Dog's Trust, British Veterinary Association, The Kennel Club and Blue Cross.
Owning an exempt dog has negative repercussions in life
"Pet owners and official organisations, including the RSPCA,  say that it focuses too much on the breed, instead of the temperament of a dog. The Act also ignores the fact that irresponsible owners play a large part in dogs developing an aggressive nature."

Amy Smith on Go Compare
If the courts agree the dog is not a banned "type" or a danger to the public, the owner can keep the dog and is given a Certificate of Exemption.
However, there are rules an owner must obey.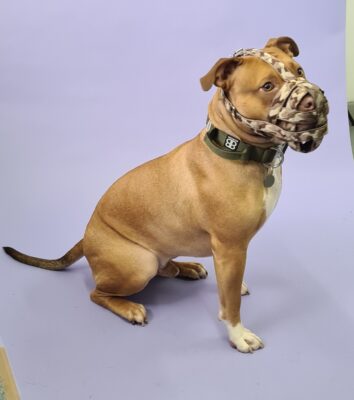 1: A dog must be muzzled and on a lead everywhere in public, including inside a vehicle. (A dog wearing a muzzle projects a negative image, and the effect on the public is giving the dog and owner a wide berth)
2: A dog must be neutered or spayed
3: A dog must be microchipped. Pet Database is Government-approved and does not charge to update contact and address details, whereas other databases charge high fees either monthly or as a one-off
4: A dog must live in a secure place and be unable to escape
5: Show the Certificate of Exemption to a Police officer or Dog Warden within the period given
6: Tell the Index of Exempted Dogs if there's a change of address or your dog passes away
7: The owner must be over the age of 16
8: You must take out insurance for your dog against injuring other people. Saved Our Siezed Dogs say Dog's Trust offers insurance for exempt dogs.
Be prepared that a housing provider or landlord may refuse an exempt dog back into their home.
Another issue is being unable to buy health insurance for their dog. It's worth noting that with the insurance (any dog), you get Vetfone, unlimited access to veterinary health advice. I will find a link for owners to apply.
Rescue centres cannot protect Pit Bulls in their care
Police routinely visit rescue centres looking for potentially banned breeds, and if a dog is found to be a Pit Bull "type" and does not have an owner, it is euthanised. Dogs in family homes may be seized from inside the house with a warrant or from any outdoor area, including the garden, without a warrant.
Related articles:
Pit Bull vs other breeds displaying intimidating or aggressive behaviour
Left image: Bear at home with his family
Right image: Bear in Police custody
This legislation does nothing to keep the public safe. It costs millions of pounds annually to enforce, whilst Police and court time are tied up seizing these dogs. Other dogs of any breed who show intimidating or aggressive behaviours are left alone because the authorities don't have the resources left to deal with them.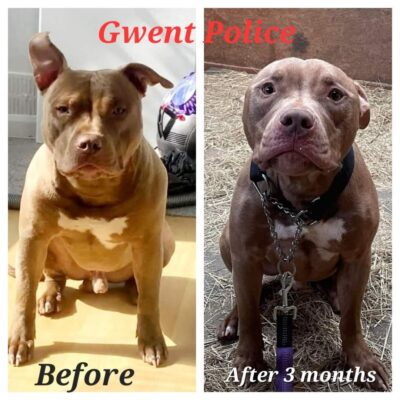 The Role of Saved Our Siezed Dogs
Save Our Siezed Dogs is a non-profit organisation. Its role is to work with the owners, solicitors, independent assessors, and Police to ensure these dogs are returned to their families. We undertake endless fundraising because owners face massive bills in the fight to get justice for their beloved dogs and get them home. All monies raised go towards legal fees and other costs, as legal aid isn't always granted. The small team are volunteers who give their time freely.
Whilst Saved Our Siezed Dogs can direct you to legal help – they use Four Legs Part – part of Cohen Cramer Solicitors. Before contacting any solicitor, check their authenticity – at the bottom of a web page is an SRA (Solicitor Regulation Authority) reference number. Next, search for the company on The Law Society website.
Can you support Save Our Siezed Dogs with a small donation?
Are you a pet owner affected by the Breed Specific Legislation because your dog has been wrongly seized because of its looks? Contact Saved Our Siezed Dogs on Facebook or by emailing pbsltsuk@gmail.com
Win a dog-friendly holiday in mid-Wales – CLOSED
All proceeds to Save Our Siezed Dogs helps owners and seized dogs in need.
Details about the competition:
Poppy's Pets has included information about the holiday to help Save Our Siezed Dogs
If you have any questions, please get in touch with Save Our Siezed Dogs by emailing pbsltsuk@gmail.com or via Facebook Messenger
The holiday and venue have been made available by the owner of an exempt dog as fundraising – who understands the life limitations for families and their breed
Read more about the competition and entry conditions at Save Our Siezed Dogs
Visit Dogs Love Holidays to see more about the accommodation, and terms and conditions
The holiday is for one week commencing 18th May 2024 in Mid Wales
Entry £5 – enter as many times as you wish
The accommodation is a converted barn with a lake and secure ground for your dog
Available for up to 4 people and 4 dogs
Any breed is welcome including exempt breeds, reactive, nervous and frightened dogs
The accommodation owner is a behaviourist and dog trainer and is available for optional consultations
The closing date is 28th May 2023
Poppys Pets is a participant in affiliate programs which compensates us for referring traffic. A selection of articles on this website contains affiliate links. Further information: Disclaimer and Privacy Policy
Poppy's Pets has a column in the Withernsea District and Community News