A camping trip with your dog can be an exciting adventure for you and the family, or a solo wild or car camping experience. However, packing all necessary accessories and essentials is vital to ensure your dog's health, safety and comfort during your long-awaited holiday.
Are you planning to take your furry friend on a camping trip? Make a list to ensure you do not forget items needed for your dog. We had two winter holidays with our elderly 60kg rescue dog Teddy and it got me thinking about of seasonal trips and all the things you need but probably forget. On the way to North Yorkshire for our second holiday, we realised we had forgotten his lead and had to buy a retractable lead designed for a 30kg maximum dog, which could have snapped. During our staycation, I noted items to consider before the trip and stuff to pack. These ranged from safety to simple items and here we explore them.
Table of contents:
1 – Travelling in a car: safety precautions
If camping, all your gear will be in the boot, so a dog crate or oversized kennel carrier is out of the question. The other alternative is a dog seat belt or booster seat, depending on the size of your dog.
Anita of Pitchup Outdoors budget camping tested canine seat belts for her young Border Collie.
Things to consider:
Does your puppy or dog chew
Fittings to securely connect to the harness
The strength of the section that fits into the seal belt holder
The durability of the seat belt
Watch the Video: Buying Leads, Harnesses, Collar – Which is the best for your dog?
Anita shows you the first car safety seat belt in nylon and a 2-pack for under £10 (May 2023) from Just Pet Zone. It has a solid alloy swivel snap to clip to the harness and has an adjustable buckle.
The second car seat belt Anita demonstrates is the Kurgo Direct Seat Belt to Tether with its steel carabiner clip and steel seat belt buckle making it more durable and, for me, the better option.
A dog must wear a harness in a moving vehicle, and a seat belt is attached to it in the event of a road accident. If a lead is attached to the collar and you are involved in a collision, your dog may be forced forward and could break its neck.
When you buy a car seat belt, check whether it fits your vehicle model. The Kurgo is unsuitable for Ford trucks and Volvo cars.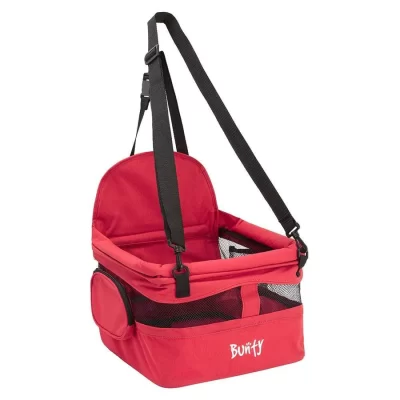 Depending on the size of your dog, a car booster seat might be an option in conjunction with a car seat belt. Bunty Pet Products sells one with a size measurement of 35 x 35 x 26 cm, and Kurgo sells a slightly larger one. Although it costs more, it looks more robust and more durable to strain. Both include an adjustable strap that fits over the headrest and a car seat belt to attach to a harness.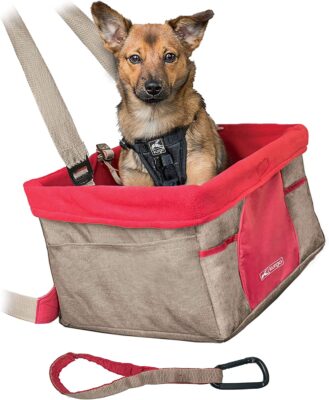 2 – Accidents & emergencies: be prepared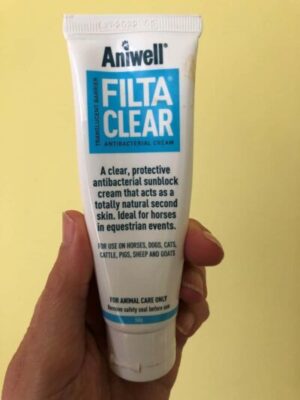 Dogs on holiday in new locations with new forms of enrichment can get over-excitable, and accidents or environmental factors you might not think of can happen.
Pet-safe sunscreen:
When my cat Tabitha overgroomed last Summer, I purchased Aniwell sunblock from Animeddirect and applied the white cream to bare skin. It is an anti-bacterial cream and suitable sunscreen for cats, horses, dogs, goats, sheep, cattle, and pigs. Apply on your dog's ears, nose, belly and groin. Dogs with little fur, white coats, and light-pigmented noses or eyelids are more in danger of sunburn and the longer a dog is exposed to the sun, the more chances of it.
Always re-apply Aniwell after swimming.
Never use human sunscreen on your pet, as it will be toxic
Pet first aid kit: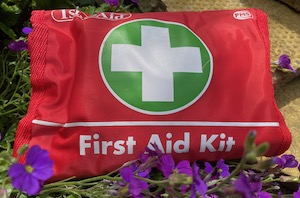 Prices vary between Trixie, Reliance Medical and Kurgo for a pre-packed first aid kit. I prefer Reliance Medical because it includes a foil blanket used to prevent shock and hypothermia but you can buy it separately.
Alternatively, you can make your own kit. Some items you'll find in Wilko. Let's see what you need for the kit.
How to make a basic canine first aid kit:
Tupperware box or waterproof wash bag for the smaller items
Blunt ended scissors
Tweezers
Surgical sticky tape
A roll of crepe
Absorbent gauze
Non-absorbent dressings
Cotton wools balls or sheets
Digital thermometer
Inflatable recovery collar to prevent them from licking a wound
Towel proportioned to your dog's size
Cold pack to reduce swelling
Hot pack for arthritis
Medical gloves
Current veterinary telephone number
Local veterinary numbers
Local and over-the-border dog warden
Muzzle
Foil or thermal blanket for shock and hypothermia
Never use medication manufactured for humans
Have you considered how you will carry your injured dog? Naturally it depends on its size but please read number 3 at WikiHow which explains.
In another article, we shall explore possible accidents and emergencies when taking your dog on holiday.
Paw pad soothing balm:
In my article Dog-Friendly Planning: dangers that can affect health and safety, we cover temperatures and surfaces that can severely burn your dog's paw pads during mild or hot climates between 8 am to 8 pm. When holidaying, we are more likely to be active during the day rather than at nighttime. But it comes at a price for a dog, mainly if you haven't applied the 7-second rule.
Protect your pet from the sun with a shelter:
If you are a regular camper, you will already have an awning. Otherwise, try Go Outdoors, or from Amazon, consider the Yiran and its camping awning for around £16.99. It has multi-use, meaning it's for pets or you on camping trips, picnics and the beach. The awning packs down into a small bag, so highly compact.
Key features:
Waterproof fabric
Anti UV
Weight 610g
2.5m length x 1.4m width
Available in various bright colours
Suitable for family camping, wild camping, and fishing too
Important: The Yiran is the awning only and excludes the poles and rope.
OUGE have a portable folding tent suitable for small dogs and cats. For the giant dog, a beach tent comes in numerous sizes and styles and maybe a better option than your original camping awning.
Key features:
Foldable
Portable and comes with a carry bag
Space saving when travelling
Weight 280g
Height 53cm x 69cm length
3 – Food and water for your dog: Keep it compact & travel-friendly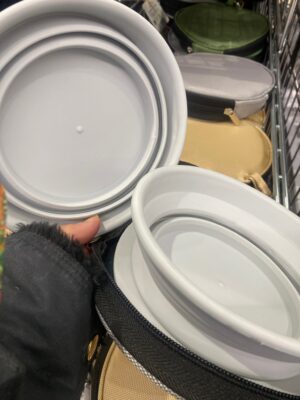 You can buy spill-proof bowls for your dog to use whilst travelling, but with a car packed with camping gear, the better option is to pull over, let your dog have a walk, toilet time, and refreshments.
I love these collapsible silicone zip-up bowls at Aldi (May 2023). They are lightweight and compact to stash in a backpack, ideal for car journeys. Teddy is a giant, but his silicone water bowl isn't huge – we top it up with water from a small one-man squash bottle.
Alternatively, you might prefer an all-in-one. Trixie Friends on Tour travel stainless steel bottle has a leak-proof screw cap which seconds as the drinking vessel and a metal carabiner that can easily clip to a backpack. It's ideal if travelling long journeys with a feline too, and it can be purchased online.
Key features:
The plastic screw-on lid is the drinking bowl
The bottle is stainless steel
Trixie promises it is leakproof
Cap has a metal carabiner to attach to your rucksack or belt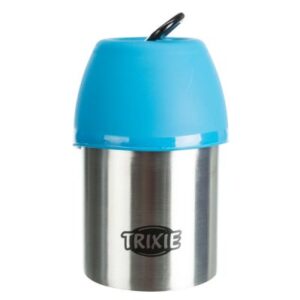 | Bottle size | Empty weight | Height | Diameter |
| --- | --- | --- | --- |
| 300ml | 117g | 12.4cm | 8.5cm |
| 750ml | 225g | 25.3cm | 8.5cm |
Data and product from Zooplus
Another option is a silicone water bowl from Poundstretcher. Last year a small size was priced at around £1.99. Watch the Video: Cheap on-the-go water bowl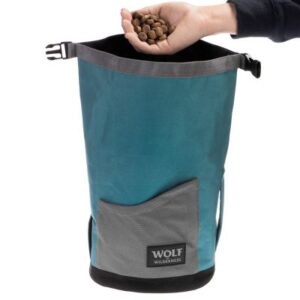 Yes, it is more cost-effective to pack a box or bag of dry food from home but Wolf of Wilderness has a hardwearing and fashionable dry food bag which can be sealed to keep dry biscuits fresh. It is ideal for cats, too, especially if staying at a cattery. Read more about it at Zooplus.
Key features:
Magnetic flap closure
External side pockets for utensils
Holds 10-litres
Keeps biscuits fresh and is moisture-free
4 – Toys, treats & bedding: familiarity is the key for your dog
Always pack something your dog is familiar with, as its scent will be on the item and offer comfort. A night blanket and/or its bed is recommended too. And treats can be used as a reward.
Related articles:
5 – The great outdoors: essentials for a fun day out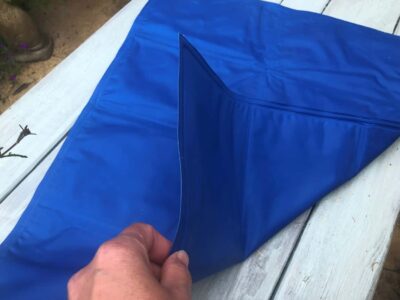 Cooling mats:
Various cooling mats are available that promise to regulate your pet's body temperature. I recommend getting your pet used to it before any trips as Molly avoided the mat, but probably because she had arthritis and it didn't offer support and comfort.
A foldable cooling mat is vital if stopping for pub lunches or resting on seats on concrete or tarmac ground because if outdoor temperatures reach, for example, 25C / 77F, asphalt and tarmac can heat up to 52c to 62C / 125F to 143F. You then have heatstroke concerns, which can be fatal in 15 minutes.
One point to remember, do not lay the mat in direct sunlight.
Of course, if you have a giant dog, a cooling mat is too big and bulky to carry, so now you must consider ground and day temperatures and the impact on your dog. Remeber the 7- second rule.
Watch the Video: How to apply the 7-second rule with Teddy the rescue dog
Cooling mats are filled with gel or water-based and cool an animal when pressure is applied to the mat. This, in turn, creates a cooling system from it. Cooling mats are ideal during vehicle journeys, rest time at the campsite or holiday cottage, or day trips because they can help prevent your dog from overheating. Even so, it is essential not to rely solely on these mats and use your discretion and observation for your pet's health and safety.
When choosing a cooling mat, there are considerations:
Elderly pets with joint issues will find a thin cooling mat too much for their joints, but it can be adapted and laid on its bed at a campsite or during travel
Size is important – a dog must be able to stretch out. However, it is pointless buying a large cooling mat for a small dog because as it reacts to pressure, the unused area will be inactive
Ensure it fits where you plan to use it: crate, car seat, car booster seat, bed
Is it washable? Dogs have a habit of walking through mud and puddles too
How long can it be used for? On average, you can use between 3 to 7 hours
Does it need to be refrigerated to use? Leave in a cool place until use, which can be difficult when camping. Alternatively, you can put it into a fridge, but portable camping fridges can be small or full of food. If using it at home, never place it in a freezer because the cold may put your dog off using it.
There are plenty of plain or fancy mats. The better the quality, the more you will pay. Here is an assortment of brands available online – I love this pretty Soft Cooling Mat from Zooplus, this modern cooling mat by Pep La Costume on Etsy, or a plain one from Monster Pet Supplies Danish Design Cooling Mat.
Cooling jackets & paddling pools:
A cooling jacket is another way to keep your dog cool, and I like this simple bright yellow microfibre coat handmade by Sunny Soak. To activate, soak in cold but not freezing water and wring out. As the sun dries out, it can be re-soaked in water in public conveniences or outdoor taps by public buildings. Again, ensure you wring it out; otherwise, your dog will be dripping everywhere, and the weight of it may be too heavy with water.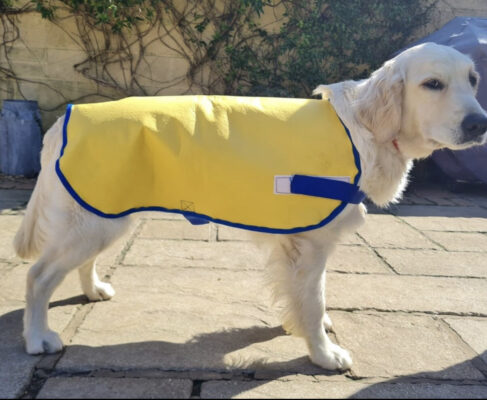 It comes in 11 sizes, from 10″ to 30″, with velcro straps to secure around the tummy and below the neck.
Back at the campsite, consider the foldable paddling pool from Pets at Home. Because it folds down it makes it so compact it is easy to pack but don't forget to take an empty container to fill with water from the campsite's shower block or washing up sinks. The water depth needs only to be an inch for your dog to climb in and keep cool. Don't forget a towel for a rub down afterwards. It is a pop-up, quick and easy to assemble, and the paddling pool seconds as a bath for home use!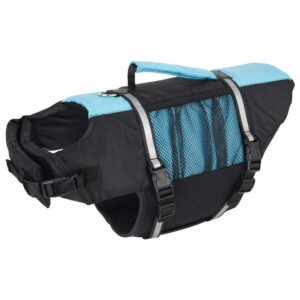 Life jackets:
Excited dogs usually love to frolic and swim in the sea, but living along the coast in a popular seaside resort frequented by beach-loving dog owners, I know the current can be dangerous. Dogs and owners, caught unaware by the tide with the escape route blocked by the cliffs or stranded on rock armour, or their four-legged companions have been swept out to sea and lost.
It depends on what your budget is too. Bunty Pet Products have small, medium and large pink or blue life jackets with prices between £14.99 and £24.99. What I like about this one is its strong metal ring to attach a solid, long lead to. I advise investing in a lead with a locking carabiner. It gives extra peace of mind if your dog is in trouble at sea or a lake.
The life jacket has reflective stripes, is designed to float, and has velcro straps, safety clips and buckles and a grab handle. There is a sizing guide in the listing.
The price range differs depending on the brand and what the product offers. I like Ruffwear K9 Float Jacket because it is bright yellow and visible but comes in sea blue and green if preferred. It is the top end of the budget too.
Monster Pet Supplies has a video demonstrating how to fit it on your dog and a diagram illustrating how to measure it.
Key features:
3m Scotchlite reflective trim for visibility in and out of the water
Foam panels for floatation
Top handle to lift your dog out of the water
A loop to attach The Beacon, but further details are not given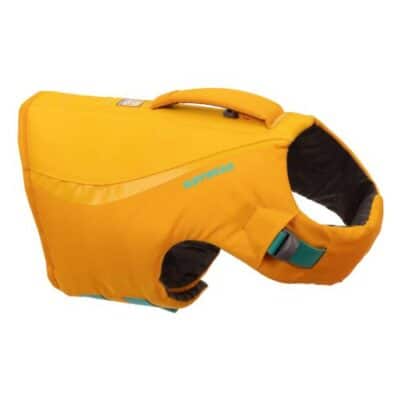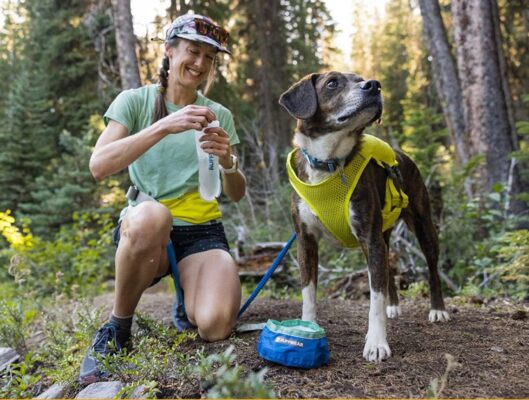 Doggy backpack:
Your holiday may include adventure and activities like hiking and running instead of a stroll and relaxation. Ruffwear Trail Runner Dog Vest Backpack includes two soft 500ml water flasks for running, climbing or walking. Designed with breathable air mesh fabric, durable, release buckles and adjustable straps. It has three zip pockets for poo bags and a Trail Runner water bowl. The loop at the top rear is suitable for leads and ideal for running with your dog.
Dogs on a regular type holiday may need to get used to a backpack, and the length of time a dog should wear a backpack depends on activity and the weather. So always read the manufacturer's recommendations before you purchase. It has been known that dogs feel they are working, it can build muscle and stimulate the brain, but depends on the age and health of your dog.
It is worth visiting Ruffwear's shop on Amazon as their wide range of products is designed for dogs who crave outdoor adventure. All Ruffwear products are Trail Tested.
Visit the Ruffwear store.
Leads, collars, harnesses, headlights, GPS and outdoor tether:
When selecting the above, there are factors to consider
Durability
Material
Purpose
Comfort and fit
Safety
Your dog's personality and needs
Personal choices on style
Every breed has a different body shape and overall size. We tested various brands for a Border Collie, the safety aspect and comfort, and my article and YouTube video gives the results. Another consideration is the use – for example, general walking, hiking, or running. Our dog Teddy is a giant, elderly and overweight, and to find retractable leads suitable for his weight, or even a dog jacket; we had to order his gear from a specialised store online. Teddy's jacket is the Weatherbetta Comfitec Windbreaker.
Harness:
Both nylon and polyester are tough and will withstand a dog's energy, but a harness made with cotton weave is softer on the body. Manufacturers always have measurement guidelines, as the correct fit is vital. Otherwise, it may cause chaffing and irritated dogs because it's uncomfortable. And a dog can escape from an ill-fitting harness. Gizmo, a Cocker Spaniel, slipped his harness at a motorway service station. Luckily he stopped by a family who had food.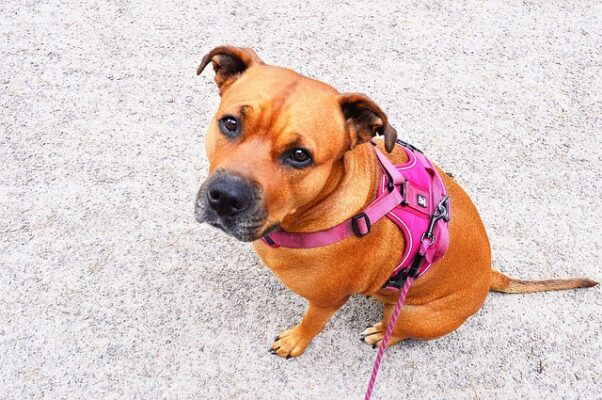 It is essential to check the harness you like is reinforced in high-stress areas, especially if your dog pulls. The central pressure point will be across the chest. A wrap-around or put over their head harness is easier to put on than one with leg holes. A dog should be able to move freely and be able to run, walk, and play without restriction to its movements.
A small dog will need a lightweight harness, whereas a bigger dog will handle a heavier fit. Another consideration is if you live by the beach. Sand and water can cause corrosion, so look for a harness that withstands the elements. Harnesses come with velcro, but security and safety with buckles is vital. Buckles give adjustability too.
Smaller dogs are more likely to feel the cold and wear a warm coat in the winter beneath a harness. Therefore consider this when measuring and buying a harness for your dog.
By law, dogs must wear an ID tag, usually fitted to a collar but attach an additional tag to the harness for extra security. If applicable, and for lifesaving treatment for a lost dog, attach a medical tag too. Another safety aspect to consider is a reflective harness for the night and attaching a flashing dog tag to the harness.
We are now in an age where dog theft is common. Sussex Police suggest not putting your dog's name on a tag or collar and instead putting your surname. This prevents a thief from calling your dog by name. Although more costly, anti-theft and anti-cut walking gear are available. This means the gear has stainless steel wire running through, creating cutting difficulties and preventing your dog from being stolen. However, I suggest using it in combination with a wrist strap to prevent a grab-yank scenario.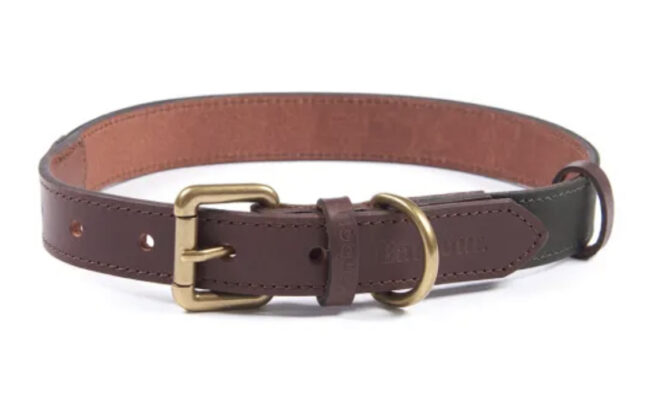 Collar:
Throughout your dog's lifetime, you will buy new collars, especially as your dog gets bigger and possibly more robust. The correct width will depend on your dog's size. Teddy is a giant whose collar is wider than one suitable for a Chihuahua.
Teddy's collar is leather (with contact details etched on it) and more sturdy, and strength is necessary for stronger dogs. Nylon collars are a consideration as it offers durability and is washable.
Fit is important. When measuring your dog's neck as per the manufacturer's guidelines, allow an extra inch for flexibility, movement and breathability. A collar should never be too tight because of choking or too loose that your dog escapes.
Again, dog theft is rife, so a collar with stainless steel wire threaded through and used combined with an anti-theft, anti-cut lead with carabiner combination locks with go towards preventing theft on walks. My article Protect Your Pet: Strategies to Stop Your Dog Going Missing features a video-interview with dog theft criminals explaining their methods and where they dog-nap.
From another safety point, Gizmo's owners purchased a double-ended lead with attachments to the harness and collar for double anti-escape and protection.
For added security, consider a collar with a key lock system to remove and deter theft.
Lead:
Before you purchase a lead, there are several factors to consider. The first is the type of exercise the lead is for – daily walks, running, hiking, walking two dogs, training, anti-theft, warning colour, material, allergies, dog weight and strength. For example, a short lead is better in busy areas, and for runners, a lead with a built bungee system to stop you and your dog from colliding when stopping and starting and attached to a belt. There are training leads (known as long leads or long line), with a length of around thirty to fifty metres. The idea is to practice recall whilst keeping your dog safe.
Materials differ – hemp is suitable for dogs with allergies, anti-theft and anti-cut have the stainless steel wire, leather is more robust and longer lasting, whilst nylon is easier to clean, especially if your dog accidentally poops on the lead! Chains are ideal for dogs who love to chew, whilst rope leads are strong and more comfortable. I dislike retractable leads – they are dangerous in areas with high footfall, it is training your dog to pull, which isn't good, and you cannot intervene if your dog is in trouble for any reason like theft or a nervous person. Also, check the maximum weight it allows. Whichever you choose, consider the weight of your dog, as a big dog can snap a lead designed for lighter dogs. Leads with hi-vis reflective material will help find your dog at night if you lose grip.
Again, I recommend a double-ended lead, which can be clipped to both harness and collar. If your dog slips one, you still have control because the lead is attached to the other.
Colours now signify a message and come with optional wording. A yellow lead may convey reflective material, but the words 'nervous' tell a passerby to keep back from the dog. Alternatively, you can buy a wrap to attach to an existing lead. Red is a warning sign and can be used for an anxious or reactive dog. Etsy has a wide range of choices from as little as £7.95.
Consider a wrist strap if you own a large and powerful dog. I walked my ex-partner's dog with his retractable lead, and Teddy was so excited to be out he surged forward suddenly and I lost grip of the handle. Make sure the materials used are robust to withstand pressure.
Tethering stake by a tent:
It is essential to combine with a strong lead to prevent snapping, but if tethering your dog to one location, ensure it has shelter from the ground and heat. I have seen too many dogs tethered in full sun.
Amazon sells heavy-duty tethering stakes with rotating ring for the lead and priced for under a tenner, or with a dog cable lead to attach to the rotating ring. The cable lead comes in various lengths, so consider your pitch size and other campers too.
Ruffwear's Knot-a-Hitch is a campsite hitching system suitable for remote wild camping or car camping because it gives your dog more freedom. Set up the Kermantle rope between two trees, attach your dog's lead to a swivel carabiner or a single tree or post, and attach to your dog's harness. The rope is connected to a daisy strap placed around the tree. The added security comes from rock climbers locking systems so you have peace of mind of its strength. It packs away in a stow bag for easy travelling.
Connectors:
Snap clip is the most common and easy to connect and remove from your dog's collar. It is unsuitable for dogs that pull and ideal for thieves as easy to unclip.
Trigger snap clip is preferable for stronger dogs. It operates with spring-loaded pressure to open and close.
Carabiners are stronger and ideal for securing your dog during camping trips and better when preventing dog theft, and even better with combination locks.
Light yourself up on a walk:
Finally, to keep both hands free to protect your dog on a walk, I recommend a head torch, or as seen in Co-op a beanie hat with a light. My ex-partner uses a head torch, making walking Teddy at night in unlit areas easier, along with his own LED night-time collar.
GPS dog tracking:
In the seaside resort where I live, I see too many dogs disappear on holiday when walking off lead in unfamiliar places. We lost Teddy in a holiday cottage garden and thought he'd climbed over a stone wall. It terrified us. But we found him, a giant dog, hidden and asleep behind bins in the garden's log shelter. Investing in a GPS tracker gives peace of mind finding your dog.
Related questions
Where can I find information about budget camping?
Pitchup Outdoors is run by a single Mum who camps with her young son. On a budget, they always search for campsites and attractions that are free or low-priced.
Poppys Pets is a participant in affiliate programs which compensates us for referring traffic. A selection of articles on this website contains affiliate links. Further information: Disclaimer and Privacy Policy
Poppy Pets has a column in an East Yorkshire newspaper