Buying the wrong leads, harnesses and collars for your new puppy or young adult can cost you a lot of money. The breed, its strength and character, and the handling of your dog play a huge part because the product has to be suitable, robust, comfortable and escape-proof. The last thing you want is a grumpy dog because the accessory is causing pain or a missing dog because they slipped the harness or collar or Figure 8 lead. Equally important is finding the safest car safety belt, especially for dogs prone to chewing.
All products were filmed and giving the pros and cons of each item, Bertie, a young Border Collie, demonstrates the Halti and Figure 8 head collar, and you will see him wearing the Truelove harness. While filming, we show Bertie being walked successfully with a child and an elderly woman.
Things to think of when buying your dog accessories:
A lead must be appropriate for your puppy's size and strength
The above applies to adult dogs
A flat collar is recommended for puppies and adult dogs
Choose the correct leash that suits your dog's strength, size and behaviour
Leather and nylon are popular material choices
Leashes with stainless steel wire are becoming popular as anti-theft
Choose the correct retractable lead that suits your dog's size and strength
Decide whether you need control, everyday use, or training:
Table of contents:
Growing Paws: Harnesses for little puppies and bigger dogs
Belababy Service Assistant dog harness
The Belababy Service Assistant dog harness is available in sizes from XS to XXL, and was purchased for Bertie when he was two months old. At the time, he did not have any pull strength. As the video shows, the harness is secured with velcro strips, which makes it unsuitable for a strong puppy or older dog.
Two years ago, this harness cost Anita £5.99. Amazon now charges between £11.99 to £18.99 (December 2022). I have searched for alternative retailers, but online stores such as Monster Pet Supplies, Bunty Pet Products, and Zooplus do not sell the brand.
Belababy says:
No-pull harness to assist walking training
Reflective material
Waterproof
Compartment for a 1″ flashlight
String nylon grab handle to the top of the harness
Steel ring to attach a lead
Adjustable buckle on the strap
Velcro strips (called an interchangeable patch)
When buying any starter harness, rethink your puppy's safety if the product consists of velcro fasteners.
Read more about the Belababy harness on Amazon
Watch the video: Buying Leads, Car Safety, Harness, Head Collars
Julius – K9 harness
The Julius-K9 is not shown in the video but was purchased as a next-size-up harness for Bertie. I have noticed this brand is popular with dog owners, but the harness Anita purchased for Bertie was inadequate then.
This particular harness is fitted over the body and secured with velcro. However, it became apparent that as Bertie's strength grew, it was unsuitable, especially for a strong adolescent, and you need an escape-proof harness. So if buying a Julius-K9 harness, or any product, read the specifications to ensure suitability for your dog's age and strength.
Read more about Julius-K9 at Zooplus, and I recommend checking for money-off deals for Zooplus, especially as prices start at £26 (December 2022) for their range of Long Walk and Power Harnesses.
Kong dog harness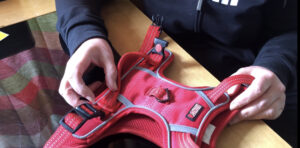 Kong has an exceptional reputation, but unfortunately, this particular Kong harness was disappointing in its design for a large and strong dog. The harness is a no-pull with a D-ring to the front and back and a grab handle to the top. For this Border Collie, the front section did not fit correctly, and as the sides poked out, it rubbed Bertie's skin.
The harness was awkward to adjust, and the buckles would loosen.
It depends on the dog's build and whether it fits properly, so ensure you take the correct body measurements and compare them against the harness size. Or visit a store and try harnesses on.
Kong says:
Support for active dogs and any extreme adventure undertaken
Grab handle for control
Mesh lining
High vis reflective webbing
Reflective trim
Secure locking clasp
Back and front D ring
Suitable for 20 pounds /9-kilo dogs
Read more about the Kong harness at Pets at Home. The original price was £25 but has now increased to £30 to £34.
Watch the video: Buying a Lead, Collar, Harness, Car Safety – What is the best?
Truelove harness for dogs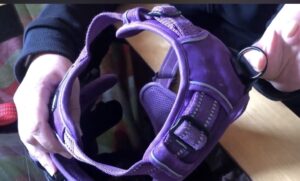 Anita praises the Truelove brand as the harness ticked all the boxes. She purchased the next size up for Bertie, her Border Collie. The Truelove harness fits around the body (it may depend on the breed of the dog), and as secure, a dog cannot escape from it. The product is sturdy too.
Bertie's first Truelove harness was the small version, and when he turned 6 months, he wore Anita bought the medium. Other sizes available are XS, large and XL.
Admittedly Bertie did not respond to the harness as a no-pull, but he was happier wearing it.
Truelove says:
Durable outer
Sponge padded
Soft mesh padded
Reflective nylon webbing for visibility
Duraflex buckle
Zinc alloy D ring for attachment to the back
Zinc alloy O ring for attachment to the chest
Watch the video: Buying leads, head collars, collars, harnesses and car safety
Stop the Pull: Head collars for dogs
Figure 8 All-in-1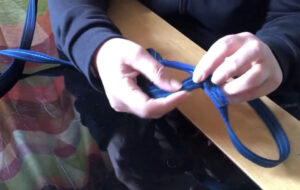 Bertie's dog trainer recommended a Figure 8 headcollar because he had significant pulling issues as a Border Collie. Anita selected the Genco brand for £21, which has a secure crossover section and is for left-handed walking. The other benefit is the other end clips to a dog's collar for extra security. If you are unsure how to fit a Figure 8 headcollar, click on the link above, and you will find a video by a dog trainer demonstrating with different-sized dogs.
This brand is a no-pull head collar that tightens as a dog pulls, stopping the dog from pulling because of sudden restrictions.
For Bertie, when he pulled it tightened over his nose and caused him stress, Anita had to stop walking to loosen it, so she decided against this brand. However, it may be suitable for your dog.
The dog trainer said that when you buy a Figure 8 headcollar, ensure the crossover is secure and does not lay across – it must have a thread-through section. This is demonstrated in the video below.
A dog must be able to open its mouth when wearing a Figure 8.
Genco says:
Dog lead and head collar in one
Bertie wears a left-handed version (he walks to the left)
Stops your dog pulling – if your dog pulls, the loop tightens and restricts the entire head. The dog back down from the restrictions
It can be clipped to your dog's collar
The product has since increased to £24.45.
Watch the video: Buying a Lead, Collar, Harness, Car Safety – What's the best?
Company of Animals Halti Headcollar
When Bertie was an adolescent puppy, Anita used the Halti headcollar with the Truelove harness and training lead. She explains that Bertie is always unhappy with a strap around his muzzle and attempts to remove it, but he does relax eventually and walks to heel. This brand has padding on the nose section.
The Halti is easy to fit and has a clip-to collar and lead design. Again, your dog must be able to open its mouth when wearing a Figure 8 and, additionally, be able to eat and drink too. From experience, always ensure any dog accessory has a secondary safety connection. The Halti has a safety link to attach to your dog's collar.
Anita's only negative issue was that the side twisted and covered Bertie's eye occasionally, but Anita found Bertie was much happier wearing this brand.
The Halti is available in size 0 to 5. Anita paid £13.95 for a size 4; today (December 2022), it costs £12.94 so it has decreased.
Halti says:
Maximum steering power and control
When your dog lunges forward (even in an attack), his jaws are closed by the slip ring
When your dog relaxes, he can pant easily
Soft material
Steers a dog's head in the direction you want
Your dog's body has to move in the direction you want him to go
Padded noseband
Strong nylon threading
Available for small, medium and large dogs
Watch the video: Buying a Lead, Collar, Head Collars, Car Safety – What's the best?
Paws Growing Up: Recommended puppy and teenage dog collars
When choosing a collar for your puppy or dog, measure its neck. A collar should sit comfortably on the neck and you need to fit two fingers between the collar and fur. If your puppy gains weight or the collar rubs against the skin, you must invest in a new collar as your puppy grows.
A dog trainer told Anita that a collar should sit over the fur and nearer the ears, not at the neck's base. If too low and the dog pulls, it will cause vocal chord stress.
Ancol Tartan Puppy Collar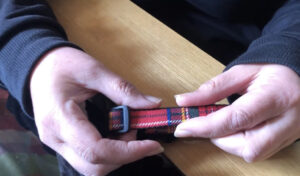 Bertie's first collar was a pretty tartan design and a buckle, featured in the video.
Ancol say:
Available in neck size 8″ to 20″
Width 0.5″
Quick-release buckle
D-ring to attach the lead
Soft polyester nylon strapping
Read more about Ancol at Monster Pet Supplies or Pets at Home
Ancol Tartan Teenage Collar
When he grew out of his puppy collar, Anita purchased the next size, which he wore until he grew into a Wainwright collar recommended by his dog trainer.
Wainwright woven herringbone collar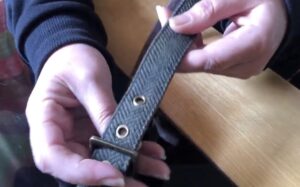 The collar is a traditional countryman design. If you love the classic style, Barbour is another traditional design; look at the range at Monster Pet Supplies.
Strong fabric
Sturdy metalwork
Width 1″
The Wainwright woven herringbone collar has been voted the best for 2022, and can be purchased at Pets at Home between £8 to £14, depending on the size of your dog.
Watch the video: Buying Car Safety, Leads, Harness, Collars
Paw Car Travel: keep your pet safe
Three points to consider with a car safety seat belt are:
Is the safety belt crash-tested?
Is the safety belt designed to avoid distracted driving only?
What is the strength of the safety belt?
Can your dog chew through the safety belt?
Would a boot guard or crate be the better and safest option?
Will the product suit your vehicle make?
Crates and boot guards
The Aluline Double Dog Crate is a strong aluminium crate, available as single or double. The central partition can be removed to make a larger crate. It's just three bolts to assemble and on the listing are downloaded PDFs giving instructions.
In a rear-impact collision, the dog crate has an EMERGENCY EXIT because the back wall is removable so the Aluline has a huge plus.
The transport crate is 100% watertight and has sun protection so your dog will not overheat.
The Roadmaster Dog Guard can be fitted without tools and attaches to the headrests instead of the ceiling. Overall, the adjustable width is 85cm x 135cm, with a height from 20cm to 54cm, and it is suitable for hatchbacks and estates.
There is a review and one buyer said the Roadmaster Dog Guard is unsuited for a Mazda 5 2013.
The product can be shipped overseas too.
The listing has a PDF download for assembly.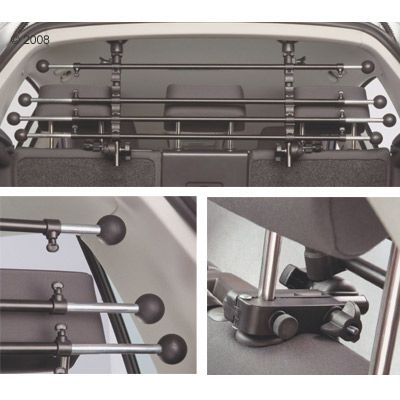 Just Pet Zone – cheaper products
Each dog differs. Bertie chewed through the Just Pet Zone safety belt. The brand is low-cost to purchase and available as two for £3.99 (December 2022). Trixie Friends sells a similar seat belt for £3.79 (offer December 2022), which is attached to your dog's harness.
Just Pet Zone says:
High-quality nylon fabric
Pack contains 2 No safety belts
Zinc alloy metal swivel snap and easy-to-release buckle
Swivel snap supports 360-degree rotation and no tangle
Seat belt length 42cm to 70cm
Unsuitable for a Hyundai i30
As with all safety belts, DO NOT attach to your dog's collar because if involved in an RTA, the impact can snap your pet's neck. A safety belt must attach to a harness.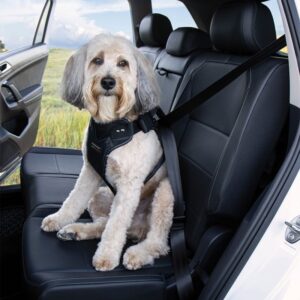 Kleinmetall Dog Master 2.0 TUV (technical inspection association) Crash-Tested Dog Safety Harness is designed to keep your canine safe during travel, sudden braking and collisions. Because of a D-ring, it can be used as a daily harness so worth the money. The Kleinmetall has reflective areas for visibility on darker walks.
It is easy to set up because you thread the car seat belt through both carry handles.
Available in small, medium and large.
Watch the video: Buying leads, Collars, Harnesses, Head Collar, Car Safety – Which is best for your dog?
Related articles:
Kurgo car seat belt – avoid distracting driving
Kurgo Direct to Seatbelt Dog Tether is Anita's preferred choice, but it is designed to stop distraction driving and is NOT crash-tested.
It has a strong carabiner attachment that attaches to your dog's harness. Unfortunately, Bertie is still prone to chewing at seven months, so Anita worries he will eat her car seats!! Therefore, Bertie is confined to the boot with restricted access from a boot guard.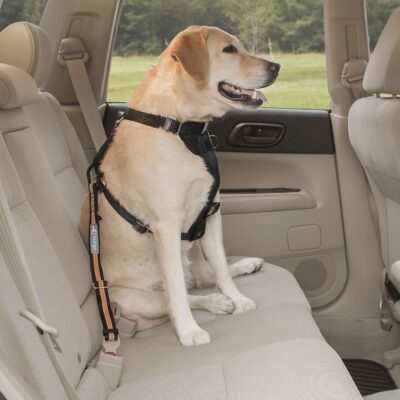 Kurgo says:
Seat belt buckle to fit a female seat-belt slot
Carabiner attachment that connects to the back of your dog's harness
Extends from 38cm to 55cm
Universal but incompatible with the Volvo
Not recommended for Ford trucks
Lifetime warranty
Watch the video: Buying a lead, head collar, car safety – What's the best?
Control of Dogs Order 1992 (some working dogs are exempt)
Did you know that it is the law for your dog to wear a collar and tag when you are in a public place and failure to comply will result in a £2000 fine?
Your name and contact number must be displayed on the ID tag or on the collar. With visible identification, you will likely be reunited with your dog if found.
And remember:
If a Dog Warden collects your dog, you face kennel charges
The finder of your dog may not have transport or be concerned about veterinary fees to get your dog scanned for a microchip. Instead, the finder may release your dog back on the streets
Microchips malfunction, so it is important to have the chip scanned at veterinary visits
Don't forget to keep microchip details up to date. You might remember to change the collar and details but not the microchip. A backup plan is worth it
Join or transfer your microchip registration to PetDatabase. You can update contact details and activate a lost pet service for free. Other companies charge.
The following are ideas I recommend and use.
Attach a tag with your veterinary practice name, postcode and contact number. If the finder cannot contact you, they can contact your vet
Get your house number and postcode engraved on the tag or collar. The finder can find you using Google Maps. I use Country Engraving for ID tags
Engrave 'I am microchipped' onto the tag or collar
Does your dog have medical issues? Add an extra identification tag as an alert for the finder or vet. An example for my animals is dementia, arthritis, thyroid, and kidney. For a scared dog, consider adding a 'nervous dog'
Don't put yourself through heartache – keep your pet safe.
Photography
The Staffy image credit: Jonathan Petersson from Pixabay
Poppys Pets is a participant in affiliate programs which compensates us for referring traffic. A selection of articles on this website contains affiliate links. Further information: Disclaimer and Privacy Policy
Poppy's Pets has a column in an East Yorkshire newspaper