Because of the alarming increase in dog thefts on routine walks, it has become crucial for dog owners to prioritise the safety of their dogs from theft by organised gangs or opportunists. Investing in a full set of high-quality walking gear, fitted with anti-theft and anti-cut stainless steel wire, is a must-have today.
Criminals are blatantly stealing bulk dogs found in parks, countryside walks, and woodlands. The figures below show that the number of stolen dogs decreased in 2022 because lockdown demand slowed, and now, it's the cost of living crisis. However, dogs, mainly older ones, can be stolen for bait for bloodsports where money is earnt – this is a risk when you tie your dog up outside a shop.
The following show how many reported dogs are stolen in the UK
Year
How Many Dogs
Were Stolen
How Many Dogs Were
Stolen Per Day (approx)
2022
2,160
6
2021
2,760
8
2020
2,439
7
Data from DirectLine Insurance 2022 – Dog theft U.K.
Protecting against thieves cutting attempts through a dog's lead:
Instead of choosing a standard lead, collar and harness, consider how traditional dog walking gear can easily be tampered with or cut, and your dog snatched in seconds. Traditional walking gear can mean putting your safety and your pet at risk.
Shopping List:
Concepts of anti-theft, anti-cut dog walking gear
Today, a dog's walking gear should consist of stainless steel wire manufactured within the collar, lead and harness fabrics. The wire should be a minimum of 1.5mm. Walking gear with stainless steel wire hinders the time factor during an attempted theft. An opportunist will want to dognap quickly and hastily escape, but the integrated wire will cause difficulties.
The importance of anti-theft, anti-cut walking gear
The aim is to protect your dog from thieves looking to profit from your stolen dog when sold on to an unsuspecting new owner, into disease-ridden puppy farms, into blood sports or for sadistic torture. In June 2023, a stolen French Bulldog was thrown from a moving vehicle and died on impact against the ground. A thief is willing to take a chance with theft in case your dog is young and unneutered and therefore ripe for farming or selling, and an older dog may be used as bait – any dog can be dumped if it doesn't fit the criteria.
Enhanced anti-theft measures:
Dog theft is a terrifying reality, combined with the possibility that we may never see our beloved companion again. Choosing high-quality leads, collars and harnesses designed to fight against theft and enhanced features can reduce the chance of dognapping.
Collar with a key lock release – This type prevents theft because a key is required to unlock the collar. The key is small, so ensure it is kept safe at home
Collar with a combination lock release – alternatively, collars with a combination lock give another secure method against a collar being removed. Keep your 2-digit number safe at home or saved secretly on your mobile
Carabiners with combination locks – carabiners with an easy open mechanism are not theft-proof but with a 3-digit combination lock built-in, this will stop thieves from releasing the carabiner and stealing your pet. With combination locks on either end of a lead, it gives added protection with one attached to the collar and another to the harness
Durable extra C or D rings – ensure an attached C or D ring is heavy-duty steel for extra strength and not thin or flimsy types
Minimum 1.5mm -2mm stainless steel wire – wire built-in to the material is the anti-theft, anti-cut weapon. Depending on the accessory, one or two wire threads might be running through the accessory
Force test – anti-theft walking gear needs to be durable and tough. The black lead in this article has been tested and withstands a force up to 1,126kg
Material – make sure the material is waterproof, breathable or durable
Hidden GPS Tracker holder – the tracker is hidden externally because it is integrated into the internal fabric of the collar. Combined with a lockable collar and anti-cut stainless steel cable, it gives you the opportunity of tracking your dog if it wanders off
Durability and longevity:
Anti-theft walking gear with stainless steel wire is durable and designed to last longer. Although the initial cost may be higher than expected, money can be saved compared to the short life span of low-cost traditional brands. Different manufacturers have created anti-theft accessories and is essential you read the full specification before making your purchase to ensure it does as advertised.
You will find lower-priced anti-theft gear with, for example, carabiner combination locks. But excludes the stainless steel anti-cut wire threaded through the material.
Comfort & style:
Comfort is always a priority as you'll see from the selection in this article. The paracord, both waterproof and durable, comes in various colours and a range of nylon patented anti-theft walking gear in black. But each design focuses on its built-in anti-cut stainless steel wire, preventing opportunist thieves from cutting through the toughened design.
We'll explore the types of anti-theft, anti-cut leads, harnesses, collars and coming soon, walking belts, available to help protect your pet and prevent dognapping.
Anti-cut collars with dognapping preventative steel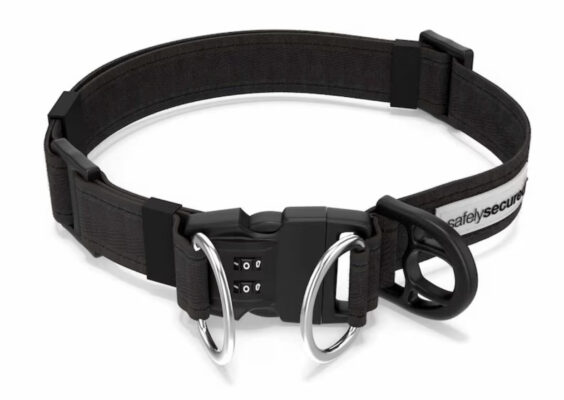 Benefits of Safely Secured anti-theft, anti-cut dog collars
Safely Secured 5 star review – "Delivery before date expected which was good. This is a very robust collar, with thick and strong material – use this every day. Worth paying for if you want added security."

Malc
The design by Safely Secured is patented so the complete dog walking gear set is the best on the market.
The advantage of the collar is it presents three difficulties for the thief. One is the inability to cut through the stainless steel wire. The other is being unable to freely remove the collar because of the 2-digit combination lock or key lock. Using in conjunction with a matching lead containing a double thread of stainless steel wire and combination lock attached to the collar's two C buckles, a would-be thief will not succeed.
Key features:
3 sizes with key lock security and 1″ (2.4cm) collar width
1 heavy-duty size with a combination lock and 1.5″ (3.8cm) collar width
C buckles to attach a combination lock carabiner lead
Lightweight
Suits all breeds
Comfy
Made of smooth nylon
Anti-cut 1.5mm stainless steel cable threaded through
Worldwide delivery
Peace of mind buying from Etsy with its Purchase Protection programme
The Safely Secured collar is available from Etsy, a TV advertised online shopping platform.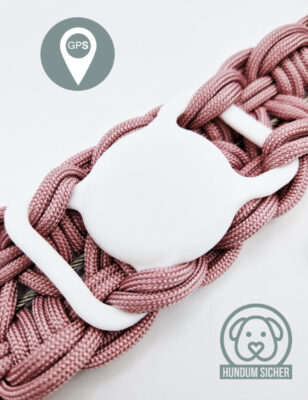 Benefits of HundumSicher colourful GPS tracking collars
HundumSicher review: "I very much like the quality of the collar, very pretty and durable. The leash is very well-made as well."

Priscilla – customer
Anti-theft, anti-cut dog walking comes in colourful designs too. Instead of nylon, these braided designs are made with paracord, a durable, water and weatherproof material that can be machine washed at 30 degrees. A 2mm stainless steel cable is threaded through within the paracord as shown in the picture above, and combined with its lockable buckle, it provides peace of mind as an anti-cut, anti-theft collar. The width of the collar is 4.5cm with an adjustable length.
The first picture above shows a GPS tracker holder but it is not seen externally. Instead, it is secured within the knot technique and stays unseen by a would-be thief. The holder suits an Apple AirTag.
Key features:
3 sizes available
Collar width 4.5 cm, and a key lock mechanism
Withstands a force of 249kg
C ring for the lead attachment
2mm stainless steel cable threaded through
Made with weather and waterproof paracord
Lightweight
Comfy
Available in a selection of colours
Free delivery to the UK
Peace of mind buying from Etsy with its Purchase Protection Programme
HundumSicher is a German design brand is available from Etsy, a TV advertised online shopping platform.
Lockable, durable and secure anti-theft dog leash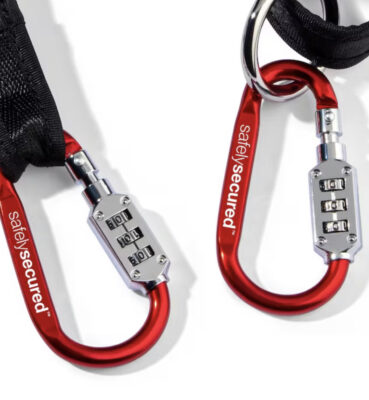 Benefits of Safely Secured dog leads with carabiner combination locks
To unclip the dog lead from a harness or collar, it requires a 3-digit combination lock, which a thief would be unaware of. An advantage of this anti-theft lead is its double-ended carabiner with lock feature, which means one can be attached to the collar, and the other can be connected to the harness. This can protect your dog if it slips a harness or lead. two rows of 1.5mm stainless steel are threaded through the nylon lead creating a cutting barrier. The length of the lead is 3.9 feet (1.2m) and an extended version of 8 foot (2.4m) and width 1″ (2.4cm). Another positive point is the strength of the lead withstands pressure of up to 1,126kg so if a thief were to grab it, it wouldn't fall apart.
Instead of buying a walking belt, an option would be to use one of the carabiner locks and attach to a clothing belt.
Key features:
2 length sizes are available
Double-ended carabiner with combination locks
Double line of 1.5mm stainless steel cable
Withstands a force of 1,126kg – laboratory tested
Made of smooth nylon
Attach one carabiner to a clothing belt for added security
Peace of mind buying from Etsy with its Purchase Protection Programme
Safely Secured is available from Etsy, a verified online shopping platform.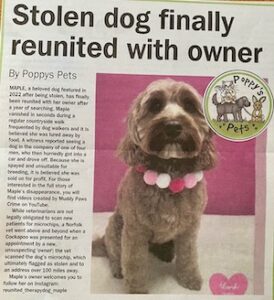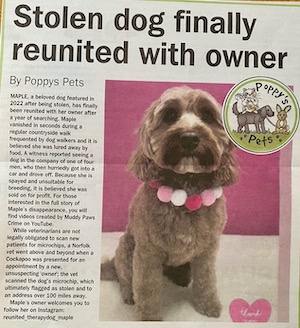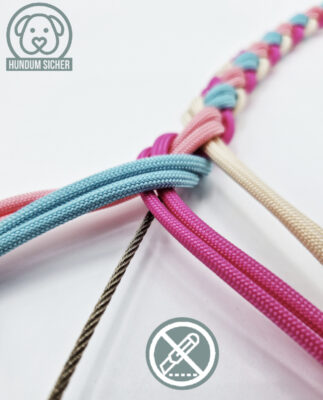 Benefits of colourful HundumSicher anti-cut dog leads
Hundumsicher has a selection of leads in a variety of colours. The material and designs are the same as the collars – braided with paracord and a 2mm stainless steel cable threaded through and knotted to a carabiner. The double-ended carabiner locks have a 3-digit combination mechanism and combined with the cable, make it another anti-theft dog walking accessory. One carabiner can be attached to the collar and the other to the lead rings as shown in the picture. But I think attaching the other end to a harness for double protection is beneficial.
Key features:
2mm stainless steel cable threaded through
4 lengths available: 150cm, 180cm, 210cm, 300cm
Double-ended combination locks carabiner
Strong knot attached to the locks
Free delivery to the UK
Peace of mind buying from Etsy with its Purchase Protection Programme
HundumSicher extensive range of products is available on Etsy, an online shopping platform advertised on TV
Harness with anti-cut stainless steel wire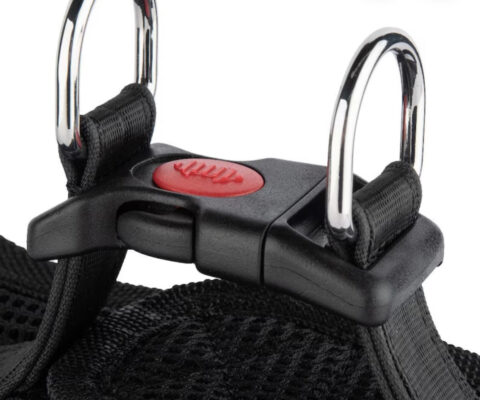 Benefits of Safely Secured anti-theft, escape-proof dog harness
Safely Secured review: "Loved the harness but my puppy grew out of it so I purchased the collar and it has enough adjustment for her for the next few months until she is fully grown. Just love how I can take her down street without the stress of her being stolen .…"

Dianne R
As with all Safely Secured dog walking gear, stainless steel cable is the central theme within the material of the canine harness designed for security. It secures with a buckle clip but can be released with the push button. Above the push button are two heavy-duty D rings to clip your combination lock carabiner dog lead to. There aren't any human parent vs dog battles with fitting the harness either. It wraps beneath the buckle clip – when your dog is dressed the buckle clip and D rings will be positioned along the back.
Key features:
17 sizes for all breeds
Breathable mesh fabric to keep your dog cool in all temperatures
Easy fitting with soft material
Stainless steel cable making it anti-theft and anti-cut
Two D rings to fit the lead to
Buckle security with push button release
Peace of mind buying from Etsy with its Purchase Protection Programme
Safely Secured products are available on Etsy.
Benefits of a walking belt for lead attachment
Runners commonly use walking belts. A bungee lead is attached to the walking belt, which gives adequate flexibility during physical activity. Having another way of keeping hold of your dog should someone attempt to steal your pooch gives extra security. Investing in a belt hidden beneath clothing with a combination lock anti-cut lead clipped securely to the steel rings on the belt may be the answer. Prices do vary.
Amazon lead a variety of belts but remember to attach your anti-cut lead to it rather than use the bungee lead when walking. Prices start at around £9.99.
Ensure the carabiner attached to the dog lead is attached to the belt and hidden.
Even though wearing a belt, keep hold of the lead too
A selection of belts have a pocket to fit a mobile phone
Alternatively, opt for Safely Secured anti-cut walking belt (link coming soon)
Unfortunately, we do need to protect our dogs, even more, today – it's time to invest rather than leave it too late.
Additional tips and advice
Don't be a victim of dog theft. You can continue to enjoy those wonderful places of beauty and enrichment but be aware of how a dog's life has changed. Dogs are seen as profit.
Rethink dog walking and plan to protect your dog on a walk by tweaking old ways.
Change walking routes and times
Walk with a friend or join a dog-walking group
Be wary of the stranger, with or without a dog, questions asked – think distraction theft
Do not walk your dog off lead
Keep alert
Put your surname on your dog's collar or tag instead of your dog's
Never post images of your dog, location, or dog walking routes online – look at privacy settings
Criminal or opportunist thieves will observe your routine and route
Criminals do physically attack dog owners for their dog
Dog thieves will remove identification and any trackers. However, attaching a GPS tracker to your dog's collar, and finding its whereabouts using the app on your Smartphone will give you a final location. Look around for any CCTV.
Ensure your dog's microchip is registered with your contact details or details are up to date, and tell the database your pet is missing. Microchip companies can send out alerts to rescues, veterinary practices, dog warden etc. However, quite often you have to upgrade, which is chargeable. Pet Database offers a free service so transfer your dog's record now to be ready in case your dog is stolen.
Make your dog 'too hot to handle' by setting up a dedicated Facebook page and uploading a profile to Dog Lost UK. Don't forget the old-fashioned method of posters that will capture a non-digital audience.
Key takeaways:
Stainless steel cable is anti-cut
Combination locks and key locks are the new canine protection walking gear
Walking gear is only anti-theft as a set: collar, lead and harness
Theft prevention disclaimer:
Items with stainless steel will slow down the attempt to steal your dog and stop dog theft and act as a deterrent. If you have any questions about the effectiveness of these designs, I recommend contacting the designer directly. Please remember it is up to you to take the necessary precautions to protect your dog in this changing world.
Poppys Pets is a participant in affiliate programs which compensates us for referring traffic. A selection of articles on this website contains affiliate links. Further information: Disclaimer and Privacy Policy