The volume of missing animals is alarming. We hear and read horror stories from the media and on social media about pets falling into the wrong hands. Animals go missing in a variety of ways so what are the real-life stories? And will it make us rethink how we protect our beloved companions?
There is one point I would like to mention, and I do get a stern 'No' from some people with missing pets.
Yes, we live in a digital age, but there are people whose era is TV and a good old-fashioned newspaper or book, not Smartphones and social media. They hear and read about how animals are abandoned and neglected.
I volunteer with the Cinnamon Trust – it is a charity that helps the elderly keep their pets at home. I ask the older folk the following:
What is the microchip, and what is it for? (Answer: I've not heard of it)
If you found a dog, what would you do? (Answer: Keep it as abandoned)
Do you know about the Dog Wadern? (Answer: No)
This is why I think it important to get issues in hardcopy format. Equally, displaying posters is important too
Cats, dogs, horses, rabbits and other animals go missing due to different circumstances.  Admittedly it isn't always because of theft, and whatever the reason for an animal's disappearance, the bad stuff won't always happen. But we all must be more aware of and protect our pets more than ever. It is a frightening world.
Examples of how pets go missing:
A dog tied up outside a shop and stolen
A pet left in a vehicle and stolen
A dog runs off in chase or has a scare and disappears
Distraction theft – your dog is off-lead at the time
Theft by threat on a dog walk
Escapes from home or garden and survives on the streets
Stolen from a garden
A friendly cat enticed and stolen
Sedative in meat and the pet is stolen
Home burglary
The reasons for theft can be because:
Please remember that because your pet is missing, it does not always mean they have fallen into the wrong hands. They are lost. Some pets are missing because they got lost on a walk, ran off in fright, road accidents, or fires and dashed off in fear, escaped from the garden, or ran out of the house and disappeared.
Animals featured have appeared in the Withernsea & District Community News, in old-fashioned format and distributed to homes along the East Yorkshire coast and inland. Poppy's Pets has a monthly column in the paper.
How can I protect my pet and myself on walks or at home?
These are some ideas to help:
These are their stories – please share to help them get home
If you have any information or have given a home to an animal thinking it to be abandoned and matches an image on Dog Lost UK database, please contact:
Tel: Dog Lost UK 01633 673859
Email: admin@doglost.co.uk
Poppy's Pets supports Pet Database – get 'pings' when your lost pet's chip is scanned.
Details of each dog are listed in-depth below
Puddin – Stolen from home
Scuttle – Lost on a walk – Rainbow Bridge
Lassie – Forcibly taken from her kennel
Grace – Friend never returned Grace
Maple – Dragged into a SAAB – REUNITED!
Blue – Disappeared on a walk
Ted – Owner attacked and Ted was stolen
Jackie – Disappeared on a toilet break outside her home
1 – Puddin – Stolen from home – 10.02.22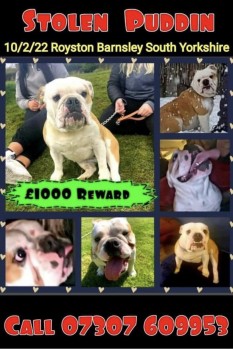 The theft of Puddin was captured on home CCTV at 12.30 pm on 10th February 2022.  She is a red and white Bulldog, a young adult, and microchipped. Her head is white, and she has red in her left eye.
Do you remember seeing or buying a bulldog with red on her left eye?
The theft occurred at Royston, Barnsley, South Yorkshire, S71. 
Contact Dog Lost UK on 01633 673859 quoting ID: 173441
2 – Scuttle – Lost on a walk – 12.01.22 – Rainbow Bridge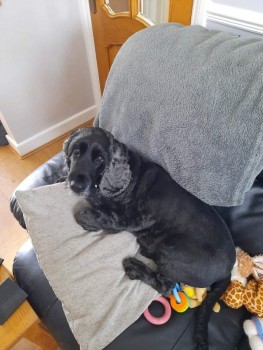 Update: Scuttle was found in March but sadly had passed away.
Scuttle is an older black Cocker Spaniel greying around the muzzle.  She was on a routine walk when she disappeared in the woods near Upleatham towards Marske, TS11. She is microchipped and has a tag and a tattoo.
The following was undertaken to find Scuttle:
Dogtrapping Search Team
West Cumbria Missing Persons & Animals
Posters
Drone
Cameras
Underwater scope
3 – Lassie – Taken with force from the kennel – 28.07.20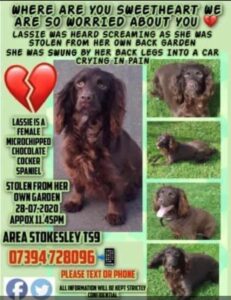 Lassie is a chocolate Cocker Spaniel with several white hairs on her chest. Her fur was roughly clipped before the theft. Lassie has the typical Cocker Spaniel quiff on top of her head and a legally docked tail.
Lassie was 6 years old when she was stolen from her kennel at a home address at Allen Grove, Stokesley, TS9 at 11:45pm.
Depending on Lassie's circumstances now, she could be well-cared by a new unsuspecting owner or dumped because of social media coverage.
It is unconfirmed if Lassie is spayed, or wearing a collar. My concern is whether she is being used on a puppy farm if she is not spayed.
"Lassie was dragged out of her kennel by her back legs. She was heard screaming and crying in pain."

Holly
A witness called 999 but unfortunately, North Yorkshire Police did not arrive for two hours; by then, Lassie was bundled into a vehicle which drove off.
Police checked CCTV footage in the area relating to the vehicle but without results.
The following areas offer a trail of Lassie's movements (as listed on her Dog Lost profile 15.03.22:
Nantwich, CW5
Guisborough, TS14
Thornaby, Stockton-on-Tees, TS8
If Lassie was stolen to be sold, do you remember?
Buying an adult chocolate Cocker Spaniel online from July 2020?
Visiting a home to buy a Cocker Spaniel but felt uncomfortable about the circumstances?
Finding chocolate Cocker Spaniel puppies for sale online? Did Mum seem subdued when you visited?
Did you buy a Cocker Spaniel puppy and the seller insisted on cash instead of a bank transfer?
As a vet, did you treat a chocolate Cocker Spaniel in 2020 / 2021 for leg injuries as a routine assessment? Was the dog agitated?
#stolenlassie #TeamLassie #FindStolenLassie #cockerspaniel
Contact Dog Lost UK on 01633 673859 quoting ID: 158824
4 – Grace – Looked after by a friend and never returned – 22.12.22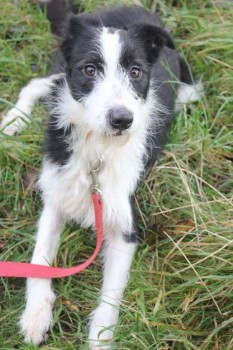 There isn't much information about Grace.
She is a young black and white border collie who is microchipped. Grace was being looked after by a friend who refused to return her. The reasons for this are unknown, and it would be advisable not to reach the wrong conclusion.
Grace is a young dog. Therefore, her appearance will change over time, but remember she has a half-floppy ear and one upright. Her ears could be flagged as an identifying characteristic.
Grace's last location was Queensbury in West Yorkshire, BD13.
Contact Dog Lost UK on 01633 673859 quoting ID 173210
5 – Maple – Therapy dog stolen on a walk – 21.03.22 – REUNITED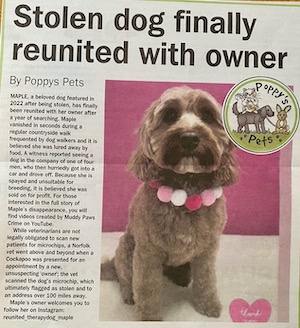 Reunited Easter April 2023:
A vet doesn't need to scan an animal for a microchip, even though dogs are legally required to be chipped. However, a Norfolk vet scanned Maple when she was presented for an appointment by her current 'owner' over one hundred miles from Wokingham. Her chip was flagged as 'stolen'.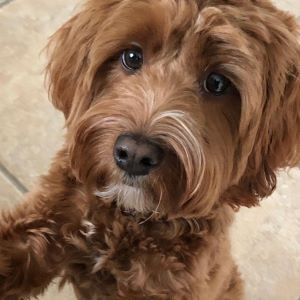 Her owner, with the help of Muddy Paws Crime, launched a massive social media campaign with posts uploaded daily. Thanks to Maple's followers, old-fashioned posters were displayed around the UK, and Maple appeared in the Withernsea District & Community News last year.
By then, Maple had been missing 381 days. She is spayed and, therefore, unsuitable for breeding. Maybe the thieves sold her on because she was unsuitable for breeding, or maybe selling for profit was the aim. Whatever the reason, Maple is back home where she belongs.
Watch Maple's Original Video: Muddy Paws Crime – Maple Appeal
Watch Second Maple's Video: Muddy Paws Crime – Maple
Watch Maple's Video: Mum & Maple being reunited!
Maple's story:
Maple is a small (toy) red cockapoo with a dash of visible white on her chin. However, when ungroomed, Maple looks bigger. She is 2 years old, microchipped, spayed and was wearing a pink collar and silver ID tag at the time of her disappearance. Of course, the collar and tag would have been removed by now.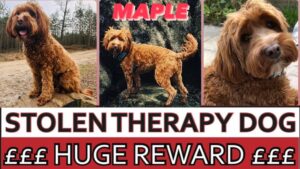 This sweet toy dog is a therapy dog for her vulnerable owner.
I am unfamiliar with some breeds, and you may be too. Do you remember seeing an advert, with pictures, of a similar-looking dog but advertised as a different breed? Do you remember purchasing a dog online with a tight shaggy coat, and being advertised as a different breed? Have you seen Maple on Facebook as missing but believe your dog and Maple are not the same dog because her sellers told you she was a different breed?
Maple was last seen on Hogmoor Lane in Hurst, Reading, RG10 (close to the crossroads at Poplar Lane) in the South East. She was captured on a vehicle CCTV as being bundled into a dark blue SAAB 93 with four white men at 3.22 pm on 21st March. One man wore a high vis vest, and all were aged in their mid-twenties.
Reward for her safe return.
#FindMaple
Maple-Stolen-Hurst-RG10 on Facebook
Contact Dog Lost UK on 01633 673859 quoting ID: 174398
Contact Thames Valley Police via 101 quoting 432201 24164
6 – Blue – Elderly Male – Distraction Theft – 14.06.21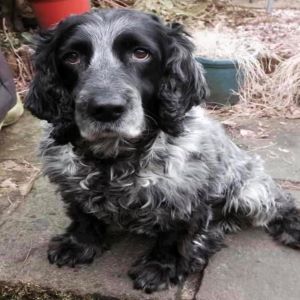 Blue is 13-year-old Blue Roan Sprocker with a docked tail. You could mistake him for a Cocker Spaniel if unfamiliar with the Sprocker breed. Blue was being walked at Below Pic Tor, Matlock, DE4 3BZ, when he disappeared around 12.30 pm. He is microchipped, tattooed, and wearing a blue collar with a yellow chip tag. The collar and tag will have been removed. Have you found or bought a similar dog? If so, please search for a tattoo.
Blue has the usual old dog bumps:
Fatty lump on his chest
Back wart on top of the left paw
Grey around snout and forehead
Did you find or buy a dog with these bumps? Was a dog similar to Blue handed into the Dog Warden or vet but with an issue with the microchip?
Blue is listed as stolen with Derbyshire Constabulary. Distraction theft is becoming more commonplace but of course, it is unconfirmed if a conversation with a man with a small grey and white dog was innocent and a coincidence or planned. It was at this point Blue vanished.
#BringBlueHome
Bring Blue Home is on Facebook.
Contact Dog Lost UK on 01633 673859 quoting ID: 167472
7 – Ted – Owner attacked on a walk – 15.12.20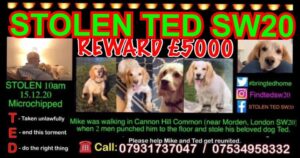 Ted is an apricot blonde male Sprocker. To those unfamiliar with the breed, you might think he is a Cocker Spaniel. I did. He has darker speckles of apricot on his legs and a lighter coat on his body. Have you seen a dog whose colouring you think is golden instead of apricot? Ted is an adult dog, microchipped, collar and tag.
Mike, Ted's elderly owner, walked him through Cannon Hill Common, near Modern, London, SW20, when two men punched Mike and stole Ted. It has become a frightening world.
On 29.12.20, a lady found Ted's collar and returned it to the owner. There is a post on Ted's Dog Lost profile asking for this lady to come forward with more information regarding the location of where the collar was found. This could help with an important trail into Ted's movements on the 15th of December. The outcome has not been commented on online.
On 06.02.21 there was a forensic analysis on the collar and local CCTV footage enquiries. The outcome is unconfirmed, and Ted is still missing.
Did you purchase a dog as a Christmas gift in 2020? As a vet, has an innocent person registered a dog similar to Ted, and did you scan for a chip?
Reward: £5000 for Ted's safe return
#bringTedhome
Stolen Ted SW20 is on Facebook
Contact Dog Lost UK on 01633 673859 quoting ID: 162951
Related articles:
8 – Jackie – Disappeared on a toilet break at home – 27.10.22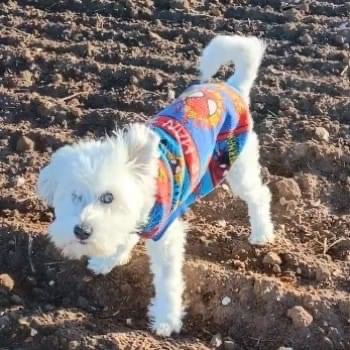 Needs urgent medication.
Jackie, a white Maltese breed, lives on a farm. She went outside to the toilet with two other dogs and never came home. The location is HU11 4LN, near Burton Constable Hall & Grounds.  Jackie is a lively 21-year-old, is noticeable with one eye, is partially deaf, has a touch of doggy dementia and needs medication for pancreatitis. When she disappeared, Jackie wore a pink collar with a tag and a Spiderman dog coat.
If you know anyone in Burton Constable, please mention Jackie, and if you notice someone with a one-eyed small white dog, please share the information with Dog Lost UK. You can do this anonymously.
Contact Dog Lost UK on 01633 673859 quoting ID: 179896
Where can I get publicity for my missing pet?
Set up a Facebook page immediately.
Join Facebook groups and share your pet's profile or Facebook page.
Please register with Dog Lost UK – your pet's profile will be shared across social media
Register your pets, including your cat, with Animal Search UK too.
If lost in the open countryside, engage the help of a drone company. This has proved successful and reunited pets with their owners.
Poppys Pets is a participant in affiliate programs which compensates us for referring traffic. A selection of articles on this website contains affiliate links. Further information: Disclaimer and Privacy Policy
Poppy's Pets has a monthly column in the Withernsea District & Community News