Spaniels, Chihuahuas, Pomeranians, and Golden Retrievers are some breeds used in blood sports. Criminals aren't bothered about the breed or age of your dog. Cats, puppies and kittens are used as live bait too.  How can you keep your pet safe? And what is the animal bait victim?
Bait is an animal used to test a fighting dog's ability and instinct to fight in blood sports. The bait animal may be subjected to having its mouth taped, teeth ground down, legs tied together and chained so it cannot fight back. The bait victim will be mauled and killed for training purposes. 
Never advertise your pet as free to a good home or cheaply – post-Christmas is when criminals will hunt for unwanted pets online.  
Be vigilant at home, take extra precautions with home security, be observant of criminal house markings, and keep your dog safe by walking with anti-theft dog leads and collars. Change your dog walking routine and times. Join a dog walking group or walk with a friend or family member.
Fighting dogs are commonly known as Pit Bulls and include the following breeds:
Staffordshire Bull Terrier
American Staffordshire Terrier
American Pit Bull Terriers
American Bull Dogs
A Staffordshire Bull Terrier called Zeena, a pet, was a runaway Zeena and was exposed to violence for four years before being found on the streets in an appalling condition. Bull breed pet is believed to be stolen and sold into the blood sport. It is important to protect your pets.
What is dog fighting?
It began when the Romans invaded Britain in 43 AD. They arrived with fighting dogs for blood sports.  Today it continues as an inhumane barbaric sport in which two dogs fight each other, causing catastrophic injuries or death.  The sport is for monetary gain among spectators and is provided for entertainment. 
Is dog fighting blood sport legal?
The sport was banned in England in 1835.  Today, under the Animal Health and Welfare Act 2006 (Scotland) and section 8 of the Animal Welfare Act 2006 (England and Wales), it is an offence to force animals to fight one another.  However, the sport continues secretly by sick people in society and has become an animal welfare issue for all animals concerned.
What is animal bait?
The animal bait is your family pet stolen from your home, back garden, on a walk, or outside a shop. Or advertised online, or even theft from an animal rescue.
An innocent animal used to love, kindness, a happy home, warmth and food suddenly finds themselves in hell.
The RSPCA lost one of their Staffy's – someone wanted to adopt a dog and took it for a walk. He never returned. I don't know the fate of this dog and like everyone. I hope he stole the Staffy because he couldn't afford adoption fees or knew he'd fail the home check. But the fact is that the Staffy may have been stolen to be used as animal bait against fighting dogs.
The animals used for bait are a dog, cat, pony, sheep, or rabbit. It doesn't matter if the bait dog is bigger than the fighting dog. The larger family pet dog will be declawed, teeth ground down to the gum and its muzzle, sometimes legs, bound with tape. The larger dog cannot be allowed to injure a fighting dog. Puppies and kittens are used as bait too.
The purpose of using animal bait is to test the fighting dog's endurance and instinct. They will fight to the death. After all, it's how they have been trained.
Your family pet, the bait, is often electrocuted, stabbed and prodded in the ring, terrified, urinates in fear, is submissive, and ultimately, suffers unimaginable pain. Haddie survived but lost half her face.
The story of Staffy Zeena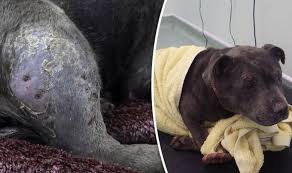 "She was found a significant distance from her last registered home, and the surmise is that she was found by an unscrupulous person and brutalised horrifically."

Inspector Scargill
In 2014, a Staffordshire Bull Terrier called Zeena escaped from home.  Four years later she was found and her owners traced from her microchip. Extensive wounds proved she had been used to fighting other dogs.
Zeena spent a long time in a veterinary hospital.   Her wounds consisted of a fresh bite to her neck, a punctured eye, and a leg wound down to the bone. This once happy family pet became submissive, vulnerable, and terrified of men because of her ordeal.
Unfortunately, Zeena died of her wounds.
How can I protect my pets from being stolen?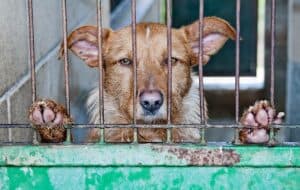 "Though not all dogs are stolen to be bait there is a percentage that fuels the horrific so-called sport of dogfighting."

The Dog Listener
Any type of pet can be stolen to be used as bait. Read Billy's story – it's heartbreaking. He was stolen and died in a dog fighting ring that day. He was used as bait to get fighting dogs hyped up read to fight one another in the ring.
Billy was a Crossbreed Terrier wh lived a happy life with his family. These criminals will steal any breed, any age, any size:
Spaniels
Pomerians
Chihuahuas
The above is an example.
A pet can be stolen for several reasons – to resell, puppy or kitten farming, abuse, fight, or bait.  Or found as a stray, not reported to the Dog Warden, given a home. 
Be vigilant.
What should we do to protect our pets?
1: Keep your dog in your sight. Do not tie it up outside a shop or leave it in the car. Stay with your dog in the garden, especially at night. Be wary of strangers asking questions. Vary your walking route and times and invest in anti-theft leads, collars, harnesses and alarms
2: Double lock your back gate. Thieves will open gates so your dog escapes. Read the story about Zeena. Alarm the dog kennel.
3: Include deterrents in your garden: high fences, prickly hedges, fence top spikes, CCTV or HD camera, and motion sensor lighting. All act as a deterrent to thieves.
Humberside Police recommend for home security:
Outdoor motion sensor light  – electric or solar
Anti-climb spikes plus a warning sign (the sign is a legal requirement)
Defender (brand) door alert alarm (recommend checking if it will fit your door and frame)
CCTV  – real or dummy and signage
Personal alarm when out walking
Padlock for double doors (e.g. patio) 
Window alert alarm
4: What about the stranger at the door? If someone offers work, this could be someone checking out the family pet.
5: Keep an eye out for chalk marks or cable ties outside your property.  A couple of things have been reported as a hoax – plastic bags tied high up in trees outside homes of family dogs, coloured stickers placed on gates – red for a big dog, yellow for a medium-size and pink for a small dog.
6: Keep microchip details up to date. PetDatabase offers a free service. Unfortunately, thieves are known to cut microchips from an animal's body. 
7: Take photographs of your pet: markings, missing limbs, any teeth extractions, a tattoo. Include photos of you both together at home and in the local area. These will help with identification leading to being reunited with you. Consider Smart Snout, DNA Protected and a tattoo.
8: Cat proof your garden or build a catio to keep your pet safe. If you allow your pet freedom, bring your cat indoors at night.  If your cat is friendly, he/she won't hesitate to go to a stranger.
9: GPS trackers for cats are useful to see where your pet goes. You'll know the last location, but a thief will remove the collar.
10: Never advertise your pet as free online … or at a low price.  Criminals check online post-Christmas because that's when pets are given away free.
A group of kittens were purchased cheaply online and used as live bait.  The well-dressed, a polite stranger who professes to love animals can be a blood sport criminal.
Police once recovered the bodies of two medium-sized dogs, one was a Golden Retriever. Both had died from extensive injuries from baiting, their legs and mouths taped together. Both dogs were microchipped with the original owner's details. The owner's sentenced both family pets to a horrific death because they gave them away free online.
Take your unwanted pet to a rescue but given covid-bought pets are now being handed over to rescues, and the cost of living crisis 2022 means more animals are being surrended and most are full.  Will this mean more will be advertised online and full into the wrong hands?
Related Questions:
Who do I report a suspected dog fighting to?
The League Against Cruel Sports supports and gives invaluable advice to professionals.  For veterinarians, they offer a diagram showing injuries that may be from fighting. Injuries must be recordedf. The Royal College of Veterinary Surgeons sets out client confidentially unless concerns about animal welfare and/or public interest.
What happens to pets who survive dog fighting?
We've already touched on how criminals remove a pet's ability to fight back and protect itself. Of course, puppies, kittens, and rabbits wouldn't stand a chance.
The link below shows dogs that survived. Each one is a Staffordshire Bull Terrier.
When dogs have served their purpose, they are either released, die from injuries or killed.
Can a fighting dog or bait victim be rehomed?
The above link explains the outcome of each dog. And the answer is yes. But those have been lucky to be given a chance. Fighting dogs tend to be euthanised.
Do criminals keep female dogs and cats?
Litters from unspayed female dogs are trained to be fighting dogs. One example of training is head slamming.
Criminals are known to keep colonies of feral cats and their kittens used as bait.
Poppys Pets is a participant in affiliate programs which compensates us for referring traffic. A selection of articles on this website contains affiliate links. Further information: Disclaimer and Privacy Policy