Pet owners want to remember their beloved pets; losing one isn't easy. A handmade pet memorial keeps their memory alive. There are many options available, ranging from cartoon pet paintings, engraved pots, resin or slate stones or wooden plaques. Alternatively, try a simple and affordable DIY project and hand paint a rock with a few supplies. The memorial can be customised to reflect your pet's personality. Read on for the supplies required and the method to paint your pet memorial rock for indoors or outdoors.
The death of a loved family pet is heartbreaking. There are different pet memorial keepsakes and prices vary. Alternatively, if you are having your pet cremated, they will have suitable carved or wicker boxes to keep your pet's ashes inside. These are an additional charge. Making a pet memorial is special and offers a closer connection to your late faithful companion. Painting a rock is less costly and you may need items from your garden or indoors. A memorial can even be a pretty vase you find in a charity shop filled with homegrown flowers.
Pet memorial ideas to buy:
An engraved box to keep a lead, collar and tag, favourite blanket or toy inside
Engraved plaque for indoors or outdoors
A garden slate or stone with fond words
Plant a tree
Put annual flowers in a decorative pot
Animal ornament resembling your pet
Silver Heart Locket with your pet's fur
Under £2 Forget Me Not seeds
A pet memorial can offer comfort and help you remember fun times together.
What are pet memorials and are they a good idea?
April 11th is National Pet Memorial Day in the U.K.
A pet memorial is something special and meaningful that has a special significance for you and your late pet. I always purchased slate or stones and placed them in pretty locations in the garden. I made a pet memorial this time, which gave me extra comfort because I made it for Molly. I selected pretty uplifting colours, love cats, and words that always make me smile. Until I moved house, it stood in a sunny spot in the room where Molly slept. For me, it helps me remember good times instead of the bad.
Wooden or wicker boxes for your pet's ashes:
Cremating your pet and keeping its ashes in a box means you can take it with you when you move house. It can cause sadness knowing their body is buried in a garden you no longer own. You may store the pretty box because it contains your pet's ashes.
Pet memorials that give happy memories:
There are heartwarming and comforting pet memorials available to buy, which you can display in your home or garden and remember the good times. I never add dates to a memorial stone because a brain can register it as a day of loss. Remembering happier times will help the grieving process.
What preparation do I need to think about for a pet memorial?
I feel these suggestions are appropriate:
Tell yourself that your pet memorial is to remember happy times only
Decide on words that identify with your pet's personality
Choose uplifting colours for positive memories
Decide if the memorial will be outside or indoors
If an indoor memorial, where will it be displayed? Will the rock stand up or will it need to lean against a wall? You do not want a heavy rock tumbling off a ledge
If for outdoors, it needs to be varnished to withstand weather elements
Make your design on paper. Make it easy. And add love hearts!
How to make a painted pet memorial rock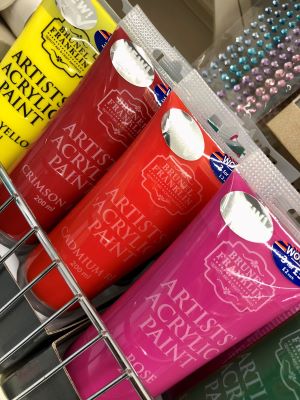 Molly's memorial stone cost me about £3, excluding the rock (2019).
Items you need:
A large rock or small pebble
Pot of acrylic paint (or more if a multi-coloured design)
Acrylic pen to write text (and love hearts!). Make sure the nib isn't too thick
1″ width decorator paintbrushes for different colours and one for the varnish
Yacht varnish (optional)
An old tile or piece of plastic to rest the rock as it dries
You may find a suitable rock or small pebble in your garden. But look around as you may find a rock you can use if legally okay to do so.
Prices will vary for products you need and have increased now in 2022. But have a look in the following stores:
Wilko
B&M
Poundland
Poundstretcher
Boynes
Method:
1: Wash the rock thoroughly. Use a brush to clean dirt from the crevices. Leave to dry
2: Paint your first coat of colour to one side and leave it to dry on a hard surface. Do not dry on newspaper as the paint (or varnish will stick to it)
3: Paint a second coat and leave to dry
4: Repeat to the opposite side of the rock
5: Using an acrylic pen, add your text and hearts. Leave to dry
6: If an outdoor memorial, varnish the rock and leave thoroughly to dry. If an indoor memorial, varnishing is optional. I did not varnish Molly's rock
Consider not including the date of death – it will only give you a constant painful reminder. Always remember the good times you had with your pet.
How do I weatherproof painted rocks?
Cheap varnish will give reasonable protection but eventually, the outdoor elements will tarnish the colour so during the winter I suggest bringing the painted rock indoors. Buying better quality varnish will protect your rock more outdoors during bad weather.
| Brand | What it promises |
| --- | --- |
| Plasti-Kote Clear Super | UV absorbent. The colour will not fade or yellow. Water-resistant |
| Acrylic Paint | Read the label as some paints are self-sealing |
| £1 Yacht varnish | From experience, it does not protect painted rocks in harsh outdoor conditions |
Read more at Wilko
Related Questions:
How do I find a rock to paint on?
Always look around your garden and tell friends and family too! Just look around. Otherwise, you can buy pebbles at Hobbycraft, Amazon, Baker Ross or your garden centre.
Acrylic paint won't adhere to the rocks I bought; why?
Shop-bought rocks often have a wax coating, so you must put them into a pan of boiling water. Leave to soak for one hour. When the water has cooled, remove them and scrub off the wax with a nailbrush. Leave to dry.
My Mum adds white vinegar to the boiling water and helps the wax loosen from the pebbles.
Poppys Pets is a participant in affiliate programs which compensates us for referring traffic. A selection of articles on this website contains affiliate links. Further information: Disclaimer and Privacy Policy
Poppy's Pets has a column in a Yorkshire newspaper