Your dog or cat has reached old age and is suffering from health problems such as arthritis, maybe hip dysplasia, joint pain or is a younger animal with an injury. And from this, your companion cannot settle comfortably in their favourite bed, continuously changes position and struggles to get up and out of bed or needs to be confirmed to a crate. Is an orthopaedic bed the answer to giving your pet a more comfortable and restful sleep because the bed is designed to mould beneath your pet's body and relieve pain from pressure points?
When searching for an orthopaedic bed, you need to know how it will benefit your dog or cat, what it consists of, and what it offers compared to your pet's current bed.
Things you need to consider when researching an orthopaedic cat or dog bed are:
Size & height
Filling
Bumpers
Water-resistant cover
Removable and washable cover
Non-slip underside
Anti-tear fabric
Why your dog or cat needs an orthopaedic bed in old age.
Difficulties getting comfortable in the current bed
Has health conditions and the bed does not offer support on sore parts of the body
The old bed is flimsy and your pet has difficulty getting up from it
And this bed does not give full-body support
Maybe the old is large enough for your pet to stretch out but still offers little support
Low-priced traditional beds are normally filled with cheap materials that separate over time, leaving your pet sleeping on fabric and a hard floor. An orthopaedic bed is commonly made from high-quality memory foam that offers support and comfort, and that foam material remains in place.
An orthopaedic bed is not only for senior pets with health issues. Healthy senior cats and dogs quite often lose lots of weight because of age so a bed that moulds itself beneath the body will suit pets with bony bodies. Because of the firm base, it will support a senior animal getting up too. The same applies to pets whose breed means less body fat.
Kally Sleep UK offered Poppy's Pets an orthopaedic bed to test, so I asked a reader to try it out with her rescue dog Tess. Midge, her other rescue dog, and a visiting Chihuahua liked the bed too!
Midge is a rescue dog and tried the bed. Ideally, he needed the larger bed, but it was obviously a hit with him!
Arthritis on the right hip
Partial ruptured cruciate on the right side
Hip dysplasia
Tess is a 9-year-old mixed breed and weights 12kg
Fractured cruciate ligament
What to consider before I buy an orthopaedic bed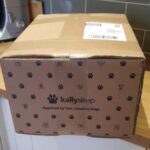 Size (including height and thickness):
It is essential to select the correct size for your pet. Your dog or cat needs to spread its body out rather than be confined to a smaller area that may cause painful discomfort. Kally Sleep sent the bed for Tess to test, but dogs will be dogs, and Midge often slept in it. As you can see by his size, he cannot extend his body comfortably. A small / medium bed (63 x 50 x 20cm) is adequate for a chihuahua, and the video below explores the medium / large size bed (76 x 60 x 20cm) but was too small for Midge, a Border Collie.
Watch the video: Doggy Mobility Problems – These Dogs Try Out an Orthopaedic Bed – What's the Verdict?
The breed size chart on Kally Sleeps website states:
Small / Medium is suitable for: Beagle, King Charles, Spaniel, Dachshund, Pug, Labradoodle, Chihuahua
Medium / Large is suitable for: Border Collie, German Shepherd, Staffy, Boxer, Dalmatian, and Labrador
Another point to consider, especially if your pet has mobility issues, is the bed height. Having watched your pet's mobility problems, ask yourself: Will my dog or cat be able to climb up onto the bed easily and without pain? The bed tested is 20cm high.
The weight of the beds is as follows: Small / medium is 1.8kg and medium / large is 2.6kg
Filling:
Make sure you buy a bed containing high-quality memory foam. Foam is rated between 3lbs to 5lbs, five being the highest quality, so when your pet lays on its orthopaedic memory foam bed, it will offer support by moulding itself to the cat or dog's shape.
The filling to avoid is polyester or cotton filling. You may have noticed with your pet's current bed that the filling has separated or flattened from your pet's weight. The result is your pet is sleeping on fabric only and on the floor, which will hinder health conditions rather than soothe them. So look for a memory foam bed that offers a thick base.
Read the manufacturer labels and buy from a store that specialises in pet goods. I do not recommend eBay – I have had many issues with eBay, including drop shipping, substandard quality of goods then a battle to return the item or get a refund. Yes, an actual orthopaedic bed will be more costly, but it will last longer in the long run and save cash.
Bumpers:
Bumpers are the raised area along the outer edge of the bed. Some designs do not have them. Kally Sleep orthopaedic beds have a three-sided low bumper with their beds. The bumper offers your dog or cat head elevation support, but if your pet does not require this, consider purchasing one without.
Water-resistant cover:
Senior to geriatric cats and dogs sometimes leak in old age or may become incontinent, even diarrhoea, so I recommend a water-resistant cover. Urine or faeces accidents will not filter through and absorb into the memory foam mattress.
Removable and washable covers:
Whether leaks, accidents, pet smells or wet, dirty paws, buy a bed with covers that you can wash to eliminate unwanted odours.
Kally Sleep UK suggests the following when washing or tumble drying: hand or machine wash on cool water (30 degrees), then tumble dry on low heat. Do not use any chlorine bleach.
Non-slip base:
Like us, you may have hard flooring downstairs. You must select a bed with an anti-slip base. For any heavy dog, especially one with joint issues, if the bed slides as your pet steps into it, it could cause new injury or deeper trauma from an existing condition. And another big vet bill.
Anti-tear fabric:
Most of us have a dog that loves to dig and a cat that treads with claws out to get comfortable. Look for a bed with anti-tear fabric that is effectively durable. Kally Sleep beds have anti-tear fabric.
Will a dog or cat benefit from an orthopaedic bed?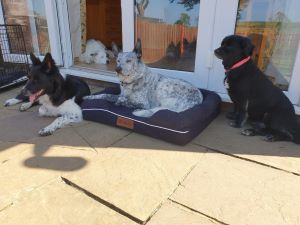 ess settles quickly on the (Kally Sleep) bed which is great as she is in discomfort with her newly injured leg."

Sarah from Woofers of Warboys
Ask the question if your pet has health conditions monitored by a vet. They will give a professional answer, having assessed your pet. As your pet ages, there will be age-related degenerative joint problems. But cats and dogs can be born with issues like hip dysplasia, and our pets can suddenly suffer injury and need bed rest.
The signs that your pet is struggling with health issues:
Restless in their current bed and constantly changing position
Joint conditions can cause pain, and if the bed does not offer support, whether the base's thickness or materials within, your pet is likely to feel discomfort and restless. An orthopaedic bed containing high-quality memory foam will comfort aching limbs because it conforms to your pet's body. And you will have a happier pet!
Your pet is unable to get up from the current bed
The base of an orthopaedic bed will be firm enough to enable your pet to get up with ease rather than a painful struggle from half-deflated polyester or cotton-filled content.
My pet refuses to sleep in its bed
If your pet finds the old bed uncomfortable and causes pain, your dog or cat may avoid it.
Your cat or dog walks slows or keeps stopping when walking
Firstly, if you notice your pet isn't as active, has problems jumping up onto higher levels, or can only walk a few paces, please book an appointment with a vet. Your cat or dog could be suffering from arthritis or another painful condition. Treatment is available. And I understand how cost can impact, especially since April 2022.
Investing in an orthopaedic bed will give your pet a restful and comfortable sleeping experience. Paying that little bit more will provide you with a longer-lasting bed.
An orthopaedic bed can help pets with painful health issues
Animals with injuries resulting from an accident may benefit from an orthopaedic bed because of the support, and depending on the size, you can put it inside a crate.
Hip dysplasia – the hip joints have developed abnormally and are incredibly sore and swollen.
Arthritis – Inflammation of the joints causing a great deal of pain and limited mobility
Ruptured cruciate – ligament issue, which may give the impression that your dog is lame. The ligament can weaken over time.
An orthopaedic bed will evenly distribute your pet's weight and help relieve discomfort and pain.
Follow Kally Sleep because they frequently have offers, buy one get one free on a range of products, and a discount when you sign up for a newsletter. If you are interested in the orthopaedic pet bed in this article, it's worth visiting the website because they have 50% off (April 2023) and seem to be ongoing.
Related articles
Sarah's feedback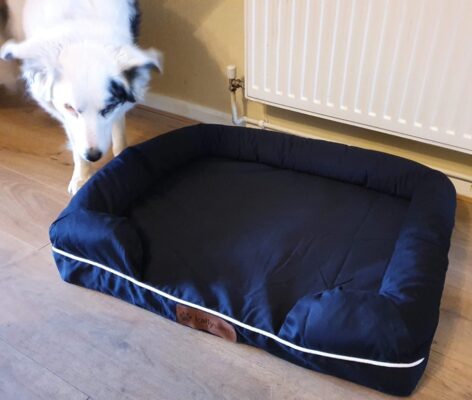 "Tess is a 9-year-old mixed breed. She had a TPLO for a fractured cruciate ligament in December 2021 and has just fractured the cruciate ligament in the other leg. She is now on crate rest and has the Kally dog bed in the crate.
It's a lovely-looking bed. She doesn't need the headrest, neither does she use it. 
Tess settles quickly on the bed which is great as she is in discomfort with her newly injured leg. It fits perfectly into a large crate giving her hight quality comfort in her restricted space. 
I haven't taken the covers off but it was really easy to put together so I can't see there being any difficulties.

Tess is a small to medium dog weighing 12kg. She is quite long though. Its to small for my Border Collie's which is a shame as Midge has arthritis in his hips." 

Sarah E
Tess & Midge tested the medium / large bed.
Related questions:
I cannot find orthopaedic beds for cats
There is a limited range for cats with mobility issues and I've bought products designed for dogs and used for my cats. In respect of the bed, it's worth buying a smaller size bed suitable for a chihuahua size dog.
Orthopaedic pet beds are expensive – I'm concerned I will buy a substandard bed
Kally Sleep UK sells quality products and their brand is for sale in selected John Lewis, Mamas & Papas and M&S. The company offers a 14-day trial period. Alternatively, Silentnight has orthopaedic pet beds which are available in selected Pets at Home branches.
Oddly, the pet beds are not listed on Kally Sleep menu but can be easily located using the search function.
Midge looks a similar size to my dog, so I am worried the medium / large will be too small
Whatever bed you choose, a dog must have room enough to stretch out, especially for dogs with mobility issues and painful joints. Staff are happy to chat about your concerns.
Poppys Pets is a participant in affiliate programs which compensates us for referring traffic. A selection of articles on this website contains affiliate links. Further information: Disclaimer and Privacy Policy
I write for the Withernsea District and Community News as Poppy's Pets