When my 16-year-old cat developed dementia, his vet recommended a complementary feed called Aktivait and advised purchasing from an online pet store.
Aktivait is for cats and dogs. It can be purchased online and is a non-prescription product, so there aren't any buying restrictions. I also made a video showing an easy way to administer it. Firstly, if you have concerns about your pet and its memory, please consult your qualified veterinary surgeon to rule out other factors.
My geriatric cat went from eating a mouthful of food then having a brain shutdown. Taking Aktivait, Albert could concentrate on his dinner and eat more. This led to weight gain.
A quick at what Aktivait offers to help cats and dogs with dementia:
You pull the capsule apart and inside is a powder
One capsule of powder a day
Easy to administer
I can vouch that it helps the brain
Available for cats and dogs
They recommend you start using Aktivait when your cat or dog reaches old age to help continue normal brain function
60 capsules per pack
Purchase online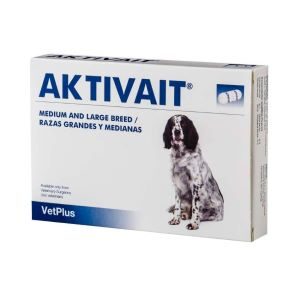 | Relief that it worked | Things I wished for |
| --- | --- |
| Helped Albert engage more with eating | That he would eat vigorously like a normal brain healthy cat |
| The capsule pulled apart quickly, and the powder was easy to mix with food and eased any confusion | Although six months supply, like everyone, you wish it cost less – but it kept my cat alive |
| Albert gained weight | |
| Contains natural ingredients | |
What are the ingredients per capsule in Aktivait?
DHA / EPA (as fish oil)
N-Acetyl Cysteine
Vitamin C (as L-Ascorbic acid)
L-carnitine (as L-carnitine L-tartrate)
Vitamin E (as dl-a-Tocopheryl acetate)
Acetyl L-carnitine
Coenzyme Q10
Phosphotidylserine (as Lecithin)
Selenium (as L-selenomethionine)
How does Aktivait help ease the brain function decline of your pet?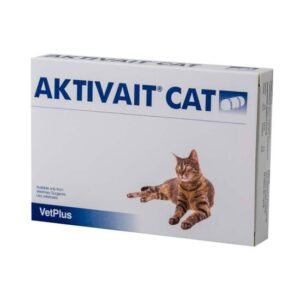 The product contains carefully selected nutrients and natural antioxidants (vitamin C and E, N-Acetyl Cysteine, Selenium, Co-enzyme Q). The ingredients of Aktivait help the function of the brain cells (carnitine, mega -3 fatty acids DHA / EPA, phosphatidylserine) and metabolism. Combined, the overall effect will help improve the electrical transmissions between the brain and nerve cells. And it will prevent free radical changes, meaning age-related changes.
The thing is, I agree when it states that Aktivait helps mental and health alertness, progressing life quality and giving elderly cats and dogs vitality. But you must maintain the daily dosage.
Update January 2023:
Alternative product: RenewMe
VioVet is an online retailer started by a qualified vet and has its own brand of products. RenewMe is similar to Aktivait and helps Vitality and Cognitive Support Since writing this article, VioVet has released its brand.
Available from VioVet.
Price between £23.99 to £29.99
Related articles:
What dosage do I administer to my cat or dog?
Cats – 1 capsule daily
Dogs over 20kg – 2 capsules daily
Dogs large or medium size weighing 10kg to 20kg – 1 capsule daily
Dogs small breeds weighing under 10kg – 1 capsule daily
When you purchase Aktivait, please read the recommended dosage on the reverse of the box or in the content section at your selected online pet shop. This is in case of dosage recommendations change since writing this article.
When can you expect results from Aktivait?
Aktivait suggests three to four weeks. I noticed positive changes within a day or two with Albert, but I think progress will vary from animal to animal. Finding a complementary feed that will help your pet's memory, easing the confusion in everyday life, is a relief. You need to consider the severity of the disease, of course. If the dementia is more advanced, the results may be limited or might not work at all. But you do not know until you try.
It is important to keep a routine and maybe tweak the home a little to help or keep safe your cat or dog. I also purchased night lights and placed them near where Albert slept and places I knew he liked to be. I believe this helped reduce the nighttime howling too. There is much more to dementia, and it takes a great deal of patience and understanding from the owner. And it can be emotionally challenging – the nighttime howling keeping you awake is the final decision when dementia has become too severe. But whilst your pet can manage, then life and management are essential.
Key Takeaways
The product is natural
You do not need to buy from your vets
You do not need a prescription to buy
You can buy a box covering 2 months
From experience, it does help an animal's memory if in the early stages of dementia
Disclaimer
I am not a veterinary professional. This article does not give medical advice. If you have any concerns about your pet, I urge you to seek advice from a qualified veterinary surgeon in the first instance.
Poppys Pets is a participant in affiliate programs which compensates us for referring traffic. A selection of articles on this website contains affiliate links. Further information: Disclaimer and Privacy Policy
Poppy's Pets has a column in the Withernsea District & Community News