Animals go missing because of different circumstances:
Tied up outside a shop
Left in a vehicle
Run off on a walk
Home burglary
Escaped from the home
Picked up by a kind soul and given a home
It's easy to think it won't happen to your pet. It can.
Lost on the streets or countryside, some dogs survive and others do not because survival depends on size, health, age, situation, predators, weather, and access to water and food.
When the admin is on holiday, I look after Dog Lost Facebook North East dogs and why dogs go missing are different. When the pink profile page turns blue because a dog is home safe, it is a relief.
These dogs are missing in the UK:
1 – Luckie  – Escaped DFDS Ferry – 21.12.16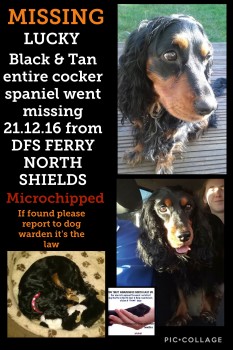 Luckie is black and tan Cocker Spaniel who escaped from a DFDS Ferry kennel when docked at Tyne Port, North Shields. Footage shows him frantically running around the quay. Luckie is microchipped and wearing a collar with a tag. Dog Lost ID: 109302
2 – Puddin –  Female – Stolen from home – 10.02.22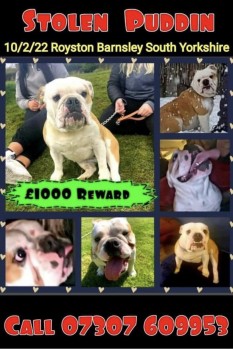 Caught on CCTV, three men stole Puddin from her home.  She is a red and white Bulldog, microchipped and from Royston, Barnsley, South Yorkshire, S71.  Dog Lost ID: 173441
3 – Scuttle – Male – Lost on a walk – 12.01.22 – Scuttle was found in March 2022 – Rainbow Bridge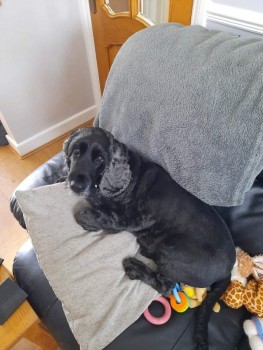 Scuttle is an older black Cocker Spaniel greying around the muzzle.  Missing in the woods towards Marske.
4 – Chenile – Female – Run out of the door – 23.01.22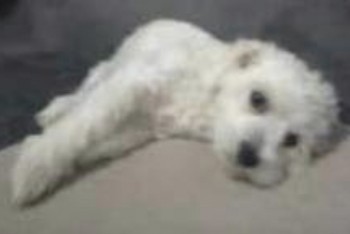 Chenile is a white Bischon Frise rescue puppy.  Lost from Elmfield Terrace (by a large park), Darlington, County Durham, DL1. The microchip is registered in Romania. Dog Lost ID: 173628
Related articles:
5 – Lassie – Female – Taken with force – 28.07.20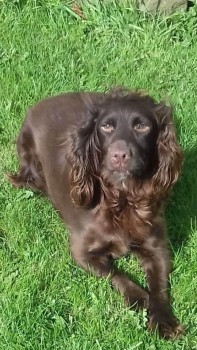 Neighbours heard Lassie screaming as she was forcibly taken from her garden at 11.45 pm. This is an active North Yorkshire Police investigation. She is a chocolate Cocker Spaniel, microchipped, with a legally docked tail. Stolen from Allen Grove, Stokesley, TS9. Dog Lost ID: 158824
6 – Grace – Female – Looked after by a friend and not returned – 22.12.21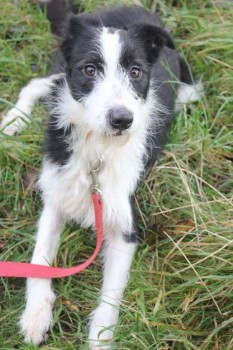 She is a young black and white border collie who may have been sold on. Grace is microchipped. Last seen Queensbury, West Yorkshire, BD13. Dog Lost ID: 173210
7- Ziggy – Cat – Male –  22.12.21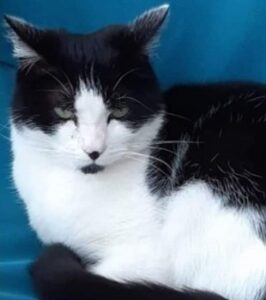 Ziggy is black and white, microchipped and a much-loved cat missing from Mixeden Road, Halifax, West Yorkshire, HX2. Dog Lost ID: 172279
8 – Poppy – Female –  Lost North York Moors area – 25.02.22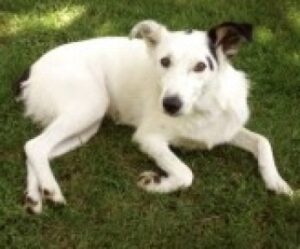 She is a white crossbreed with a little black and has a docked tail.  Poppy is a French rescue dog. Missing between Commondale and Kildale, up on the Moors, YO21. She is wearing her harness and is microchipped.  DOG Lost ID: 173793
9 – Maple – Female – Therapy dog stolen on a walk – 21st March 2022. – REUNITED April 2023!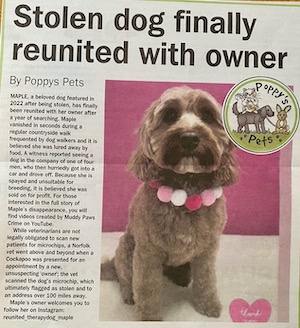 Maple is a red cockapoo with a dash of white, microchipped and spayed and on the day of her disappearance was wearing a pink collar with a silver ID tag. Maple was last seen on Hogmoor Lane, near the crossroads area of Poplar Lane, Hurst, RG10 in the South East. Maple was captured on a vehicle CCTV being bundled into a blue Saab car with four white men. One man wore a high vis vest and all were aged in their mid-twenties. Dog Lost ID: 174398 or contact Thames Valley Police via 101 and quote 2022 0321 – 1192
Related questions:
Sometimes, stolen pets are sold from car parks, or on Gumtree and Facebook. Escaped dogs can travel between 0.5 to 2 miles in any direction initially.  A found pet may have an owner searching frantically – please ask your veterinary practice to scan for a microchip.  Please help them get home.
How can I protect my pet and myself on walks or at home?
Lower-priced alarms fitted with sirens over 110dBs act as a deterrent, and ADT can quote for FREE if a full home and pet alarm system is preferred.
Suggestions from £6:
Who do I call with information about a particular animal?
Please call Dog Lost using the contact details below, and quote the below ID number. Owners will be grateful for any information leading to the reunification of their pet. Alternatively, you can register on the website and, search for the pet using the ID number and leave a comment on the profile. Please re-check for any follow up questions an owner may ask.
Create a profile for FREE if your pet has gone missing, and for cats use Animal Search UK.
Dog Lost UK
01633 673859
Article published in the Withernsea District & Community News – May 2022
Poppys Pets is a participant in affiliate programs which compensates us for referring traffic. A selection of articles on this website contains affiliate links. Further information: Disclaimer and Privacy Policy
Poppy's Pets has a column in the Withernsea & District Community Newspaper