WORKING TOGETHER TO FIGHT PET THEFT &  BE A VOICE FOR ANIMALS
Are you concerned about the rise of pet theft and illegal breeding? Muddy Paws Crime is dedicated to the fight against both crimes and protecting the welfare of animals. They support owners, educate the public with awareness campaigns, produce YouTube videos with owners of stolen pets, and interact with official agencies. The organisation often manages Facebook pages of missing pets on behalf of owners, addresses animal welfare issues, and the transfer of stolen dogs between the UK and Ireland.
Author Lisa Loops of Muddy Paws Crime with additional content from Poppy's Pets
A shorter version of this article was published in the Withernsea District & Community News in May 2023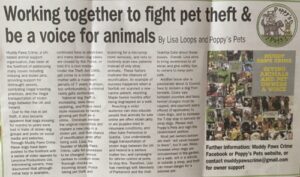 Pet theft awareness is vital as dog theft increases
National dog theft is increasing, laws need updating, and Police need more resources to tackle growing pet theft as a crime.  Criminals sell stolen dogs, often removing and replacing the current microchips with new chips. This creates a loophole if an unsuspecting person buys any pet, registers at a veterinary practice, and the pet is scanned as a new patient. The microchip will not flag as stolen because the original chip has been removed. Vets typically scan strays, but scanning for other reasons is not compulsory. Scanning is at the discretion of a vet.
Is there a faster method to match found and missing pets?
In the USA, Petco Love (formally Finding Rover) has patented a pet face recognition software that successfully reunites pets for anyone. The software helps animal shelters check if any strays are missing or stolen pets by matching size, colour, facial features, and coat attributes. Any matches help reunification of pets and free up space in a shelter.
If based in the United States, the steps to add your missing pet to Petco Love are as follows:
1: Register
2: Upload an image of your pet
3: The technology allows for a search throughout the Petco Love database with data from various animal welfare organisations.
Petco Love is looking for a partner in the UK, and I have approached Muddy Paws Crime and Dog Lost.
Long-time pets missing are lost in a sea of newer posts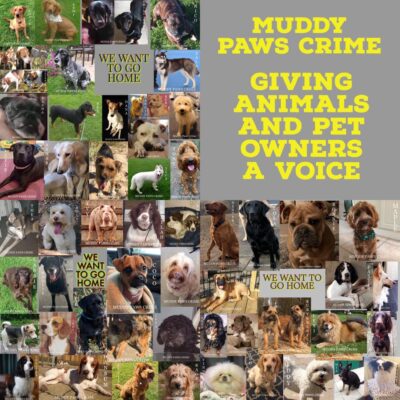 Due to the rise in pet theft, it became apparent that dogs missing for months to years were lost in trails of stolen dog groups and posts, and therefore, Muddy Paws Crime decided these dogs needed to be spoken for in the media. 
Lisa Interviewed pet owners and discovered whilst initial help is available, ongoing support isn't. Police close many stolen dog cases or owners are told it's a civil matter. Under the Theft Act 1968, pet crime is a criminal matter with a maximum penalty of 7 years in prison. Unfortunately, a criminal rarely gets sentenced.
Read on to discover Muddy Paws Crime's method of pushing the long-time missing back into the limelight.
Muddy Paws Crime releases live stolen pet appeals on YouTube
Maple a therapy dog, was stolen while walking with her owner, and I followed Maple's Facebook campaign. Coverage with YouTube creative content is beneficial because all information is together instead of individual social media posts.
The circumstances surrounding Maple's disappearance prove that we need to rethink our walking routes, stop walking alone, update our dog's walking gear, and keep our dog on a lead.
Watch the Video: #FindMaple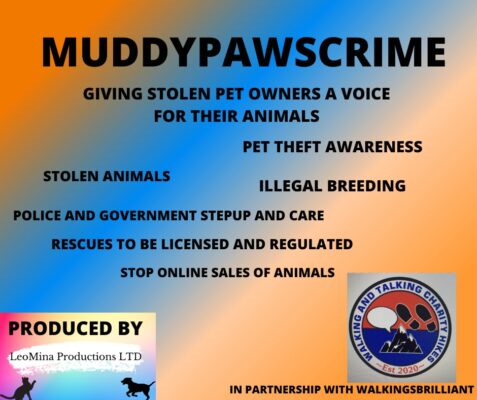 Maple's owner was interviewed in April and May 2022, following the theft of her beloved Cockapoo. The owner chose to remain visually anonymous. Maple had a high-profile campaign, and her owner opted for facial anonymity during the campaign because she responded to different for-sale advertisements for Cockapoos, and visited sellers to look at a dog. There are many online selling sites where stolen pets are advertised for sale.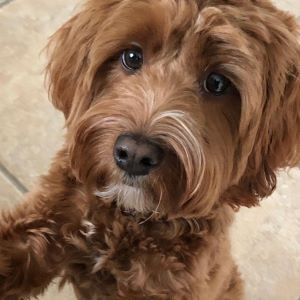 The good news is that Maple was reunited in April 2023.
It appears she was sold, possibly because she was spayed and therefore was unsuitable as a breeding dog.
An unsuspecting 'owner' took their Cockapoo to a veterinary appointment. Luckily, the thieves had not removed her old microchip. As a newly registered pet, a Norfolk vet scanned Maple and the microchip flagged as stolen.
Recent and long-term missing pets feature in a library of YouTube videos on Muddy Paws Crime YouTube channel. The aim is to bring visual awareness to the furry faces of those still missing. Every video can be easily shared on any social media account. Lisa, the founder of Muddy Paws Crime, gently interviews owners, and it is their decision whether they prefer to appear, or just a voice, or opt for a friend or a member of the Muddy Paws Crime team to speak on their behalf.
As we hear the emotion in the owner's voice, we hear their loss, which is heart-wrenching. In each video, we learn how each pet disappeared and are shown maps, walking routes and other locations important to the case. It's hoped that content is taken seriously because it shows a pet can disappear in seconds, and we can learn how we must take action to protect our dog, then Muddy Paws Crime has succeeded in keeping a dog safe.
Theft can happen anywhere and in seconds
We constantly hear what we should not do. However, we still take chances and leave our dog unsupervised in the garden, off lead and out of sight on a walk, in a vehicle as we run errands, tied up outside a shop, or in isolated locations—for example, woodlands, pathways alongside fields and hedgerows. Dog theft criminals target homes too, especially puppies, because people advertise on social media or share images of their pets but never check privacy settings.
Muddy Paws Crime offers owners support with a counsellor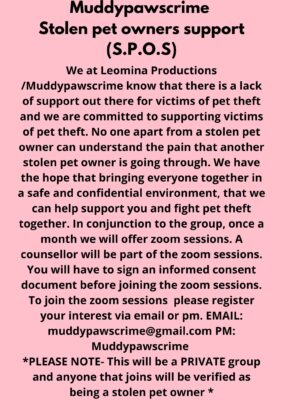 Muddy Paws Crime in North & Republic of Ireland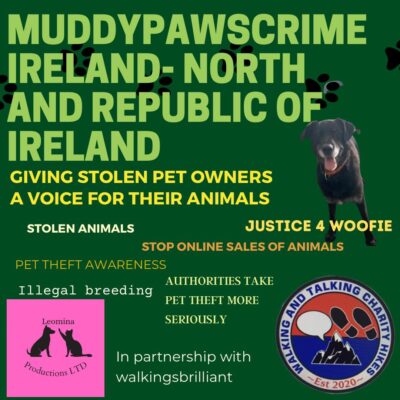 Related articles:
Illegal breeding – a criminal's way to profiteer
Illegal breeding and the sale of puppies is a serious issue. It has devastating consequences for puppies and unsuspecting owners who believe they purchased a healthy dog with a proven track record.
Puppies are often born from stolen dogs, and kept in small cages in inhumane conditions with disease and filth. Diseases are common whilst puppies and parents are held captive, and many purchased puppies often die from severe health issues or are contagious to humans. Veterinary professionals cannot always save puppy-farmed dogs, and owners face huge bills and heartache.
What is Canine Parvovirus?
It is a highly contagious disease that attacks the intestines and can be transmitted between unvaccinated dogs and puppies. A dog or puppy can contract the fatal disease in puppy farms from vomit or body fluids. It is a fatal and weather-tolerant disease that can remain on the ground for at least six months and does not reveal itself for seven days after the animal encounters the disease. Keep your dog up-to-date with boosters.
The survival rate depends on veterinary intervention, and these are the signs to look out for:
Weakness
Dehydration
Loss of appetite
Stinky diarrhoea with blood
Vomiting
Temperature
Collapse
Sudden death within 48 to 72 hours
If your puppy or dog survives the first 3 to 4 days with veterinary help, then recovery is possible.
What is the disease called Giardia?
Giardia is a parasite that attacks the intestines and commonly affects puppies because their immune system is low, and they cannot fight off any infection. The parasite is prone to reproducing infectious cysts, which embed intermittently in faeces. Unfortunately, a vet cannot diagnose the disease in one faeces test because of the parasite's cleverness. Several tests will likely be performed before a diagnosis is concluded and medication is prescribed to treat the infection.
Signs of Giardia:
Stinky diahorrea with blood and mucus
Bloated stomach from the presence of gas
Underweight commonly in puppies and younger dogs
Giardia is zoonotic and can affect cats and ferrets, so keep your pet safe by preventing your dog from drinking from muddy puddles.
What does Zoonotic mean?
Specified diseases can be transmitted from animal to human or human to animal.
Muddy Paws Crime gathers evidence in illegal breeding
Some dogs are stolen to be bred from. These dogs, whose lives were about love, happiness and comfort, are suddenly replaced with cruelty and filthy, harsh conditions. Bitches are exhausted, having several litters annually, develop serious ill-health and neglect, and when either sex serves their purpose for profit, are then callously dumped. When I volunteered for the RSPCA, there were occasions when dogs were found in the remote countryside, and veterinary diagnoses were endless breeding. Theft for illegal breeding is another reason why pet owners must be vigilant when dog walking, leaving cats and dogs in the garden unsupervised, and leaving dogs tied up outside shops.
Protect Your Pet: Strategies to Prevent a Dog Going Missing covers:
Sussex Police, Operation Collar, 2020 dog theft statistics, and security and protection tips
Essex Police and their initiative for alerting pet owners of suspicious activity and avenues for you to report worries
YouTube video showing thieves dog napping in broad daylight
Crimewave interview videos with criminals give us insight into their actions
Interviewed criminals explain specific facts about pre-dog theft
If Muddy Paws Crime suspects active illegal breeding, they proactively gather evidence by collecting profile screenshots and videos if applicable. In the area where illegal breeding happens, Lisa and her team forward the evidence to the Council Licensing.
Lisa desperately wants to reach a wider audience:
Educate people that pets (any age) bought online may be from a criminal
Puppies purchased unknowingly from illegal breeders are likely to have contracted Giardia or ParvoVirus
Puppies from illegal breeders are likely to have behavioural issues because they have no training or socialising with other dogs or people. The aim is to make the public aware and give them safety tips
Areas that Muddy Paws Crime wants to change
Kennel fees & statutory period
Council fees and rules to reclaim your seized dog vary from county to county. Lisa has started a Government petition to cap kennel fees, offer payment plans and increase the statutory period, giving owners more time to find a lost pet.
Please sign the petition – closes 5th of October 2023.
I suggest checking any Council website thoroughly for lists of found dogs. As you can see on the Cornwall Council website, there are several PDF's of found pets between 2019 to 2023.
Dog Warden vs Contractors
The dog warden collects stray dogs Monday to Friday during regular working hours, and contractors step in during the evening and weekends.
Below are the charges for Hull City Council if a dog is collected as a stray and cannot be returned to you immediately. If out of hours, finders must take found dogs to Hull Animal Welfare Trust. Unclaimed dogs are transferred here too.
| Offence | Charges |
| --- | --- |
| 1st | Fixed Fees of £50 plus £7 daily kennel fee plus other charges, but reduced by £50 if collected within 3 days (including the day seized) |
| 2nd | Fixed Fee of £70 plus £7 daily kennel fee but reduced by £50 if collected within 3 days (including the day seized) |
| Dog transported to the dog's home | £25 with Hull boundary |
Data from Hull City Council
Dog wardens will scan a found dog for a microchip, so it is vital to ensure your dog's chip is registered after implantation and contact details are up-to-date. A dog is then kept for 7 days unless claimed by the owner. Afterwards, a dog is transferred to a supporting rescue if fees aren't paid, or if the dog is unclaimed. Once handed over to the rescue, the dog is advertised for rehoming. But, if there isn't rescue backup, euthanasia is likely an option.
Of course, we must also appreciate the financial impact on Councils to kennel, staff and feed stray dogs, and cover other overheads. We must also understand the financial burden on an owner to find money to claim a beloved pet if a low-income earner. The enormity of the general cost of living hikes has impacted everyone. Even so, there ought to be the same rules and fees applied to all Councils nationally.
Please sign the petition – closes on 5th October 2023.
Microchipping
Lisa would like a single central Government-approved microchip database. She campaigns for compulsory scanning for a microchip to stop stolen dogs from falling through the system and being reunited with their rightful owner. Maple is proof that scanning new registered patients can achieve results.
The Kennel Club supports The British Veterinary Association:
"The British Veterinary Association's (BVA) guidance recommends that an animal should be scanned for the presence of a microchip when admitted for treatment 'if considered appropriate'. The BVA also newly recommends scanning before euthanasia and in other circumstances, including: prior to microchip implantation; on first presentation at the practice; on presentation of a lost, stray or seemingly unowned animal; annually as routine; and on admission for treatment or hospitalisation. It currently does not recommend compulsory scanning of all dogs at every presentation, highlighting that this would misunderstand both the powers of veterinarians and poses potential welfare harms to both animals and humans."

BVA
The Royal College of Veterinary Surgeons guidance:
"The Royal College of Veterinary Surgeons (RCVS) has highlighted that veterinarians are currently not obliged to scan microchips prior to euthanasia nor confirm that the person presenting the animal and signing the consent to euthanasia form is registered on the microchip as the animal's keeper. Where there is an ownership dispute or an animal is suspected stolen, veterinarians are expected to follow the RCVS client confidentiality and microchipped animals flowchart."

RCVS
The Kennel Club:
"We will not support petitions calling for the creation of a single database of microchipped cats and dogs, as well as mandatory scanning at every presentation…."

The Kennel Club
Read more about microchipping and compulsory scanning.
Police scanning found dogs
Dog Lost donated two Halo scanners to Bedfordshire Police, which helped reunite a dog believed stolen in Manchester. We now need more Police officers to have the facilities to scan dogs to help with reunification.
**Research conducted by Savanta Comres on behalf of the RSPCA between 13th to 15th November 2020
Key takeaways:
Get your pet spayed or neutered to prevent it from being used as a breeding machine
Never advertise or post puppies on social media, and ensure your location is private
Acknowledgement pet theft can happen to you – Make your home and garden secure
Microchips are removed from stolen pets so reunification is unlikely
Report any illegal breeding suspicions to Muddy Paws Crime
Dog trafficking between the UK and Ireland is a reality
Support & sign Government petitions started by genuine animal charities and organisations
Poppys Pets is a participant in affiliate programs which compensates us for referring traffic. A selection of articles on this website contains affiliate links. Further information: Disclaimer and Privacy Policy
Poppy's Pets has a column in the Withernsea District & Community News