We'll look at cosy and modern dog beds to vintage-inspired elegance, multi-functional dog bed home furniture, anti-chew, waterproof and water-resistant, and for giant dogs, extra large beds because these are hard to find. We'll also look at outdoor shelters, including a foldable raised bed ideal for doggy camping.
We've mentioned multi-functional furniture, perfect as space-saving furniture because it gives you storage and for your dog a private retreat to sleep. The piece you choose can seamlessly integrate into your interior style, but if you love DIY projects, we've included plans to make your own.
A stylish and comfortable space for your furry friend is essential for their well-being. We've included a range of the most stylish, unusual, practical and original dog beds on the market that cater to your pet's needs, with points to consider when deciding on the type of pet bed.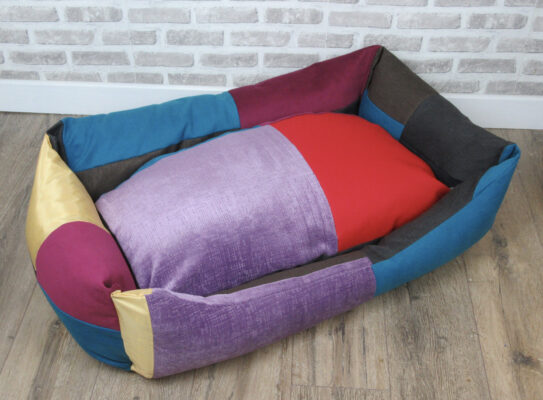 Points to consider when choosing a bed
How does your dog like to sleep?

curled up
stretched
laying in odd angles
using a headrest

What is your dog's personality?

a nervous deposition is familiar with some rescue dogs, mainly if it isn't used to domestic life. Therefore, a secluded hideaway retreat might be suitable
for dogs that love to chew, a bed made with basic fabric or wicker isn't an option. And if stuffed with filler, when digested, the contents can lead to gastro problems leading to veterinary costs

puppies are energetic and may struggle to get out of a bed with high sides
durable fabric is necessary for dogs that love to dig

Does your dog have medical issues?

bolsters (high-sided walls) offer neck support
water-proof beds offer a barrier to water and suit dogs with incontinence, other bladder problems or dribbles. It's ideal as an outdoor bed, too, particularly for camping. A water-resistant bed is not a complete water barrier, so it would suit younger dogs
beds placed on hard floor surfaces need base grippers to prevent the bed from slipping if you have a dog that loves dive-bombing its bed, and offers stability for older dogs, especially if your dog has mobility problems. Alternatively, buy vinyl-backing door mats and lay beneath
never buy cheap memory foam beds. memory foam needs to be a high density, offering joint support. A bed that loses shape and flattens will not provide insulation against a cold surface, or comfort and support against a hard floor. It will be a waste of money

What to look for in bed maintenance?

a removable cushion cover so it can be washed, and even better if the complete bed can be machine washed
a bed that you can wipe clean in between washes is necessary because of dog smells, mud and dirt, and any accidents

Are all beds suitable for heavy dogs?

Teddy is a Moritic Shepherd cross, meaning he weighs around 58kg and is a giant. Often, beds sold as XL aren't big enough. You should measure neck to bum, but I suggest nose to bum, and back to paw and chose a bed that allows your giant dog to stretch out
check the specification to find out if the bed supports your dog's weight

Are their anti-chew beds?

puppies and border collies are notorious for chewing, especially during the teething stage, boredom or anxiety
opt for beds designed with metal frames
choose durable polyester fabric, canvas or PVC
Shopping list:
Stylish indoor beds
Cosy modern dog beds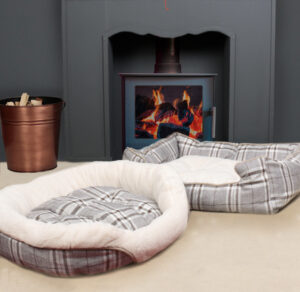 Price range: £25 – £40 as luxury bed only
Price range: £33 – £50 with a matching blanket
Sizes: S/M to XL
Available in two styles and shades
Stuffed 3-sided bolster walls
Faux fur cosiness
Includes a deep cushion with removable and washable cover
Made with polyester
Hand-filled with recycled polyblend materials
Pros:
This luxury bed by Noah's Ark Pets looks so comfortable. It has faux fur upholstery and a plush deep-filled cushion, with the option of two styles. It reminds me of a Winter bed for doggy snuggles.
The contents of cheap cushions tend to separate over time, removing all comfort, so assessing the depth and material used inside is essential to avoid wasting money on cheap alternatives. You'll find a longer-lasting bed by paying more. Whatever the price you pay, always give a cushion a shake-up to revive the contents.
The cushion cover can be removed and as a paw parent, you'll understand the importance because of muddy paws and pre-whiffyness!
The bed suits small to extra-large dogs but would be unsuitable for a giant dog because of its size and weight.
The 3-sided walls offer a headrest, ideal for dogs with neck issues and needing support.
Cons:
This bed has no anti-slip base, which may be unsuitable for dogs with mobility issues. The bed is unsuitable for dogs that dig because the fabric is not durable.
Review: "Bought one for our two mini Dachshund's, to put in their crate. They absolutely love it! It looks so comfortable and cosy. Will definitely buy another one in the near future!!"

Valerie – customer of Noah's Pet Designs
Orthopaedic memory foam dog beds for joint and mobility issues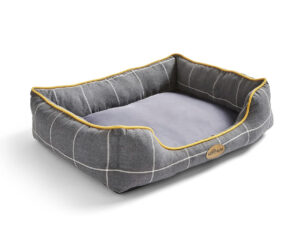 The purpose of an orthopaedic pet bed is for dogs (or cats) that require full-body support from age-related health problems – for example, arthritis. Read our article Top reasons to buy an orthopaedic bed for your cat or dog. Kally Sleep sent Poppy's Pets a bed to test, and although out of stock at the moment, the contents give you a clear insight into specifications to look for so you avoid buying a sub-standard bed. Silentnight is recognised in the UK as the bed people and has expanded into pet beds with a store on Amazon. However, the specifications do not give the foam density.
Things to consider when choosing an orthopaedic memory foam bed:
Orthopaedic beds are designed for dogs with degeneration of joints commonly found in older dogs, but can help dogs recovering from injury too. Memory foam should be thick; the more depth, the more support it offers a dog or cat, giving it a restful and comfortable sleep without pain.
Memory foam thickness – to qualify as orthopaedic level, the foam must be of a high density to allow your dog's body to mould into the foam, give support and alleviate pain. Always read the specification before buying.
Alfie & Lu, makers of high-quality beds, recommend:
The density of memory foam is measured in cubic metres (eg density of 40kg gives a weight of 40kg)
Memory foam beds for humans are 50kg and so for dogs, between 40kg to 60kg is recommended
Prices – expect to pay more for a genuine orthopaedic bed. Cheaper options will not support or mould around your dog's body and will be a waste of money.
Waterproof – recommended for older dogs, or muddy paws. Occasional dogs have upset tummies and may defecate or vomit. A removable cover that can be washed is essential, especially when paying more for a specialised dog bed.
Tear-proof – durable anti-tear material is essential for dogs that dig. Teddy frequently paws at earth outside instead of on his memory foam bed.
Side bumpers/bolsters/walls – a dog will feel snug within the 3-sided walls. The bumpers offer head and neck support for dogs with issues in this area.
Bed size – a bed must be big enough for your dog to stretch out comfortably. If its body overlaps the edge of the bed, it is too small and won't help joint issues and pain. Measure your dog's length and match it to your chosen bed. I recommend nose to bum instead of chest to bum. And when your dog is standing, measure from the back to paw pads. Spending money on a bed to find your dog's head overlaps the edge is no point.
A dog's weight – always check the maximum weight the bed allows.
Non-slip base – older dogs are unsteady on their paws, with or without joint issues, and dogs recovering from injury need to step in and out without the bed sliding away beneath them. A non-slip base will prevent further injury.
Choose cotton or a polyester blend – these materials will allow the air to circulate, especially during the hot months.
Visit Alfie & Lu's store on Etsy
Beds for giant dogs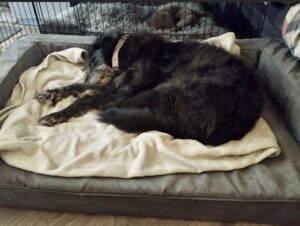 I've mentioned that Teddy is a Moritic Shepherd cross. The average size of this breed, as an example, 60cm to 75cm shoulder to paw, and 80cm to 90cm in length.
Mia and Susie, like many owners of big dogs, struggled to find retailers that sold dog beds big enough for their giant dogs but discovered two retailers who make high-quality dog beds.
Alfie & Lu
The makers at Alfie & Lu handmake every product and with the detailed specifications for each product, it's obvious the company knows what a dog needs for comfort at any age.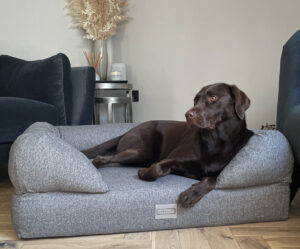 Price range: £128 to £240
Klarna payment option
Largest size: 115cm x 90cm
All bed sheets sizes are available
Choice of dual fibre or memory foam
Durable fabric used for human-grade sofas
Handmade by an owner of large dogs and fully knowledgeable on memory foam density and the necessity of providing comfort for dogs of any age. The above image shows Bernard relaxing on his Alfie & Lu bed.
Pros:
Family dogs model each handmade bed. You can choose a bed with 10oz polyester upholstery wadding or a 10cm high-density foam plus 6cm memory foam. Because of the woven fabric, the owners state pet hairs won't get trapped in the fabric, which relieves any dog owner. The bolsters support your dog's neck or provide a snuggle area.
Cons:
The beds are expensive, but you save money in the long run because of the high-quality. The bed does not have an anti-slip base so a consideration is to ask about a customised adjustment or buy a vinyl-backed mat to keep the bed in place. It is important to enquire about the maximum weight of your bed choice.
Tuffies:
Woody Woods Dog Grooming told me they recommend Tuffies as beds for oversized dogs, particularly the Wipe Clean Mattress, which is waterproof, has joint support and can be hosed clean. Their website shows beds include plump mattresses, wipeable beds, beds to hide away in and anti-chew beds.

Price range: from £27
Available for the giant dog
Made by dog owners
Waterproof fabric
Durable with 1000 denier texturised Nylon Durasoft fabric
Anti-chew
Raised beds
Mattresses
Nest beds
Waterproof beds offer a complete barrier against water
Like humans, older dogs may develop bladder issues or dribble, and younger dogs love getting wet and dirty outside, a waterproof, easy-wipe bed is recommended. Again think about opting for a non-slip base.
Wilko stocks the Bunty range, and as the store is going into administration, it may be worth looking out for sales. Failing that, buying directly through Bunty Pet Products, you get a 20% Summer discount and an extra 25% off if you sign up for the Bunty newsletters. This company offers regular discounts.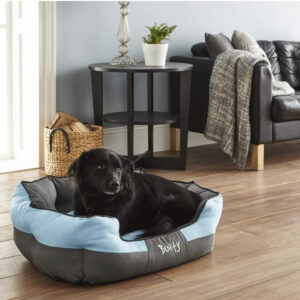 Price range: £24.99 – £39.99
ClearPay payment options
Get 20% off with voucher code SUMMERSALE20
Sizes: Small, medium, large (Beagle) and extra large (Spaniel)
Bolsters for headrest
Water-resistant
Easy to clean
Available in different colours
Durable material
Rubber-gripped non-base
Pros:
Bunty's water-resistant bed will withstand a certain level of water only. It's durable, which I like, and muddy paw prints can be wiped off when needed. It doesn't come with removable covers, but I don't think that matters, as the complete bed can be placed in a 30-degree wash. The bed is designed for indoor or outdoor use, so ideal for holidays or garden time, but avoid leaving outside during rain showers. Another positive point is its rubber-gripped base, so sliding across a hard floor isn't an option. With high sides, it is draught-proof too.
Cons:
A waterproof bed would be advisable for an older pet or a younger dog that loves getting wet outside and then going straight to bed when home, as it has a complete barrier against water.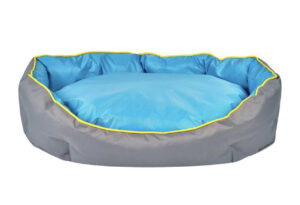 Price range: £19.99 – £29.99
ClearPay payment options
Recommended by Horse & Horse as anti-chew
Super durable and stretch proof
Waterproof polyester
Size: small, medium & large
Square and oval shapes are available
Wipeable with a cloth
Machine washable
Pros:
The second Bunty bed is the Oval Stratus dog bed, and it is made from water-proof polyester material so ideal for dogs with incontinence. Super hard wearing makes it ideal for dogs that dig, and as it's easy to wipe clean, accidents or muddy paw prints can be cleaned off. The bed can be machine washed too. Horse & Hound recommend the Stratus bed as an anti-chew bed because of its hardwearing polyester fabric. It is a bed perfect for the Border Collie!
Cons:
Unfortunately, It doesn't have a non-slip base but can be placed on an anti-slip door mat.
Contemporary chaise lounger dog sofa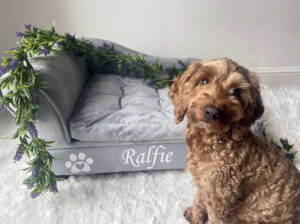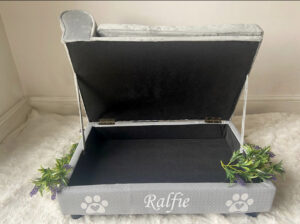 Price: £125
Klarna payment options
Handmade to order
Optional personalisation in white vinyl
Suitable for small dogs and cats
Storage base
Pros:
Contemporary dog beds have reached a new level – your furry companion can now relax on its own sofa or chaise lounge. With the right colour, it is a style that will fit in your living space and provide your dog with a posh bed! Another benefit is the bed storage. My pets have many blankets, so storage in the chaise lounge keeps belongings in one place. Whichever modern dog sofa you chose, always check the length versus your pet to ensure maximum room to stretch out.
Cons:
The chaise dog bed is stunning and handmade, but the cushion cover is not removable to wash, which creates a problem when it gets dirty, so an alternative is laying a blanket over the cushion. However, it won't solve the problem completely.
The bed is only available in a classy silver-grey with fancy personalisation but you could enquire about different colours. When choosing a handmade bed style, expect costs to be higher. Designs are endless and prices vary, but worth a look at what is on offer.
Handmade traditional-style beds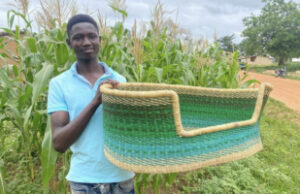 Price range: £116.08 to £138.19
Klarna payment options
Sizes: Small to XXLarge
Handwoven basket
Materials are elegant grass
The colour is made with non-toxic fibres and vegetable dyes
Every basket is unique
Arrives flat packed
Carriage £12.19 from Ghana
Pros:
Zaare Folks Craft, from African villages, produces different types of traditional-style dog baskets by handweaving elephant grass, non-toxic fibres and vegetable dyes, which are then dried in the sun. A huge selection of dog baskets, wall art and shopping bags are sold on Etsy, an online TV shopping platform.
It takes 7 – 10 days to weave one basket, each arriving flat-packed in sacks. All you do is dampen the basket and reshape it using your hands.
Cons:
The bed does not come with an inner cushion. When you select a size, ensure you can get a cushion to fit or purchase a cushion filled with 100% cotton filling from Zaare Folks Craft.
Review: "My beautiful basket arrived yesterday, quicker than expected and my dog and I just love it! It looks exactly as pictured and I love knowing that I'm supporting this community in Ghana."

Doug – customer of Zaare Folks Craft
Vintage inspired beds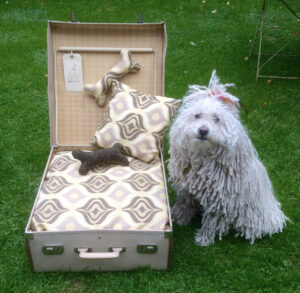 Price: £85
Klarna payment options
Original vintage suitcase
Pros:
For those who adore vintage aesthetics, a vintage-inspired dog bed is the perfect addition to your home. I love this old suitcase – my three old-fashioned suitcases came from a local charity shop free of charge. Depending on the size of your dog, whether you buy or make your own, using an old suitcase makes an unusual travel dog bed for doggy holidays.
Cons:
Choosing a suitcase bed, you are limited by the size. As with any bed, check the depth and filling of the cushion.
Days Gone By dog beds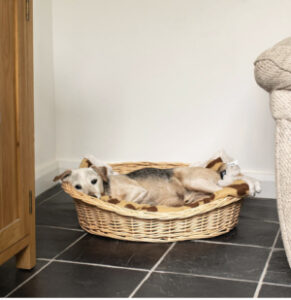 Price range: £24.99 – £32.99
ClearPay payment options
20% off everything with voucher code: SUMMERSALE20
Available in medium and large
natural wicker
Oval shaped
Includes a cushion with removable and washable cover
Pros:
This traditional bed is made with natural wicker gives the bed durability, and with the sides, it offers security but not the comfort of neck support that polyester bolsters give. I love the bed as it reminds me of our old-fashioned beds for our Chihuahuas. Don't forget, Bunty has frequent discounts and more if you sign up for their newsletter.
Cons:
A cushion accompanies the bed, but as seen in this listing, it doesn't give the depth or content material so it's advisable to confirm with staff at Bunty Products. This would be unsuitable for dogs that chew because the spikes may get caught in the mouth and gut.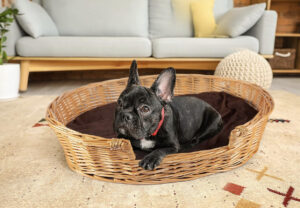 Price range: £24.99 to £32.99
Sizes: Medium & large
Natural wicker
Traditional honey colour
Cushion included
Pros:
The traditional colour, style and appearance are appealing and can be purchased from the Green Leaves store on Amazon. So if you prefer a dog bed with a design based on the past, consider this bed. But plenty of options are on the market with wicker in different shades. There are both traditional and contemporary styles based on old-fashion designs.
Cons:
The price includes a removable cushion with a zip cover, which can be washed. But I don't think the cushion is high-quality. If the stuffing separates, like all cushions, shake it to plump it up. If it stays flattened, consider buying one which is a higher standard or making your own and put inside the cover.
It may be unsuitable for dogs that chew as sharp broken ends could cause damage inside the mouth and gut.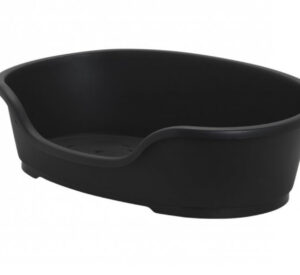 Price range: £13.00 to £22.00
Sizes: 60cm, 70cm and 80cm
Black only
Anti-slip base
Ventilation holes
Lower front entrance
Easy to keep clean
Pros:
At first glance, the bed by Petface looks uncomfortable. Or opt for the Moderna dog bed with optional extras: Soft 'N' Snug Dog Bed Insert and Danish Design Vintage Dogs Tooth Quilted Mattress. Reviews recommend the insert should be the next size up from the dog bed so it fits. However, it is costly, and financially you could opt for a standard fleece, double it up, lay a cushion on top, and drape the fleece over the entire bed.
I love the idea of having ventilation holes in the base as plastic combined with a dog's body heat will form sweat, but instead, it gives air circulation. The bed also has rubber feet, making it non-slip which is ideal for old pets and combined with the lower entrance, it is easier for dogs with mobility issues to climb in and out.
A plastic bed may be a good choice for a dog that chews. Read my article Cracking a Border Collie's Behaviour, which helps any breed that chews and gives ideas for redirect training.
Cons:
This bed would not be suitable for those reducing plastic in the home. The Petface and Moderna dog bed is the style of the past, but the higher-priced Moderna has 5* reviews. The traditional styles are darkly coloured, so if you prefer brighter colours and/or a lower entrance, VioVet has plenty of choices.
Review for the Moderna dog bed: "This was a brilliant bed very sturdy. I have a jackapoo and she weighs 6.9kg this bed was perfect for her I put a donut bed inside so she was nice a cosy. I ended up buying another one . So now she has one in the living room and one in the kitchen."

Carol – customer from VioVet
Multi-functional dog furniture
There are so many amazing designs today incorporating stylish furniture combo – this means, for example, a unit with a base that is a dog bed. This type is an excellent space-saving idea and is a comfortable retreat for your dog. Furniture From the Oak is a British company that handmakes furniture that will suit most homes. Expect to pay the same as you would a piece of furniture without the dog bed included.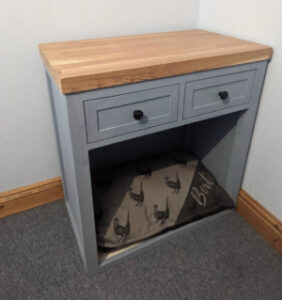 Price: £382.50
Klarna payment options
Solid redwood frame with MDF panels
Canvas dog cushion
Custom sizes and styles
Overall size: 40cm depth x 76cm high x 71cm wide
Bed opening size: 39cm depth x 50cm high x 61cm wide
Pros:
Buying handmade is the better option as you'll find unique pieces of furniture that are not mass-produced. Therefore are likely to be better quality. The zipped canvas cushion suits dogs that chew because of the toughened material. The listing available is for small to medium dogs but the creator offers custom sizes to meet your specifications, including different storage options.
Cons:
Yes, the price is high but similar to the type of furniture.
There are two cost-effective solutions if you cannot afford a product like this:
1: Purchase an item of furniture from a charity shop and upcycle it. You'll pay around £25 for delivery within a certain radius and ensure the delivery person can put the furniture where you want it.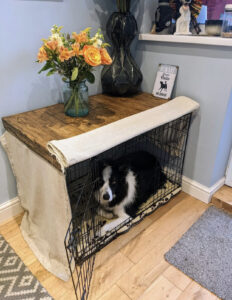 2: Do you own a dog crate? Sometimes you can buy secondhand from Facebook Marketplace. Adding a table topper gives your dog a darker retreat and a sense of secluded security, and you have an accessory in your living space to put a vase of flowers, photo frame or ornaments. On average, expect to pay around £100. Matt's Rustic Stuff is from reclaimed upcycled wood.
Review for the crate table topper: "Absolutely gorgeous – and exaclty as described. It fits erfectly on top of our crate and the rustic look suits tge kitchen very nicely. Given the nature of the wood used, the finish is a little 'rough', but this is exactly the aesthetic we were going for. It can catch fabrics a bit though, so fair warning."

Jenny – customer of Matt's Rustic Stuff
Do-It-Yourself stylish dog furniture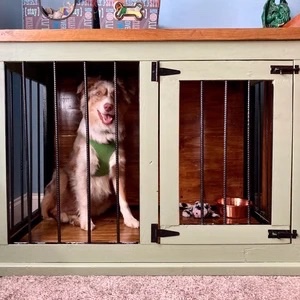 Price range: £12.73
Materials will cost around £133
PDF plan to download
You need a printer or a local print service
PDF plans consist of the following:
Materials cut list
2D plans and elevations
3D diagrams
Complete dimensions and measurements
Cut details and layouts
Step-by-step instructions
Tool list, material cost and tips to build
You will receive a PDF with 22 pages as high-quality, downloadable plans and images. The blueprints can be printed on 8.5″ x 11″ (approx A4) sheets.
Tools needed to make a furniture dog bed:
Saw
Power drill
Measuring tape
Pocket-hole jig
Sandpaper
Build specifications:
Build size: 45 1/4″ length x 29″ width x 32″ 1/2″ height
Interior size: 41 3/4″ length x 25 1/2″ width x 29 1/2″ height
Capacity: One large dog or multiple small dogs and puppies
Materials: 1×3, 1×6, 1×8, 2×4
Review for the DIY plans: "I would recommend these plans to anyone. Completely inexperienced doing a project like this and it is excatly what we needed to give us space back in the room."

Manda – customer of Build Blueprints
Available from Build Blueprint
Native American outdoor Tipis & beds for camping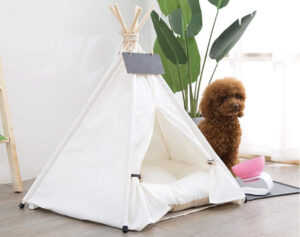 Price range: £35.89 to £48.89
Easy assemble
Small and medium are suitable for small pets under 7kg
Large is suitable for pets weighing between 7 to 15kg
Durable cotton canvas
Deep-filled removable cushion with a zip
4 colours or full lace
Pros:
Originally, the Native Americans used the tipis as a home but back then, they were made from animal skins. Today the idea extends to tipis for kids and pets without animal skins. Seougee's tipis are available in various colours, including full lace.
This tipi is suitable for outside in dry weather and indoors. I love the idea that it can be used in small areas like a balcony. The cushion can be removed and used as a pet bed elsewhere, even unzipped and washed.
The pack includes a cotton tent, and cotton rope to tie the natural pine poles. The opening can be clipped back with cattle pickup buckles too.
Cons:
Although suitable for the outside, the fabric is not waterproof.
Price range: £39.99
Medium 77cm length x 77cmcm width x 30cm high
Suits dogs weighing up to 18kg
Breathable
Durable
Anti chew frame
Removable and washable mat
"Inspired by human camping beds, this outdoor dog bed is made from sprayed steel tubes that is evenly stressed and less ikely to bed the legs, making it stronger."

KingCamp Store

Pros:

King Camp is a camping store and includes a raised camping bed for your dog.

The bed folds down will fit in the boot with your camping gear. Whether in the home, the garden or camping, the raised bed means your dog is not sleeping on a cold, hard surface. If using indoors, the leg base have non-slip foot covers so remains in one place. The removable mat is made of suede fabric and absorbs water and sweat on the top.

The bed base itself is a breathable and durable teslin mesh and is tear-resistant, heat-resistant, cool, anti-UV and overall, keeps a dog cool. But even though it keeps a dog cool, continue being observant of weather temperatures and heatstroke.

Cons:

The cotton mat must be handwashed instead of machine washed.
Key takeaways:
Today there is a huge selection of classy, modern and traditional dog beds
Make sure the bed is suitable for your dog's weight
The bed must be big enough for your dog to stretch out
Pay more for the correct memory foam density
Expect a higher price for a longer-lasting bed
Related questions:
What are Horse & Hound recommendations for dog beds?
Horse & Hound compiled a list of recommended dog beds, including the Bunty Stratus heavy-duty dog bed.
Henry Wag Elevated Dog Bed fromAmazon
Small to XL
Durable and robust steel frame and chew-proof
Firm wooden base to prevent sagging
The elevation is 14cm off the floor
Its side walls off draught prevention
The woven fabric is anti-moisture, stops bacteria, reduces smell
It's not anti-chew
The bed is also available at VioVet with replacement covers
Veehoo Elevated Anti-Chew Dog Bed from Amazon
Medium to XXL
Assortment of colours
Chew-proof
Anti-rust aluminium frame
Textilene mesh fabric
Elevated away from cold floors
Odour free
Easy clean by wiping or hosing
The Dog's Bed Utility Bed from Amazon in the UK & USA
Medium to XXL
Two colours available
Hidden zips to avoid chewing
Orthopaedic
Easy clean by wiping and can be hoovered
Recommended for active, outdoor dogs
Maximum Pet Products Mattress for a Crate from Amazon
Small to XXL
Available in different colours (I love the green!)
Massively durable
Waterproof, offering a complete barrier from water
Anti-dig
Dirt repellent
Easy clean by wiping
Soft to medium filling density
Ideal for the active, digging, loves-to-get-dirty dog
Recommended in a crate or on the floor in your home (ideal for car journeys too)
Poppys Pets is a participant in affiliate programs which compensates us for referring traffic. A selection of articles on this website contains affiliate links. Further information: Disclaimer and Privacy Policy
Poppy's Pets has a column in the Withernsea District & Community News
Recent Posts