Blue Cross gathers stats from UK Police forces across the U.K. In Spring 2019, many dogs are stolen from inside their home. Pets are stolen from cars, on walks, in your garden, and when tied up outside a shop. 1,823 dogs were reported stolen in 2018 overall. The Kennel Club reported in 2020 that 2,355 (estimated) dogs were stolen.
You can contribute to keeping your dog safe, including in the home, with home security. Like me, you may not afford the full package. A single window alert alarm with a 110-decibel siren costs under £7 and can contribute towards keeping you and your pets safe at home.
The outward-facing red 'Warning' label acts as a visual deterrent.
UK Police recommend the inexpensive window alert alarm, alongside Neighbourhood Network (Humberside) Limited. In 2020 I regularly attended their informational webinars showing the dangers and how to protect you and your home.
Expert advice: Other points to help prevent pet theft from home
A theft or burglar will assess your home to see if a suitable target. The following information is taken from Anglia Home Improvements and shows low-cost changes you can make to your home to deter thieves and keep you, your pets and your belongings safe.
Hedges obscure front and back doors can also hide a theft breaking into your home
Post sticking out of the letterbox shows you may not be home
Keep back and front doors locked
Is there movement with your door when you push it? A burglar can use a crowbar to open
Does your door have toughened glass? If not, a burglar can force a crack and break
If old windows have exterior beading then a burglar can remove these … and your window
Entry via old windows with exterior beading is not insured
Bins can second as ladders. Keep them shut away
Is your alarm old? A theft likes old
Ensure windows have voiles, nets or blinds. Or is the interior completely visible? What is on a show that is worth stealing?
Opt for a back gate lock
Display a Beware of Dog sign on the gate
Invest in gravel pathways – a burglar prefers silence
Security sensor lights with floodlights on your property. Invest in the front and back
Are there escape routes in the back garden for a burglar?
Buying a product vouched by the UK Police and demonstrated in their webinars instils trust in the deterrent and its capabilities. Defender is a well-known brand too and these Window Alert Alarms cost between £6- £7.49 each or around £11 for a double pack. Knowing that a simple device may cause burglars targeting your pets to flee when the loud siren goes off, gives you peace of mind when your pets are at home and you are not.
Please remember that you cannot rely just on this product. There are other simple steps you must consider and are included in this article, explained and shown by an expert.
Affordable
Defender is a respected brand
Each alarm has a red warning sticker which is visible from the outside
If a potential thief was surveying your property and noticed the alarm from the red warning sticker, your home might be struck off the target list
Suitable for doors and sheds too
Consider using at boarding kennels, catteries, and private kennels
| I am loving it! | Oh dear! |
| --- | --- |
| Fit to your window in seconds | The warning label is not UV protected |
| Peel back to reveal sticky back for Warning label. Attach to the alarm so visible from outdoors | The warning label needs replacing which costs extra |
| Ideal for any glass in the home | Update: Febraury 2023 – replacement warning labels seem to be unreplaceable |
| Size: 3″ H x 2″ W x 1″ D | |
| The alarm has a powerful 110 decibels siren | |
| Siren level choice | |
| Shock sensor technology | |
| Battery operated and supplied | |
Buy a 2-pack from Amazon £11.95 which is a great deal, or a single alarm from Neighbourhood Network in Hull.
Will a Window Alert Alarm act as a deterrent against burglars?
The alarm and red warning sticker acts as a deterrent and affordable if you cannot afford a full home security system.
The red Warning label will deter the burglar
However, if ignored, when the burglar attempts to prise open the closed window, a powerful alarm will most certainly deter further action.
Watch the Video: Police 60 Second Security
Yes, I think this alarm will contribute towards keeping your pets safe at home.
When attending an online Police webinar, they screened a video presentation by an ex-burglar. He gave invaluable advice about how to keep your home safe by making changes to the exterior of a property.
Watch the Video: Home Safety Tips from an Ex-Burglar
How do I attach the adhesive 'Warning' sticker?
After each summer the red sticker will need replacing. I found the soft padding part of the sticker stays on the back of the device. I replaced the sticker, but it did not adhere to the back of the alarm and the device fell off the window. So please watch my video. The window alarm is still worth buying, but I intend to research others because replacing the stickers yearly increases the cost.
I also contacted Neighbourhood Network Hull (Humberside Police work with them) and asked if they could sell the replacement stickers. I also mentioned that these stickers are NOT UV protected and need replacing following each summer. Unfortunately they never replied.
Does the 'Warning' adhesive sticker have anything else printed on it?
The red label has the following text, which will act as a visible deterrent from the outside.
Warning
Electronic Security System in Operation
Do I attach the Window Alert Alarm to my window and leave it?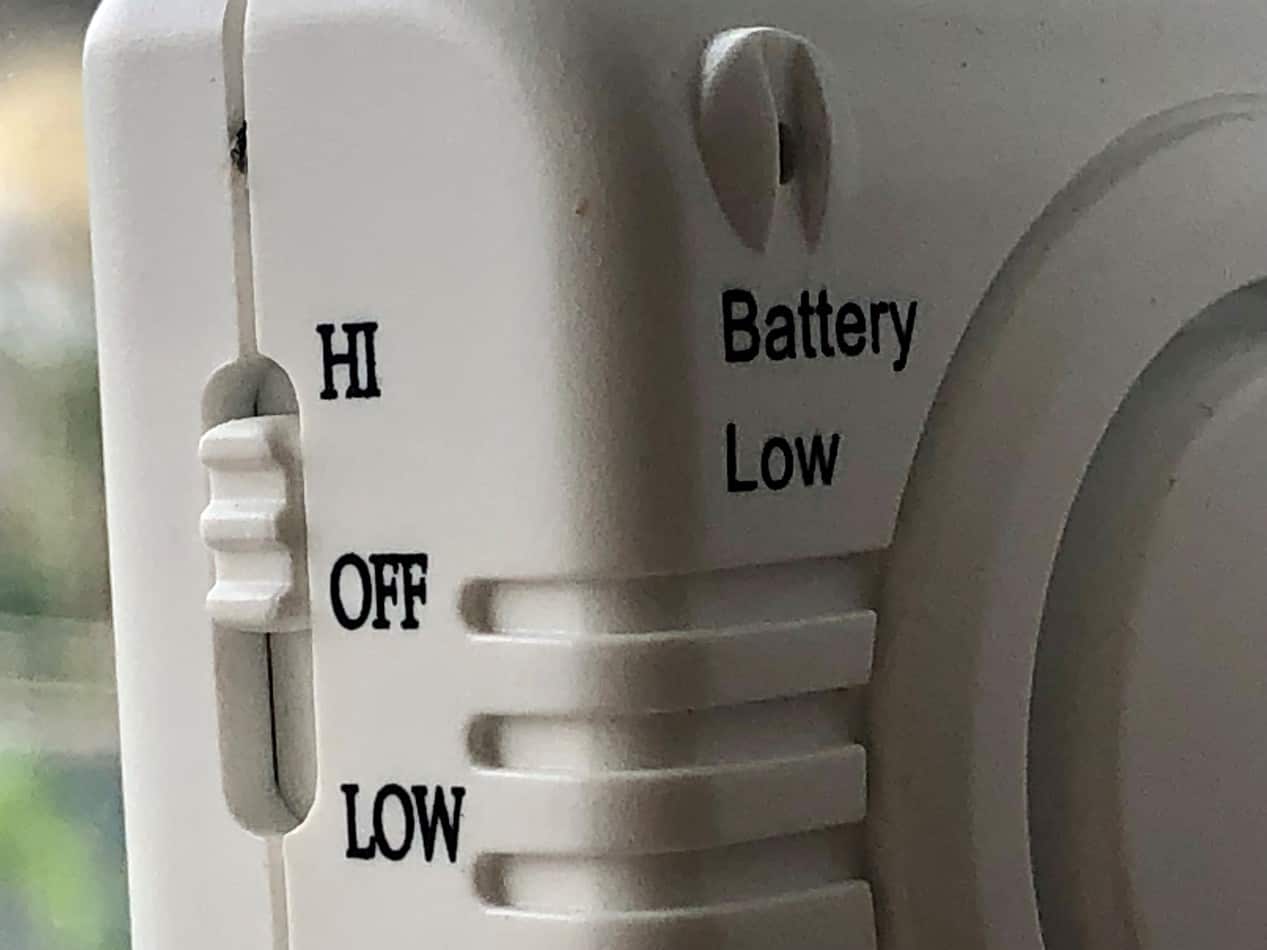 It is quick and easy to install.
Most homes will have two opening windows in the same pane. Mine has a small and a larger window. It would be up to you to attach an alarm to each open window.
Think carefully about which windows you opt for placement.
To the left side of the alarm is an 'off', 'Hi' and 'Low'. Make sure you select 'Hi' or 'Low'. Your alarm is now activated when you hear a brief alarm signal.
What happens when the shock sensor is activated?
If someone attempts to prise open a window or smash the glass, either impact will trigger the 110dBs siren for twenty -seconds and then stop. It is loud, and my video shows this. I am confident the noise will frighten off a burglar. If someone attempts to break in after the twenty-second alarm stops, it will trigger the 110dBs again. This should stop a burglar from going further because of attention to the property.
Watch the Video: Battery-Operated Window Alarm
Is 110dBs loud enough to deter a burglar if activated?
110dBs is a powerful noise. To give you an idea of how loud, it equals a power saw or a symphony orchestra.
You have to agree, this will scare off any potential burglar and contribute towards keeping your pets safe.
How can I tell if the batteries need changing?
The Window Alert Alarm comes with pre-fitted 2x AAA batteries. If you need to replace them, I recommend Duracell. The diagram supplied with the device will show you how to fit the batteries.
To activate the batteries, break the seal and re-fit into the back of the device.
At the back top left of the device will be text 'battery low indicator' and above this, a red LED light that will flash when the batteries need to be changed. It is important to monitor because, without power in the batteries, the alarm will not activate.
Can I use the Window Alert Alarm in my shed, kennel or caravan?
Yes! It is suitable for any type of glass. Your shed windows may be strong clear plastic glass. As long as the plastic window is fitted correctly into the frame of your shed, attaching an alarm to the inside of the window would work.
This is just a thought but does your outdoor dog kennel have a glass or a strong plastic window? Consider fitting an alarm because many dogs are being stolen from kennels. However, if you have kennels, consider a alarm system with a professional company.
Get a free quote from ADT.
The 'Warning' sticker has faded – can I buy a replacement?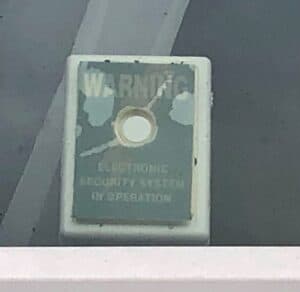 Because the Warning label is not UV protected, the red fades dramatically. I didn't notice until I looked at them for a video I made. The advertising material should mention that the label will fade over time and need replacing. In my video, I will show you whether it is easy to remove the old label is easy to remove from the window, or if it leaves sticky remnants on the glass. I once worked for a print company, and you get different types of adhesive depending on what you must adhere to. Have you ever bought a product from a cheap shop and the label will not peel off or leave a sticky mess? It's the wrong adhesive used.
Update: February 2023: I have contacted Defender about replacement stickers
Buy replacement stickers from Defender.
Where can I buy a Defender or Minder Window Alert Alarm?
During Covid-19 I attended several online webinars run by Humberside Police. The presenter was a police officer and the webinars operated alongside Neighbourhood Network (based in Hull). You can buy a device from Redline Security (link above) or the Neighbourhood Network Hull shop. The link is below.
Where ever you decide to buy it from, there will be postage costs buying the duo pack from Amazon and is much more cost-effective.
What if the Window Alert Alarm is faulty?
The Defender Window Alert Alarm is under a 12-month warranty, so get in touch with your retailer.
How to protect your home
Related Questions
Will the alarm dis-arm itself?
If someone attempts to break into your home through the window, the vibration will set off the 110dBs alarm for 20 seconds. By then the burglar should have fled. After 20 seconds, the alarm re-arms. The alarm will be triggered if the burglar returns and disturbs the unit by trying to break in again. You must, of course, remember to check the low battery indicator.
Will my cat or dog set off the alarm?
Only if they jump up and thump the window that the alarm is positioned on. Otherwise no. The alarm reacts based on vibration and does not have an internal or external motion sensor.
Will the siren terrify my cat or dog?
Yes, like fireworks the siren will scare a dog or cat. I noted a suggestion of how to train your dog (and you can try this with a cat). You will need help from a friend. Activate the siren in a room. Be with your cat or dog in another room and give them treats. This will eventually help them associate the noise with good things! This training is up to you. It is better than having your pet stolen.
Does the Window Alert Alarm have an app for a Smartphone?
No, it is a battery device only.
Poppys Pets is a participant in affiliate programs which compensates us for referring traffic. A selection of articles on this website contains affiliate links. Further information: Disclaimer and Privacy Policy