Planning a holiday with your dog is an exciting experience. Still, it is essential to consider the potential dangers during any trip and equally important to consider a dog's health and safety.
We often hear of dogs lost in unfamiliar environments and unexpected emergencies resulting from accidents, heat, burns or natural poisons. This article looks at pre-planning holiday tips and potential dangers to consider when planning a successful trip with your four-legged companion.
Table of Contents:
Pre-planning –
Health & safety concerns –
Heat exhaustion or heat stroke: which breeds and size is more in danger
Campervans, caravans and vehicles
Sign of heat stress
The 7-second rule
On lead vs off lead walking in new places
6 Things to consider when pre-planning a holiday with your dog
Too many dogs go missing on holiday, so identification is vital, especially additional tags showing health issues which could help save a found dog's life. Accidents happen when dogs in new territories get over-excited, so precautions are part of the planning before your trip.
1 – Tag and collar identification will help reunite you with a missing pet
Under the Control of Dogs Order 1992, dogs must wear a collar and tag with a name and address in a public place. Sussex Police recommend you use a surname instead of your dog's name to prevent it from being enticed away from you and stolen.
I've used Country Engraving, a small business, for tag engraving. You can order direct from their website or eBay. A mobile or landline telephone number will also help reunite you with a lost pet quicker, as long as the numbers are current.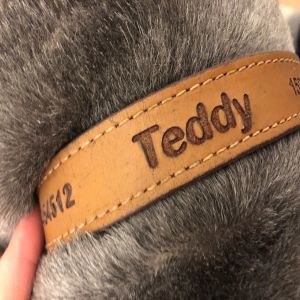 Eventually, a tag attachment will become brittle and fall off, so investing in additional identification details printed on your dog's collar acts as a backup.
2 – Check microchip details are current and a secondary contact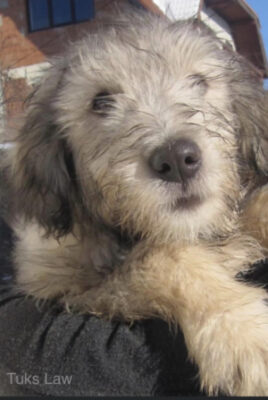 It became law in Wales (2015) and England (2016) that all dogs must be microchipped.
Here are 5 microchip tips to consider before your trip:
1: Ensure the person implanting the microchip into your pet's neck is a professional and the database is Defra Approved. Otherwise, you could face a fine of up to £500 and / or your personal data could be sold.
2: In 2021, Battersea Cat & Dog Home reported 63% of stray dogs have out-of-date microchip details, either because a newly implanted chip wasn't registered with contact details with the database, or details were not updated between the previous and the new owner. I suspect an owner found costs charged by databases' extortionate stand and opted not to update the microchip. You can swap to Pet Database, which is free, and update personal details. It's easy to transfer to, even if your pet is missing. Pet Database is also supported by Dog Lost, a well-known national lost and found service.
3: Get your pet's microchip scanned at your next veterinary visit. At least you'll know the chip is working and where it is located. Chips have been known to move – for example, the leg, – and some, if not implanted correctly, can leave the body.
A scanner needs to be fully charged to read a microchip. When my cat Tabitha was scanned at her veterinary practice, the veterinarian told me her chip wasn't working. We returned for a follow-up appointment, and Tabitha was scanned. The scanner identified the chip, and the veterinarian admitted the scanner used previously had been low on power, so do not be afraid to ask if the scanner is fully charged.
4: If asking a stranger (excluding your veterinary practice) to scan your pet, your pet's microchip details will be stored on that device, so please be careful who has your pet's information.
5: If you cannot remember which database your pet's microchip is stored with, use Check a Chip. If your pet's microchip is not registered, that means your contact details are not linked to the microchip. If you pet goes missing and is found, no one can contact you and your pet will be transferred to a rescue for rehoming or put to sleep. Ensure the microchip is registered.
Watch the Video: Basics of the microchip
The failures of the microchip:
"There are currently no legal requirements for veterinarians, local authorities or highways agencies to scan dogs and cats in any circumstance. In May 2020, the UK Government announced it was considering scanning requirements as part of the ongoing post-implementation review of the microchipping regulations."

Kennel Club
Many healthy and treatable dogs and cats have been presented for euthanasia; however, the odd vet has refused. As we've mentioned, microchips fail and the importance of checking the chip is working and still in existence is vital. Another issue is veterinarians are not scanning the microchip to check if the person presenting the animal is the registered owner or if there is rescue backup on the chip, resulting in pets needlessly being euthanised.
Read Splat's story.
Poppy's Pets has a column in an East Yorkshire paper. A recent article published was Tuks Law; they fight for animal rights and are supported by a selection of Members of Parliament, including James Daly MP.
3 – Medical identification for dogs
Similar to a person wearing a health identity bracele or a card highlighting dementia or problems listed on a Smartphone health app could save a person's life.
The same applies to pets. My pets wear red medical alert tags because if they go missing, the finder or veterinarian will know of any health issues and can act accordingly. Hopefully, they won't suffer the same fate as Splat.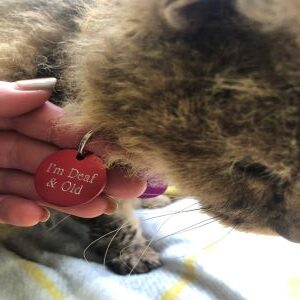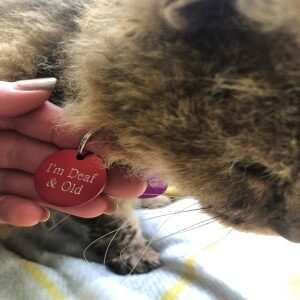 Here are medical suggestions for a red tag:
Dementia
Blind
High blood pressure
Deaf
Old
Diabetic
Heart
Kidney or renal
Thyroid
Liver
4 – Where is the nearest veterinary practice?
Emergencies or an upset tummy have been known to happen on holiday. The last thing you want is to search online for the nearest veterinarian practice when worrying about your dog. Another consideration is if you are holidaying in an area without mobile coverage (eg North York Moors).
So before you leave, find out where the nearest veterinary practice and the veterinary hospital is, and find out if they take consultation bookings for tourists. Familiarise yourself with the route to the veterinary practice and be prepared to travel miles if holidaying in a remote location. Keep handwritten contact details on you in case you lose a mobile phone signal.
5 – Pre-holiday grooming is essential
Getting your dog groomed before you go on holiday is advisable, especially if a spring or summer trip because of warmer temperatures or a sudden heatwave. In 2022, temperatures topped 45C, a killer for an animal. Think about having your dog clipped shorter than normal. Alternatively, invest in professional dog clippers, save money and groom your own dog. We groom Teddy and it does get easier!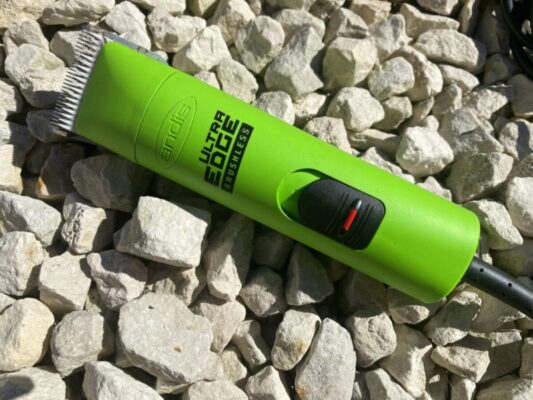 Watch the Video: Grooming a giant dog with Andis clippers
The Andis UltraEdge are available for under £150 but you can pay more for other brands if preferred.
6 – The best time to travel with a pet
Any vehicle or public transport can heat up and in a cloudless sky, and the sun can make the car feel like an oven, even for us. Travelling from Withernsea in East Yorkshire to Peterborough is a 2.5 to 3-hour journey. Getting stuck in traffic during hot seasons is awful and dangerous for pets.
Buying a sun shield and securing it inside the window nearest your dog's seat can deter the sun's rays but heatstroke can still happen. A dog cannot sweat through the skin; for example, heat is released through paw pads and the nose, and they rely on excess panting to help regulate their body temperature.
Peak outdoor temperatures are between 8 am and 8 pm, and a vehicle interior overheats, even with open windows. When travelling with Tabitha, my cat, I leave home around 6 am because it is cooler and there is less traffic on the road, which means the chance of being caught in traffic is less likely.
So planning the time you travel is essential, factor in breaks, and another consideration is where you will you go if unable to check in to your hotel room or cottage until the afternoon.
6 Health and safety concerns to consider when on holiday with your dog
We all go on holiday with the expectations are being out and about all day in the good weather, letting our dogs off lead to enjoy freedom and enrichment in new places, but sometimes, holidays can come at a price.
1 – The impact when out and about all day with your dog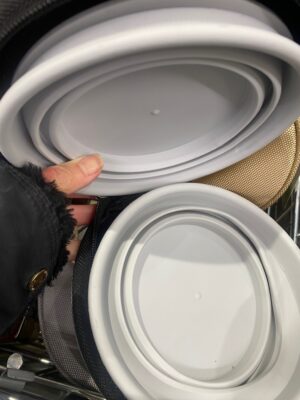 Be observant of your dog's behaviour outdoors, and don't forget, veterinarians recommend keeping your pet indoors between 8 am and 8 pm, depending on the season. Whether you plan a beach or countryside trip with your dog, this can impact your spring or summer holiday because of the heat and its effect on your four-legged companion.
Consider how your dog will cope on sunny, humid days. Temperatures will reach the highest level by midday, creating more danger for any dog. A dog needs shade but remember, even out of direct sunlight or on cloudy or mild days, temperatures can still be too hot for a dog.
Signs that your dog feels too hot:
Panting
Saliva
Laboured breathing
Vomiting
Diahorrea
What to do if your dog is overheating:
Move your dog to immediately to a cooler location
Offer your dog cold water (never ice cubes as excess cold can result in shock)
Use cold, wet material and position it between its hind legs, armpits and neck area. Wet ears with cool water, or take your dog (supervised and held) into the sea
Contact a local veterinarian
Never be flippant about heat exhaustion
Always carry water and offer to your dog regularly during walks or stationary time. I recommend a travel water bottle to keep your dog hydrated but pop into Aldi for a collapsable (May 2023) water bowl as shown in the picture above.
Watch the reel on Instagram: Travel water bowl
2 – Heatstroke is more likely for some breeds
Any dog can develop heatstroke but the table below shows those more susceptible to the dangers of heat.
| | |
| --- | --- |
| Overweight dogs | Short / flat-nosed dogs |
| Older dogs | Dogs with health issues |
| Large breeds | Dogs with thick coats |
Flat-faced breeds (brachycephalic):
Breeds include French, American and English bulldogs, boxers, Shih Tzus, Pekingese and Pugs. Flat-faced breeds are more at risk of heatstroke because of their skull shape and breathing system.
Dogs at high risk of heatstroke:
Springer spaniel
Greyhound
Chow Chow and Golden Retrievers because of the density of their thick coats
Cavalier King Charles Spaniel
Dogue De Bordeaux
Labradors because they struggle to breathe during rest periods
Dogs with health issues:
Canines with respiratory system and heart conditions problems are at risk. If your dog has health issues of any form, please speak to your vet about whether they are prone to heatstroke.
Overweight and obese dogs:
A dog that is overweight or obese has increased body fat. An overweight canine, whether mild or moderate, will generate more body heat when exercising. Combined with excessive layers of fat, an overweight dog is at risk.
Trim (not shave) your dog's coat:
Your dog's thick coat will insulate them in the cold months as it retains the heat. But your canine companion must be groomed in warmer temperatures to reduce fur thickness. Visit a groomer before your holiday, or invest in professional clippers and groom your dog at home. It does take lots of practice! We are getting better grooming Teddy, and our investment has paid off – we highly recommend the
Watch the Video: Andis Super 2 Speed Brushless clipper.
Watch on Instagram: Feeling Good
Buy the Andis UltraEdge from Christie's Direct.
Please do not shave your dog to the skin because dogs can get sunburned.
Large and Giant dogs:
Dogs weighing over 50kg are more likely to suffer from heat than dogs under 10kg.
Senior dogs:
Older dogs over 12 years of age will find it harder to cope with warmer temperatures and are more likely to suffer heatstroke.
Related articles:
3 – Campervans, caravans, and vehicles can be torture for a dog
We have already discussed the best time to travel with any animal in your vehicle. In December 2021 and January 2022, I read numerous posts on Facebook about dogs left in cars for a few minutes and were subsequently stolen or died from heatstroke.
Every year we see infographic posts on social media warning dog owners about the dangers of leaving a dog in a car for a few minutes. We see reels showing concerned members of the public or police officers freeing dogs near to collapse from inside cars or vans. Despite this, dog owners still take risks.
Holidaying in any vehicle, a camper van or caravan, the interior can heat up, as shown in the table below. Even leaving your dog in a caravan or campervan while you shop, dine out, or visit a tourist attraction that doesn't allow dogs can be fatal in as little as 15 minutes.
A dog cannot sweat through the skin; it only takes an increase in temperature by 2 degrees to start the heatstroke phase. A dog's temperature exceeds ours; your canine companion relies on you to keep it safe. Placing your dog in unsuitable temperatures can cause a painful death.
So when planning a trip with your dog, ensure you do not leave a dog unattended in any vehicle for any length of time.
Minutes
Outdoors temperature
(shade or sun)
Vehicle temperature
10 minutes
21 degrees
32 degrees
30 minutes
27 degrees
46 degrees
60 minutes
29 degrees
53 degrees
Data from Vets Now
4 – What are the signs of heat exhaustion distress in dogs?
Never take these signs lightly. Move your dog into a shaded spot and telephone a local veterinarian immediately.
Heat exhaustion signs to look out for:
Heavy panting and drooling
Purple or red gums
Vomiting
Increased heartbeat
Collapsing or staggering
High body temperature
Glassy eyes
Scared expression
What are the implications of heat exhaustion or heatstroke without veterinarian intervention?
It is easy to believe something bad will never happen to your pet, and when they look out of sorts, that they will be fine and do not need a vet. But heat exhaustion or heat stroke is a serious matter. If signs are ignored and you seek veterinarian help too late, you dog will have a painful death. If your dog survives, there will be long-term health problems.
Life-long health issues can be:
Kidney damage
Blood clotting
Brain swelling
Intestinal bleeding
Take the right action and protect your dog before it is too late.
Watch the Video: Extreme Weather 2022 (cats, dogs, small animals)
5 – Apply the 7-second rule to help your dog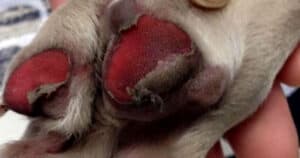 "Dogs can suffer burns to their paws on days most people wouldn't consider searingly hot. If the outside temperature is a pleasant 25C (77F), there's little wind and humidity is low, asphalt and tarmac can reach a staggering 52C (125F). This can rise to 62C (143F) when the mercury hits 31C (87F)."

Vets Now
Dogs are vulnerable to heat-related health issues when walking or laying on hot surfaces like sand, concrete, or artificial grass. Apply the 7-second rule by testing sand and hard surfaces before letting your dog walk on these surfaces or letting them lay beneath pub tables or promenade seating areas. The image shows that burns from hot surfaces cause painful skin damage, which will incur a veterinary bill and walking problems for your dog.
Watch the Video: What is the 7-Second Rule?
What is the 7-Second Rule?
Place the back of your hand on a hard ground surface, and if you are unable to keep your hand there for seven seconds, the ground surface is too hot for your dog to walk on. Burns can be excruciatingly painful for your dog. As a child, I remember walking across the sand in the summer. Wow, it was hot against the soles of my feet, so I put on my flip-flops. Imagine how your dog feels walking on hot sand or ground surfaces.
How can you protect your dog's paw pads?
Keep your dog away from hot surfaces; temperatures do not have to be searingly hot to absorb the heat and burn paw pads. Apply the 7-second rule during each walk.
Booties are available for dogs and will protect the paws but get your dog used to wearing them before your holiday. Pawz Natural Rubber Dog Boots are available from VioVet.
Reasons to consider this brand:
12 per box
7 sizes
measurement advice
Reusable
Vet and groomer endorsed
Waterproof
Easy fit
Allows full paw movement
Earth friendly
Use for post-surgical infection
Selection of surfaces the booties protect against:
Hot ground surfaces
Sand irritation and buildup forming painful sandstones
Salt
ice and snow
Ground chemicals
Watch the Video: Sandstone between paw pads can cause pain. How to remove.
Always wash paws after a walk to remove salt, sand build and foreign particles.
Soothe cracked pads with balm created for dogs. Handmade soothing balms are available at Etsy.
Pack antiseptic wipes to clean wounds and remove debris if your dog has suffered burns. More importantly, make an appointment with a veterinarian as medication may be required to stop infection, and the paws may require bandaging.
6 – On lead vs off lead walking on holiday?
Even with the best recall, a dog can pick up the scent of another animal and disappear suddenly, or run into a rabbit or badger hole, give chase to sheep and get shot, or stolen when out of sight.
Walking a dog on a lead in an unknown territory is the safest. If you want to give your dog a more extensive environment to roam, consider an extra-long lead or reflective retractable lead; these leads are based on a dog's size and weight.
a: Lampop has a heavy-duty 33ft / 10m all-reasons lead from Amazon.
b: Flexi Giant retractable lead for dogs up to 50kgs with 26ft / 8m from Amazon.
For a dog lost in an isolated area, there is a danger of death because of predators, heat, lack of water and food, plummeting temperatures and sometimes little hope of survival, depending on the dog's strength and age. Poppy's Pets has two columns in an East Yorkshire newspaper, and one features missing dogs. On this website, you can read about them in my Lost, Stolen and Recovery category. Each missing dog gives an explanation of why it went missing.
Examples:
Stolen on a walk when out of sight
Picked up by others and kept
Overseas rescue dog disappeared on the Moors and still missing
Owner attached for his dog
The youngest, the smallest and oldest, with or without special needs, are at the most risk.
If you are concerned about dog theft, consider anti-theft, anti-cut gear walking gear; it costs more but is effective in keeping your dog safe.
Enrichment in a new location is excellent but no-one knows how a dog will react in new territory.
An example is our 60kg dog Teddy where we were holidaying up on the Moors. We could tell he was in awe of his new surroundings. He sniffed the air and ground repeatedly. He ignored the sheep – on the Moors sheep are free-roaming, so dogs must be on a lead. There are many rabbit holes up there, and Teddy hurriedly and excitedly went from one burrow to another. We kept Teddy on a retractable lead (this lead is not advised in busy places) as I believe if he saw a rabbit, he would have given chase. Teddy is friendly to small furries, but when a stray, it is believed he hunted and ate rabbits to survive.
Follow our rescue dog's walking playlist on YouTube: Teddy
A smaller dog lost will cover a half mile to a mile, and a more robust, bigger, but younger will cover a distance of five miles. If you are lucky, your dog will cover only two miles. But here is the problem. A dog will never travel in a straight line and you realise two miles covers a lot of ground. Dogs have been known to return to where they last saw their owners, which we shall cover in another article.
If your dog has special needs (blind or deaf) or is just old, it may cover even less distance, but in a dense area, your dog will most likely not be visible.
In January 2022, a 14-year-old blind and deaf spaniel was walked off lead in the hills, disappeared, and was found deceased months later. Two years ago, a 19-year-old Yorkshire terrier was walked off lead in woodland and disappeared. In Withernsea, where I live, dogs holidaying with owners have gone missing because of being walked off lead in a new environment. In the last four years, one elderly dog died and the younger dog was found. Two young dogs, both a few months old, were being walked off lead in the nearby countryside. This area has country lanes, no street lighting, predators, and cars. Neither survived.
Please follow us on social media
Poppys Pets is a participant in affiliate programs which compensates us for referring traffic. A selection of articles on this website contains affiliate links. Further information: Disclaimer and Privacy Policy
Poppy's Pets has a column in an East Yorkshire newspaper.