Animals are our life. What plans have you put in place if you died before them? What are the best options to consider to keep your pet's future safe?  There are 4 ways to protect your pet after your death.
There are questions to consider before you sign on the dotted line:
1: Does your pet has to be in perfect health to find space in rescue and get rehomed? 
2: What happens to your geriatric dog or cat on life-saving medication?
3: Will a family member or a friend look after your cat or dog after your death?
4: What if their circumstances change before your death and they are unable to care for your cat or dog when the time comes?
5: You bequeath money from your Will to a trusted person to help towards the cost of your pet. Will the person you trust accept money from your Will and dump your pet? This has happened.
6: When your pet becomes agitated in a charity's care service, will it be misdiagnosed as aggressive?
7: From a misdiagnosis, will your cat or dog be euthanised instead of understanding it is emotional trauma or shutdown? 
8: What can you do legally to protect any pets you own? 
9: How can you safeguard your pet after your death?
What after-death rescue packages does this article cover?
I researched the packages offered by the above charities. Each offers care and the promise to rehome your pet into a loving home after the death of an owner.  
There is a legal pathway that provides provisions for your pet.  I have included a legal section but please remember, that I am not legally trained. You are responsible for making an appointment with a solicitor or paralegal to discuss this.
The Dogs Trust – Canine Care Card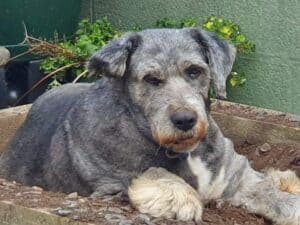 The Canine Care Card offers your dog a safety net after death. The free package offers rescue space and rehoming opportunities with a new family if you signed up for the scheme before your death. However, as well as completing an application form, you must nominate a Dog Guardian to act on your behalf after your death.
Contact Dogs Trust on 0207 837 0006 for a chat or to request an application form.
The form must be completed to the best of your ability, so if there are any medical conditions, include this on the application form. Don't forget to include the veterinary practice, medication type and dosage. It is vital you keep your personal details up to date, as you would the microchip. For example, if your dog dies you must tell Dogs Trust. If you get another dog then complete a new application form. On this form, you will add your chosen Dog Guardian too.
You will need to include Dogs Trust in your Will, provide the Canine Care Card information and leave them a small monetary gift from your Estate. Don't forget to let family and friends know your pet will be transferred and rehomed with the Dogs Trust.
Your Dog Guardian will need to take care of your dog initially, make contact with Dogs Trust to notify them of your death and make arrangements to transport the pet to a designated rehoming centre selected by the charity.
Dogs Trust will try to offer the nearest rehoming centre to your home. Since Covid-19 there has been a dog crisis with animals being given up as people return to work. So you must make sure your Dog Guardian understands that available space at a Dogs Trust centre may be, for example, 200 miles away. Hopefully not, but this person you select must be ready for a long drive and equally understand the responsibility won't be for long.
You must carry the Canine Care Card in your wallet or purse, where it can easily be found. I recommend putting something on your fridge stating that your pet is part of the Canine Care Card scheme.
Unfortunately, Dogs Trust has certain reasons why they will not activate your Canine Care Card:
Banned breeds as categorised as index dogs. Or dogs with 'limitation as imposed under the Dangerous Dogs Act 1991.' (quote by Dogs Trust)
It recognises that some dogs have aggression issues or because of 'contagious medical conditions. ' (quote by Dogs Trust). The charity will not accept a dog with extreme aggression that could cause a danger to a human or another animal.
Because disease and illness is controlled in the U.K., the charity will not accept dogs from overseas.
Dogs Trust state they will continue with ongoing medical treatment if your dog has a condition. This is good news. So remember to include as much information as possible on your application form.
Dogs Trust is a charity that rehomes dogs only so if you have a cat and dog that are inseparable, then perhaps look at a smaller charity. You could consider the Oldies Club if both are elderly but you are still responsible for finding both pets a home. The Oldies Club do not have an after-live care scheme. The other point to consider is if you have two dogs, they may not share a kennel at the rehoming centre. And they may not be rehomed together.
They say:
"We would not want to deny any of your dogs a loving home."

Dogs Trust
I found a short article by the Civil Society and would like to include it. A television advert was aired in 2007 with Dogs Trust's famous words: 'Dogs Trust never put a healthy dog down.'
"The Dogs Trust said it has a statutory obligation to pass on any dog handed to them to a council authority and said that the charity could not be held responsible for a dog while it was in local authority's care."

Civil Society
So, if you find a stray dog and take it to a centre, Dogs Trust will hand that dog over to the Dog Warden. The charity refuses to take responsibility for whatever happens to that dog when at the local authority. If the local authority is linked to rescue, the dog is safe. If there isn't a rescue backup, the dog will probably be put to sleep after 7 days if unclaimed. Again, Dogs Trust will not take any responsibility for the fate of a stray dog.
Read more about the Canine Care Card
The Cats Protection – Cat Guardians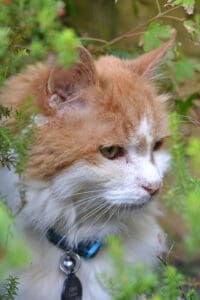 Cat Guardian is a free service that offers to rehome your cat after your death, but during the registration process, stipulates that they expect you to add a clause in your Will to leave a small gift from your Estate. This money goes into the charity pot to look after future cats that come to Cats Protection.
Cats Protection have a dedicated page with wording to add to your Will or Codicil.
"… remember Cats Protection in their Will, as a result of the Time and effort we are willing to exert to secure the welfare of their cats."

Cats Protection
You can register your pet online or by post. In return, you will receive a wallet card, notification form, window sticker and key fob. Keep the wallet card in your purse or wallet, the key fob attached to the house or car keys, and the window sticker in a visible place that shows your pet will be taken care of at your death.
Your nominated trusted person will notify Cats Protection of your death, and the charity will prepare for your cat's arrival. Depending on space, Cats Protection cannot confirm if your kitty will go to a small or large branch before being successfully rehomed. They ask that if you have three or more cats, please contact them first. They recognise that sometimes a cat family need to stay together and will do all they can to achieve this, but they cannot guarantee it. They do recognise it is important to try their best.
Occasionally, despite Cats Protection registration, a family member may offer a home to your pet, which is acceptable if deemed right.
The following is reassuring.
"You can rest assured that we will never give up trying to find your cat a loving new home, no matter how long it takes."

Cats Protection
On arrival at a centre, your cat will have a health check, vaccination, be neutered and microchipped if applicable.
As cats are living longer, they experience medical conditions and Cats Protection state they rehome cats will various health issues as long as there is a quality of life. They understand some cats can be harder to rehome because of fur colour, age and medical issues, but state they will not put the animal to sleep and instead will strive to find the kitty a new home.
Read more about Cat Guardians
RSPCA – Home For Life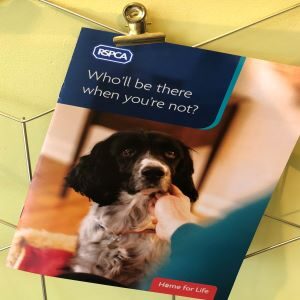 The Home for Life scheme is free and starts after your death if you have registered. The RSPCA offer a chat on 0300 123 0239. Or you can initiate the scheme by calling or adding details to a contact form to request an information pack by post. Alternatively, you can download the registration form as a PDF on their website.
The charity says that it's mainly cats and dogs in the scheme, but they accept other animals too. However, if larger animals or exotic pets, they ask for you to contact them first.
When you receive the registration form, it is important to include as much information as possible. If your pet is accepted into the scheme, the RSPCA will send you a welcome letter, registration card and other necessary information. Keep the registration card in your purse or wallet, and don't forget to put something on your fridge door that notifies authorities, friends or family that your pet is to be transferred to the RSPCA after your death.
Nominate a trusted person to be the point of contact with the RSPCA, and who is willing to care for your pet in the interim. They will be the person to notify the charity of your death. Of course, with some charities at full capacity, especially with Covid-19 and adopted pets being given up, and the impact of the cost of living in 2022, the temporary carer may have to wait until a space is available in a centre. It is important for the trusted person to be aware of the temporary responsibility of your pet.
The RSPCA will collect your companion and on arrival have a health check and vaccinations if due.
On the website, the charity reminds us the scheme is free but needs public donations to help Home for Life and recommends leaving a gift in your Will. They suggest you speak to your solicitor so that the RSPCA can be formally recognised as benefitting from your Will. A solicitor will need their charity name and registered charity number. The RSPCA also recommend you tell your Executor of the arrangements for your pet and charitable donation in your Will.
You can have a Will written anytime or take advantage of a free Will. It is Free Wills Month in March and October, which means you can get a Will written or updated without cost. Using the website, you can find participating law firms in the U.K. Just remember it applies to those aged 55 and over. Free Wills Month is to help raise money for charities. You do not pay for a Will at the point of one being written, and instead, leave a gift to a charity from your Estate. The gift is normally around £200 to £300.
"That's why (scheme is free) we ask you to consider leaving a gift in your Will, so we can continue our vital work protecting animals from cruelty."

RSPCA
My interpretation of the above quote is the money you leave the RSPCA from your Estate, is not allocated directly to your pet's care and financial needs.
Clause 19 of the terms & conditions. "Under the Home for Life promise, the RSPCA will do everything possible to rehome a pet providing they are rehomeable and coping well. A pet may not be considered rehomeable where any of the following exist:"

RSPCA
Banned breeds under the Dangerous Dogs Act 1991
Animals prohibited under the Dangerous Wild Animals Act 1976
Animals with behavioural and/or mental health issues may put humans and animals at risk
Any issues from 'severe or unmanageable health and/or behaviour problems' (Quote RSPCA) which may affect the quality of life
Any disease that can be transferred to humans and animals
Pets with long-term illness or pre-existing conditions will be rehomed or fostered but only if 'Conditions are manageable with treatment and subject to veterinary advice." (quote by RSPCA terms & conditions). Pets with an infectious disease can be rehomed to a household with no other pets.
Clause 25 of the terms & conditions. "In rare circumstances, and in the interest of the pet's welfare or if the pet is not rehomeable as per Clause 19 of these Terms, euthanasia may be considered. These decisions are subject to veterinary, and in some cases behaviourist, advice and are based on health, behaviour and current legislation guidance (where relevant).

RSPCA
The RSPCA will do all they can to rehome your pets together but cannot guarantee this outcome. And the good news is, that friends and family may be able to visit pets enrolled in the scheme.
Read more about Home for Life
Can the law protect my pet after my death?
At this point, I must again, tell you I am not legally trained. I do recommend you seek legal advice regarding the best security for your pet after your death. This section was originally written in 2020 and the law changes, so again, please chat with a legal representative.
Can I bequeath my pet in my Will?
Unfortunately, a pet is regarded as property, so an asset, and under U.K. law, you cannot leave a bequest to an animal under a Will.
How can I legally safeguard my pet's future after I die?
There are ways to protect your pet.
Leaving your pet to family and friends as an outright gift. However, the Beneficiary can still decline. It is recommended you have an alternative carer in place. 
Giving the Executors of your Will an Expression of Wishes. You as the Testator can leave information with your Will as to the type of home you would like your pet to go to, name the Beneficiary who will care for your pet, and give an alternative carer. You can then change these details without it affecting your Will.
Leaving financial provision for your pet: You cannot leave money directly to your pet because they lack 'legal personhood.' But you can leave sums of money for your pet's care, and a Beneficiary will be responsible. You would include a Wish in your Will that an amount is to be spent on the animal. However, there is the risk that your selected Beneficiary will spend the funds elsewhere.
A Discretionary Trust: Select a Beneficiary for your pet, and the Executors of your Estate will 'drip-feed' any funds to the Beneficiary. The Executors decide whether to release funds or not, following checks that the money is being used legitimately to benefit your pet. Executors can withhold funds if the Beneficiary decides to no longer care for your pet.
A Trust: Set this up when you make your Will. The Trust would be for your pet with a nominal amount settled on and topped up by the Will. The Trust falls under the category of 'Trust benefitting an animal.' However, there is a limited duration of 21 years, so speak to your solicitor or paralegal about this as animals now live longer.  
Additional pets or replacement pets: When setting up a legal document, tell your legal representative that you might own additional pets in the future. Or, you may outlive your current pet and adopt another. Your legal representative will ensure provisions cover all pets you, the Testator, owned at the time of your death.
You die Intestate: A percentage of people do not have a Will. If you die Intestate (you do not have a Will at the time of your death), your beloved pet may end up in places you, as their owner, do not want them to be. Take advantage of Free Will Month.
Lasting Power of Attorney (LPA for short). It is a legal document you have in place whilst you are alive and is set up whilst your capacity. When you lose capacity, for example,  your Attorneys can act on your behalf as long as the document has already been registered with the Office of Public Guardian, and the Attorneys have certified copies. Lasting Power of Attorney is expensive so ask for a non-obligation chat with your paralegal or solicitor first. I don't know if this can help protect your pet if you lose capacity so please ask your legal representative.
Recommended read: Martin Lewis – Power of Attorney
Disclaimer
This article does not give legal advice. I am not legally trained or qualified in matters of the law. We recommend you book an appointment with a professional solicitor to receive the correct legal information. Many UK law firms are happy to initially discuss such matters in their Private Client department. 
Please find Poppy's Pets on its new Instagram and Pinterest
Poppys Pets is a participant in affiliate programs which compensates us for referring traffic. A selection of articles on this website contains affiliate links. Further information: Disclaimer and Privacy Policy
Poppy's Pets has a column in an East Yorkshire newspaper