My article in the Withernsea & District Community News distributed to coastal and inland homes in East Yorkshire and is available for tourists

Poppy's Pets
A dog missing for 10 years was recently reunited when its image matched another on Dog Lost UK.  
Because pet abandonment is drummed into us in television advertising, someone finding a stray dog may give that pet a home and may not know any found dog must be reported to the local Dog Warden. This means dedicated pet owners still search for their beloved pets.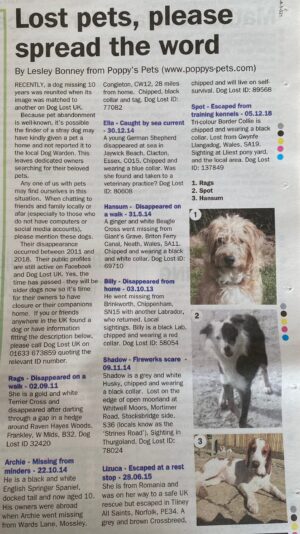 Any one of us with pets may find ourselves in this situation, so please tell friends and family, locally or afar, about these missing dogs.
Their disappearance occurred between 2011 and 2018.  Each public profile is still active on Facebook and Dog Lost UK, and although these dogs will be older now or may have passed away, their owners have closure or their companions' home. 
If you or friends anywhere in the UK found a dog or have information fitting the description below, please call Dog Lost UK on 01633 673859 quoting the relevant ID number. 
Related articles:
The details below briefly explain each dog's disappearance in my article.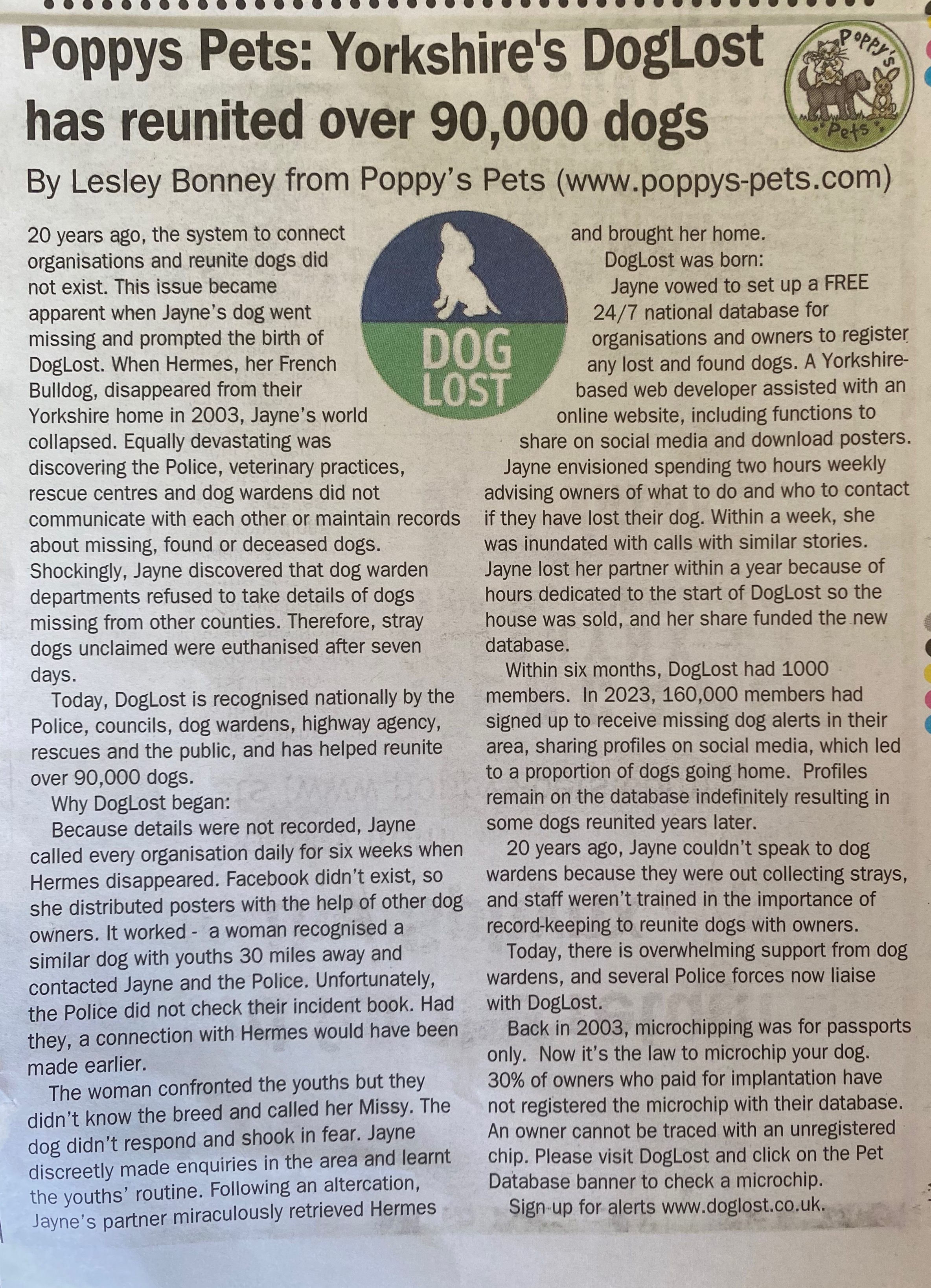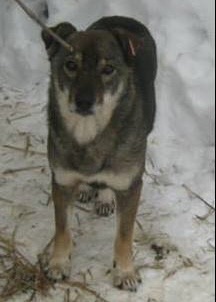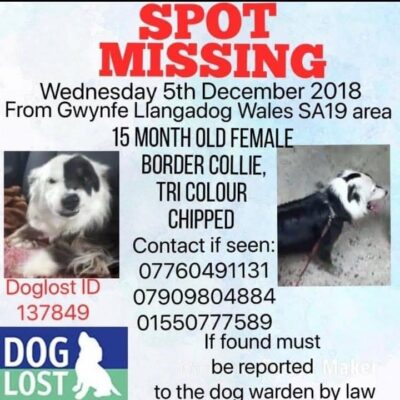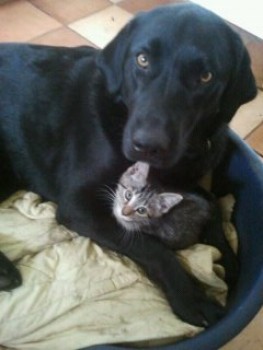 Rags – Ran through a gap in a hedge – 02.09.11
Rags is a gold and white Terrier Cross and disappeared after darting through a gap in a hedge around Raven Hayes Woods, Frankley, W Mids, B32. She has white on her front paws, half pricked ears. She is chipped. Dog Lost ID 32420
Archie – Missing from minders – 22.10.14
Archie is a black and white English Springer Spaniel with a docked tail, aged 10.  His owners were abroad when Archie went missing from Wards Lane, Mossley, Congleton, CW12, 28 miles from home.  is chipped, with a black collar and tag. Dog Lost ID: 77082
Ella – Caught by a sea current – 30.12.14
Ella was a young brown and black German Shepherd who disappeared at sea when having fun at Jaywick Beach, Clacton, Essex, CO15. She is chipped and wearing a blue collar. Was she found and taken to a local veterinary practice? Dog Lost ID: 80608
Hansum – Disappeared on a walk – 31.05.14
Hansum is a ginger and white Beagle Cross that went missing from Giant's Grave, Briton Ferry Canal, Neath, Wales, SA11. Chipped and wearing a black and white collar. Dog Lost ID: 69710
Billy – Disappeared from home – 03.10.13
Billy went missing from Brinkworth, Chippenham, SN15 with another Labrador Retriever, who returned. There have been local sightings. Billy is a black Labrador Retriever with a little white on his chest, wearing a red collar and chipped. He is a mothering dog to other animals. Dog Lost ID: 58054
Shadow – Fireworks scare – 09.11.14
Shadow, a grey and white Husky, may have run further into Whitwell Moors, North East, S36. Places familiar with: Underbank Reservoir, Wharncliffe Woods. Taken from Shadow's page: "Lost on Whitwell Moor near Stocksbridge/Bolsterstone – last seen heading towards Mortimer Rd (The Strines Road). Latest sightings Thurgoland". Shadow was wearing a black collar and would be 10 years old now.
From Shadow's owner July 2022: "He was wearing a black collar, and the nearest place where he was lost was our home town, Stocksbridge. However, when lost, we were on the edge of the moors just off Mortimer Road. Some may know this better as 'the Strines' road. " Dog Lost ID: 78024
Lizuca – Escaped at a transport rest stop – 28.06.15
Lizuca is from Romania and was on her way to a safe UK rescue but escaped in Tilney All Saints, Kings Lynn, Norfolk, PE34. This terrified grey and brown crossbreed is chipped and will live on self-survival. Dog Lost ID: 89568
Spot – Escaped from a training kennel – 05.12.18
Spot is a tri-colour Border Collie that is chipped and wearing a black collar. Lost from Gwynfe Llangadog, Wales, SA19. Sighting at Lliest pony yard, and the local area. Dog Lost ID: 137849
Please speak out.
Article published in the Withernsea District & Community News – July 2022
Poppys Pets is a participant in affiliate programs which compensates us for referring traffic. A selection of articles on this website contains affiliate links. Further information: Disclaimer and Privacy Policy
Poppy's Pets has a column in the Withernsea District & Community Newspaper.