Dogs go missing for different reasons. Today we are in a digital age, and lost and found dogs are uploaded to online resources such as social media, and lost and found pet websites. But not everyone has an iPhone or a social media account. So traditional methods are vital to reach a wider audience.
Traditional methods are:
Flyers distributed door to door
Posters in places where pet owners frequent
Handing flyers out to passersby
Displaying posters in busy locations
Advertising in a local pamphlet or newspaper
Advertising in the above but further afield
Features in my newspaper pet columns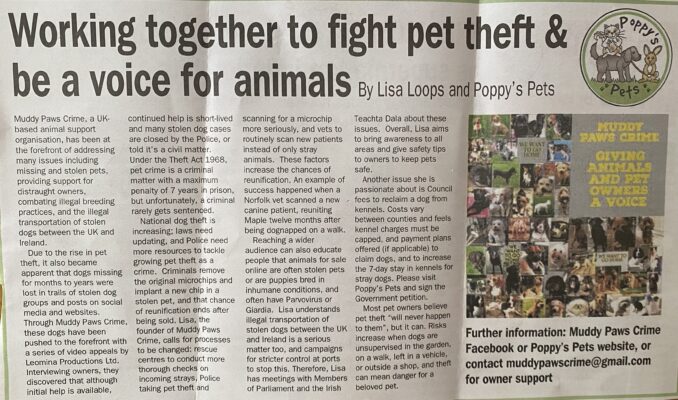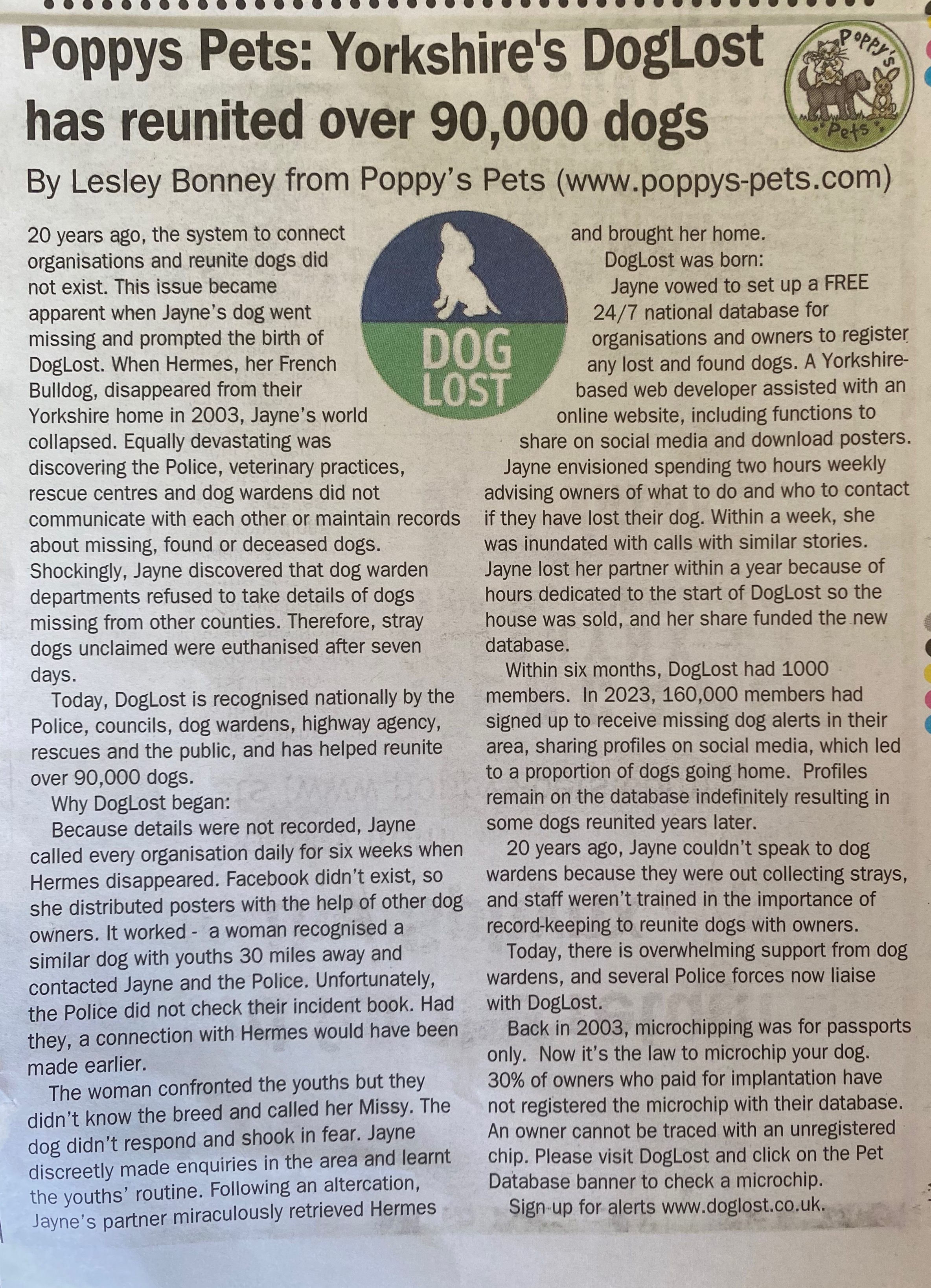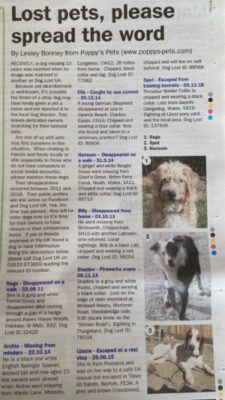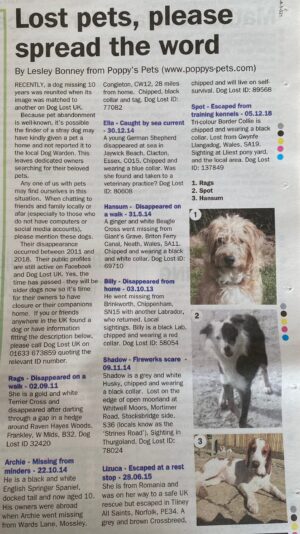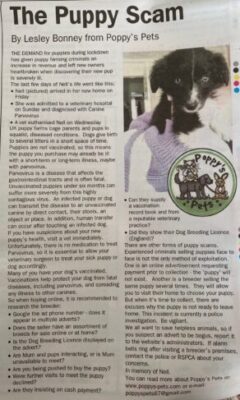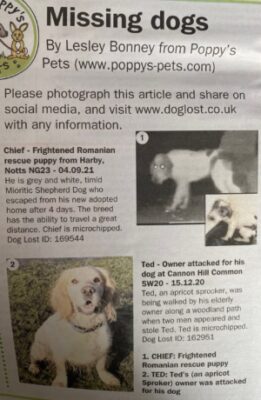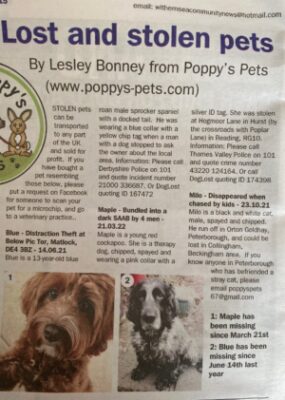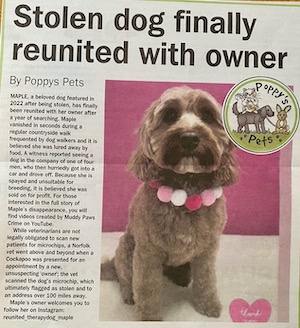 1: The following long-lost missing dogs appeared in the Withernsea District & Community Newspaper in early 2022. This newspaper is delivered to homes in the Holderness area, along part of the East Yorkshire coast and inland.
2: Yorkshire is a popular tourist destination, particularly in coastal towns, and is popular with holidaying dog owners. And lots of Southerners are moving here with dogs too. One day, someone may visit with a dog, pick up a newspaper, and identify with a breed missing as the same breed as their dog. Identifying features may match. Or words that trigger the brain. For example, Rags is a Terrier but someone may remember seeing a dog, or giving one a home, with a light-coloured shaggy coat. I will also use 'shaggy coat dogs' as a keyword tag behind the scenes of this article. Poppy's Pets website tags have proved successful with an organic search on Google.
3: Because pet abandonment is common, a stray dog may have found a home with the finder and be unaware of the law that every dog must be reported to the local Dog Warden. Of course, the finder may develop an unbreakable bond with the dog, and might be afraid of repercussions from the Police if the dog is stolen.
Please share this article with friends and family from afar. Even though they disappeared between 2011 and 2018, their public profiles are still active on Facebook and Dog Lost UK. Time has passed and all will be older dogs, and owners need closure or their companion's home.  If anyone, anywhere in the UK found a dog or has information fitting the description below, please call Dog Lost UK on 01633 673859 quoting the relevant ID number. 
Why are dogs going missing, and what are the real-life stories?
1 – Luckie – Escaped from DFDS Ferry, North Shields -21.12.16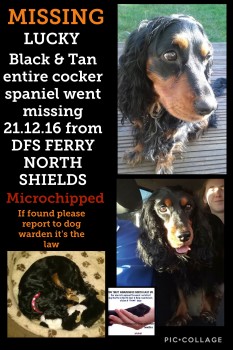 Luckie is a black and tan old 4 year Cocker Spaniel who escaped from a DFDS Ferry kennel when docked at Tyne Port, North Shields. His family were on board – the Princess Seaways ferry was bound for Amsterdam on the afternoon of 21st December 2016.
Luckie is an entire male, microchipped and wearing a collar with an ID tag.
It is reported that Luckie was chased by people trying to catch him, then jumped off the ferry and into the sea at Tyne Port. As the ferry departed, Luckie swam and believed he found a safe place beneath the jetty but left it on the 5th day. Yet footage shows Luckie in a frantic state in an area that is possibly the ferry port's car terminal.
At some point, it is a possibility Luckie crossed nearby wasteland and moved on to Earsdon or Holywell but unconfirmed.
His owners set up equipment and items in the hope scent would attract Luckie, and the cameras would record him in the area, but this proved unsuccessful:
His toys
Items belonging to his family
Motion sensor cameras
A point to consider – hypothermia is a danger, and Luckie jumped into the cold sea. Did you find a small dog fitting Luckie's description and transport him alive, or his body, to your nearest veterinary practice?
#HelpFindLucky
Help Find Lucky is on Facebook
Contact Dog Lost UK on 01633 673859 quoting ID: 109302
2 – Rags – Disappeared 30 yards from home – 02.09.11
Rags will be 18 this year (December 2022) and was adopted from Many Tears Rescue on death row.
Our pets are living longer, so there is a small possibility she is alive, but of course, we must understand that Rags may have passed. Caroline still needs closure. It is so important for owners of missing animals to fill the heartbreak and find answers:
How could Rags have disappeared so suddenly?
Why was she not in the spinney to which the hedge gap led?
What path did life take her?
Which direction did she keep running towards?
Was Rags absorbed in a scent or sound and lost her bearings, or was she stolen because she was in the wrong place at the wrong time?
Was Rags found at Frankley Services along the M5?
Did she find herself at the Motel along the M5 and picked up as a stray?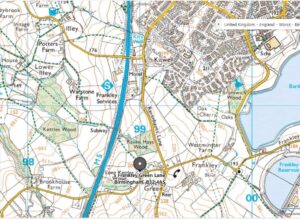 Rags disappeared 30 yards from her home by Raven Hays Wood, B32. With her owner and family of dogs, they walked from the back garden across a field to a footpath (oat stubble) and down the footpath. Rags went through the hedge into the field on the right side. Her regular walking route was then into Raven Hays Wood and then Caroline. But after Rags went through the gap into the hedge, Caroline never saw her again.
There is one more field between Raven Hays Wood and Frankley Services.
The map shows Kettles Wood – did Rags head back that way or spend time in Raven Hays Wood? From the woods did she cross Ravenhayes Lane? Or did she travel in the opposite towards the M5 or Frankley Services? Did you spot a dog with a shaggy coat with floppy ears and pick her up?
Rags wore a blue Tuff-Snuff fabric competition collar at the time of her disappearance with a faded embroidered postcode. The colour of her coat is a beautiful gold rough coat, with white on her front chest and paws, and looking all the cuter for it, half-pricked ears. She stands 16″ at her shoulder. Did you see a dog fitting this description but thought her colour was apricot or light brown? Rags is a female Terrier Cross, but did you think the dog you saw was a different breed?
Rags is microchipped, but it has never been scanned.
There have been unconfirmed sightings in the early years. These are:
March 2012: Grove Lane, Handsworth, B21 9HA. Two young men walked a similar dog
March 2012: Plant area M5 to Cheltenham Road
May 2012: Barnards Castle
May 2012: Fewston Reservoir, Harrogate
Although such a long time ago, does anything sound familiar? Please message Caroline, Rag's owner. The sightings could be coincidental and similar dogs, but every lead is worth checking.
Help Find Missing Terrier Rags on Facebook
Contact Dog Lost UK on 01633 673859 quoting ID 32430
3 – Archie – Missing from holiday minders – 22.10.14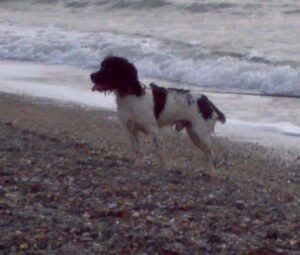 Archie will be 10 now. He is a black and white male English Springer Spaniel with a legal half-docked tail. He was wearing a black collar with a tag. His ID tag would have been a quick way to contact his owners if found.
At the time of his disappearance, his family were on holiday abroad. The minders own a farm (see the red point below) about 28 miles from Archie's home.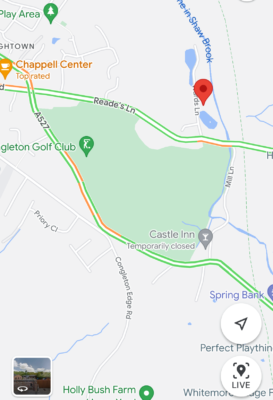 Archie left the farm at Wards Lane, Mossley, North West, CW12 at 6 pm on 22nd October 2014. As a Spaniel, Archie's nose would have been exploring the ground, picking up the scent of something that perked his interest. Which direction did he travel? Dogs can cover several miles and will walk in a zig-zag direction. Did Archie eventually start the journey home?
But of course, we know some people suspect owners of dumping pets (untrue in this case), so has someone given him a loving home? Was he picked up by a chancer and sold on, his collar removed, and the new owners unaware he is a stolen dog? Did someone find Archie and take him to a vet or did the dog warden pick him up, but his chip did not scan properly? Was Archie always on his own, surviving as best he could? I'm unsure how long Danes Cottage has been operating, but perhaps someone on holiday saw or found Archie?
Businesses and holiday homes within this countryside location:
Furious Sports
Dane Cottage Holidays
DJ Recruitment
Tyrer Paving
Hineswood Farm
Congleton Golf Club
When an animal goes missing, we focus on digital news and social media to highlight a case. And for public members to look around them in a city, town, the countryside or remote areas. We hope someone will notice a discarded collar or hear a whimper from a hedgerow. It is so important. Word of mouth is vital too. Val needs closure – she needs Archie home.
Please Help Us Find Archie is the Facebook page
Contact Dog Lost UK on 01633 673859 quoting ID 77082
4 – Shadow – Bolted because of fireworks – 07.11.14
Shadow, a grey and white male Husky X and is microchipped. He was wearing a black collar.
He was being walked on the edge of open moorland but may have headed further into Whitwell Moors, North East, S36 4ZA. Shadow is familiar with some places, and it is hoped that he headed to Underbank Reservoir, Wharncliffe Woods.
"Lost on Whitwell Moor near Stocksbridge/Bolsterstone – last seen heading towards Mortimer Rd (The Strines Road). Latest sightings Thurgoland".

Taken from Shadow's Facebook page
Shadow would be 10 years old now.
"He was wearing a black collar, and the nearest place to where he was lost was our home town, Stocksbridge. However, when lost we were on the edge of the moors just off Mortimer Road. Some may know this better as 'the Strines' road. "

Charlotte, Shadow's owner, told Poppy's Pets on July 2022
Huskies are known to cover a lot of ground.
There have been positive sightings in 2014 and 2015.
21.11.14: Shadow was sighted by two different people. One person saw Shadow close up
In the area last seen by Charlotte, paw prints were discovered by Wendy, a woman helping to find Shadow
Early December 2014: following a press release, a call was received about a dog seen on the Trans Pennine Trail. The dog was reported as looking rough and alone.
"Searchers went to the area after dark and saw eyes and movement running parallel to the trail, right heght for a Husky. Look out in the Thurgoland area." Postcode S35

Dog Lost Owl on 02 December 2014
06.02.15 Entry on Dog Lost UK: Husky has been seen running lose in Rother Valley Country Park, S26 5PQ, Shire Brook Park, B13 0BD, and the Beighton area, S20
26.03.15 Entry on Dog Lost UK: A Yorkshire Water Engineer saw a Husky running loose in a Whitwell Moor field where Shadow was originally lost.
The distance between Whitwell Moor and Shire Brook Park (if Birmingham area) is 102 miles. Remember, a Husky was seen around the Whitwell Moor area the following month, which seems more plausible.
What happened to Shadow? Did he have a set territory he toured, retracing his steps back to where he was last seen? What about visitors to the area – did you see a dog in the distance that appeared to be a stray, looking rough and dirty? Did you report it?
#FindShadow
Facebook page coming soon
Contact Dog Lost UK on 01633 673859 quoting ID: 78024
5 – Ella – Disappeared at sea – 30.12.14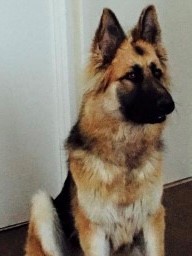 Ella is a young brown and black German Shepherd. She is chipped and wearing a blue collar.
Her owners last saw Ella when she swam out to sea.
"The coastguard said dogs often do this and swim back, but depending on the tides may be swept in one direction or the other."

Wensmum
RNLI stated that nothing was reported on 30th December and were out searching within two hours of her going missing. Someone reported a dog in the water, so Maritime Operation Centre in Jaywick responded and went to sea at 1.55 pm. They also said dogs normally return to shore or wash up along the coastline. It is rare for a dog to drown at sea.
But a dog would tire eventually if swimming continuously?
Because of the tide (Me N My Girl says), she could have come out at Mersea, Dengie Peninsula or anywhere along the coastline between Clacton Beach and further up towards Brightlingsea. Yet someone else says too far despite the strength of a German Shepherd.
Ella's owners have searched the beach, parks and nearby fields. I suspect a body was never washed up, but it depends on the current.
A dog fitting her description was seen sitting on rocks, and the coastguard was called. But Ella jumped back into the sea as the caller approached. The coastguard did not arrive for two hours.
No one saw Ella again. She either perished at sea or found her way to land. She may have passed away from hyperthermia or been found and taken to a local veterinary practice, but her chip wasn't scanned.
Contact Dog Lost UK on 01633 673859 quoting ID: 80608
6 – Billy – Companion dog returned home – 03.10.15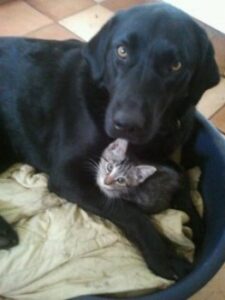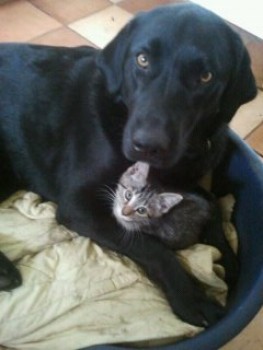 Billy went missing from a smallholding at Causeway End, Brinkworth, Chippenham, SN15. He went absent from home with another Labrador Retriever – his companion returned home, although strangely out of breath. I think it is right to note that another dog in Brinxworth went missing simultaneously. I do not know if they found the second dog.
Billy, a black Labrador Retriever, is known to be a remarkable dog because of his affection and caring nature toward other domestic and farm animals. Did you find a Labrador Retriever with a loving personality and give it a home, thinking he was abandoned?
At the time of his disappearance, he wore a red collar and was chipped. He is black with a bit of white on his chest.
The owners have spoken to the M4 Highways Agency (junction 17 to 16), and Network Rail. Network Rail checked on 3rd October and reported no incidences involving dogs.
There have been local sightings, but nothing has brought Billy home where he needs to be.
Follow Billy's Facebook page Find Billy of Brinxworth
Contact Dog Lost UK on 01633 673859 quoting ID 58054
7 – Lizcura – Escaped at a rest stop 28.06.15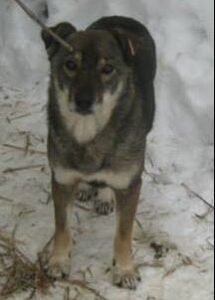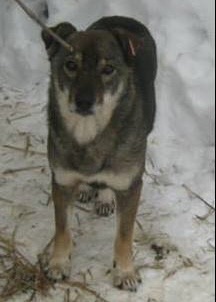 Lizuca is a Romanian rescue on her way to a safe UK haven but escaped at a rest stop in Tilney All Saints, Kings Lynn, Norfolk, PE34. She is a dog that is unapproachable and terrified because of abuse suffered in her home country and will live in self-survival mode. The rescue asks for sightings only. Lizuca is a grey, brown, grizzled crossbreed microchipped, and neutered.
She was last sighted:
Marsh Road and Green Marsh Road, near Terrington St Clements
Green Marsh Road, near Terrington St Clements
The Burhams, Terrington St Clements
To reach the village from Tilney All Saints, Lizuca would have crossed the A17, a major and busy road heading in a North West Direction. To reach the Burhams and Marsh Road, Lizuca would have walked towards the east, but these areas are suburban homes- would she risk it? Did she continue heading in any particular direction, eventually leaving Norfolk?
In November 2015, the Dog Warden was trying to find the best location for a trap.
Requests were made to farmers in the area to check:
Ditches
Outbuildings
Derelict barns
And for anyone to check:
Gardens
Two major roads in her location: A17 and A47
A friend and I put posters up and contacted the local media stations as Lizuca was not from the area and the rescue was miles away.
An example of highlighting her missing status:
KLFM967 radio station
Local vets
Wisbech Standard newspaper
Queen Elizabeth Hospital staff room
Sutton Bridge, Lincs
West Norfolk RSPCA
Posters on lamp posts, post boxes and given to people walking dogs
Walpole St Peters Village News
Laybys along the A47
Pets At Home, Kings Lynn
Jolleys Pet Store
I can honestly say we tried our utmost best to find Lizuca. There is so much countryside around the villages so chances are she has found a place where she feels safe and can hide.
Contact the rescue: 07852 264837 or 07984 446717
Contact Dog Lost UK on 01633 673859 quoting ID 89568
8 – Hansum – Disappeared on a routine walk – 31.05.14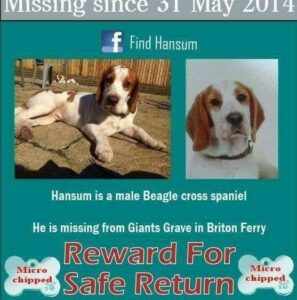 Hansum is now 10 years old. He is a microchipped ginger and white beagle cross wearing a red collar. He is 2 years old and on a walk with his Mum, Julie and canine brother Harry when he disappeared, but there does seem to be a route Hansum took with at least two verified sightings. His journey began at Giants Grave Briton Ferry Canal, Neath, Wales, SA11.
One point to remember is – days before Hansum went missing, he hurt his paw pads.
The sightings of Hansum during 2014 & 2015 are as follows:
1st June: Gnoll (Country?) Park, SA11 3EF
3rd June: Gnoll Estate, Neath, SA11
4th June: Limping along Tenant Canal (between Morrisons SA11 3LN towards Aberdulais Falls SA10 8EU). A road crosses to the canal, and from what I understand, a bridge crosses to Cadoxton SA10 towards a nursery.
5th June: Glyneath Canal, SA11 5RH
26th July: Seen outside the Chinese Takeaway, Mayberry Road, Baglon
28th July: Mayberry Road, Baglon, SA12 area. The sighting has been verified as Hansum
29th July: A dog went into No.: 31 and climbed on the sofa, but the owner shooed him away. It was verified it was Hansum. The house owner did not know he was a missing dog.
10th August: A dog with a red collar was seen at Tennant Park, Skewen, SA10 6HU
30th November 2015: An older man was seen walking a beagle past the Village Hotel, SA1.
Miles between postcodes for the period June through to August 2014:
SA11 to SA12 = 14 miles
SA11 to SA10 = 10 miles
SA12 to SA10 = 12 miles
Going back to Hansum having hurt his paw pads before he disappeared and later seen limping after he went missing – as a veterinary practice in SA10, SA11, and SA12, do you remember treating a dog with sore paw pads back in 2012?
Do you, members of the public, remember seeing a ginger and white dog limping and assumed the owner was nearby?
Do you live in Skewen and found a young dog needing help?
#FindHansum
Find Hansum YouTube video
Let's Find Hansum on Facebook
Contact Dog Lost UK on 01633 673859 quoting ID: 69710
Related articles:
9 – Spot – Possibly taken in by an elderly couple – 05.12.18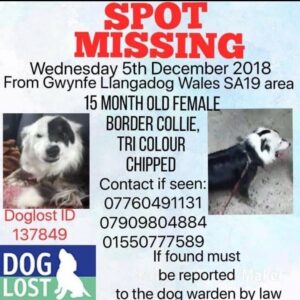 Spot is a tri-colour Border Collie chipped, wearing a black collar and was only 15 months old in 2018. She is described as timid and nervous. Spot was at a training kennel in Gwynfe Llangadog, SA19, Wales, when she escaped. Gwynfe Llangadog is near the A4308. Spot has an identifying feature – black over one eye.
The owner is not on social media and does not know the area. She has contacted the rail network too.
Following her escape, Spot was sighted at Lluest Horse & Pony Trust, and the local area is surrounded by countryside and not far from the A4069.
Llangadog Common is a dog walking area and on the 7th and 9th of December that year, a drone went up. There were two sightings, although I do not know if connected to the drone. Both sightings were in the Llangadog area on the 10th of December. The first at 9.30 am and the second at 4.30 pm. On the 14th of December, a sighting was reported on Wednesday at 9 am at the Manordeilo Service Station. Did you stop there in 2015 and pick up a dog you thought was a stray?
In December, a 'sheep dog' was found by an elderly couple in the forestry area on the A4069 Llangadog to Brynamman. The couple gave the dog a home. A customer at the Three Horseshoes (also mentions a chip shop) in Llandovery saw Spot's missing poster, visited the couple's home and showed them the poster. The couple declared it wasn't the dog they took in.
Because the Border Collie is associated with sheep herding, it would be easy to refer to the breed as a 'sheep dog'. My partner calls the Border Collie a 'Sheep Dog'. If this was Spot, why did the couple not return him? Or was it coincidental?
The distance between Llandadog and Llandovery is 5. 7miles.
So, this brings us to two other potential sightings. The first was at 12.45 pm, around 18th of December on the road at Jafarm Jem between Ffarmers and Lampeter. Ffarmers is 26 miles from Brynamman.
On January 12th the following year, someone saw a Border Collie walk past Pant Aber on the Brynamman Road at about 15.45 pm on Saturday. This is a suburban area.
I hope, as I do many dogs, that he was found and given a home rather than be out there alone. But, to keep a dog that isn't yours is unfair to the owners who still search. Please do the right thing, and if you find a dog, please visit your vet or rescue so the dog can be scanned for a microchip.
Contact Dog Lost Uk on 01633 673859 quoting ID: 137849
#PoppysPets-IAmMissing
Poppys Pets is a participant in affiliate programs which compensates us for referring traffic. A selection of articles on this website contains affiliate links. Further information: Disclaimer and Privacy Policy
Poppy's Pets has a column in the Withernsea District & Community News.