In the digital age, social media platforms and online found and lost websites have been places to find missing pets. However, not everyone has access to technology, reducing the audience and a secondary opportunity to reunite with a lost pet.
Therefore, we mustn't forget traditional effective methods of finding our pet:
Posters displayed in high foot-traffic areas
Posting flyers through letterboxes
Ads or a feature in national or local newspapers
A paragraph in a locally distributed pamphlet
I write for a small East Yorkshire newspaper and during the summer, many dog owners visit Withernsea, a seaside town, with their dogs. A dog featured in a local paper may be a stolen dog purchased by an unsuspecting person and in Withernsea for a holiday. That person may pick up a free copy of the Withersea District & Community News readily available in shops and see similarities between their dog and a lost dog printed in the newspaper.
The other consideration is the found or lost dog may belong to an elderly person who does not have a mobile or social media. Traditional methods, including distributing flyers, can help reunite a pet if found or lost locally. If stolen, then it is also recommended someone with technology knowledge helps this person with a social media profile and create other profiles on missing and found websites.
As pet owners, we must not only understand the new dangers out there for us and our pets, but how pets can disappear in seconds on a walk, from the garden or house, outside a shop. Searching on one selling sites is important too, and the understanding. Preventative measures are vital rather than assuming it will never happen to you.
Helping to reunite a found dog
Sign up to Dog Lost and receive pet alerts
You must report a found dog to the Dog Warden
Create a 'found dog' profile on Dog Lost and add Dog Warden contact details
Or, ask Dog Lost to help create a profile
Display posters for those who do not have social media
Alternatively, take the dog to a veterinary practice or rescue for microchip scanning. They will contact the Dog Warden
Never hand a dog over to a stranger without proof of ownership
Maple was reunited when her new owner took her to a veterinary practice for a first appointment, and the vet scanned for a microchip. The microchip was flagged as 'stolen' and Maple was reunited a year later.
How do you help get information to the owner of the pets listed?
Read the information, look at the maps if applicable, and look carefully at the photograph. Every piece of information is vital, however long ago.
Each dog has a Dog Lost ID number. This number belongs to their profile.
Visit Dog Lost UK and search for the dog using the ID number given. Leave a comment for the owner with your contact details, or call the owner
Or call Dog Lost UK on 01633 673859
Or email admin@doglost.co.uk
Related articles:
1 – Poppy – Lost North York Moors area – 25.02.22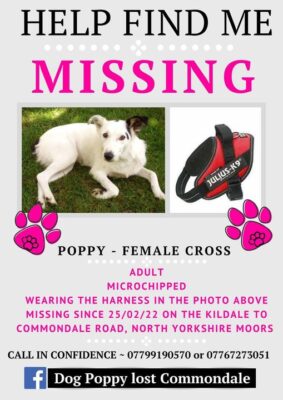 Poppy is a female Crossbreed, mainly white in colour, a French rescue dog, friendly and approachable. She has a black docked tail, one black ear, and what appears to be a couple of black splotches on her head.
At the time of her disappearance, she wore a red and black Julius K9 harness, as shown in the picture above. The harness has her contact details on it.
Her Dog Lost profile states she went missing from Percy Rigg Road, halfway between Brick Row in Commondale and Kildale, up on the North York Moors, Whitby, YO21 2HH.   The Moors is a tourist destination, and we returned to Castleton in 2022 and visited nearby Commondale a couple of times just in case we saw Poppy.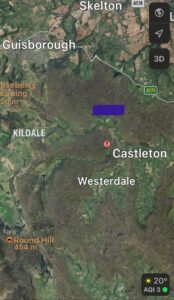 So what happened to Poppy? Did she head further onto the Moors because of a fright? Lost her way or did she retrace her usual walking route and head back into a village? Was she picked up and taken for scanning or given a home by a kind soul? Whatever the reason, we must pay attention and keep looking for this dog and get her home.
Dog Poppy Lost Commondale Whitby YO21 on Facebook
Contact Dog Lost UK on 01633 673859 quoting 173793
4 – Chenile – Run out of the door – 23.01.22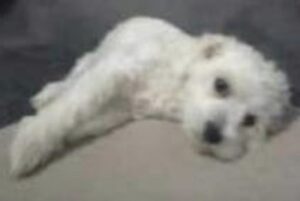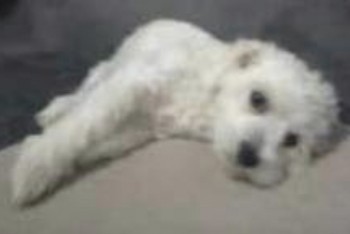 Chenile is a white Bischon Frise rescue puppy.  She went missing from Elmfield Terrace, Darlington, County Durham, DL1, when she ran out the front door. Adjacent to Elmfield Terrace is North Lodge Park, which she may have wandered into for puppy adventures. Did you see a sweet little white puppy and think maybe the owner was nearby and the young dog was being walked off-lead?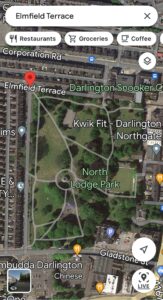 The following are nearby – maybe you notice a small dog alone?
Kwik Fit, Northgate
Darlington Snooker Club
Independent Claims
Densely populated streets of suburban houses
A167 and A67
Chenile is so cute looking. It is unknown how far she may have travelled, if very far at all. Like a kitten, a puppy will be oblivious to dangers, and everything will be a game and fun to investigate.
Also, she may have been found and picked up, handed to the dog warden or vet, or given a home without notifying the authorities. But if handed to a vet or the dog warden, she would have been scanned. So perhaps a kind soul thought she was abandoned on this cold January day and sheltered her. Was that you?
Chenile's microchip is registered in Romania.
As per www.gov.uk, the following applies when bringing an overseas pet from overseas:
The microchip must meet International Organization for Standardization (ISO) standards ISO 11784 and ISO 11785 and 15 digits long
Staff will check it meets the standard when entering the UK
It is recommended you bring your own scanner if the microchip does not meet regulations
Your pet will be placed in quarantine or refused entry into Great Britain if the microchip cannot be read
If incompatible, you will need to have your pet re-chipped
I don't know if a Romanian microchip is compliant with ISO standards. But as Chenile is in the UK, the chip must meet regulations otherwise, she would have been refused entry. So let's hope this little girl has found safety and is one day took to a veterinary practice for a standard check-up and her microchip routinely scanned.
Contact Dog Lost UK on 01633 673859 quoting ID: 173628
4 – Chief – Terrified rescue dog escaped from new home – 04.09.21
Chief is a frightened grey and white crossbreed male puppy. A kind family adopted him, but after 4 days escaped. He was from Romania originally, and severe abuse leaves dogs with emotional, trust and fear-aggression issues.
Andreea, a native Romanian lady, tells you firsthand what the abuse is like for animals and gives her story of how she adopted a dog from her country whilst living in the U.K. This is Roxy's story and includes how Andreea trained her.
I know someone with a Romanian rescue dog, and he admits how lucky he was that Teddy settled immediately and never tried to escape. If you want to learn more about the adoption process of an overseas dog, please click here to read more and here is Teddy's YouTube playlist. Regarding Chief, he may have been abused more than Teddy or Roxy and run off in fear mode. It is heartbreaking as he was just a puppy when he disappeared in 2021.
As a puppy, he will face new dangers in a country he is not used to, so I hope someone finds him. But as reported on his profile on Dog Lost UK, Chief is a very nervous and timid dog, so would run.
Chief had been sighted and captured on CCTV in the early days with a breed description given as a Lurcher, Bearded Collie, and Collie Crossbreed. Have you seen Chief? Chief is a Moritic Shepherd dog capable of covering miles, and the breed is protector of livestock in Romania and will not harm them.
As Mioritics can cover a large distance, people must be observant in these areas. Please share his Dog Lost profile to:
Castleford
Doncaster
Barnsley
Wakefield
Sheffield
Buxton
Rochdale
Halifax
Huddersfield
In between the above areas
Don't forget, this beautiful boy is microchipped. I do hope he is found and begins the life he so deserves.
Have You Seen Chief – Harby NG23 on Facebook
Contact Dog Lost UK on 01633 673859 quoting 169544
Key takeaways:
Use traditional methods to find your missing dog
Ensure the dog warden is notified of your lost pet
Engage help from Dog Lost to create a profile
Rethink pet safety and consider new anti-theft walking gear
A thank you …
Thank you to Jayne at Dog Lost UK for uploading Poppy's Pets website link onto the site. Now, whenever I comment on a profile, another visitor can click on Poppy's Pets and go direct to my website.
#PoppysPets-IAmMissing
Poppys Pets is a participant in affiliate programs which compensates us for referring traffic. A selection of articles on this website contains affiliate links. Further information: Disclaimer and Privacy Policy
Poppys Pets has a column in an East Yorkshire newspaper that features lost pets