Andreea is a Romanian woman who lived in London before emigrating to Canada, and she is an experienced dog owner with a young family and a cat. She knows firsthand the brutality and fear dogs face daily living on the streets in Romania and the abuse they suffer in kill shelters. Andreea successfully trained a traumatised street dog into a stable dog enjoying domestic life in a Western country. Here are Andreea's rescue dog training tips for beginners.
Information and images supplied by Andreea, owner of Romanian Rescue Dog Mia / Roxy
When considering adopting an abused street dog, it is vital to understand certain things. Romanian dog catchers do not love animals. They brutalise them from capture. A dog's life on the streets is hard, and about self-survival when in a kill shelter. Dogs compete for food to survive. They live in fear of humans from the continued violence. They die from disease, dog fights, or are inhumanly killed by humans.
There are rescue groups raising funds to get dogs out of kill shelters. These are the lucky dogs. They are taken to safe shelters and are given medical care. However, the dog up for adoption will still be terrified inside, may have emotional issues and may never trust a human or adapt to home life.
A feral dog is born on the streets or in the countryside and so will have never had the experience of human interaction. Therefore, human socialisation skills are zero. They know only abuse. In public kill shelters, they may develop fear-aggressive because of abuse faced throughout their lives. This may escalate as the abuse, particularly from men, grows. Often a dog is too traumatised to be rescued by a kind human so their fate is sealed with death in a kill shelter. Death may be from a fight with another dog or from being inhumanly killed by humans.
Street dogs that live on the streets will be used to native noise, transport, and frantic activity in town life. A stray dog will be accustomed to people and possibly interact with those showing kindness. In their earlier lives, they may have lived in a home and were abandoned on the streets to fend for themselves. Or spent their lives chained in a yard and then dumped. On the streets, a dog may have witnessed cruelty against other canines or themselves and developed a fear of men. However, they may be approachable enough to be moved from public kill shelters to safety and then transported to Western countries after assessment and medical care. They stand a better chance of adapting and being responsive to training.
So, guarding, fear of men, afraid of humans, and thinking of escaping from the confines of a European home, are some points to consider before you adopt. Your overseas rescue dog may take a long time to adapt and trust. Lots of time, patience and dedication are required. Join canine groups on Facebook that are set up for the countries you hope to adopt from. Ask questions. Research first before you take the first step.
Shopping List:
A Romanian rescue dog called Mia
Braila is a small town two hours from Burachest, Romania. A dog called Mia lived on the streets of Braila, and when caught, she was transported to a public kill shelter in the town. There is a scar on her ear where an identification peg was inserted.
Avoid scams and ensure you pay a reputable overseas dog rescue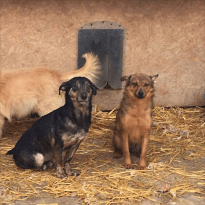 "Our story began one afternoon in January 2017 whilst sitting in a chiropractor's waiting room in London. The lady opposite was glowing with excitement as she due to meet her new rescue dog from Romania. So, I asked, what do you do to rehome an overseas rescue dog?"

Andreea
Overseas dogs need funding for travel from a public shelter to safety. They also need veterinary care, legal documents and then onward travel by van to the West. It all costs money. Overseas rescues post on social media asking for donations for individual dogs to save them from being inhumanly killed.
Before parting with money, please ask professionals or friends if they've had dealings with international rescues. Plenty of criminals are waiting to scam animal lovers and will do this with sob stories. So please ensure you donate to a genuine charity whose prime concern is these abused dogs in desperate need of new families.
Paying for the adoption of an overseas dog
Dave and I adopted a Romanian rescue dog called Teddy. Teddy was transported to Hull by an overseas charity because enough money was donated for his medical care, papers and transport to the U.K.
He paid Oakwood Dog Rescue the adoption fee; the charity is well-known in the area.
Each charity differs – do your homework first. For example, Last Chance Rescue Romania, Hull, have dogs to adopt but you do not meet them first. It is difficult to know if you will both bond. However, failed adoptions (no fault of the dog) are in foster care and you can meet them before adoption.
The background history of a stray dog: its past is unknown
British or overseas animal rescues will never know the entire history of a stray dog. They can assess a dog but unless the dog is in a foster home first, a rescue will not know how it will cope.
The Romanian dog will have suffered complete deprivation and abuse and know nothing about love, safety, and care. Every aspect of their new life in the West will be challenging, mainly because of their psychological scars and fears. A dog may require behavioural and general reward-based training. This will be an additional cost to you.
Friendly socialisation with people, children and other animals will be new and frightening so you will need patience and understanding that your dog may react negatively, run, or hide. Your child will not understand that your dog needs to decompress. Remember, it will be a step-by-step process and may take months for your dog to climatise into domestic life. I stress again that a rescue will not know the true extent of a dog's background. A Hull charity states that a Romanian dog needs at least three weeks to decompress in a new home, and they stress that your adopted dog needs to stay indoors for a short period. I assume this is because being in a new home and having alien sounds in an outdoor environment will maximise stress levels.
Romanian Dog Rescue, based in Bucharest saved Mia. With all dogs in their care, the charity gives as much information as possible but again, this assessment will be when in their care.
Thoughts to consider for pre-adoption:
Do not walk your dog outside for at least 3 weeks
These dogs will not be used to home life; therefore, adopting one would not be appropriate if you have small children. If a child scares the dog, the dog may bite and then be euthanised. It is unfair to put a dog in a home with a young family. Too many dogs are being put to sleep in families
Puppies will not be considered for older people as young dogs are hard work. Individual circumstances are discussed
Your adopted dog may not get along with other animal members
Your adopted dog may be reactive towards men
Paid training may need to be with a female trainer
Make sure your dog has rescue backup
Considering how a new life will affect your adopted dog is important.
Here are examples:
Guarding food, especially near children. In shelters, a dog guards and fights for food for survival
Reactive towards men. In Romanian, a dog faces abuse from men
Reactive towards people, bikes, and motorbikes. I've been told people will deliberately run over dogs and animals on the streets
A dog may be suited to being the only dog in a home because of the fight for survival
A rural home and environment may suit some dogs instead of a city because of frightening memory triggers
A dog may be reactive or wary of strangers because they learnt that people harm them. In time, they may trust
Our Romanian rescue dog, Teddy will only walk past you to reach his food bowl if your back is turned to him.
When Andreea requested information from the rescue about Mia, her daughter was 14 months old, and cat Lily was 4.
Andreea received the following information about Mia:
1 year old
Rescued from Braila Public Shelter
Medium size
Calm nature
Suitable for a family with children based on her calm nature
Unsure of suitability with cats
The adoption fee was 100 euros but this will vary between rescues. The fee covered a pet passport, spaying, a microchip, vaccinations and transport from Burachest in Romania to the U.K.   Meanwhile, a U.K. rescue representative visited Andreea and her family to assess whether their U.K home and garden were suitable for a rescue dog.
"I chose to pay extra towards food and medication bills to help other dogs. But Mia was ready for a new life."

Andreea
Andreea signed an adoption contract on 6th March 2017, and on the 4th of April, Mia spent two days travelling in a van to England with other dogs. Some charities call this the Happy Bus. Of course, this can be a traumatic fear-based experience for street dogs because they don't know they are heading to safety and a better life.
Mia then spent her two-day quarantine period at Glendee Kennels in Hatfield.
When quarantining your pet in England, Scotland or Wales, you must use Defra-approved quarantine premises, and an authorised carrier to transport your pet to the designated kennels. You can read more on the U.K. Government's official website.
Things to think of when meeting your street dog for the first time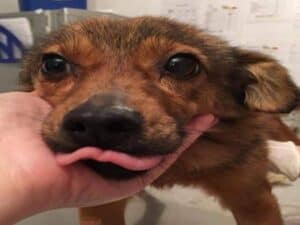 "I was very excited to pick up Mia from the kennel. I bought her a leash, had fresh water and installed a mesh cage in the boot of the car. I drove alone with Mia. It was like faith, two local souls reunited in London, U.K."

Andreea
You must be prepared mentally and physically before you meet your rescue dog. You must have the right accessories and your car is equipped for a safe journey home. Your dog will be anxious and may attempt to escape at any opportunity, especially when faced with another stranger and a long journey. New sounds and scents will increase fear and anxiety. And if a man is nearby, fear will heighten as your dog remembers past abuse.
Items to purchase before you collect your dog:
Car safety seat belt
Harness
Slip lead
Fresh water and a bowl
Car crate
Please consider the following:
Tried and tested harnesses, leads, collars and car safety belts. Please watch here
Best & Worse Products for On-Lead and Car Safety. Read more here
Pet Ultra Mate Travel kennel depending on the size of your dog. Please watch here
A car travel crate offers safety and an anti-escape in a car crash.
Andreea decided on quiet socialisation time with Mia before returning home and found a lawn to sit on together. Mia walked on lead.
When Andreea touched the back of Mia's head, she peed for fear of being touched, then curled herself up into a tight ball. Andreea spoke gently in English, and eventually, Mia lay on her back, soaking up the sun and letting her belly be stroked.
Mia became Roxy in readiness for her new happy life in England on this day.
Things to consider for a street dog's first time in a domestic home
Roxy was placed in a pen. She was tired, and nervous and cried through the night. If your rescue dog has never lived indoors, it won't know how to tell you it's time for the toilet.
We take household and outdoors sounds for granted. It may be terrifying for a street dog and it may try to escape at the first opportunity. You must be prepared for disruption at night and daytime.
Here is an example of a Romanian puppy called Chief whose fear was so great he escaped from his new home on his fourth day. Chief scaled two gates and disappeared. His full profile is on Dog Lost UK, and for further information about missing pets, including Chief please consider visiting Lost, Found and Recovery on Poppy's Pets.
Points to consider applying:
Keep your dog indoors to acclimatise to new surroundings but limit the access to rooms initially
Allow your dog to explore part of the home but supervised
Keep calm and quiet around your new dog. Select one person to look after the dog for the first few days or weeks then gradually allow other family members to help
Have food and water ready in a place where your Romanian rescue dog can eat and drink without its back to you
Be cautious of your dog guarding areas of the home so at first, prevent access on a settee, armchairs or your bed. When your dog is comfortable with you and its home, then you can allow access
Do not over-fuss your dog – give it space
Be careful when opening outside doors – your dog may be scared and opt to escape. Your dog is used to the outdoors, not home life. Never drag your dog back indoors from the garden. Be patient and coax
Be prepared for toileting accidents. Please do not scold your dog. After eating, use a word that your dog will become familiar with and associate with toilet time then take your dog outside
Allow your dog to find a spot in the home where he feels safe
Do not bathe your dog (he will smell) until he is settled
Keep other pets separate at first
Please keep young children away from your dog at first
Andreea decided to allow Roxy the freedom to explore the home and garden but contact with other family members and pets was restricted until the time was right. Eventually, Andreea introduced Roxy to her daughter, her husband, and Lily the cat!
Lily automatically ran when she saw Roxy so Roxy chased Lily but not aggressively.
As your Romanian rescue dog is rehabilitating, you must never apply harsh discipline, hit or smack your dog. It is vital an abused dog feels safe now.
Learn about canine body language before your dog arrives. They will communicate with you in a canine way. So when together, observe behaviours, body language and signals your dog communicates to you. For example, Andreea noticed that Roxy would lie by the front door after a walk. Roxy selected this space as her safe and comfortable zone, which led to positive results.
As mentioned previously, Roxy was put in a pen initially but it unnerved her and led to nighttime crying. Alternatively, you might want to consider the following:
Strong multi-purpose fence
A dog owner recommends the multi-purpose fence. It is available in various sizes. It can also be a barrier between existing pets and your new dog. When no longer required it can be used in the garden or sold.
Pet Ultra Mate Kennel
I recommend not closing the door on the pet ultra mate kennel. Instead, let it be a quiet retreat for your dog.
Zyklene and Pet Rescue Remedy
These products work, and my article, recommended products for calming cats and dogs, contains links to purchase.
Andreea tried a Barking Spray, which helped Roxy learn not to bark at other dogs. I found Company of Animals products sold at Pets at Home if you wanted to read more.
Introducing a street dog to a domestic cat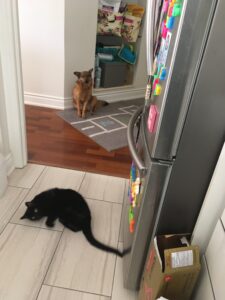 There is always a fear of introducing animals to one another, especially if adopting a street dog.
Andreea believed that Roxy and her cat Lily would accomplish peace together despite playful chasing. The chasing continued and appeared to be in Roxy's nature as she loved chasing flies too. So the game was friendly rather than aggressive.
Roxy was never cat-tested in the rescue and may apply to your chosen dog. Andreea trained both to accept one another and was confident a relationship could build with ethical training.
She fitted a baby gate to divide the bedroom and the rest of her flat. Lily camped in a bedroom for two weeks, and Andreea rewarded them with treats simultaneously – Roxy on one side of the gate and Lily on the other. Eventually, Lily felt confident to walk around the house, and Roxy learnt what 'no' meant.
You should judge the relationship between pets and allow them to take a step forward when the time is right. I think a cat will judge a situation itself but remember it is a dog's nature to give chase.
Getting a street dog used to a collar, harness and lead
The first issue Andreea had with Roxy, was getting her use to a lead, harness and collar.
"We also tried several harnesses and leads. Unfortunately, Roxy did not like a collar – she would pull it off and then chew. She also managed to escape from a harness too. Luckily, on that occasion, Roxy trusted me and listened to my commands to sit and allow me to put the harness back on. Eventually,  we managed to buy a better harness that fitted her body well and bought a strong leather lead of a medium length."

Andreea
As you have read, Roxy escaped from her harness and reacted to the collar too. Luckily, Roxy trusted Andreea enough and listened to her commands to sit and let her put the harness back on.
Harnesses differ and it is essential to find the correct type. Andreea found a harness that fitted Roxy's body better and used this with a strong medium-length leather lead. 
Safety tip to stop your street dog from escaping:
When your dog is happy wearing a collar and harness, make sure you purchase a double-ended lead. This means the lead has two carabiners. One to attach to the collar and another to the harness. This is added protection for any breed. My sister's dog Gizmo slipped his harness at a motorway road stop so she changed to this type of lead afterwards. Zooplus, an online pet store, sell the Hunter Neoprene Lead or the Julius-K9 Supergrip Double Adjustable Lead. Alternatively, Etsy has a wider selection of double-ended leads. Or you may consider an escape-proof harness.
What to expect the first time outdoors with a Romanian rescue dog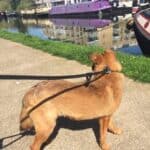 "I wanted to teach her English to adjust properly to her new life in the U.K. We lived in Brentford, which has a small oasis of beautiful nature trails by the Canal".

Andreea
Adopting a street dog will mean lots of dedicated training, and time as your dog adapts to society, develops trust and adjusts to domestic life. Andreea became Roxy's key trainer. She conscientiously trained and supported Roxy with steady progress around people and her environment.
Here are steps to think of:
Train your street dog in quiet locations near home
Do not walk your dog outside for a few days after arriving (3 weeks is recommended)
At first, take short walks together
Your dog needs to identify with you, trust you and feel safe with you
Maintain a pleasant, calm voice, and not an angry, impatient one
Remember that for a dog of any age, wearing a harness, restricted on a lead, is new to your dog
Don't forget to observe body language and identify when your dog is feeling scared
Do not let your street dog off-lead whilst both are still learning trust together. Wait. Your dog needs time to learn recall too
Never shout at your dog
Use reward-based food treats or fuss your dog if confident being touched
Train with words and hand signals
Make sure you have updated your dog's microchip and added rescue backup.
Make sure your dog is wearing a collar and ID tag
Andreea walked alone with Roxy and used gentle commands, but initially, these commands were unsuccessful. She began short walks four to five times daily and was always near home. This built Roxy's confidence and introduced her to a new area and environment.
Roxy found it traumatic when near large dogs and barked loudly in fear. So Andreea decided to divert Roxy's attention by implementing food reward treats or praise. To successfully train her Romanian rescue dog, Andreea continuously focused on Roxy, her body language and her needs. By doing this, she recognised what made Roxy afraid.
For example, noise caused anxiety, and Roxy put her tail between her legs. This continued for a long time. Even though Bucharest was a busy city, Roxy was intimidated by London traffic and attempted to hide. Fear escalated, and her fur would stand up on end.
As your dog grows in confidence, increase the walking distance. As Roxy's confidence grew, Andreea introduced her to the hustle and bustle of the British high street and further along the Grand Union Canal. Then having adjusted to her environment, Andreea decided it was time to push her baby in the buggy whilst walking Roxy. Then eventually, her husband was invited to join them on walks.
It is important that all training is ethical, which Andreea believes in. This, in turn, will help any dog progress in training and socialisation skills.
Socialised dogs can help give a street dog knowledge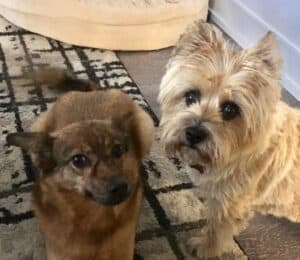 Roxy's first British canine friend was Max, a Bichon Frise. He and Roxy are the same age with similar personalities – friendly and gentle. Dogs with friendly behaviour can help train those less understanding of doggy manners. From Max, Roxy learnt to walk beside him, play and join in with innocent chase. In addition, she learnt to sniff bushes and leave urine markings. This helped Roxy blossom into a cheeky, balanced and confident dog.
Points to remember:
Introduce dogs on neutral territory
Never invite a dog onto the territory of a dog they have never met
Allow them to meet, greet and sniff on neutral territory
"She radiated love and beauty and soon became famous locally as people thought she looks like a fox. Everyone wanted to know her story and breed."

Andreea
A confident ex-street dog can be capable of major life changes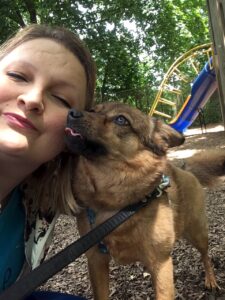 "Nowadays, Roxy is a much loved family member. She loves us unconditionally including Lily!"

Andreea
In September 2018, Roxy's life changed again. The family, Lily and Roxy emigrated to Canada, and two years after that, a new baby was born. Both Roxy and Lily travelled on the plane together with crates side-by-side. To help Roxy cope with another major journey, Andreea ordered a custom-made oversized crate that offered space.
"I believe the long journey from London to Toronto brought them closer together. Roxy continues to make friends and enjoy life. I love her, and she is my soul mate."

Andreea
Roxy during Winter 2022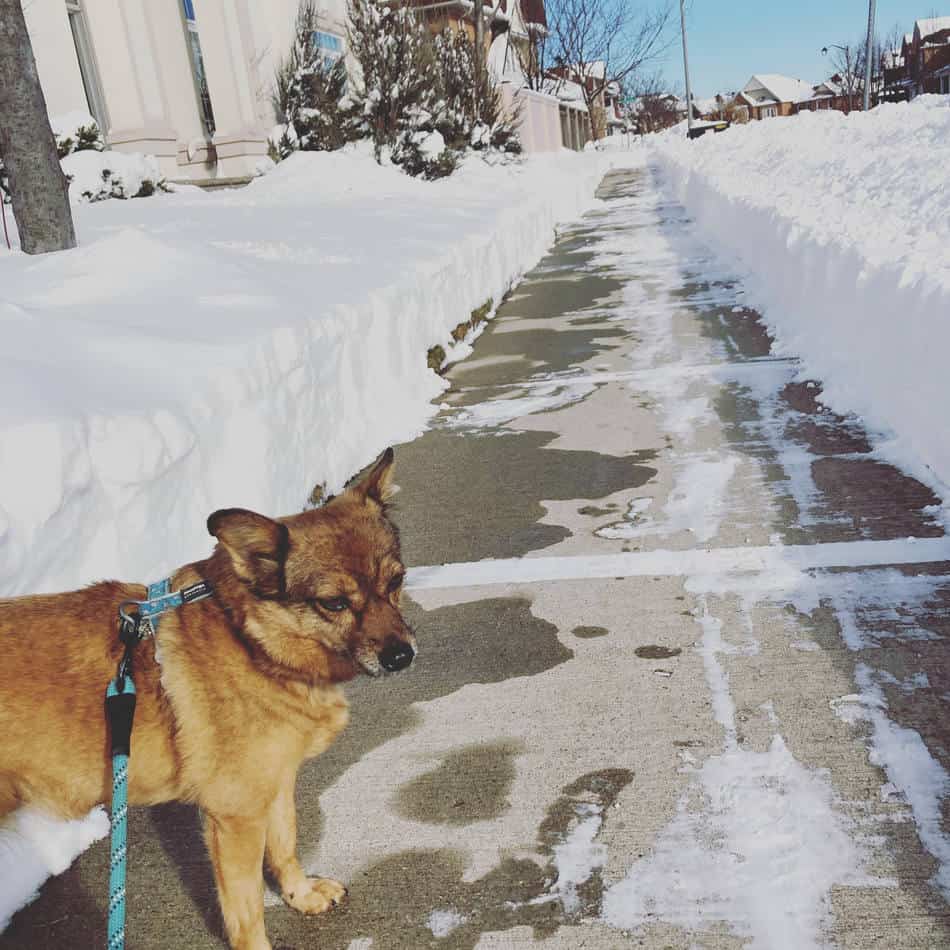 Roxy and her new family are happy in Canada and during Winter 2022, Andreea emailed me a photograph of her in the snow. Doesn't Roxy look contented?
Our Romanian rescue dog Teddy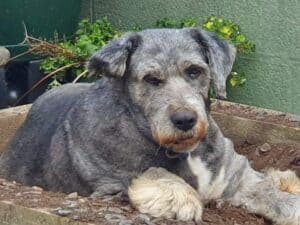 Roxy isn't the first Romanian street dog I have written about. Our Teddy came into Dave's life in 2020 and through him, we met. Teddy was saved by the International Dog Rescue and transferred to Oakwood Dog Rescue in Hull.
Teddy has always been placid. In February 2022, he finally realised car journeys took him to wonderful places. He often appears in Poppy's Pets videos.
Related questions:
Can you send your dog away to be trained?
It is important you and your dog train together. Your dog will need a leader and someone to trust and take commands from. You need to learn about your dog, its limitations, and fears and both know training commands. Training is a joint effort.
If you send your dog away for training, your dog will learn the correct methods, but you will not. And together your dog needs to return to you with recall. If you have not trained together, your dog may not return.
Your dog may also fear men and need a female trainer.
Can I train my dog online instead of going to classes?
This e-book download is free brain training for dogs, but you may have to subscribe. There is no obligation to pay for further training but give it a go. Alternatively, you can purchase hardback books or e-books. These are listed on my Buying Guide page – please scroll to number 15.
Are there online dog training courses?
Yes, but read my article about Animal Course Direct first as initially I was scammed using a lesser known course provider.
Click on 'courses' then 'canine' and scroll past the expensive courses.
They offer webinars and courses (prices correct in 2021):
Dog Training webinar £19.95
Clicker Training with Dogs £97
Positive Dog Training & Behaviour (includes body language) £97
Alternatively, search on YouTube or Facebook.
Poppys Pets is a participant in affiliate programs which compensates us for referring traffic. A selection of articles on this website contains affiliate links. Further information: Disclaimer and Privacy Policy
Poppy's Pets has a column in the Withernsea & District Community News in East Yorkshire