Pet food is increasing in price as much as human food. Combined with high fuel prices, energy costs and veterinary charges, how can we afford to feed our pets? ITV recently reported pet owners are going without food themselves and instead feeding their pets.
The following companies offer a food trial period for as low as £1. If your fussy cat enjoys the taste, you can continue with a monthly subscription after you've received your trial food box. The trial box can give your cat two weeks of food. And April 2023, I ordered an entire month of cat food for FREE. I'll tell you how.
Some companies offer no grain, cereal, added sugar, or derivatives (animal parts). Tabitha loves her fish pate from Republic of Cats.
Whichever pet food subscription you choose, you must register and enter your details, payment information and cat details but each offers the option to pause or cancel without penalties.
Who offers cat food subscription trials?
Table of Contents:
1 – Republic of Cats' taster box costs between £2.50 to £10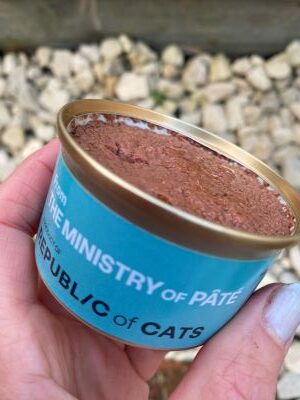 "Our cat nutritionists choose high-quality ingredients for your cat's short- and long-term health goals."

Republic of Cats
The taster box combines dry biscuits flavoured with omega-boosting salmon or chicken & turkey, and 85g of wet food in a choice of pate, gravies and stews, or shredded pieces.
You personalise your taster box with flavours that cater to your pet's taste, and after the trial, you decide if you want a monthly subscription. Trustpilot reviews are 82% so lower than Blink Cats and Cool Cat Club.
Watch the Video: What was in Tabitha's Taster Box
Watch the Video: How to get free food from Republic of Cats
Packaging is also 100% recyclable.
Advertised as 28 meals but the taster box is enough for 15 days
Go to Republic of Cats direct and the Taster Box is between £7.50 to £10
Use my Referral Link and buy the Taster Box for £2.50
Delivered to your door each month
Friendly helpful staff
Manage using an online account
Build a Box means you can change flavours unless 'off the table' and then contact staff direct
Suitable for adults and seniors
You can opt for choices without dairy, eggs etc, but do not support complete allergy-free food
It contains meat and animal derivatives
Change the delivery date, pause or cancel – no penalties
Free delivery, although I suspect it's built into the monthly cost
Refer a Friend option
What are the charges if you continue with the subscription?
The cost of your monthly subscription depends on your food choices. Republic of Cats increased its prices in April and November 2022. I paid £32 per month for my option of wet food only but eventually delayed deliveries for a few months. By the end of 2022, I was offered three months discount – £33 per month so if you have paused your account, keep checking your notification and online account for any offers. Since April, I've received three boxes of food free. each box is a month's worth of food. My video explains how.
Join Republic of Cats for £2.50 using my referral link.
2 – Blink Cats' 14-day trial box for £1
"With supermarket shelves packed full with "fast food" for cats, we created something much healthier… Get your subscription trial pack for just £1!"

Blink Cats
I have never tried Blink, but it has 92% excellent reviews on Trustpilot. Your cat can choose fillets or gravy food in non-recyclable pouches. Blink is transparent and highlights on the pouch packaging that food does not contain animal derivatives, added sugars, grain, or cereal – it sounds healthier.
The trial box costs £1
The website does not clarify how many days the trial food covers
Home delivery
Monthly subscription and free delivery
All ages
No grain, no added sugar, no cereal, no derivatives
Easy sign-up
Complete control of future orders
Cancellation option after you have received the trial box
Pouches are not recyclable
Available in Pets at Home, Waitrose, Ocado and Sainsbury's
What are the charges if you continue with the subscription?
Here are the costs. Like all companies, prices may eventually increase because of energy costs.
| Box Size | Pouches | Price |
| --- | --- | --- |
| Small | 28 | £27 |
| Medium | 56 | £50 |
| Large | 84 | £73 |
Prices correct August 2022
Visit Blink Cats Amazon Store to understand the food choices, or join Blink Cats from their website.
3 – KatKin Fresh Food has 20% off the first 14 days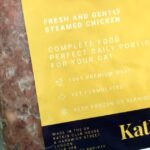 "Happy food, happy cat."

KatKin
Here for uncompromising cat parents, KatKin goes hardcore for cat health. That starts with their 100% fresh-cooked meat cat food, designed for cats as carnivores. It's gently steamed, frozen and portioned in KatKin's kitchen, then delivered to you. There are no preservatives, no cheap derivatives, and no cut corners. But KatKin isn't stopping there. Whether it's litter, supplements or insurance, they're relentless in making hardcore love the standard for cat care everywhere. And Katkin have a 95% score on TrustPilot!
Watch the Video: KatKin human-grade food for cats – original recipe
Watch the Video: Coming soon – YouTube video showing the new recipe – subscribe so you do not miss it!
KatKin offers 20% off your trial period, which covers 14 days. I paid about £14 for several large pouches, but now, in April 2023, expect the trial box to cost between £21.20 to £26.20; each pouch was enough for two meals, and I gave Tabitha biscuits too. I also received a tote bag, and a clip to secure opened pouches.
If your cat loves fresh meat, then 'Green at heart' KatKin is the food for your fluffball. I ordered the trial box for Tabitha.
Visit KatKin Amazon store for planet-saving cat litter and 100% chicken breast and salmon fillet cat treats, or join Katkin using its website.
FSC-certified materials:
1: Materials from forests.
2: Biodegradable & compostable liner insulated from sheep's wool, so use it as a cosy soft cat mattress! The outer is 100% recyclable and can be used as a cat playground or bed house!
3: The ice bag is filled with water or refreeze for camping
What's INCLUDED – 100% Fresh Premium Meat:
1: From U.K. farms
2: One pouch serves 2 meals for one cat ( more for smaller kitten)
3: Food is Board Certified Veterinary Nutritionist
4: Premium ingredients we'd eat ourselves
5: Transparent ingredient labels
6: Steam cooked to keep nutrients
7: Fresh food which can be frozen
8: Option to warm up
What's NOT included:
1: Hidden ingredients
2: Animal derivatives & by products
3: Nutrients destroyed from cooking at high temperatures
4: No fillers or unknown ingredients
5: Sterilised so it lasts years and found with detergents
KatKin has the KatKin Shelter Scheme and recommends rescues to apply, or cat parents to recommend an animal rescue. Shelters are given a discount for food, and the page mentions a £20 donation.
Vet formulated recipes
100% fresh meals for all ages
The meat is not heat blasted to prolong life and is steamed to preserve its natural goodness
No grains or fillers
All ages
Monthly subscription and free delivery
Change the order date
Option to cancel your subscription
KatKins has appeared in The Telegraph, Sunday Times and Real Homes
What are the charges if you continue with the subscription box?
After signing up, you get the cost of a month's food. In 2022, Tabitha's food was priced between £40 to £50 for 100% fresh meals. The KatKin website shows a cost of £1.89 to £2.25 per day (price April 2023) but it depends on selection, diet and calories.
Join KatKins.
Update April 2023:
In recent weeks, KatKins have received many complaints regarding changing recipes and updating packaging from pouches to trays. It has led to unhappy customers and some felines. KatKins listened and issued a statement on 24th April 2023 regarding the cooking process and materials.
There's good news from 9th May:
Old-fashioned pouches will be available alongside
Three original pouch recipes are back for the next 6 months at least
KatKins will continue improving and testing the new recipes until customers and felines are happy
79% of cats were happy with the new recipe
64% preferred the new trays compared to the pouches
28% of cats were unhappy with the transition from original to new food
23% of customers say the food doesn't reach the expectation of fresh food
Customers must manually update to old-style pouches in their online account
Related articles:
4 – The Cool Cat Club's taster box for £5
"We are 100% independently owned and proud. We have no involvement with any big multinationals and answer only to all the cool cats we're fortunate to serve."

Cool Cat Club
I quite like the sound of this company because, for each monthly subscription, they donate five pouches to an animal rescue. I also like that you can use a slider to get a monthly subscription price before registering for the taster box. It is transparent about the taster box contents too. And finally, reviews on Trustpilot are at 91% excellent.
| Volume | Type |
| --- | --- |
| 3 | Chicken pouches |
| 2 | Fish pouches |
| 4 | Mixed trays |
| 1 | Sample bag of dry biscuits |
Taster box contents
I love that the Cool Cat Club is independently owned and not part of a large enterprise.
A monthly subscription box with free delivery
You have control and can change flavours
Flavours contain premium-grade ingredients
All ages
Grain-free and no added sugar
Change delivery date
Option to cancel the subscription
Choice of 9 wet food options and 3 dry biscuits options
Recyclable aluminium trays, delivery boxes and paper packaging
100% compostable dry food bags
Food donation to animal shelters, not cash – it means animals benefit, not campaigns, wages, etc
What are the charges if you continue with the subscription box?
I used the dry and wet food price slider – my results are results.
| Volume | Type | Price |
| --- | --- | --- |
| 30 | Wet pouches / trays | £21.99 |
| 60 | Wet pouches / trays | £39.99 |
| 800g & 30 | Dry biscuits & wet food | £29.99 |
| 800g & 60 | Dry biscuits & wet food | £47.99 |
Prices correct August 2022
Join The Cool Cat Club.
5 – Untamed's trail box for £8
"Animal derivatives are, unfortunately, one of the most commonly used ingredients in cat food. It's a catch-all term that can legally include low quality animal parts like hooves and beaks, which are poorly digested and low in nutrients. No matter where they fall on the ingredient list, we suggest you avoid them. At Untamed, we are committed to not using animal derivatives and we choose to exclusively use human-grade, nutritious whole meats so your cat can be healthier and happier."

Untamed
Untamed supplies its cat food in tins, consisting of human-grade food instead of low-quality leftover body parts from slaughtered animals. Food from this company may benefit pets with allergies too.
They have the highest Trustpilot review score at 96%.
Food is not frozen
Free from common allergens
It does not contain animal derivatives, sugars, grain, vegetable proteins
Contains human-grade food
Free reusable tote bag
100% recyclable packaging
Free delivery
Cancel anytime if required
Untamed doesn't give much away – you get 12 tins and a small gift in the trial box. The trial period will last 6 days or 12 depending on how much your cat eats.
What are the charges if you continue with the subscription box?
The only price I could find was £1.71 per day based on a 4kg cat eating two daily cans.
Join Untamed
Key Takeaways:
Some offer cat food that doesn't contain grain, cereal, or sugar
You can help a rescue centre by choosing The Cool Cat Gang
KatKins offer help to shelters but asks them to become customer
Some companies offer cat food without derivatives so healthier food for your cat
Blink Cats and Cool Cats are the better trial choice for the cost of living
Republic of Cats does not promote grain-free etc, but you can select foods without certain ingredients.
Some brands may be healthier than others
Always shop around. I found a 3-month deal that helps me financially at the moment.
Poppys Pets is a participant in affiliate programs which compensates us for referring traffic. A selection of articles on this website contains affiliate links. Further information: Disclaimer and Privacy Policy
Poppy's Pets has a column in an East Yorkshire newspaper.