Paying for a cat food subscription means you do not have to lug heavy cans or boxes of cat food to your vehicle or home from the supermarket. Or perhaps you find the process of ordering monthly pet food online time-consuming and inconvenient. Several feline subscription providers offer low-price trials, giving you a week or two of cat food. With this, you can see whether your cat enjoys the new food before further commitment. But that's not all—subscription providers give their feline customers several other perks worth considering.
Say goodbye to the hassle of carrying heavy cans or boxes of cat food from the supermarket to your vehicle or home. Bid farewell to the time-consuming process of ordering pet food online. The solution you've been longing for is here: a cat food subscription service. By subscribing, you unlock a world of convenience as your feline companion's food is delivered right to your doorstep. But the benefits don't end there—choosing a pet food subscription offers a multitude of perks that are sure to make your life easier, your cat happier, and will give you free food Let's explore which cat food subscriptions are worth considering.
How cat food subscription service works and the ordering process
We shall explore three cat food subscription services, all of which I have or am using but first, let's look at how the system works.
Subscription service – the service consists of regular monthly deliveries of pre-selected cat food in exchange for a monthly amount. Delivery is usually advertised as free but very likely built into the costs.
Open an account – to register, a customer opens an account online and enters pet details. This includes name, age, breed, health, weight, and food preferences. Your information is required, including payment details. If you continue using the subscription service, payment is automatically taken on a specific date each month.
Operating your account – the subscription operation is run from your account and here you control deliveries and cat food choices. These choices can be changed according to your cat's tastes. Or you may want to experiment with different cuisines (gravies, pate, shredded meat) or flavours. With KatKins, for example, you can pre-select how many you want of one particular flavour.
The flexibility of deliveries – because you have complete control, it gives 100% flexibility in food choices and volume of deliveries. You can pause, delay or cancel orders completely without penalties. Your responsibility is to maintain your requirements from your account.
Types of subscription services – this article looks at food only but some providers include treats and toys for felines. Food-only subscription providers give you optional extras – litter and treats, as an example.
Shopping List:
The benefits of home delivery and the convenience it offers cat owners
Cat food provisions delivered directly to your home save you time and the worry of whether your usual supermarket has stock, which has been a regular occurrence during Covid and since, especially if you need food for a particular age group. Home delivery means you aren't carrying heavy boxes to the car, on the bus or walking home.
The perks of a cat food subscription
The provider wants to keep your business, especially as the market is saturated with other companies offering similar packages.
Pause your deliveries – I paused my Republic of Cat subscription and to entice me back, the provider eventually offered me a 3-month discount. This equated to £5 off each month. My KatKins subscription has been paused for a long-time and recently I was encouraged to reactive the subscription with an offer of 50% off.
Get free or discounted food – as a customer with an online car food account, you may benefit from discounts so always check those drop-down boxes within your account. – I received two free boxes of cat food and made a YouTube video. Each box had a month's supply inside. I took advantage of Republic of Cats' Refer a Friend as it helps me financially if someone joins. Now, as the video says, using my link, you get a two-week Taster Box for £2.50 and I receive £10 credit. You can take advantage of KatKins Refer a Friend too. You get 50% off your first order when you use the link and add my name (Lesley Bonney) and I get 50% off the next food order. This is a perk you can take advantage of.
Watch the Video: How to get FREE cat food with Republic of Cats
Watch the Video: What's in Republic of Cats Taster Box
Watch the Video: KatKins Human-Grade Trial Box
I always find ways to save money and get free products, which has helped enormously because my senior cat Tabitha's weight dropped to under 3kg from High Blood Pressure and she developed semi-blindness developing overnight. And during the final stages of us both living in a domestic abuse life, her weight plummeted to 2.43kg (she wasn't harmed), so now safe, she is eating more; hence the free food is welcomed because we fled suddenly to another county.
Low-price trials and the importance of finding the right food for your feline
Trials are commonplace now with prices very low. Taking advantage of providers offering food to try helps you because it avoids huge quantities of food waste if your feline dislikes a particular food, and you save financial loss. Because there is competition with food subscriptions, the market is very competitive with what trial offers consist of and the cost of regular orders. However, one thing they have in common is the no-contract.
of course, registering for monthly food can be worrying because of the commitment, especially during the cost of living crisis. So, to make a subscription tempting, there isn't a contract to tie you in – the provider gives the customer total control. Using your account, you can pause deliveries for however long, especially if your fussy feline is bored with the food and wants to try something else. And if you do not want to continue, close the account. It is that simple.
Ensure you check your account regularly, payment dates and despatch. Often, payment is taken a few days before the despatch of the food.
Exploring 3 cat food subscription providers and 1 'as & when'
Republic of Cats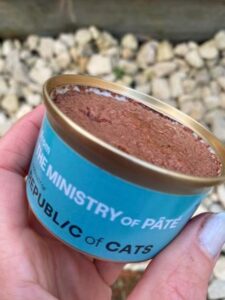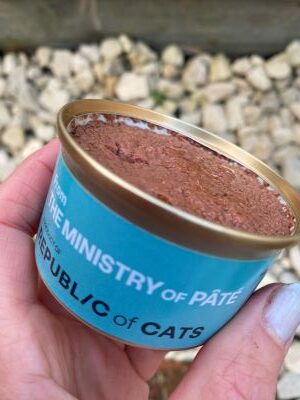 "Milo our Maine Coon is very fussy – Milo loves the shredded meat and pate.."

Tarana
This brand is my top choice because it perfectly caters to Tabitha's preferences for fish pate food and she eats every bit. The best part is that you can switch flavours every month, except if your feline companion has allergies. Allergy-inducing flavours are clearly marked as 'off the table' in your account but if you change your mind, you contact staff using WhatsApp.
It's important to note that cat food differs from the fresh human-grade food options provided by KatKins. Republic of Cats' recipes includes animal derivatives like heart, kidney, liver, and more, ensuring a balanced and nutritious meal for your beloved cat. The Republic of Cats stands by the quality and safety of these ingredients.
Based on the feeding plan explicitly tailored for Tabitha, it recommends one can a day. However, it's worth mentioning that you can adjust the feeding portions according to your cat's needs and preferences. One daily can be adequate for your cat if it is the correct weight and dry biscuits are provided. Tabitha is underweight and needs more, alongside her dry biscuits.
The Taster Box trial gives your cat 14 days of food. Using my Referral Link will cost you £2.50. Accessing and registering directly will cost you £7.50 or £10.
Expect to enter the following at registration:
How many cats would you like to register?
Give your cat/s name, sex and age
Confirm activity: indoor, indoor and outdoor, or outdoor
Breed
Spayed or unspayed
Weight and weight goal: lose a few pounds, maintain weight, gain a few pounds
Support needs: health options – if your cat has specific health options, it will be recommended you speak to your vet, then accept the disclaimer if you continue with the registration
Cat goals (select 2): reduce hairballs, healthier coat, itch less, shed less, healthier teeth & gums, less sensitivity, manage intolerances and allergies, better smelly poo
Select dry biscuits, more dry than wet or an equal mix
You are given a summary of your plan
Your plan gives the volume of food recommended daily, but I fed Tabitha the amount she wanted
Choose flavours
Optional extras: litter, treats
Key features:
Partnered with Tails.com for dogs
14 days of 85g cans of wet food and a bag of chicken or salmon kibble
Choice of gravies, stews, pate or shredded
Flavours include salmon, poultry, turkey, chicken
It uses 100% recyclable packaging
Averages £1.06 per day depending on your choices (**April 2023 based on £33 / 31 days fish pate only. Subscription prices will vary depending on food choices)
Manage your account via an app
Cancel anytime
Change your delivery date anytime
Also available: 50% recycled material litter, treats
Refer a friend to get £10 per recommendation
Join the Facebook Community
Republic of Cats survey of 60 felines – according to their owners
60% of cats had shiny coats
30% were less fussy with food
29% shred less fur
28% vomited up fewer hairballs
47% of cats were happier
Tabitha's verdict: She eats every morsel of her pate fish food and chicken kibble. She had diarrhoea with the chicken & pork and disliked the salmon kibble.
Rufus' verdict: He loved the chicken & pork and did not need an introduction.
Join Republic of Cats
KatKin – freshly steamed human-grade food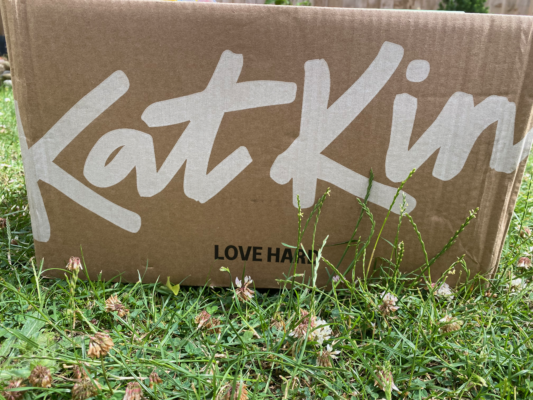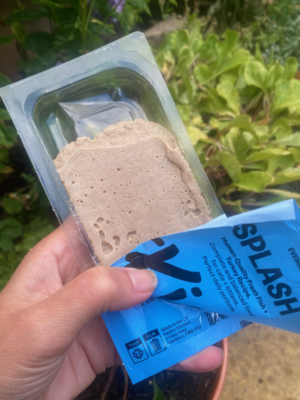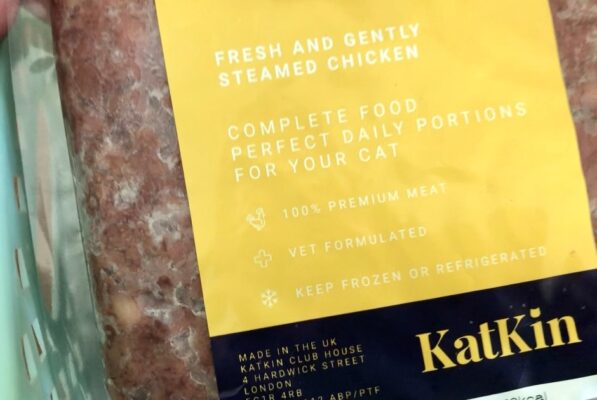 KatKin pride itself on its steamed cooking process, preserving the freshness and nutrition of its recipes. Unlike commercial cat food cooked at searing temperatures for extended shelf-life – It's quite alarming what goes into commercial food – KatKins meals are prepared to maintain their natural goodness. Since cats are true carnivores, fresh meat tastes incredibly enticing. However, it's important to note that individual feline preferences may vary, especially if never encouraged to eat human-grade meat during their lifetime. To help your cat transition to the new food, KatKin recommends gradually introducing it, which is the same method for all diet changes. Start by adding one teaspoon of KatKin to your cat's existing food, and gradually increase the amount while reducing their old food until KatKin becomes their main diet. KatKin is packed with high-quality ingredients and's designed to satisfy even the most discerning palates.
Here's some exciting news: KatKin is offering a special discount of 20% off on the trial box. The subscription price for 28 days of food will vary depending on the selected diet and how much your cat eats, ranging from approximately £1.75 to £2.35 per tray or pouch. Alongside biscuits, half a tray daily may be adequate if your cat is the correct body weight. Tabitha will be testing the new recipe in July 2023.
Watch the Video: KatKins Trial Pouch Food ***Old recipes available until November 2023
Watch the Instagram reel: Show you the new style KatKin food trays
Watch the Reel: Recycle the KatKin ice packs – keep kitty cool in the Summer or use them for camping or picnics to keep food cool
The best part is that you have complete control over your subscription—you can pause, delay, or cancel it anytime without worrying about penalties. You eliminate the additives and excessive cooking in commercial cat food by choosing fresh food. Instead, you provide your cat with the best nourishment for its health and well-being.
Your order will arrive on ice, so store it in the freezer. Defrost that day's meal in the fridge. My original trial arrived with extras – a large bulldog clip an open pouch, savoury sprinkles and a canvas shopping bag. One thing I recommend is after the food has defrosted, remove it from the fridge and bring it down to room temperature. If it is too cold, kitty may get a chill in its tummy.
Treat your feline companion to the goodness of KatKin— Join Katkin.
Katkin uses FSC-certified materials:
1: Materials from forests.
2: Biodegradable & compostable liner insulated from sheep's wool, so use it as a cosy soft cat mattress! The outer is 100% recyclable and can be used as a cat playground or bed house!
3: The ice bag is filled with water or refreeze for camping or to keep your cat cool in the summer
What's INCLUDED – 100% Fresh Premium Meat:
1: From U.K. farms
2: One pouch serves 2 meals for one cat ( more for the smaller kitten)
3: Food is Board Certified Veterinary Nutritionist
4: Premium ingredients we'd eat ourselves
5: Transparent ingredient labels
6: Steam cooked to keep nutrients
7: Fresh food which can be frozen
8: Option to warm up
What's NOT included:
1: Hidden ingredients
2: Animal derivatives & by-products
3: Nutrients destroyed from cooking at high temperatures
4: No fillers or unknown ingredients
5: Sterilised so it lasts years and found with detergents
Key features:
Formulated by a Vet Nutritionist rather than Vet Approved
The subscription includes 28 days of fresh meat
KatKin say the meat used is good enough for humans
Choices of fish, red meat, duck or poultry
The fresh meat recipes will keep your feline hydrated
Made without fillers or grains
Averages £1.75 to £2.35 per day depending on your choices and volume served (price April 2023)
Manage your account via an app or online
Cancel anytime
Change your delivery date anytime
Also available: Tofu flushable litter, salmon or chicken treats
Refer a friend and get 50% off your next order for each person referred
93% of KatKin converts report:
Less smelly poop
Helps your cat regain a healthy weight
The recipes give your cat a fuller and shinier coat
More energy and their cats play more
Less diarrhoea, weight loss, colitis, vomiting
Helped felines with food allergies and sensitive stomach
Resumed appetite
Tabitha's verdict – new recipe: She loves it!
Tabitha's verdict – original recipe: It was a no
Rufus' verdict – original recipe: It was a no!
Join KatKins
Pets at Home easy-repeat
Pets at Home's Easy-Repeat service is another name for a subscription. The service caters to cats and dogs with various food brands. While searching for hypoallergenic food, I stumbled upon the repeat order service offered by Pets at Home. I recently looked into other online pet supply retailers and they offer two levels – a subscription or buying as a 'one-off', which appears to be a common theme now. ItchPet is another online retailer which offers wellness products and flea treatments.
To give you an idea of the pricing, let's consider the Wainwright Hypoallergenic Complete Mature Wet Cat food, specifically the sachets featuring delicious flavours like chicken and tuna. I purchased a box containing 32 x 85g sachets in March 2022 costing me £17.99, and the prices below are based on June 2023 costs.
One-time purchase £23.99
Easy-repeat service £21.59
With the convenience of regular deliveries and a wide selection of available food brands, Pets at Home simplifies providing nourishment for your beloved cat or dog. Food available is mainstream containing derivatives, better quality brands and specialised products. The service is easy to use and the difference between easy-repeat and the subscription service offered by Republic of Cats and KatKins is you do not need to add details about your pet.
Key features:
Prices vary as it depends on what you order
Independent brands
Manage your account via an app
Cancel anytime and delay orders
Or collect in-store
Keep a look out on the website for discounts
Tabitha's verdict: She is still deciding on the Wainwright food
Join Pets at Home
Comparing the cost-effectiveness of online purchases
Zooplus – as & when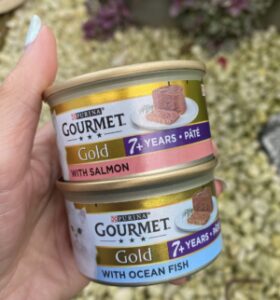 If you're looking for a bulk cost-effective option and do not have to pause or delay deliveries, consider purchasing from an online pet retailer like Zooplus. Opting for their mega boxes provides weeks' worth of food for a single cat, which saves money compared to buying small quantities from supermarkets. These mega boxes come in different sizes, such as 48, 60, or 96 cans, allowing you to choose the most suitable option for your needs, but you must remember to order as it isn't a monthly subscription service. However, similar to subscription packages, it is home delivery.

It's worth noting that some options may be temporarily out of stock, indicating that consumers already recognise the value of buying in bulk to save money in the long run. I have found Zooplus to be a reliable choice for purchasing pet food in larger quantities and frequently find they have discounted offers.
One advantage of shopping with Zooplus is their zooPoints program. Every £1 earns you a single point. Keep an eye on your My Zooplus account, as these points have an expiry date but Zooplus alert you. You can redeem these accumulated zooPoints in the Reward Shop, where you'll find a wide range of products including food, treats, and toys. Alternatively, you can choose to make a charitable donation.
So take advantage of the buy-as-and-when option by purchasing mega boxes from Zooplus. Not only will you enjoy significant cost savings, but you'll also have the opportunity to earn zooPoints and explore the exciting rewards.
My new video will give you more information about getting free food with Zooplus.
Watch the Video: How I Received Free Food from Zooplus (coming July 2023)
Key features:
Earn zooPoints to offset against free products
Free delivery over £39, but sometimes they run a Free Delivery offer for orders from £10
Cost-effective
Constant savings on mega boxes
Tabitha's verdict: She loves Gourmet fish pate as much as the Republic of Cats fish pate.
Visit Zooplus
Key Takeaways
The trial food box will cost less using my referral link compared to the price by going directly to Republic of Cats
Delay, pause or cancel your subscription
KatKins offers a healthier and fresher diet for your cat
Trial cat food offers the opportunity of seeing if your cat enjoys the food before any commitment
Zooplus is best for online discounts with bulk buying
Subscriptions save time shopping or surfing the net
Using referral links can get you free food or discount
Related articles:
Related Questions:
Is a cat food subscription service worth the money?
It would be best if you weighed everything up. The cost is one thing to consider- a box of 40 sachets of Whiskas is £10.95 at Tesco (price correct April 2022), which makes each sachet approximately 27p.
If you purchased the Taster Box from Republic of Cats, costing £2.50, the 15 cans cost 16p each. But you get a bag of kibble too, which is not calculated in the 33p. You need to calculate the cost if you decide to have the subscription.
Deciding whether a cat food subscription is worth the investment depends on various factors. It's crucial to conduct thorough research to assess the financial implications by comparing prices to your current food expenses and considering your cat's consumption needs. Additionally, evaluating if the subscription food aligns with your cat's health requirements is essential. For many cat owners, opting for KatKins, human-grade food, has proven transformative, effectively addressing internal health issues and promoting overall well-being.
Poppys Pets is a participant in affiliate programs which compensates us for referring traffic. A selection of articles on this website contains affiliate links. Further information: Disclaimer and Privacy Policy
Poppy's Pets has a column in an East Yorkshire newspaper