Are you fed-up with spending a fortune on pet products and services? Consider swapping costly items for more affordable alternatives. From online vets to grooming, microchip charges and after-death memorials, there are ways to save cash. Read on for tips and ideas on how to make that important switch to save money.
Video Vet: VetsNow vs FirstVet
As we proceed into the digital age, we can now have a brief consultation with a qualified vet using our SmartPhone, tablet or desktop computer.
Video VetsNow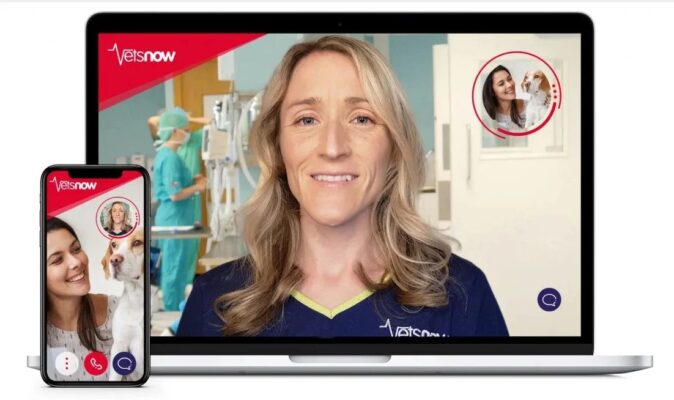 There is a consultation fee for VetsNow, and the online video vet consultation is only 10 minutes so pre-appointment preparation is vital. If further treatment is required, you will be referred to a practice vet and the online consultation refunded if you visit the clinic within 48 hours. Sometimes it isn't easy getting an appointment that quickly.
Visit your veterinary website and search the menu or bottom footer for Video Vet. They may use a different system but will operate more or less the same.
What's included with the online video vet?
Vets are RCVS registered
Book an appointment online
Costs £24 for 10 minutes.
Refunded if you need a veterinary appointment. Appointment must be within 48 hours
Join chat using the confirmation email to your SmartPhone, tablet, laptop or computer
You need a webcam and microphone
The vet needs to hear you and see your cat and assess behaviour, body language, physical characteristics and demeanour
Only non-urgent cases only
Available for UK residents
Book an online appointment with VetsNow or read the FAQ's.
Swap to FirstVet: free with insurance & ItchPet subscriptions

If you have pet insurance with one of the 18 company partners, you are eligible for FirstVet free of charge. Having a consultation will not affect your insurance premium.
However, if you do not have insurance with any of the partners, consultations are available at a charge.
£24 – Weekdays 9 am to 6 pm
£36 – Out of hours
Open 365 days a year
The online vet can answer health questions and help with illnesses like poisoning, gastrointestinal, and constipation as examples
Emergency treatment must be made with your registered vet.
What's included with the online video vet?
Download the app using Google Play or Apple
Create an account and add your pet's details
If insured with one of the 18 partners, it's free
Option to upload images before the call
(recommended)
Select which pet the call is for and book and appointment
It will not affect your insurance premiums
Will not affect your insurance premiums
Book an appointment with FirstVet
Who are the 18 pet insurance companies?
| | | |
| --- | --- | --- |
| Co-op | RSPCA Pet Insurance | PETtrac |
| LV | ItchPet | Pets in a Pickle |
| Vets Medi Cover | NCI | Petsure |
| Many Pets (bow Bought by Many) | 4Paws | Napo |
| ***Revolut | Petwise Senior | PitPat |
| Cover My Pet | Pet Guard | Insure Your Paws |
Visit FirstVet's insurance listing for full details
**Revolut is a legitimate bank but one used by scammers. One particular scam on Facebook is different companies set up selling logs in the UK. The images are similar, and the houses and vehicles are American.
Subscribing for wellness or flea treatment products with ItchPet entitles a member to use FirstVet for free. This applies from month two of a subscription. I'll buy monthly flea treatments from ItchPet, especially as you get the first month free.
What is the overall comparison between VetsNow & FirstVet?
A video vet does not deal with emergencies, so if your pet is in a life-threatening situation, please go directly to your vet.
VetsNow (used by a vet practice)
FirstVet (access if online retailer)
7 days a week between 8 am to 11 pm
Open 24/7
U.K. registered RCVS vets
U.K. registered RCVS vets with 3+ years of experience
Pay as you go
Free service if your pet is insured with their pet insurance providers or if you registered with ItchPet after making a product purchase. £24 – £36 if not
£24 for 10 mins (refunded if referred to an in-person vet)
Free unlimited consultations with pet insurance and ItchPet subscription. Says 2/3 cases solved with a video call
The vet will look and listen to your pet online.
help with preventative care, advice on ongoing and chronic conditions, non-urgent queries
Help with: ear & eye, coughing & sneezing, small cuts & grazes, allergies & skin, minor injuries & accidents, intestinal issues (vomiting and diarrhoea), poisons, ticks, wellness, rehabilitation, advice for horses
App unavailable – access with mobile, laptop, table, PC
FirstVet App available – access using the app
Dog Grooming: professional groom or do-it-yourself?
Professional grooming prices vary depending on the size of your dog, the location, and what the business offers. For example, some grooming parlours offer a bath, dry groom, and clipped nails. Others offer playtime with dogs of similar size or a pamper package; others have hydrotherapy available. These all have running costs and staffing and will reflect in the price.
With today's cost of living crisis, dog grooming every two months adds up for those making cutbacks. Our dogs must be groomed before the warmer weather because of heatstroke risks and to maintain a healthy coat and basic hygiene. Nails must be trimmed to prevent them from curling around, making walking difficult and painful, especially if overgrown nails pierce the paw pads.
Is buying professional dog clippers the answer? If grooming your dog, don't expect the outcome to resemble a professional clip, but with practice, you can master grooming, especially as professional dog grooming clippers make it easy.
If brave enough, you could invest in a set of nail clippers and trim your dog's nails, or for around the same price, ask the vet or nurse to trim them during a routine appointment.
Comparison between 3 grooming parlours
Parlour 1 is set up in a small shop with one room divided into sections. The business is in a mid-affordable area and priced accordingly.
| | |
| --- | --- |
| Bath, dry, groom, nail trim & perfume finish | Prices around £40 to £50 for a medium to large dog |
| Shelf with secondhand dog coats sold at low-cost | Payment plan offered – pay weekly, so paid in full by the appointment |
| Option to have a bath only and towel dry at a lower cost | Canine first aider |
Parlour 2 has a lavish setting, hence the higher charges.
| | |
| --- | --- |
| Bath, dry, coat restyle, nail trim, ear clean & perfume finish | Option hypoallergenic shampoo £2 extra |
| Puppy full groom £25 | Nail trim only £10 for 30 minutes |
| Small dog full groom £20 – £35 | Pampered Pooch Package £5 extra for 30 minutes: Designer perfume blueberry facial, ear plucking, luxury shampoo & conditioner, paw balm |
| Large dog full groom £45 – £65 | |
| Extra large dog full groom £65 – £100 | |
Parlour 3 is set in a village location and is based on 30-minutes increments regardless of dog size.
| | |
| --- | --- |
| £8 for 30 minutes | A bath, dry, groom and nails will take longer than 30 mins |
| | The larger the dog, the longer the session |
Watch the Reel: During the Winter months, we took Teddy to a doggy parlour for a £15 bath. The session included a towel dry and perfume, so if cutting costs, it is worth asking for a bath only.
Swap to: grooming at home with professional clippers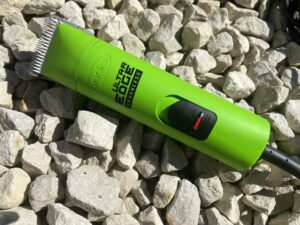 Because Teddy is around 59kg, he is classed as a giant dog. As seen above, costs depend on what the parlour offers and general overheads.
We purchased the Andis AGC2 UltraEdge Clippers because they are suitable for an amateur, easy to control and handle, and smooth to groom a dog's fur. Teddy's fur is thick and coarse, and the clippers glided through, as the video below demonstrates the first time we used them.
Watch the Video: Home Dog Grooming: Andis AGC2 UltraEdge Clippers. Amateur: We Save Money with Home Grooming
Prices vary for professional clippers. Never use clippers designed for human use. The same applies to cat clippers; they are unsuitable for a dog. Anything not designed for its true purpose may injure your companion, and it will take longer to groom and will not be a smooth finish.
I wrote an article about three salon dog grooming clippers and which is the best to invest in for home use. At the time, the Andis was affordable and, for us, proved itself to be invaluable. But research products and buy what is suitable for you. The following products are based on beginners, start-ups, students and professional dog groomers.
We paid £145 for the Andis UltraEdge AGC 2 Speed, and after three grooms, we earned our money back.
One point to consider if grooming at home is securing your dog. In a grooming parlour, a dog is secured with professional restraints, but at home, having an assistant and using a collar, lead, and on the floor is easier. A rubber mat may be practical to prevent a dog from slipping. I've groomed Teddy alone and succeeded eventually, but a few times, he wandered off. During the Summer, he is groomed outside and secured with a lead attached to his collar. The lead is threaded through an outdoor handle loop.
In a grooming parlour, calming pheromones will be sprayed, so an option at home. I use Rescue Remedy, which is available as a spray, diffuser or wipes.
Watch the Video: Quick Tip to Secure Your Dog if Grooming Alone
Related articles
Microchip charges: Free vs charges

When your pet has a microchip implanted by a professional person, there is a charge. It is then the owner's responsibility to contact the microchip database the chip is assigned to and register that chip with your up-to-date contact details. Failure to add or update contact details will mean you will not be reunited with a missing pet.
It is worth noting that you do not have control over which microchip database the professional implanter uses. However, you can transfer to another more suited to your requirements.
**Registration can be completed by:
Online with the database
Posting the form the implanter has given you (take a copy with the microchip number)
Telephone
**Please read the details on the website of your preferred database
Battersea Dogs & Cats Home reported in 2021 that 63% of stray dogs have out-of-date microchips.
The reasons could be as follows:
Updating the microchip with a new mobile number or address was forgotten
Unable to afford to update details
Believing that their pet will never go missing and therefore updating information doesn't matter, mainly because of the cost
What does Identibase charge?
Identibase is listed on the Government website as one of nineteen legal microchip databases. Identibase is transparent with its charges, so let's look at costs for 2023 if you want to update contact details and activate a lost pet service.
Includes
Identibase
£10 per year
Identialert
£30 per year
**includes Identibase
Identifind
£119 one-off
**includes Identialert
Free registration
Yes
Yes
Yes
Data secured
Yes
Yes
Yes
Missing pet helpline
8 am to 6 pm
24/7
24/7
Unlimited changes to your account
Yes
Yes
Yes
Text (SMS)alerts to over 4 million pet owners locally
No
Yes
Yes
One membership for all pets in the same home
No
Yes
Yes
Monitoring 5000 vet practices to check if the chip has been scanned
No
Yes
Yes
Sharing your missing pet on social media
No
Yes
Yes
Alerts sent to the Police, dog wardens, refuges, vets within a 20-mile radius
No
Yes
Missing pet posts are available, and tips for reunification
No
Yes
Yes
Real-time location tracking with PitPat GPS tracker
No
Yes
Yes
Data from Identibase
Transfer to or from Identibase
Swap to: Pet Database offers a FREE service
The same applies; a professional microchip implanter inserts the chip for a charge, and the owner must register contact details, enabling reunification with a pet.
What does Pet Database charge?
Pet Database is also one of the nineteen Government backed microchip companies. Let's see what is offered and what is chargeable for 2023.
| Includes | PetDatabase |
| --- | --- |
| Update your contact details as many times as you want | Free |
| Activate and use a lost pet service | Free |
| Sharing on social media | Free |
| Receive Safety Pings whenever your pet's microchip is scanned | Free |
| Add more than one pet to a single account | Free |
| Notifications sent to local dog wardens and vets | Free |
| Perks for your pet with Tailster | Free |
Data from Pet Database
Transfer to or from Pet Database
Dog Lost, a 24/7 national database founded to reunite dogs with their owners, is a service known to Police, vets, rescue centres, dog wardens and highway agencies, and partnered with Pet Database.
I transferred Tabitha, my geriatric cat, to Pet Database from PetLog, and after giving authorisation to Pet Log, the transfer was smooth, and I was kept up-to-date by the new provider. I also transferred my missing cat Sam, and activated the lost pet service too.
I own an Angel microchip scanner, and I tested the Safety Pings and the date and time registered on my account. Time, date and pet were listed. The name was blank, and the contact was unknown, but I am not from a professional organisation. So the details of a private individual using a scanner will probably not appear in the Safety Ping section.
Safety Ping layout:
| | | | |
| --- | --- | --- | --- |
| Date / Time | Name | Contact | Pet |
After-death Pet memorial: make your own vs buying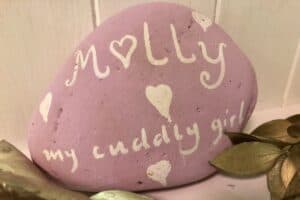 Whatever is decided, I recommend not including the date of death because of being a constant painful reminder of the date. Always remember the good times you had with your pet.
My cats have memorial rocks, from expensive slate to rock resin to a handmade painted rock for Molly, who passed aged 20.
Buy a handmade pet memorial
Buying a handmade pet memorial is never easy, and many options are available for pet owners looking to honour their companions. Below are selected crafted pet memorials created by artisans.
Creator
Pet memorial type
Price
Letterfest
Engraved plant pot
(seeds optional)
£27.20 – £29.75
(excludes compost)
Tinkered by Dani Elle UK
Personalised crafted wire paw
£6.75 – £6.75
Unique Pet Prints
Printed pet portrait with name
£11.70 – £19.80
(by number of pets)
Gift Lover Art
personalised portrait bracelet
£16.00 – £22.50
Visit Etsy's pet memorial gifts
Swap to: Paint a pet memorial rock
Handpainting a rock as a pet memorial is a unique and meaningful way to honour a special memory of your beloved pet. Read on for an idea of how to create a beautiful memorial for indoors or outdoors.
Items you need:
A large rock or small pebble
Pot of acrylic paint (or more if a multi-coloured design)
Acrylic pen to write text (and love hearts!). Make sure the nib isn't too thick
1″ width decorator paintbrushes for different colours and one for the varnish
Yacht varnish (optional) for outdoors
An old tile or piece of plastic to rest the rock as it dries
Places to buy materials cheaply:
Wilko
B&M
Poundland
Poundstretcher
Boynes
Method:
1: Wash the rock thoroughly. Use a brush to clean dirt from the crevices. Leave to dry
2: Paint your first coat of colour to one side and leave it to dry on a hard surface. Do not dry on newspaper as the paint (or varnish will stick to it)
3: Paint a second coat and leave to dry
4: Repeat to the opposite side of the rock
5: Using an acrylic pen, add your text and hearts. Leave to dry
6: If an outdoor memorial, varnish the rock and leave it thoroughly to dry. If an indoor memorial, varnishing is optional. I did not varnish Molly's rock
Poppys Pets is a participant in affiliate programs which compensates us for referring traffic. A selection of articles on this website contains affiliate links. Further information: Disclaimer and Privacy Policy
Poppy's Pets has a column in the Withernsea District & Community News