You can save money on your veterinary medication expenses by using a "prescription only" approach. I've learned some useful tips on this topic and I'd like to share them with you. I'll explain what the "by prescription only" method entails and how it can help you cut down on your essential medication costs your purchase from your veterinary practice.
Your vet will provide you with a prescription for a particular health issue and charge a fee for the document. Unfortunately, veterinary fees aren't regulated so charges for everything vary considerably between practices. Another point is, that costs are higher if your practice belongs to a group than an independent practice. For example, in Yorkshire (2023) I paid £28 for a prescription from a group practice. In the spring I joined an independent practice in Cambridgeshire and now pay £15.
Suppose you read 'by prescription only' beside a product on an online pet pharmacy website. In that case, you can only purchase the medication with a valid prescription supplied by a qualified veterinary surgeon.   Your vet is obligated to give you a single prescription per type of medication for a charge and each veterinary practice can charge what they want.   You then upload the prescription to your chosen online store and purchase the medication. You also save money.
What is a pet prescription for?
Imagine you're browsing an accredited online pet store and come across the phrase 'by prescription only' next to a product? This means you can buy that medication with an official prescription signed by a qualified vet.
So 'by prescription only' is regarded as medication considered harmful, hence a signed form permitting to buy.
Your vet will carefully evaluate your pet, drawing on their expertise to identify specific conditions or potential drug interactions before prescribing medication. Sometimes, your pet may require additional tests, like a blood test, especially if they need, as example, medication like Vidalta for thyroid problems.
The vet will document their observations and findings in clinical notes and then provide you with the prescription you need for your pet's treatment.
The document will detail the drug type, quantity, dosage, patient, repeat prescription, and be signed by the veterinary surgeon and dated. 
What does POM-V and VMP mean?
VMP is defined as: "A Veterinary Medicinal Product (VMP) that has been classified as a POM-V may only be supplied to the client once it has been prescribed by a veterinary surgeon following a clinical assessment of an animal, or group of animals, under the veterinary surgeon's care."

Noah Compendium
POM-V stands for 'prescription-only medicine'.
Can a vet refuse a prescription?
If you ask your vet for a prescription, they must provide one. They can't pick and choose – they must prescribe medication based on their expertise as a qualified vet. However, it's important to note that your pet should be under the care of the vet you're requesting the prescription from.
As discussed earlier, a thorough clinical assessment is essential before your vet can issue a prescription. If your pet is considered a senior or in their geriatric years, you might be offered a discounted 'old cat' or 'old dog' test. However, it's a good idea to check with your specific veterinary practice because the offers and costs can vary.
If you decline a blood test, especially when it's necessary to determine the right dosage for medications like those for thyroid or liver issues, it's likely that the vet has a responsibility to prioritise your pet's care and may decline to issue a prescription.
It's important to keep in mind that your pet will need a yearly blood test for the reasons we discussed earlier. To prepare for this, I suggest creating a savings plan. Personally, I use Premium Bonds because I've found it to be a great way to save and potentially earn some returns but there are other ways too.
Watch the Video: Becoming a Mystery Shopper to Earn Cash
How much does a prescription cost?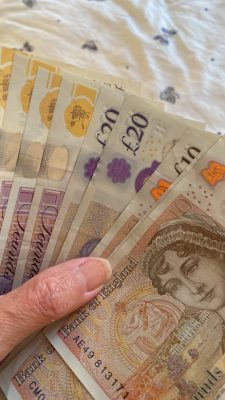 "Veterinary surgeons may make a reasonable charge for written prescriptions. (Prescriptions for POM-V medicines may be issued only for animals under the care of the prescribing veterinary surgeon and following his or her clinical assessment of the animals.) Clients should be provided with adequate information on medicine prices. Clients should be informed of any significant changes to the practice's charges for prescriptions or medicines at the earliest opportunity to do so."

Royal College of Veterinary Surgeons – 2020
We can see that it's up to each veterinary practice to set prices for prescription-only medications. Below is a rough estimate of the charges for each type of medication. Before you become a client at a particular practice, I recommend contacting them to inquire about their prescription costs.
Prices confirmed by practices between September 2020 to April 2023:
| | |
| --- | --- |
| East Yorkshire | £28 (June 2023) |
| Waltham Forest | £10 (September 2020) |
| Jurassic Vets, Devon | £14.10 (September 2020) |
| Kensington | £19 |
| West Norfolk | £19.25 (second prescription £10.45) |
| East London | £19 |
| Orton Vets (Independent vet), Peterborough | £15 |
How do I find a legitimate pet medication pharmacy?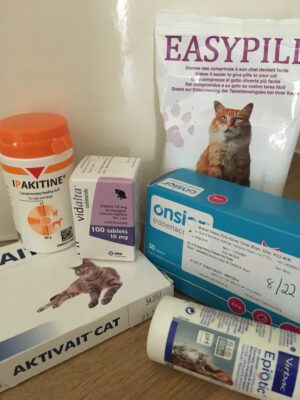 I couldn't stop thinking about the possibility of buying fake or even harmful medications online. The idea of unknowingly giving my cherished pets something dangerous weighed heavily on my conscience, and I couldn't bear the thought of being responsible for further ill health.
Here's the process to ensure you're on the right track – The Veterinary Medicines Directorate (VMD) maintains a list of trusted online retailers authorised to sell pet medications. When you visit their website, you'll see a column with seven digits on the left side – this is the premises reference. You'll also find the retailer's name, address and website.
Now visit your chosen pet pharmacy – at the bottom of the retailer's website, you should find their premises number. This should match the details provided by the Veterinary Medicines Directorate. This way, you can be sure you're dealing with a legitimate and reliable source for your pet's medicine.
Legitimate online pet pharmacies:
Linking a prescription with a pet pharmacy website
Usually, the process goes like this: you select the product (eg Vidalta) and add it to your online shopping basket, then proceed to checkout. The goods can be paid for but the pet pharmacy will not dispense the medication until they receive a legal prescription.
The good news is that if you aren't tech-savvy and can't upload the prescription, you can post it to your chosen pharmacy.
I strongly recommend checking the Prescription Regulation section of the pet pharmacy to follow their designated procedures but essentially, the system are the same across the board. Using the postal system will take a bit longer, so make sure your pet has enough medication to cover the period from when you order to when it's delivered. Also, be prepared for potential delays such as Royal Mail strikes.
When posting your prescription, don't forget to include your full details and order number, and send the prescription to the online pharmacy's address on the retailer's website.
Typically, the pharmacy sends out the medication within a day of receiving your prescription. If they encounter any issues and can't process it, they'll get in touch with you because of the importance of the medication. So again, it's a good idea to place your order well in advance to ensure your pet doesn't run out of medication.
In some cases, I've had my orders split, with essential medication taking priority. Once, around Christmas, I faced a situation where the retailer couldn't fulfil my order until January. To ensure my Molly didn't go without her thyroid medication, I had to purchase a sufficient supply from my vet.
Does a pet prescription expire?
Yes! Your vet's prescription is valid for six months starting from the date your vet signed it. Let me give you an example: Molly's prescription was for 100 tablets of Vidalta, but I'd split the quantity. For example, I might order 40 or 60 tablets, and repeat. It helps spread out the outgoings. Remember to check what the minimum amount is to qualify for free postage.
The great thing is that my pharmacy account always shows how many tablets are left on the prescription, which helps me keep track.
Now, if your vet prescribes controlled drugs (Tramadol, Epiphen, Phenobarbital), the original prescription must be posted to the online pharmacy and ordered in one single order within 28 days. 
Related articles:
Can an online pharmacy tell if you have uploaded a fraudulent prescription?
The answer is yes.
It is an offence, and the online pharmacies must inform the Veterinary Medicines Directorate, who will investigate and take appropriate legal action. 
What do you do with unused veterinary medicine?
The law states you cannot return POM-V medication to an online pharmacy or your veterinary practice, even if sealed and unused.  However, you can ask your vet practice to destroy the medication.
Key takeaways:
Calculate the cost of buying medication from your vet against the cost of a prescription and medication to see what is best moneywise
Order a prescription for 3 to 6 months of medication to help money-saving go further
One prescription can be used at one pharmacy only. When you buy a new prescription, you can choose a different pharmacy if preferred
Shop around for the best medication price
Disclaimer
This article does not give medical veterinary advice. Please consult your licensed veterinary surgeon for professional medical advice who will advise on health tests and a suitable route for your pet. 
Poppys Pets is a participant in affiliate programs which compensates us for referring traffic. A selection of articles on this website contains affiliate links. Further information: Disclaimer and Privacy Policy