When you start researching, it becomes noticeable how many companies test on animals or use animal-derived ingredients and by-products in cosmetics and personal care goods. But the ingredient label on the product does not list animal-related ingredients and is often called another name. There is a gap between cruelty-free and using animal by-products. The obvious answer is a brand does not want to disappoint the consumer.
Further research revealed that even if cruelty-free, a product can still contain animal-derived and by-products. Vegan is the best option for a cosmetic or personal care product free of anything animal-related but there is the chance brands test on animals. Or, choose small businesses that create batches of beauty, personal care and dog care products made with plant-based ingredients and do not test the product on animals.
So, we know that many companies still actively test on animals, whilst others do not. We need transparency with ingredient labels, conventional companies being open about whether vegan or cruelty-free, or swap to those smaller businesses that use plant-based products only.
9 companies that test on animals
These brands actively test on animals.
L'Oreal
Nivea
Pantene
Clinique
Palmolive
Clarins
Avon
Olay
Head & Shoulders
Schwarzkopf
7 cruelty-free companies
Brands may not test on animals but can still contain animal-derived ingredients and / or animal by-products.
Garnier
Sunsilk (PETA Approved)
Burts Bees
Simple (PETA Approved)
The Body Shop
Tresemme
Dove
5 vegan brands
The following cosmetic brands are free of animal by-products or animal-derived ingredients. However, vegan cosmetics and personal care may still test on animals.
Summer Friday
Biossance
Cover FX
Farsali
Lime Crime
5 products made with natural ingredients
Small businesses handmake cosmetics and personal care with natural ingredients. Products are free from animal-derived ingredients or by-products, and instead are made with plant-based and therefore classed as vegan even if they do not carry the vegan-friendly certification.
**The Soap Tree Yorkshire – shampoo & soap
The Funky Soap – cleansers and make-up remover
Fairy Pants – Vegan perfume, eyeshadow, nails, shower gel
Sensational Wax Co – bath bombs for the perfect wedding favour or relaxation
Zy Cosmetics – vegan lipstick
**Some may contain fragrances but do not clarify if they are synthetic or from essential oils.
Before purchasing, please read the seller's listing to ensure it suits your needs and beliefs.
Related articles:
Leaping Bunny symbol on cosmetic and personal care
Cruelty free International works to create a world where no animals suffer in a laboratory.

Cruelty-Free International website
Next time you shop, visit your local store's personal care or cosmetic department and look for the Leaping Bunny symbol on the reverse packaging. If displayed, the product has not been tested on animals when made.
According to Cruelty-Free International, 65% of consumers trust products with the Leaping Bunny image. However, I believe the symbol does not necessarily cover parent companies associated with the brand. The parent company may well test on animals.
The symbol is internationally recognised; companies can be certified and use the logo.
When I made cold-process soap and shampoo, I wanted to apply for the Leaping Bunny certification, but it was expensive a few years ago. Instead, cosmetics and dog care made by the small business tend to highlight there own 'cruelty-free' and 'No animal ingredients' on their packaging and listing. It is then based on consumer trust that the maker is true to their word.
Read more about the Leaping Bunny program
PETA's Beauty Without Bunnies logo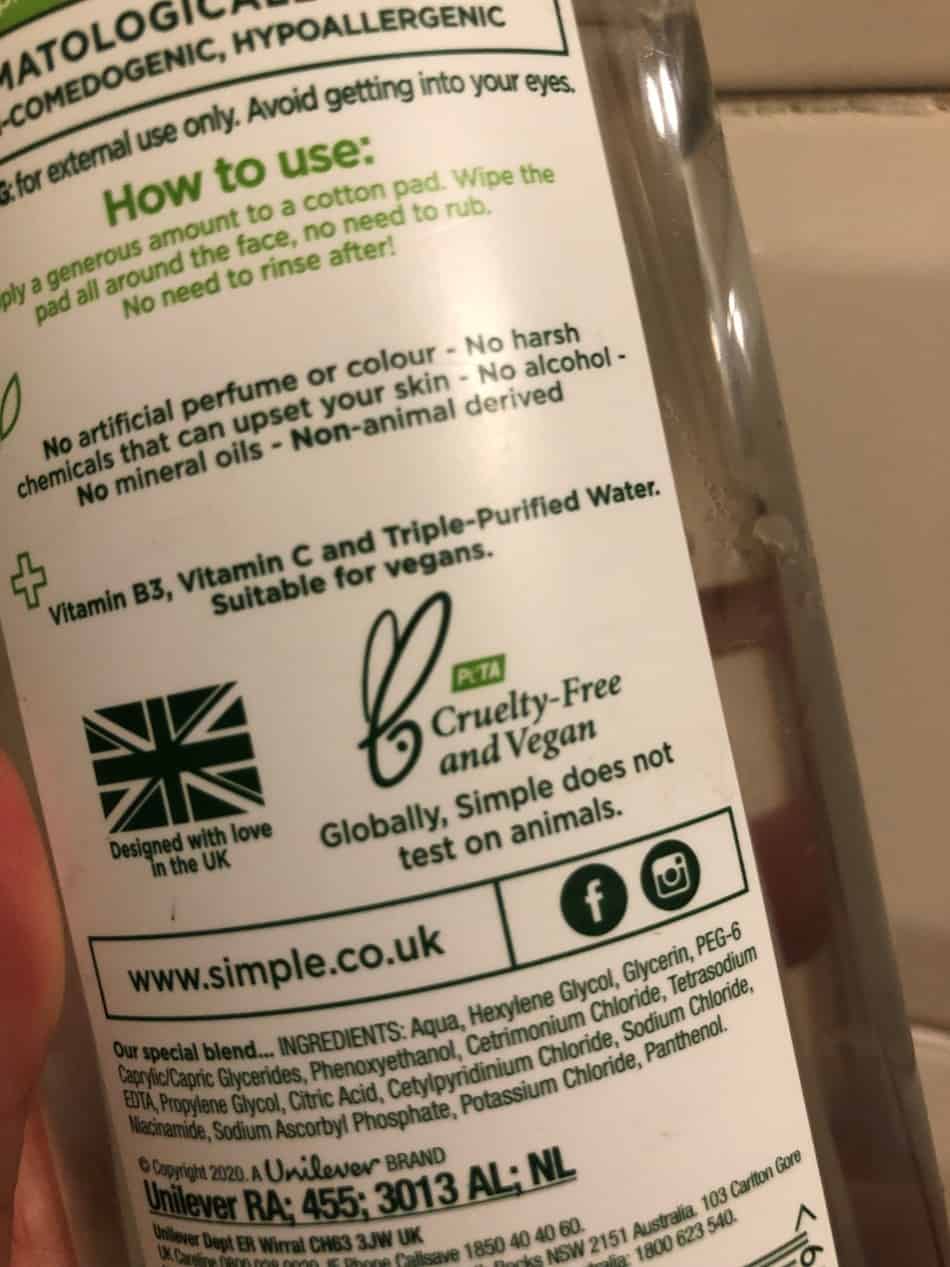 Peta's Beauty Without Bunnies certification umbrella covers personal care, cosmetics and household products.
The logo Global animal test free and vegan represents a company or manufacturer that has not directly tested their product on animals. It means that any form of money has not been exchanged to get supplies. To display this logo means the product does not contain animal-derived ingredients.
Companies can apply to the PETA approved as vegan or cruelty-free, but the pricing structure is based on your annual revenue. If, for example, your revenue is under $15,000 then fees are $250. Anyone can apply. For a small business, it may be unaffordable, and this explains why they highlight cruelty-free and no-animal products on labelling and online product listings. One point to remember – honey and beeswax are classed as animal-derived, and whilst handmade products may not contain it, read the ingredients list carefully and then make a decision.
So, buying a PETA-related logo means the product doesn't have a process that includes any form of animal testing or ingredients.
Read more about PETA Beauty Without Bunnies certification
Read more about PETA Vegan certification
The positive effects of natural ingredients
100% natural beauty care means eco-friendly and plant-based, and we are assured that applying nature to your skin it must be better for you. It is said that natural, plant-based products improve your skin, gradually reducing signs of skin issues. To clear up dry skin, look for alcohol-free or natural alcohol ingredients. The only reference I could find for natural alcohol is ethanol, which can cause skin issues. Isn't it confusing?
Pros:
The proposed positive benefits for mature skin if using plant-based skincare are:
Skin texture is better
Age spots will clear up
Sun-damaged skin will repair on the upper layers
Restores your moisture balance
Wrinkles will be reduced
Cons:
No time scale for the results
cannot guarantee results which is the same as conventional
Naturally made personal care products I have tried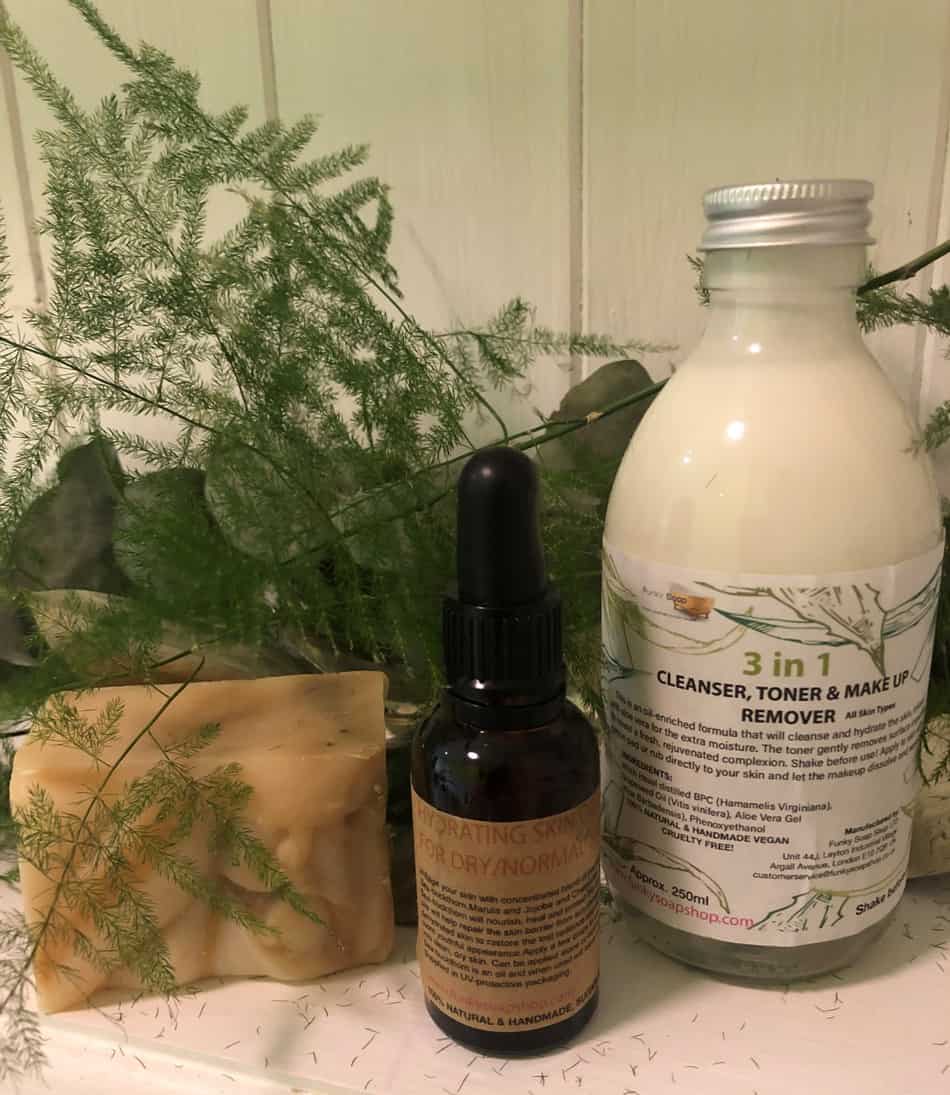 Natural beauty products I purchased include:
3 in 1 Makeup remover, cleanser and toner
Hydrating facial oil
Solid shampoo
Off-cuts of solid shampoo
Soap
3-In-1 make-up remover cleanser and toner:
This make-up remover contains witch hazel, helping your skin extract oil and remove make-up bacteria. It will help remove other impurities and shrink pores.
Of course, there are conventional cleansers that offer to do the same. Still, this product contains natural ingredients and is not tested on animals or contains animal-derived ingredients. A combination of ingredients will cleanse and hydrate your skin, and the aloe vera will add extra moisture. The toner removes surface impurities and refreshes and rejuvenates your complexion, which is something we older women want.
Until we use the product over a period of time, we don't know what the acheiveable results will be, but natural plant-based ingredients will be kinder to our skin than to conventional products. Lifestyle and hydrating your skin by drinking water helps the skin too.
Before trying this product, I bought Simple Micellar Cleansing Water and is PETA cruelty-free and vegan. Disappointingly it didn't remove all make-up and smudged make-up. The liquid didn't feel gentle around the delicate eye area either. In comparison, the 3-in-1 product removed make-up easily and felt gentle and soothing around the eyelids.
Watch the Video: 3-in-1 make-up remover cleanser and toner
Hydrating face oil for dry or normal skin:
This product comes in a little antique-style brown bottle with a dropper.
Add a couple of drops on clean hands and then massage into cleansed facial skin. It's a concentrated blend and essential oils such as chamomile. It contains precious plants and is infused with vitamins C and E. The company states that the combination of oils will rebalance your dehydrated skin to restore any lost radiance, and it will rebuild collagen for a more useful appearance.
The oil felt gentle on my skin and eventually felt softer and more refreshed.
Watch the Video: Hydrating Facial Oil
Nettle and marshmallow root solid shampoo:
I love my shampoo more because of the combination of natural ingredients. Normally I stock up at the Beverley Christmas market, but I haven't visited in three years, hence buying online.
I filmed the shampoo as I wanted to show how it lathers up, and you can compare it to your conventional shampoo.
Watch the Video: Natural Solid Shampoo
Related Questions:
Is organic or natural skincare bad?
Do a patch test first incase of an allergic reaction then if any adverse reactions, stop using the product. It may be an ingredient that you are allergic to but I believe plant-based ingredients are better for us. Before you go out picking plants to make your own natural skincare, you need a cosmetic licence.
What is the difference between organic and natural?
Organic relates to how the ingredient was farmed, and natural means that the ingredient is from nature (plant-based, water). Again, please remember not all organic or plant-based ingredients are safe.
Can I buy doggy products that contain natural ingredients?
Yes, you can. A shampoo made with natural ingredients will be safer for your pet. I read about a conventional shampoo containing bad ingredients.
What examples of natural household cleaning products are available?
Natural household cleaning products I purchased that month are:
Eco-clean multipurpose cleanser with grapefruit. Suitable for general cleaning of surfaces, bathrooms and laundry. It also states it is for pets and personal care. It is natural and has a biodegradable Castile base. Two of the ingredients are coconut oil and olive oil.
Lemon & Lime toilet bombs. It is made for your loo only. It states it will disinfect and remove limescale and deodorises. Drop it into the water tank or toilet bowl, leaving it to fizz. Then brush to clean properly. Two of the ingredients used are castile soap and white vinegar powder.
Solid dishwashing soap is excellent for the environment without a plastic bottle. It promises to cut through grease but is kind to your hands. Two of the ingredients are lemon essential oil and coconut oil.
All three are from Funky Soap.
Poppys Pets is a participant in affiliate programs which compensates us for referring traffic. A selection of articles on this website contains affiliate links. Further information: Disclaimer and Privacy Policy