Soon we shall experience temperatures dipping into negative figures, with Winter challenges gripping us. The resurgence in energy costs looms large, with the highest usage charge delivered to us in our February statements. Simultaneously, the expenses tied to sustenance and pet care are experiencing an inexplicable escalation. The prices of items designed to provide comfort and warmth for both ourselves and our animal companions have surged because opportunistic vendors, energy suppliers and supermarkets capitalise on our need for warmth and food.
Understand cold sensitivity in cats and dogs
Our beloved domestic companions have grown accustomed to the comfort of well-insulated homes, the warmth of radiators, and heat from crackling open fires or multi-fuel burners. However, when the heating is switched off, even dogs and cats with their own fur coats, are not immune to the chill's effects. Particularly for senior pets or those that suffer with conditions like arthritis, the plummeting temperatures can exacerbate pain and stiffness. Frail pets with old age weight loss have little fat around their bodies to keep warm. This lesson came to me through personal experience – a poignant reminder when my 20-year-old indoor cat fell ill and required antibiotics after catching a cold during a period of heating inactivity.
Look out for signs that your pet is cold indoors – signs of behavioural changes:
| Cats | Dogs |
| --- | --- |
| Curls up in a tight ball instead of stretched out | Curled up into a tight ball |
| Shivers and snuffles | No longer sleeps on a tiled or hard floor |
| Snuggles into cosy corners, under bed covers etc | Sleeps on carpets or mats or snuggled into its blanket – seeking warmth |
| Is your cat happy to snuggle beneath a blanket? | Unable to settle at night |
| Paw pads, ears, nose and tip of the tail feel cold | Paw pads, ears, nose and tip of the tail feel cold |
| The overall change of behaviour at home | An overall change in behaviour at home |
So yes, a cat or dog can feel the cold when the heating is off, so what can we do when the heating is off?
Alternatives to heating: keep your pets warm
The conventional solution might suggest turning up the thermostat, yet the stretch from Winter 2022 through early 2023, posed a substantial challenge for many, and as we edge closer to Winter 2024, the worry of elevated energy expenses and food prices persists. My quest for financial prudence, coupled with the responsibilities of caring for a 17-year-old cat and an 11-year-old dog, I've assembled a selection of ideas to help towards keeping your pets warm each Winter.
Shopping list:
Warning: Please do not put unsupervised cats in knitted cat coats as they may catch claws in the wool or fabric.
1 – Make a raised dog bed from pallets
This raised dog bed with a padded soft cushion keeps your dog off a cold floor. You'll find lots of ideas online and YouTube.
Make your own pallet bed:
You need:
Pallet, wood, screws, No Nails, primer & paint
1: **Cut a pallet in half and sand
2: Cut 2 x4 for the sides and back, drill holes and screw them together to form a bed rail
3: Use No Nails around three sides of the pallet and secure the above to it. Leave to dry
4: Use prime and paint the pallet and bed rails. Leave to dry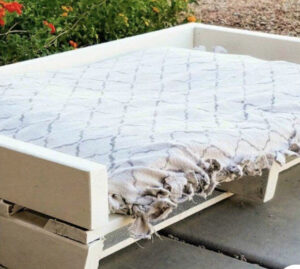 **leave complete if you have a larger dog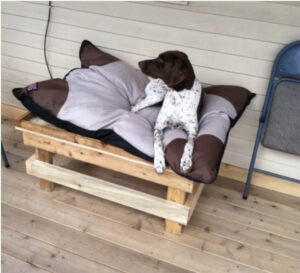 Waterproof cushioned base
You need:
Padding for the bed, clear vinyl shower curtain
1: Wrap the padding in the shower curtain
2: Secure with a glue gun
3: Cover the pad with the material but ensure one side overlaps. Cut the overlap into strips and tie
Watch the video (credit): Waterproof Pallet Dog Bed
2 – Foil backed insulation camping mat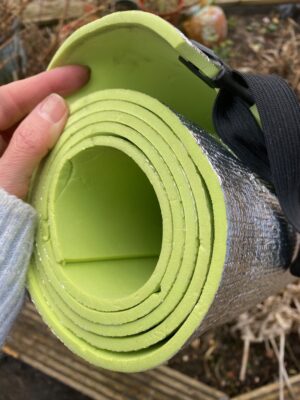 Campers use camping mats to protect their sleeping bag from the ground and create a barrier between them and the cold ground. You can provide your dog or cat with the same if their bed is on a hard floor.
Aluminium camping mats are foil backed to give insulation, and as used for camping, roll up quickly and can be stored during warmer months.
Lay the insulation mat on the floor and your dog's mat or bed on top.
You will find insulated camping mats in camping stores, some sports stores and online. Before buying check the size is adequate for your pet's mat or bed.
| Retailer | Size | Price |
| --- | --- | --- |
| Amazon – Yellowstone | 51 x 13 x 13 cm / 175g | 11.45 |
| Amazon – VFM | 11.9 x 11.9 x 50.5 cm / 135g | 18.99 |
| Go Outdoors – Hi Gear | 1850 x 550 x 10 mm | 12.99 |
| The Range – Summit Insulated Mat | 180 x 50 cm | 4.99 |
Watch the Video: Under £5: Cheap Way to Insulate Your Cat or Dog's Mat, Bed, House, for Indoors or Outdoors or Camping
For budget camping and other products you can use during the current living crisis, visit Pitchup Outdoors.
3 – Cut up an old bed quilt for warmth
You may have an old quilt in the back of the wardrobe so it might be time to put it to good use this winter – your dog or cat may appreciate it.
Ideas for use:
Cut into smaller sections to cover your pet at night – it must be bigger than your pet
Or use a smaller section to line the base of a cat or dog bed
Push a piece into a corner of your home for your cat to find and snuggle on
If you opt for a cardboard box, place a section inside so it covers the base and walls of the box
Dogs get a bit smelly. Teddy does. Cats have dirty paws too. Smaller pieces will fit into the washing machine. Yes, to run a washing machine costs too. We opt for a 30-degree quick wash which costs us about 15p (August 2022). The cost depends on your family size and how often you use the washer. But it is cheaper than buying another quilt or taking a larger quilt and using an industrial washing machine.
4 – Fold an old quilt as ground insulation for your dog
I cannot take credit for this idea.
Recently I chatted with a lady who owns a Romanian rescue dog. To keep her elderly dog warm she folds a 13.5 tog quilt several times and puts it beneath her dog's bed. This is useful if your dog sleeps on a mat on a hard floor as it provides deep insulation. It's especially important to keep pets warm if they have joint issues or arthritis, as the cold can cause pain and mobility difficulties. If the extra layer creates a depth of 6″ to 7″, it will help a dog with mobility issues get on and off its bed more quickly.
| Retailer | Tog | Size | Price |
| --- | --- | --- | --- |
| Tesco | 10.5 | Single | £6 |
| Poundstretcher | to follow | | |
| Wilko (Closing Sales 2024) | 13.5 | Single | £6.40 |
Prices correct August 2022
5 – A fleece will help keep your pet warm
It probably still seems bizarre to suggest a dog or cat with a fur coat can feel cold and benefit from a fleece blanket. But despite a double or short coat, age, and health, a cat or dog does need extra warmth during the colder months and more if the heating is off. When our homes are heated, we feel the warmth but we all feel a constant chill in the air without heating our homes for longer periods.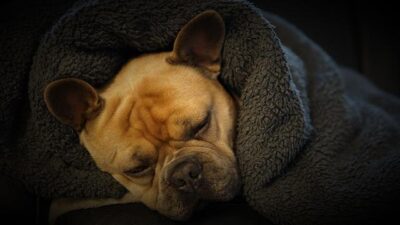 Things to consider before buying fleece for your pet:
| | |
| --- | --- |
| Ideal for cats and puppies too | It will provide extra warmth |
| A puppy or kitten may chew an embroidered logo so opt for a fleece without | Check the size before purchasing – it needs to be bigger than your pet |
| a fleece is cosy, comfy and lightweight | Washable (we wash in a 30-degree wash) |
| Your puppy may chew any embroidered logo | |
Prices will vary online: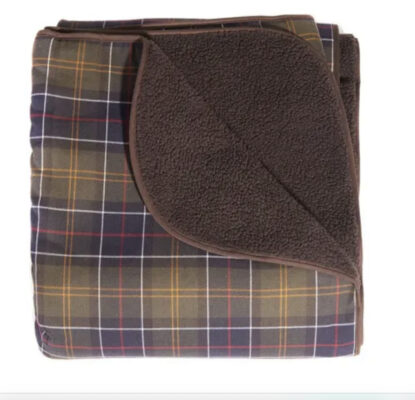 | Retailer | Size of Fleece | Price |
| --- | --- | --- |
| Monster Pet Supplies – Barbour | 127cm x 152cm | £46.88 **Sale |
| Zooplus – Pawty | 150cm x 100cm | £4.99 |
| The Range – Clever Paws | 80cm x 55cm | £1.69 |
| The Range – Clever Paws | 120cm x 120cm | £3.99 (sale) |
| Viovet – Trixie Plush | 50cm | £4.98 |
| Viovet – Trixie Plush | 75cm | £7.98 |
| Viovet _ Trixie Plush | 100cm | £13.98 |
Prices correct August 2023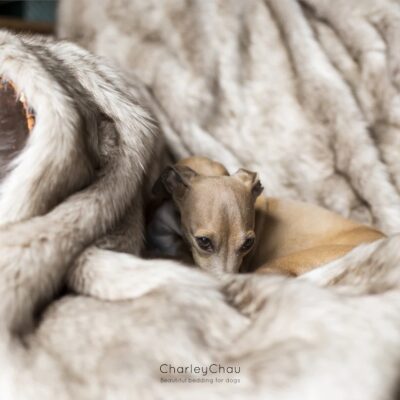 A faux fur throw is the ultimate luxury blanket to keep your dog (or cat) warm this Winter. It's a popular choice for us too.
Available in sizes 100 x 65cm or 140 x 100cm
Its oatmeal colour will blend with any interior. With faux fur on one side, the other is a super-soft anti-pil fleece in oyster.
Machine washable in a cool wash.
6 – Buy a knitted blanket from a pet rescue shop
I've always bought my cat's little blankets from animal charity shops, costing about £1.50. It's cheap, and it supports animal rescues. I've bought lightweight and heavy-weight blankets but recommend one made with thicker wool because it holds its thread and shape when washed – and will keep your pet warmer.
Alternative:
If you are an avid knitter and know your wool, why knit a thick blanket for your pet? Or, if part of a knitters group, make blankets for local pets to keep them warm and advertise on Facebook. This year your local pet rescue might be grateful for blankets for their residents.
I recommend visiting The Crafty Co. There are patterns you can download and a Labrador models several styles:
Small 54cm square
Medium 76cm square
Large 98mm square
6mm knitting needles are used.
7 – Invest in a self-heat thermal pad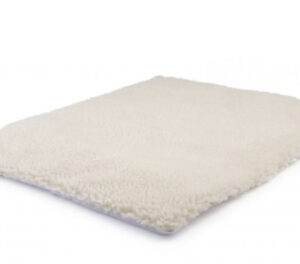 A self-heat thermal mat reflects your pet's natural heat into its body because of insulation within the soft fabric. The self-heat bed mat does not require electricity, so it is worth an initial outlay if it keeps your pet warm this winter.
Things to consider when buying a self-heating pad:
Make sure it has insulation between the cover
Size must be bigger than your pet
Soft, inviting outer material
When washing, consider non-scented wash because of any pet allergies
Removable cover
Electric not required
Washable cover. Wash at 30 degrees
Ideal for home, post-op crate, carriers, vet stays,
kennels, rescue centres
Ancol charges the following for Sleepy Paws self-heating pet pad.
Prices have decreased August 2023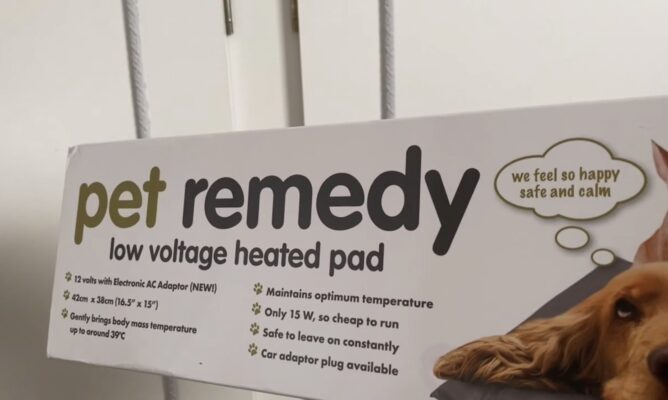 You may prefer a low wattage heated bed, especially if your pet is frail and during nights with dips in temperatures. If your vet has quoted for an operation and hospitalisation, you may notice a charge for use of the heated bed. It's popular for old animals and post-operative care.
Below are two beds I purchased:
How to make a self-heated bed:
Another option is to make your own and this video shows how easy it is to make a self-heating bed mat for your dog or cat. She mentions buying mylar that campers use to keep warm, and you may have seen long-distance runners wrapped in this after crossing the finish line.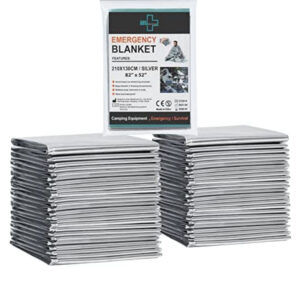 Insulation sheets are available to buy in singular or in bulk.
Check the size before purchasing.
8 – Buy a hot water bottle with a jacket to keep your pet warm
I have three hot water bottles. One for me. One for Tabitha and the other was for my late cat Molly.
Now is the time to buy a hot water bottle as I suspect retailers will charge more with energy prices increasing and homes switching off the heating. Many pet products aimed to keep your cat and dog warm are often out of stock.
Hot water bottles are available with or without a jacket, but one with a cover will stop your pet from getting scolded and insulated hot water bottles retain heat for longer. Place the hot water bottle near your dog or cat's back or paws but don't expect your pet to lay on it.
9 – Turn a box into a mini snug room for your cat or small dog
A double-walled box is the better option because thicker. Cut out a door big enough for your cat or small dog to crawl into. Tape the flaps together so they are enclosed. Insulate the base and walls with a piece of the blanket – cut a slot to the top side walls, lay the blanket across the base and thread a section through the slot. Repeat to the back of the snug box. Fold a fleece or piece of the quilt and lay it on the base. Make sure it has their scent on it.
Alternatively, insulate with a foil camping mat.
Cats will be cats and never use anything we buy or make, so tuck the box away in a corner and forget about it.
Watch the Video: Under £5: Cheap Way to Insulate Your Cat or Dog's Mat, Bed, House for Indoors or Outdoors or Camping
Related Articles:
10 – Make a draught excluder or buy a draft blocker
If your pet's chosen sleeping spot is near a door, lay a draught excluder across the base. This will reduce any draughts. Teddy would sleep in the hall near the porch door beside a hot radiator but there was a draft from beneath the porch door so we used a draft excluder. When choosing a draft excluder, ask yourself if it will fit snugly against the door, if there will be gaps, or if the product will roll away.
Draft excluders can help to stop losing heat even if you do not have pets.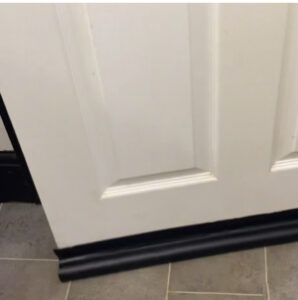 Like you, I am looking for ways to keep our home warm without heating. There's a draft from the porch which can be felt beneath the kitchen door. The porch does not have a radiator and the recorded temperature is 10 degrees Celsius. At the time of living in this very old house myself, the heating was turned on for 1 hour a day.
Last Winter I ordered a door sweep with a leather cover making it quite durable. It's easy to assemble and stops the drafts. It's still available to watch on an old YouTube channel called Frugal Living.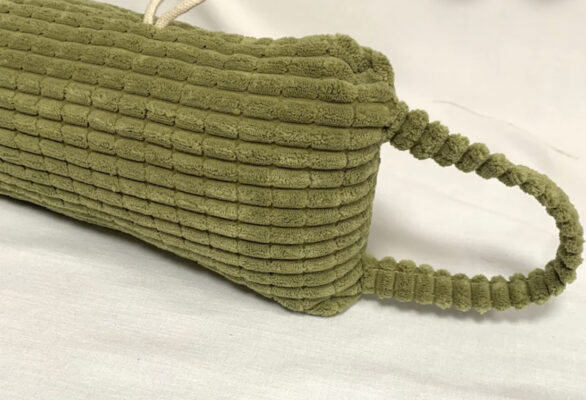 Out of Stock
Although this draft excluder is out of stock, there is a variety of handmade products available but ensure your choice is heavy and angled to fit snug against the door base. A draft excluder makes an ideal gift for someone too.
Draft excluders aren't just for doors – they can help stop drafts from along a window base.
Consider the following before buying any draft excluder:
Heavy enough to stay in place
Suckers to attach to the door
Curved draft excludes are ideal for bay windows
Draft stoppers that fit beneath a door or attach to a door may be a better option
Think about the shape; is it the right shape to fit snugly against the door
How to make a Draft Excluder:
You can make your own with old fabric or curtains, and stuff it will old clothes you no longer need, or rice.
11: Search selling sites for FREEBIES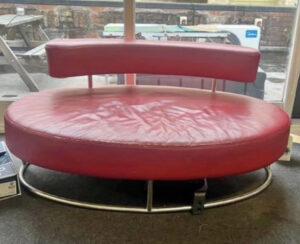 Paula, owner of Mabel and Bruce below, found this retro armchair on Facebook Marketplace. It was advertised as a free item. It's recommended a s a bed because its off the floor.
12: Improvise with what you or find giveaways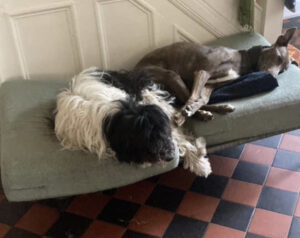 Paula improvised and used a basic canvas raised bed and two old sofa cushions as a bed for her dogs, and it's off the floor. Again, selling sites offer freebies and is an ideal place to look for products that can be used as bedding for cats and dogs. Paula also found a free cot mattress on Facebook Marketplace – she said parents will buy a secondhand baby cot but prefer a new mattress and often giveaway the old one. The mattress makes a comfy bed for pets.
Poppys Pets is a participant in affiliate programs which compensates us for referring traffic. A selection of articles on this website contains affiliate links. Further information: Disclaimer and Privacy Policy
Poppy's Pets has a column in an East Yorkshire newspaper