We are weeks away from that magical time of the year. Smitten pet owners love to dress their fluffballs in Christmasy costumes or quirky accessories.
Etsy is TV advertised with handmade products created by worldwide artisans. Here is a selection of festive outfits and collar slip-on items handmade by British artisans, and you might be interested in my Christmas gift list for your furry companion too.
Festive scarves for your cat or dog
Handmade in Yorkshire.
I love this stylish Christmasy scarf made by Myrtles Crafty Knits. The shop has hand-knitted scarves for all occasions for the posh cat in town.
The Santa-red knitted scarf has fluffy white cuffs and is secured with a Merry Christmas button where both ends overlap.
Measurement guidelines:
Use string to measure the neck and a ruler to get the exact size. You do not want the scarf fitting as snug as a collar, so allow an extra inch.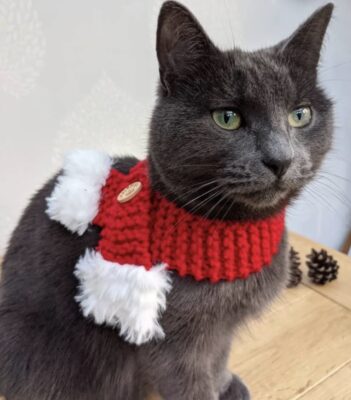 Sizes available:
8 – 10 inches (recommended for young kittens)
10.5 – 12.5 inches
13 – 15 inches
Christmas delivery: 2 weeks
Price: £9.99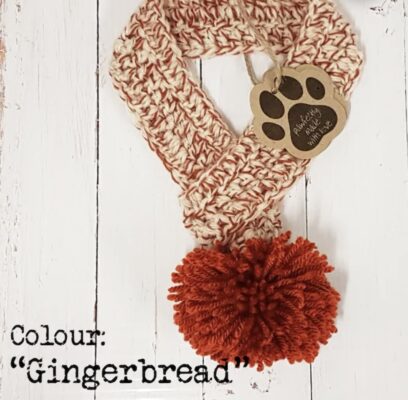 Handmade in Derbyshire.
Ink Shop Gifts crochets scarves for dogs in four Christmas designs:
Santa
Peppermint Candy Cane
Gingerbread
Elf (sold out)
I love the Gingerbread colour as it gives a visual impression of warmth and cosiness. The scarf overlaps, but the listing doesn't state how it is secured. Each scarf is finished with a white or red pompom.
Sizes available:
Small: Yorkie, Chihuahua, Shih Tzu etc.
Approximately 31cm in length (excludes the pompom), and the usable length is 27cm (without the 'loop')
Medium: Cocker Spaniel, Cockapoo etc
Approximately 41cm in length (excludes the pompom), and usable length 36cm (without the 'loop')
Approximately 48cm in length (excludes the pompom), and the usable length is 42cm (without the 'loop')
Hand wash only, and do not tumble dry.
Measurement guidelines:
Please measure your dog's neck using string and a ruler; remember, it is the usable length you measure against.
Christmas delivery: 1 week.
Price: £5.39 – £7.19
Christmas bows for dogs – various sizes
These festive bows are perfect if you are looking for a simple Christmas outfit for your dog (or cat). A bow can easily slip over a collar and be secured by two broad elastic band straps or two velcro straps for a harness.
The bows are available in various sizes. Bugs Togs has around 35 fabrics, from tartan to red puddings to snowflakes, to choose from.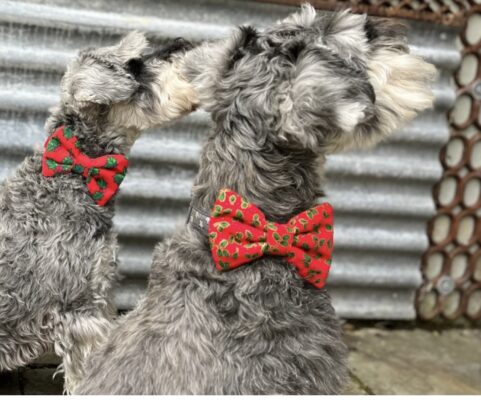 Sizes available:
XS for a collar
M/L for a collar
XS for a harness
S/M for a harness
M/L for a harness
Christmas delivery: made and posted within 24 hours.
Price: £5 – £7
Goofy Christmas outfits for cats and dogs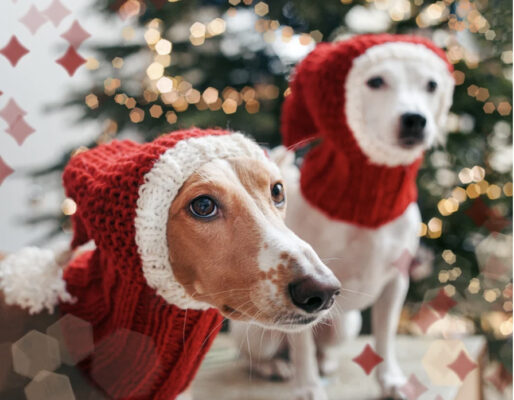 How cute and festive do these pooches look?
Instead of a ready-made festive outfit, this option is for all you knitters out there.
Mio My Dog offers downloadable knitting patterns to make your own Christmasy Santa snood or all-year-round designs.
To find your ready-made file, go to your account's Purchases and Reviews section.
Price: £5.48
Some dogs are happy to go to festive extremes with their Christmas outfit! Heads will turn when you walk your dog dressed in a tutu and Santa hat.
Your tutu is handmade with three layers of soft tulle in red with a soft elasticated waistband that sits around your dog's tummy but don't worry, it will not hurt your posh pooch. The tutu is finished with satin ribbon and pompoms dotted about.
Fairytale Paws has some beautiful tutus in colours suitable for all year round, even birthday attire.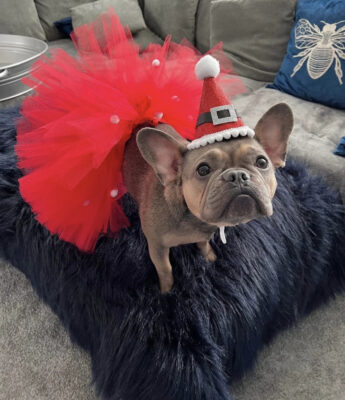 The tutu is handmade to order, so please make sure you request the correct size. The tutus and Christmas hat are sold separately.
Sizes available:
Small
Medium
Large
XLarge
Christmas delivery: 1 to 2 weeks
Hat Price: £7
Tutu Price: £30 to £38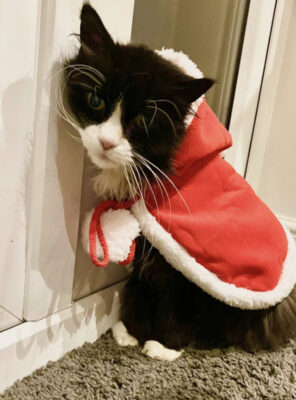 Often on TikTok, we see calm cats dressed in funny clothing and seemingly unfazed by it, and this one transforms your feline into a stylish Santa cat-helper!
The Pops and Coco's fashionable festive cloak is also suitable for small dog breeds.
Visit the seller's shop because if the cloak isn't your small dog's Christmasy thing, there are knitted jumpers with reindeer and Santa.
Sizes available:
Small: back length 21cm – Neck 24cm – hood height 16cm
Medium: back length 25cm – Neck 24cm – hood height 17cm
Large: back length 31cm – Neck 37cm – hood height 20cm
Christmas delivery: 1 week
Price: £6.30
Or, for the King and Queen feline and pooch in your family, why not spoil them with a luxurious cat or small dog Christmas coat?
Nacolulu Studio handmakes the ultimate luxury Christmas cloak.
Kids Essentials also sells Christmas PJ's for the family too!
Dong Cat Lover has a selection of posh and unusual Christmasy wraps, collars and hats.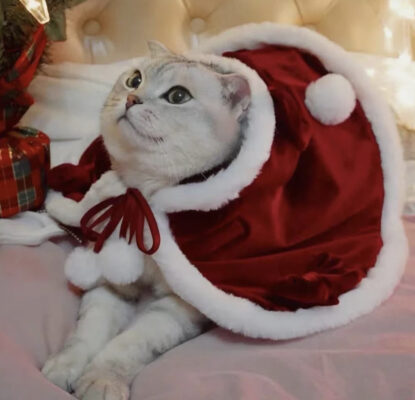 Quirky Christmas collars for cats and dogs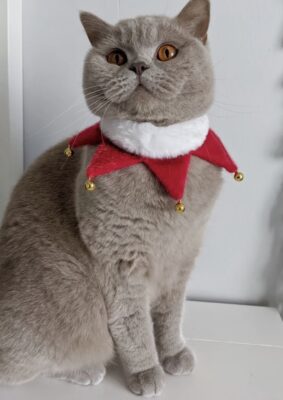 I love this festive collar for cats!
The overall length is 67cm long, and the listing shows a video of a British short hair (either Luna or Apollo) performing a fashion show wearing this Christmas pet collar.
The collar has four red points, gold bells at the pointy end of each, and a fluffy white neck cuff. The collar is a tie secure made with soft fabric,
The collar is suitable for small dogs too.
Christmas delivery: 1 week
Price: £12
Silly Sausage Emporium knits Christmasy snoods in red or green to match the jacket of an Elf (green) or Santa (red). Black knitted wool with a button to resemble a belt.
Sizes available:
XS (8-9″)
Small (10-11″)
S/M (11-12″)
Medium (12-13″)
Large (14-15″)
XL (16-17″)
Measurement guidelines:
The listing has an image showing you where to measure (see the last photo of Iris the Dachshund with purple across her neck)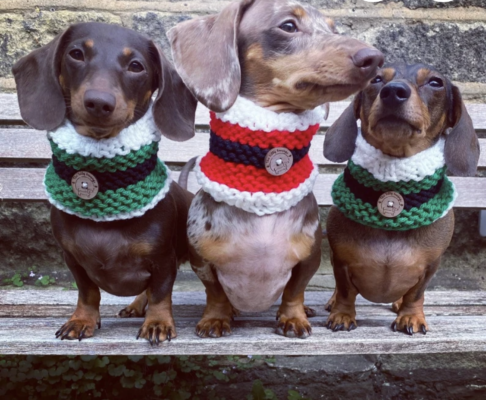 Christmas delivery: 1 week
Price: £9.99 – £20.99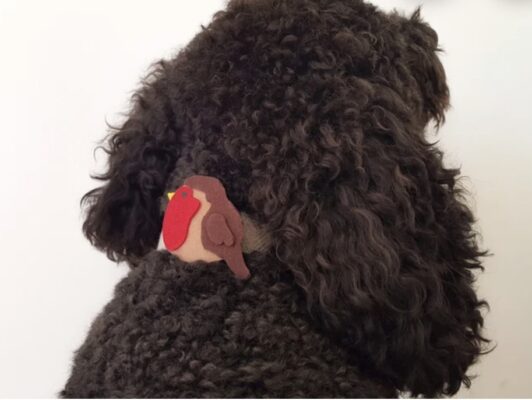 If your fluff ball isn't into Christmas outfits, these festive clip-ons may be the answer. Available as Rudolf, a robin, Santa or a gingerbread man with an elastic back to slide onto your dog's collar.
Made with stiffened felt with a length of 5.5cm to 6cm.
Buzzy Bear Shop despatch each collar accessory on a card backing with the artisan's shop name.
The collars are sprayed with a non-toxic stain and dirt-resistant spray.
Elastic backing sizes available:
Please measure your pet's collar and match it with the elastic sizing below.
Small: 1.5cm or under wide collar
Medium: 1.6 to 3.5cm wide collar
Large: 3.6cm or over wide collar
Christmas delivery: 1 week
Price: £5.25
Christmas dinner attire for your dog and cat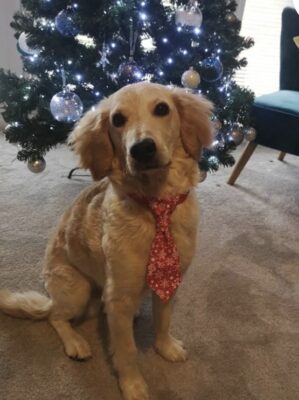 I bet your dog has a turkey dinner too?! So why not dress your pooch in a festive tie for the occasion?
EvaLilyCo makes snowflake ties with cotton fabric and interfacing, which slides onto your dog's (or cat's) collar.
Available in standard and small sizes. The overall length is 29cm and 6cm wide. The tie can be adjusted between 5.5 to 7.5cm too.
EvaLilyCo has Christmasy bandanas for sale, so don't forget to visit her shop.
Christmas delivery: 1 week
Price: £7 to £8
Handmade in London
EmpawerUK handmakes festive bow and tie sets for cats and dogs.
Made from highly-durable cotton and easy to slip on your pet's collar.
There's a selection of different fabrics available, including Scottish tartan. The bow and tie can be machine washable at 30 degrees to keep it dirt free.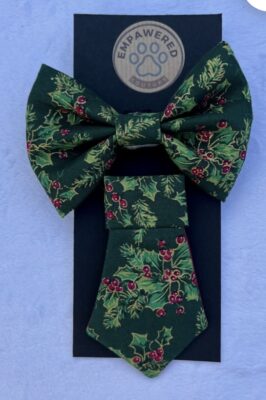 Sizes available:
Small
Medium
Large
Xlarge
Christmas delivery:
Despatch is 24 to 48 hours
Price: £6.30 to £9.00
Important:
Read delivery details for each shop. Handmade items may have a two-week or more lead time, and through to December, Royal Mail will be striking on selected days.
Any outfits and accessories must be worn with supervision, especially cats. Please be observant if your cat or dog is panting when dressed in scarves or outfits – your cat or dog may be overheating.
A selection of shops now have discounts, and there will likely be more as we approach Christmas.
Poppys Pets is a participant in affiliate programs which compensates us for referring traffic. A selection of articles on this website contains affiliate links. Further information: Disclaimer and Privacy Policy
Handmade Christmas outfits and festive collar accessories by British artisans from £5