Etsy is TV advertised and home to British and American artisans with various handmade creations, including Christmas gifts for pets and wildlife. My selection is gift ideas from £2.50, made by British creators as an extra special unique present for your companion.
Gift ideas for your rabbit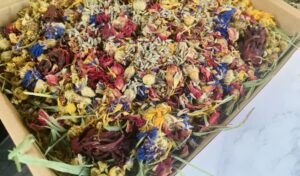 Foraging Box for rabbits and guinea pigs
A foraging box makes an entertaining gift for a rabbit or guinea pig. All ingredients are locally sourced, and the contents look stunningly beautiful in various colours. The boxes are Obi and Romeo, named after the owner's pet rabbits.
Natural foraging behaviours are excellent enrichment for your pet. You can leave the contents in the box – this has two holes cut out to tempt your pet or sprinkle over hay and toys or near its bed.
Price: £5
Size: 24cm length x 16.5cm width x 2.5cm depth
Handmade in Scotland
Obi's box:
Hibiscus
Rose petals
Chamomile
Marigold
Blue cornflowers
Lavender
Red roses
Red cornflowers
Romeo's box:
Lemon balm
Plantain
Strawberry leaves
Raspberry leaves
Pea flakes
Aronia berries
Dandelion root
Visit The Pet Guardian and view more of the Foraging Boxes
Autumn leaf treats for your rabbit, guinea pig or rat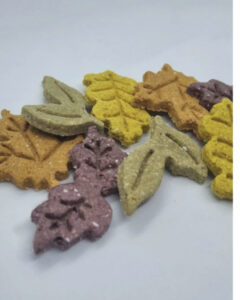 These Autumn leaves are made with 100% natural ingredients and make a quirky present for your rabbit, guinea pig or rat. You'll receive eight leaf-shaped treats in a paper bag, two of each flavour. Introducing the new food gradually is essential, and the maker recommends you offer one treat twice weekly.
Price: £2.75
Autumn leaves blend:
Oats
Cherry
Beetroot
Kiwi
Carrot
Tumeric
Visit Hop and Flop Treats and view more of the Autumn Leaves
Gifts for your rat
Food starter pack for your rat, gerbil, mouse or hamster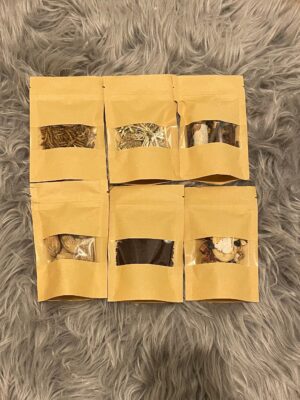 The perfect Christmas gift for your new rat, gerbil, mouse or hamster. The starter pack is supplied in a paper bag; after reading the reviews, hamsters love the food. The packs are 800g and 900g for a hamster.
Start pack contents:
Coconut fibres
Monkey chews
Hay mix
Dried fruit
Mealworms
Wooden chews
Price: £9
Visit The Floofballs and view more for the Starter Pack
Cosy corner hammock for your rat, guinea pig, mouse or degu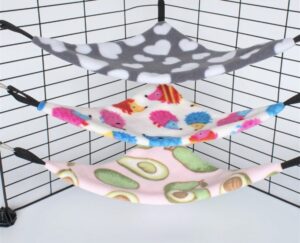 Your rat, guinea pig, mouse, or degu will feel comfy this Winter with a soft polar hammock. There are fifteen patterns to choose from and a choice of three sizes. Each hammock comes with solid clips to attach to the cage. And the fabric is machine washable at 30 degrees.
Price: £4.49 – £6.49
16″ x 11″ x 11″
19″ x 13″ x 13″
22″ x 15′ x 15″
Visit Adam Craft Art and view more on the Cosy Hammock
Gift ideas for your pony, horse or donkey
Doughnut treats for your pony or horse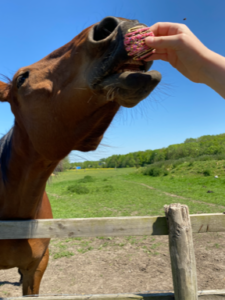 These doughnuts look delicious and are an extra special treat for your pony or horse. The blend is handmade in the U.K. and does not contain preservatives or additives, so a healthier option. You'll find six pretty doughnuts in a box. Because each handmade treat needs to be consumed within 30 days of receipt, ask for a despatch date nearer Christmas but check the seller's last order dates. Pony Puddings recommend storing the treats in the box received.
Price: £6
Important: the treats are unsuitable for horses or ponies suffering from crushing disease, diabetics or prone to laminitis.
Visit Pony Puddings and view more on pony and horse Donuts
Laser-engraved face brush for your horse, donkey or pony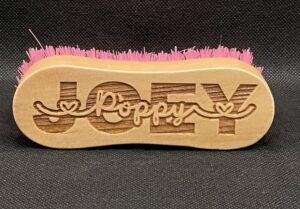 Spoil your pet with a personalised, laser-engraved soft face brush for Christmas. Your pony, horse or donkey has its name in bold, with your name in a different font lovingly intertwined. The face brush is wooden backed and treated against wear and tear. It comes with choices of bristles to remove grime, dirt and dust. The overall size is 125mm long x 35mm wide.
Price: £12.50 – £14.50
Bristle colour options:
Horsehair bristles in dark brown
Goat hair in cream
Nylon in red, purple, pink, blue, brown/beige
Visit Blbllsbttrfls and view more about the Face Brush and other horsey products.
Gifts for dogs and puppies
Vegan smokey bacon-scented bubbles!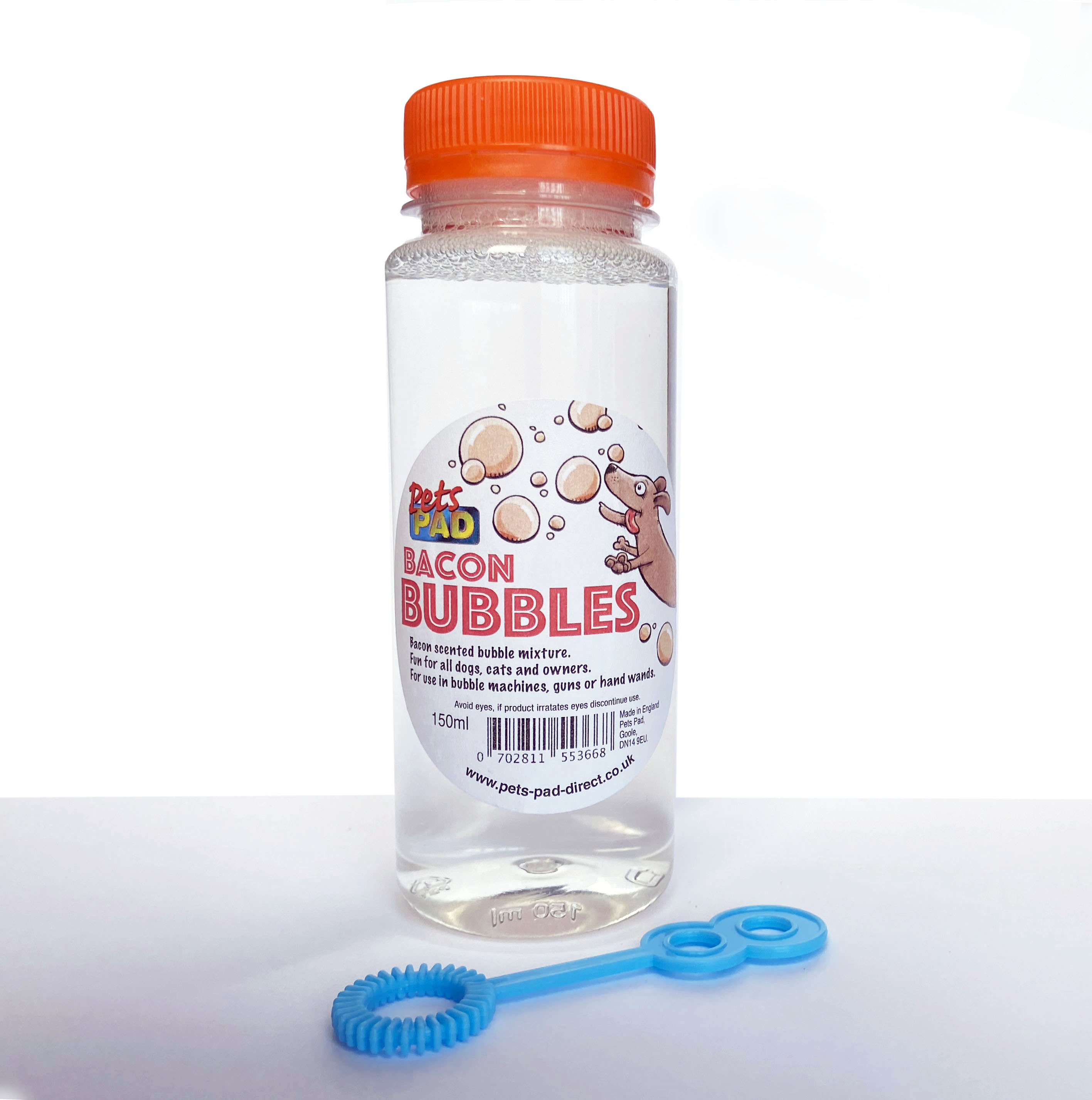 Bubbles will get your puppy or dog in a playful mood in the garden. It is ideal if you are dog-sitting, at doggy daycare, or at a rescue centre. Dogs and puppies enjoy trying to catch these long-lasting bubbles, jumping and watching, and giving canine enrichment and exercise. The good news is – the mix is non-toxic and safe for dogs and cats. Available in salted caramel-scented too.
Price: £2.50 to £5.75
Sizes available:
Visit PetsPad and view read more about the Vegan Smokey Bacon-Scented Bubbles.
Dog bone-shaped Advent calender with yummy treats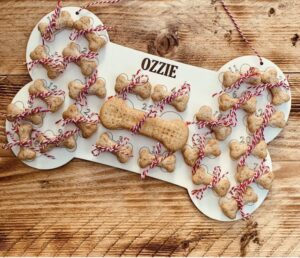 Your dog or puppy deserves an Advent calendar with delicious daily treats too! The bone has been laser cut from poplar plywood and smoothed so safe for your dog. There are 24 biscuit /gravy bone treats, and on the 25th day, a larger treat. Each treat is secured with festive twine of your choice. Of course, you can swap treats for your pooch's favourite bites, and what's good about this product is that it can be used each year. Available as 330mm width x 200mm height x 4 mm depth.
Price: £14.95
Twine colour:
Red & white
Red, white & green
Visit The Queen of Keepsakes and read more about the Advent Calendar.
Gifts for cats and kittens
Kitten treat & toy gift box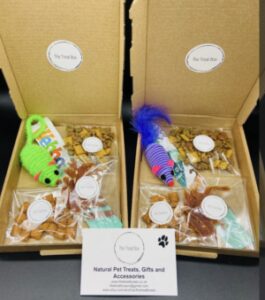 When you have a new kitten addition to the family, you want to buy them everything. What about this kitten treat box filled with nibbles, a toy and Webbox stick?
This yummy treat box is suitable for kittens from 12 weeks old (and the Webbox stick) and is letterbox friendly. It can be posted directly to the recipient too.
Price: £4.75
Contents of the kitten treat box:
Go Cat kitten chicken flavour biscuits
Duck fillet mini strips
Whiskas milky biscuits
Webbox stick
Visit The Treat Box and view the Kitten Treat Box.
Deli-Cat-Essen treat Christmas box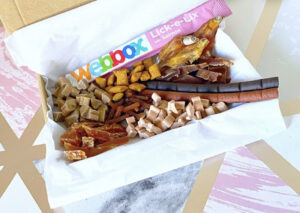 You have an option for an Original gift box or a Deluxe, and both are packed with goodies your cat will love. A loving little gift card can be added to your order too! One single box fits through the letterbox.
Price: £6.25 – £8.25
Contents for the Original Treat Box:
Lick-e-licks sachets
Dried duck fillet strips
Chewy treat sticks
Crunchy filled pockets
Meaty catnip hearts
Meaty catnip fish
Dried tuna mini strips
Dried chicken breast wrapped fish
Contents for the Deluxe Treat Box:
All the above, plus –
Felix premium food pouch
Sheba premium food pouch
Fluffy mouse toy
Visit Carly By The Sea and view more of the Deli-Cat-Essen Cat Treat Box.
Gifts for your ferret
Crochet sweaters for ferrets, dogs, cats, rats and guinea pigs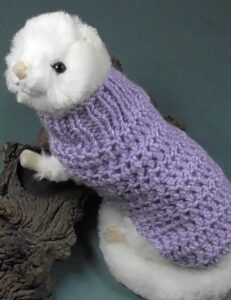 Lots of people have pet ferrets. What about a crochet sweater available in colours to keep them warm, especially on a walk? Created with acrylic yarn, a sweater can be hand-washed.
Price: £14.95
Sizing is:
Length 7″ at the back
Length is 4.5″ at the front
Chest 8″
Neck 5″ to 7″
Island Sweaters also crochets sweaters for hamsters, guinea pigs, rats, toy dogs, bearded dragons, cats and teapots!
Colours available:
Visit Island Sweaters to see Winter warming sweaters.
Christmas toy trio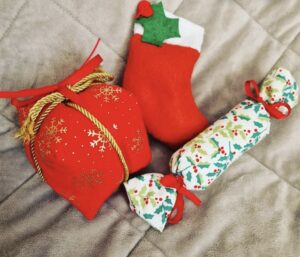 Yep, ferrets love toys, and these Christmasy gifts provide fun and enrichment.
Price: £5
A trio of toys available:
Chunk Christmas cracker for tug-of-war games
Squeaky stocking
Rattle dressed in a bow and ribbon
Visit Ferret Birthday Boxes to see these fun toys
Gifts for your indoor birds
Bead and bells enrichment toy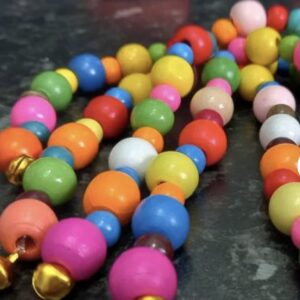 Enrichment and boredom breaker toys are the 'thing' today, and this beautiful toy is ideal for your budgies, canary, small conures, finches, and lovebirds. Last year I bought a handmade enrichment toy for our two budgies, Ronnie and Reggie, and they loved it, especially the parts they could shred. The toy featured here is different and handmade with beads and wood. I love the vibrant colours, and the materials and clips are bird-safe.
Price: £4.25
Visit Linshandmadebirdtoys Store to view this colourful toy
Personalised swing for small birds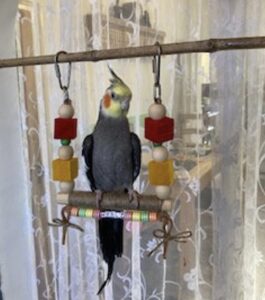 Indoor birds are lucky today because of the wide variety of quirky products available. This swing is made with bird-safe materials and is suitable for finches, cockatiels, conures, budgies and canaries.
Price: £9
Materials used to make the swing:
Leather
Wood
Stainless steel
Visit Fur Feathers and Family to view the swing
Gifts for wild birds
Bird Feeder Hamper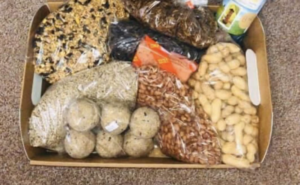 The box of goodies comes in a reusable tray. The hamper contains lots of food that birds will love on Christmas morning!
Price: £10
Hamper contents:
Wild bird seed
Niger seeds
Sunflower hearts
Sunflower seeds
Fatballs
Peanuts
Bird feeder
Visit Doggie Doolittles to view the contents of the hamper.
Gifts for hedgehogs
Soft fleece foraging strips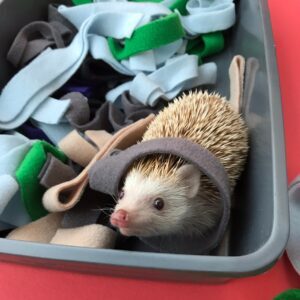 I love the idea of these soft fleece strips for hedgehogs, and like sellers here, they own animals they make gifts for. The strips are between 1.5cm to 2cm wide and can be used for bedding, hiding, foraging, playing, nesting, burrowing, or digging boxes. The strips come in various colours, are environmentally friendly, have different lengths and are warm for the hogs.
The strips can be hand washed or put on a short wash of up to 30 degrees Celcius and must be air-dried, not tumble-dried.
They also make a wonderful Christmas gift donation to your local hedgehog charity.
Price: £2.50 to £5.50
Safety: The Hog House make these strips with hidden seams to ensure there aren't any loose threads that may catch around a hog's toes.
Bundle weights:
Visit The Hoghouse to take a look.
Porcelain hedgehog-shaped feeder dish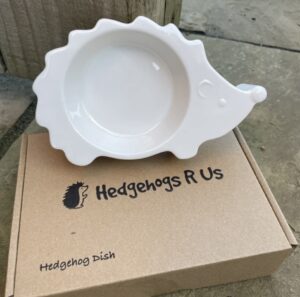 This white porcelain feeder is shaped like a hedgehog and can be used for food or water for nightly visitors. It comes with an information sheet about how you can help these creatures. The dish can be placed outside or in a hedgehog house. However, the listing does not say what temperatures it withstands.
Price: £5.50
Visit HedgehogsRus Shop to view this hedgehog feeder
Gifts for squirrels
Natural wood rustic squirrel house feeder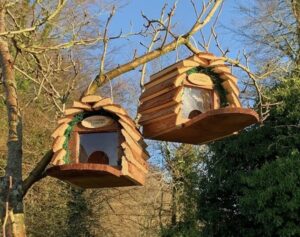 Made with natural wood in a rustic style with a transparent plexiglass front, you can see if your garden squirrels need a food top-up. At the rear of the house is access to fill with nuts and seeds. The overall size of the squirrel house feeder is 26cm x 17cm x 16cm, and it can be hung from a branch or garden wall with a strong loop supplied
Price: £8.99 to £16.99
Option to buy more than one:
One for £8.99
Two for £11.99
Three for £16.99
Visit We Love Gardening for this quirky squirrel feeder
Key Takeaways
Handmade
Personal touch
Gifts under £15 (exclude any applicable postage)
Poppys Pets is a participant in affiliate programs which compensates us for referring traffic. A selection of articles on this website contains affiliate links. Further information: Disclaimer and Privacy Policy
Poppy's Pets has a column in the Withernsea District and Community News, distributed to homes around the Holderness area