When we think about a pet-friendly holiday, we automatically think of dogs accompanying their owners on holiday. The younger generation is taking their cats on outdoor hiking adventures. This activity will not suit every feline as it depends on various aspects of your cat's personality. For example, every noise frightened my cat Tabitha (before she became deaf) so hiking was never a consideration. Tabitha loves her security. So, what should you consider taking your cat on an outdoor adventure?
It is important to consider your cat's overall well-being, emotional state, personality and age. A cat must be confident. There wouldn't be any point in taking a nervous and timid cat into the big outdoors because it would increase fear and stress levels. Can you imagine the panic your cat would experience? Is your cat's health okay, or does it suffer from joint problems? Is your cat young and fit enough because a senior cat from about 8 years of age will be slowing up a little and prefer home comforts more? Any older, and your cat will prefer sleep and may feel the cold more?
Knowing your cat:
Is my cat the right age to go hiking?
Will hiking suit my cat's personality?
How to train a cat to wear a harness
Finding the suitable travel carrier and backpack for your cat
Have you thought about the extra weight you will carry on a hike?
Is your cat healthy enough to hike?
What about a cat's toileting?
Before whisking your cat away on its first outdoor trip, you must consider the above. Your cat may react to new environments and unknown noises and sense predators, which may affect your cat emotionally. Or, through fear, your cat may take flight despite wearing a harness and lead.
Ensure your cat's microchip details are current, and include a secondary contact – Pet Database offer a FREE service, whereas others charge over £20 or a monthly subscription.
What should you consider thinking about and buying for short or long hiking trip with your cat?
1: Is my cat the right age to go hiking?
Your older cat may adapt to short hiking adventures, but some are stuck in their ways. A healthy younger cat will manage a two-mile walk, but an older cat may struggle. A senior will prefer to sleep more than go on epic hikes.
The cold will be a problem for a cat of any age, and in winter, the temperature danger point for cats is 45 degrees Fahrenheit (7.22 degrees Celsius), and a cat can suffer from hypothermia or frostbite.
Hot weather is a health hazard for a cat – namely, heatstroke. I do recommend learning about first aid for pets and carrying a kit. YouTube has a wealth of information; quite often, you will find a channel by a vet.
2: Will hiking suit my cat's personality?
The big outdoors will not suit every cat. Cats have different personalities from humans, so observe your feline's behaviour at home. My cats display different characteristics – irritability, nerves, shyness, being too confident or laid back, and my eldest has health issues. A confident cat, Dixie would have loved outdoor hiking trips, but the concern was her over-confident behaviour landing her in trouble.
My other cats would not have coped with new environments, different sounds, sudden loud noises, and dogs. They were, and are, cats that preferred their comfort zone.
If young and adventurous, a kitten may be the obvious choice because, at that age, a feline can be introduced at a young age and will absorb learning. Start training at eight weeks, and introduce it to a harness and a safety collar with an identity tag. A kitten will be playful at first. Never let your kitten outside alone as they won't understand the dangers, so carry them initially until it grows accustomed to strange noises and scent. Patience is the key too. Training a cat to adapt can take weeks or months, and there isn't a guarantee of success. It is up to your cat.
By all means, test your older cat as you may find it embraces new territories, wears a harness, uses a litter tray on long journeys, is calm in a travel carrier and welcomes a snooze in a carrier backpack as you trek.
3: Training a cat to wear a harness
We have already suggested that a kitten is the best age to start harness training.
The video below shows two cat owners attempting to harness their older cats and take them for a walk and the narration is from a behaviourist.
He says:
A cat will freeze when you put a harness on, so practise at home for as long as it takes
Work with your cat if you want your kitty to do something, but you must trick them!
Watch the Video: People Try Walking Their Cats
Below are steps for introducing your older cat to a harness:
Introduce the harness slowly and quietly. Lay the harness beside your cat so it can sniff it and get used to having it near
Never force your cat into wearing a harness too soon. You will face constant resistance
Remember, the older your cat is, the less tolerate it will be of changes or being made to do something it does not want to do
Lay the harness across your cat's body for a few seconds, then remove
Clip and unclip the harness near your cat so it grows accustomed to the sound
Eventually, try slipping your cat's leg through the leg section on the harness
When you can dress your cat fully in the harness, try before dinner so your cat's attention is diverted by food
Reward with treats
If obvious your cat is uncomfortable, please stop to avoid stress, anxiety and overgrooming. It may be the wrong activity for your older cat.
I recommend this sturdy Anlitent Soft Mesh escape-proof harness and lead. The lead attaches to an O/D ring, and I would attach another identification tag here too.
4: Finding the right travel carrier and backpack for your cat
Your older cat may associate a carrier with a trip to the veterinary practice!
For holiday travel, choose a solid carrier that can be secured with a seat beat in the car. This is important in the event of a traffic collision.
You will need a carrier backpack for hiking trips too. Your cat will tire and will need rest periods until re-energised. The backpack will strap across your back, making transportation easier instead of carrying your cat in your arms. I recommend the Percute because it has a pop-out back giving your cat extra space during your rest periods.
You will need to train your cat to use the carrier that has positive results in the end. I recommend using treats or carrying your cat before dinner and taking it to the spot where his food awaits.
Does your cat suffer from travel sickness or anxiety when inside the carrier? My Molly would vomit and poo minutes into a journey to the vet. So test your cat with positive results. Even so, pack a bag of wipes, handroll and pet-safe disinfectant to clean a litter tray, carrier, or car. or home. I use Safe 4 brand which RSPCA West Norfolk use in their cattery.
5: Have you thought of the extras you will carry on a hike?
We have already mentioned you wearing a backpack and transporting a tired cat.
The average weight of an adult cat will be between 3.5k and 4kg so you need to be physically fit to hike wearing a backpack with your cat inside and any other items you carry—for example, water and food for you both. Don't forget, your cat will need to be hydrated and fed too. The ground you are hiking on may be inclined and the distance may be a mile or so before your cat is ready to walk again.
For example:
Travel food bag (the kibble will sweat in a plastic bag)
Travel water bottle and bowl (please invest in a decent bottle to avoid leakage)
Collapsible bowl if the travel water bottle does not include a bowl. (buy from Poundstretcher for £1.99)
Sun lotion for pets (to prevent sunburn and cancer in white cats, thin coat, nose, ears)
Related articles:
6: Is your cat healthy enough to hike?
If you have a cat with heart issues, sore joints or arthritis, dementia, etc, then no. Your vet would best advise you from a health point of view.
It is vital to research the nearest veterinary practice is in case required.
Emergencies can happen. You may lose your mobile signal if hiking in certain areas within the U.K.. For example, the North York Moors. Please read this camping article about 7 tips for getting a mobile phone signal.
Never allow your cat to drink from a river or stream because of waterborne diseases. Freshwater is the safest.
Make sure your cat is fully vaccinated against diseases it might contract. This includes worming and tick treatment. I recommend you buy preventative medicine from your vet instead of cheaper products sold in a supermarket. Tabitha has Bravecto flea treatment, which lasts three months. Stronghold includes flea, worming and ticks Drontal and Milbemax are recommended for ticks and worms. If your feline is under the Pet Health Care Club, these are included in the scheme.
7: What about a cat's toileting?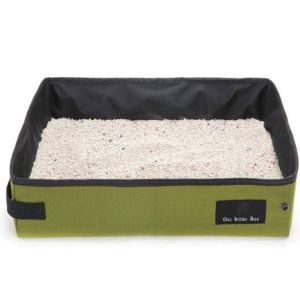 If travelling long distances, you must put a litter tray in the car for your cat to the toilet during rest stops. If staying in a cat-friendly hotel or self-catering, I recommend the Hi Suyi because it is a foldable and waterproof litter tray. Line it with litter liners or puppy pads first. Remember to take note of liner size before you purchase any.
Allow your cat to toilet naturally outdoors but pick up the faeces using poo bags.
8: Invest in a cat tracker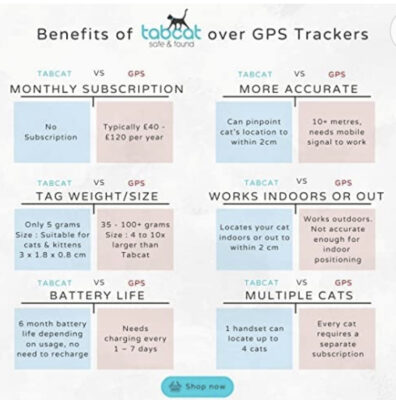 TabCat uses radio frequency to send and receive information between a credit car-sized handset and a 5g homing tag. Compared to a GPS Tractive's cat tracker weighing 25g, it is much lighter for a cat to wear.
The TabCat handset is directional and locates a cat between 600 feet (182m) to 1″ (2.5cm), but it doesn't operate with an app, giving location history or real-time. So if hiking with your cat, the Tractive may be the better option.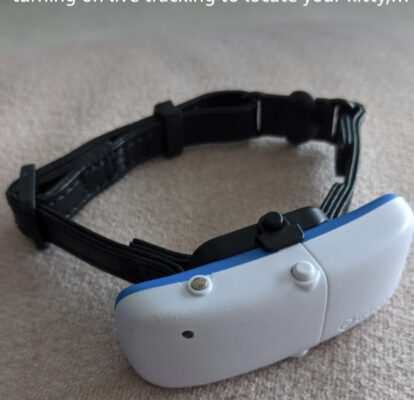 The problem with GPS Tractive is the limitation of tracking in dense areas, such as woodland, because there needs to be a clear line from the tracker up to the sky. In this case, switching to Bluetooth is an option, but it still means your mobile much be near the tracker.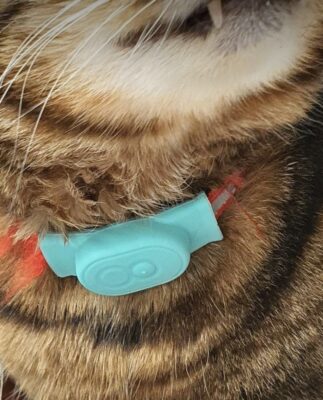 Please follow me on social media
Poppys Pets is a participant in affiliate programs which compensates us for referring traffic. A selection of articles on this website contains affiliate links. Further information: Disclaimer and Privacy Policy