If you are a pet owner, you will understand that cats have a mind of their own and are curious creatures. A cat will often disappear for hours on end and happily ignore recall, and unfortunately, there are dangers about too – shut-in sheds, outbuildings, and the roads. Reading the reviews, owners have purchased Tractive after their missing cat returned home.
With additional benefits, the Tractive GPS Mini CAT tracker uses mobile networks to track your cat's location. Tractive Mini Cat Tracker has a selection of features:
Real-Time
Virtual fence – alerts an owner their cat has strayed outside the virtual perimeter
Location history
Family sharing – includes access for your cat sitter
Power Saving Zone that detects WiFi at home
It is simple to use
The tracker fits the collar and receives data from GPS satellites and a mobile phone connection
The benefits are accessed via an app from Google Play, Apple, or a website
Overall, it brings peace of mind about a cat's location too
We shall look at its limitations too.
Contents for option 1 include:
Mini CAT Tracker (55 x 28 x 17mm and fits a 2cm width collar)
Waterproof rubber sleeve
Charger
Easy set up video
Contents for option 2 include:
Rogz AlleyCat Safety Collar
Waterproof rubber sleeve
Charger
Easy set up video
Also available is the GPS Tracker for Dogs.
What are the benefits of using Tractive GPS Mini CAT?
Tractive offers two plans – BASIC and PREMIUM. The premium plan has additional offers, and you can opt for Tractive Care to replace a lost, damaged or stolen tracker. Both the Basic and Premium plans list the monthly cost, but the subscription charge is payable annually, giving more flexibility in putting cash aside throughout the year. The cost applies because it uses cellular technology.
Smartphone & Website – Tractive is available as an app, and a Smartphone is required to use this method. Or Tractive can be used in a web browser at www.my.tractive.com
Virtual Fence – create up to five safe zones as a circle, rectangle or custom shape, and place the shape in the desired locations. Tractive sends a real-time alert if a cat leaves or enters the safe zone. Of course, we all have a fear of road accidents and if the app sends a notification that a cat has wandered outside the fence towards a road, at least the owner can go to that area. However, an owner may not be able to prevent an RTA, but a cat's body can be recovered because of the tracker. Personally, if a home is too near a road, cat-proofing the garden may be the better option
Rectangle 100 x 100m radius
Custom shape
Circular 50m radius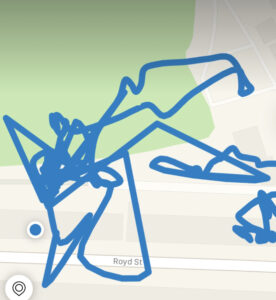 Location Historial data – reveals your cat's habits, behaviours, and movements and gives a map showing new or regular territories visited. Combined with the wellness feature, it gives an idea of sleep time and locations away from home. Updates are every 2 minutes to 60 minutes.
Real-time – see where your cat is every 2 to 3 seconds with unlimited live tracking
Wellness Monitoring (health & well-being) – learn about your cat's sleep pattern, calories, activity levels, and wellness score and join the leaderboard
This gives the option to monitor a cat's health, particularly for accessing the sleep patterns of a stressed feline or the activity levels and calories of an overweight cat.
Sleep duration
High, medium, and low sleep depth
Day or night sleep patterns
Relaxed sleep
Activity & sleep (eg 'good')
Time spent active (eg 67 mins)
Calories spent during that day
Power Safe Zone – At home, this feature allows you to connect to WiFi with automatic detection. If a cat is wearing the tracker at home, hiding or has a low GPS signal, it detects the tracker. And this features reserves battery life
Waterproof – 100% waterproof, so ideal during rainfall. However, a customer states that as the technical details section says IPX7 waterproof standard, the device is waterproof for about 30 minutes at a 2-foot depth.
Light & Sound – If you are trying to find a cat in the dark, the light and sound option can help you find your cat
Bluetooth – Use in areas with poor mobile or GPS coverage
Connectivity – GPS, 2G (mobile) & LTE/4G (actually 3.95g)
Accuracy – Average accuracy is approximately 8 meters using GPS signals.
"Signal readings are in real time, location on map precise 99% of the time. And this 1% that are not precise we are talking in terms of a few metres, and we believe that is only because Google maps and it's photos are not so precise."

Ivana – Tractive customer
Find Nearby Mode – Uses Bluetooth to find a cat indoors, especially if hiding or low GPS signal
Unlimited sharing with Family – This feature allows joint tracking, so ideal for a cat sitter or family member looking after a cat too
Mobile phone app – Download the app from Google Play or the Apple Store to use the features
Built-in SIM – The SIM uses mobile networks the same as a mobile
Worldwide – Has unlimited range in 175+ countries (May 2023). For example, the United States of America. I recommend checking with a provider about mobile coverage overseas and any costs
Free Tracker – Tractive will despatch a new device under an additional monthly premium if the tracker is lost, damaged or stolen
Tractive Care Package –
| Plan Chosen | Cost |
| --- | --- |
| Monthly | £2 billed per month |
| 1 Year Plan | £2 per month billed as £24 annually |
| 2 Year Plan | £2 per month billed as £48 every 2 years |
| 5 Year Plan | £2 per month billed as £60 every 5 years |
Data: May 2023
Alexa – Access Tractive in the Skills & Games section and enable use
Dementia – Having a cat with dementia, a tracker is favourable for an indoor cat and one in a cat-proof garden, but I feel the 25g tracker would cause confusion and anxiety
Escaped indoor cats – If trackers had been invented years ago, I would have purchased them. It would have saved the heartache of losing Joey for eight weeks, and I would have found Sam too. The other benefit is car accidents – we often hear of pets escaping during road accidents, so with a tracker fitted during journeys, it helps locate a frightened feline
Your personal data – Tractive confirms they do not collect user data
Are there any limitations to using Tractive GPS Mini CAT tracker?
Virtual Fence – Ensure a custom shape virtual fence isn't too small because, as with any GPS device, coordinates may fall in or out of the fence and not give accuracy if your cat has left the virtual fence. For peace of mind, Tractive will tell you if a custom fence is too small
Bluetooth – switch Bluetooth off when not in use as it drains a battery
GPS Signals – The tracker needs a clear line of sight to the sky without obstruction.
GPS Signal issues – The tracker is less effective in dense woodland areas, indoors (use Power Saving Zone and connect with WiFi), build-up areas and tall buildings because there isn't a clear line to the sky, and it cannot receive data. Therefore, switch on Bluetooth, and the tracker will update its position but a mobile needs to be near the tracker
Lost collar – Cats are known for losing their collar because they climb and are inquisitive. From a safety point of view, a cat must wear a quick-release safety collar as it can easily hang itself with a buckle collar. However, an expensive tracker can be lost if all methods of searching fail
Easy to Remove – As with TabCat, a thief can easily remove the tracker from the collar
Kittens – It is too big and heavy for a kitten; TabCat may be suitable at 5g to 6g
Tracker Weight – Tractive tracker weighs 25g, equivalent to most metal teaspoons, so consider if a pet would be happy carrying excess weight. TabCat weighs 5g to 6g, so less intrusive
'No service' – Up on the North Yorkshire Moors, there isn't a mobile phone signal but likely there is a clear line to a satellite. Bluetooth may help but otherwise may cause issues if hiking or holidaying with a cat or dog in other areas. For the safety of a dog or hiking cat, keep on a lead, especially in sheep-roaming areas
Articles by Pitchup Outdoors:
Why is Tractive GPS Mini CAT tracker better than TabCat?
Tractive GPS Mini CAT tracker for cats is cheaper than TabCat regarding the initial cost. However, because Tractive uses GPS technology, a monthly subscription fee applies, similar to a mobile phone contract. TabCat uses radio technology and doesn't need a subscription.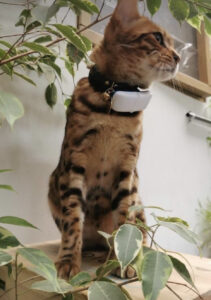 It depends on what your preferences are. Tractive can offer more in-depth knowledge about your cat in terms of the wellness feature, and it gives the option of knowing where a cat is in real-time, and at least with the virtual fence, you will know if a cat has wandered into an area signifying danger. But if you want a device to take you to your cat without relying on satellite signals, then TabCat is the better option.
Can GPS Mini Cat trackers be used to prevent cat theft?
GPS cat (or dog) trackers cannot prevent cat theft because thieves will remove a tracker or collar. However, you can see where a pet's last location was. Tractive sends updates every two to sixty minutes with exact locations but gives a thief adequate time to leave the area.
How much is Tractive Mini CAT Tracker?
Below are the prices for both Tractive Mini CAT tracker plans.
| Basic Plan | Price |
| --- | --- |
| Monthly | £12 billed monthly |
| 1 Year | £6 per month billed as £72 annually |
| 2 Years | £4.50 per month billed as £108 annually |
Data – May 2023
The Basic plan includes the following:
Regular location updates every 2 to 60 minutes
Unlimited LIVE tracking
updates every 2 to 3 seconds
Activity & Sleep with Wellness features
The Premium plan includes the following:
| Premium Plan | Price |
| --- | --- |
| Monthly | £7 per month billed as £84 annually |
| 2 Years | £5 per month billed as £120 every 2 years |
| 5 Years | £4 per month billed as £240 every 5 years |
Regular location updates every 2 to 60 minutes
Unlimited LIVE tracking
updates every 2 to 3 seconds
Activity & Sleep with Wellness features
Unlimited family sharing / tracking
(including a cat sitter)
Worldwide coverage in 175+ countries
365 day location history
GPS data export
Data – May 2023
Related articles:
Is there any form of privacy concerns associated with a GPS cat tracker?
Tractive confirm they do not collect data and use GPS signals combined with device connections.
However, we know hackers can intercept anything transmitted over the internet, and a cat's movements and activity could be targeted for advertising. The other concern is if your cat is a high-value pedigree and can be bred from or sold for profit.
Can GPS cat trackers help with any feline behaviour issues?
The Tractive Mini CAT Tracker is not a substitute for behavioural training or other interventions.
It provides information on activity levels and movements to identify if a cat is getting enough exercise. It may be handy if an overweight cat frequently visits another home and suggests extra feeding.
A neighbour may accuse your cat of feline bullying, and with the help of the location map, it can identify if a cat is visiting a specific location.
And a funny one – a cat visits my Mum's garden and leaves clothing items on her doorstep. So if your cat is stealing clothing and leaving them on your doorstep, the location history could show you where your cat visited.
The sleep phase feature benefits older and anxious cats because it can reveal a relaxed or light nap.
Key takeaways:
30-day money-back guarantee
Subscription can be cancelled any time
Access features using an app on a Smartphone or web browser
Virtual fence – receive alerts if kitty leaves a designated area
Peace of mind that a cat sitter can monitor your cat when you are away
Wellness – monitoring your cat's health
Poppys Pets is a participant in affiliate programs which compensates us for referring traffic. A selection of articles on this website contains affiliate links. Further information: Disclaimer and Privacy Policy
Poppy's Pets has a pet column in an East Yorkshire newspaper