As cat owners, we know how worrying it is when our feline companions are out of sight in the great outdoors. Equally concerning is whether a cat will get shut in a shed, garage or outbuilding as Spring and Summer arrive. After all, some cats love to roam, while others stay close to home or indoors. Either way, keeping track of your feline's movements for safety and peace of mind is important. One option is the TabCat cat tracker, which uses radio frequency technology instead of mobile networks to help locate your cat indoors or outdoors.
Unlike GPS trackers, which have a built-in SIM and rely on GPS satellites and mobile networks to transmit location updates, TabCat uses radio frequency to locate a cat within a range of 600 feet away using version 2. It operates with a lightweight homing tag attached to a cat's collar, and for multi-cat households, four tags can be assigned to one handset. A credit card size handset (the radio frequency receiver) gives audio and visual directions to locate a feline as close as 2.5cm (1″).
TabCat is suitable worldwide and designed to track a cat. Customers have also bought TabCat for their rabbits and small dog. This makes TabCat ideal if holidaying abroad with your dog.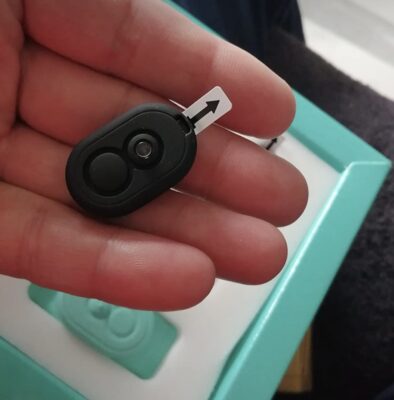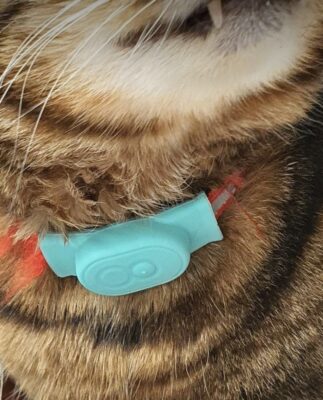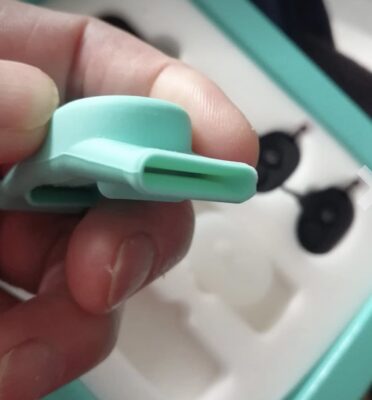 What are the benefits of a cat tracker using radio frequency?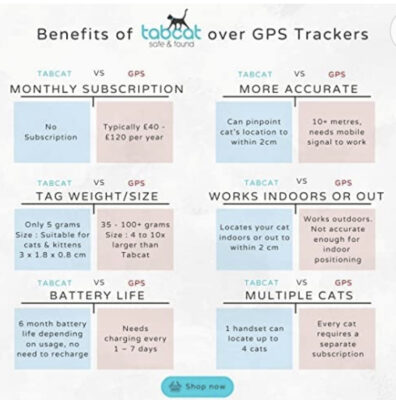 The main benefit is TabCat does not rely on GPS satellites or signals, mobile networks, apps, or need built-in Sim cards like GPS trackers, which means the radio frequencies are less likely to lose a signal. And if you do not own a Smartphone, or older mobile, it doesn't matter because you do not need one to use TabCat.
The handset is directional, so if a cat is shut in somewhere, it will lead you to its location within 1″ (2.5cm), which is a significant plus if trapped in a building.
The handset and homing tag use flat circular batteries:
Handset 1 x CR2032
Homing tag 2 x SR1130 or equivalent
These can be purchased from The Factory Shop, eBay, Poundstretcher etc, although advisable to pay a little more for Duracell instead of cheaper brands. The battery life depends on how often the devices are being used.
The devices can be used to train a cat to return home by pressing the 'locate' button on the handset, which gives a tiny bleep on the homing tag. Tabcat recommends first training a cat at home with treats and dinner; when successful, repeat outdoors.
Customer review – "Our cat soon learned the buzzing means we are looking for her and she comes running. A treat reinforces good behaviour."

Crusty Camper – TabCat customer
The signal functions through walls and doors.
TabCat can be used worldwide because it works on the 2.45GHz frequency and is worthwhile buying if going abroad.
TabCat has issued version 2, and whilst not compatible with version 1, the range has increased to 600 feet.
Customer review – "This cat tracker is really good and works up to 500 feet away as long as there are not too many fences in between gardens as this can block the signal. You have to point the device (handset) upwards over the fence and the beep takes you right to where your pet may be."

Gary – TabCat customer
Tabitha is 16 now, blind and deaf, and outdoor time is supervised. The TabCat is ideal for indoors cats with dementia and those with outdoor time in a secure garden. Had the product been available several years ago, I would have purchased it for my senior cat Albert because of his dementia.
What are the limitations of a cat tracker using radio frequency?
Whilst radio frequency can find a cat, the handset will not show you where your cat explores in real-time, its territory, or location history.
An example of limitations that GPS cat trackers offer:
TabCat is not available as a mobile app
You cannot see where your cat is exploring in real-time
You cannot see where they have been and where their territory is
It doesn't have Virtual fence warning alerts (receiving alerts if your cat wanders too far or near a road)
The other limitation is that the range is reduced if blocked by conductive materials (water and metal), which is tricky with radio frequency and may cause issues depending on your area or holiday location.
It is better to decide what you want from a cat tracker. TabCat is basic but successful, with thousands sold, but if you want more features, then the GPS cat tracker with a subscription is the next option. On the other hand, TabCat is affordable, and the handset will take you to your pet if in range.
Why is TabCat better than a GPS tracker?
Buying a cat tracker can be expensive and incur a monthly subscription to access all features, increasing the overall cost. TabCat is a one-off payment with homing tags for two or four cats making it even more cost-effective. Extra homing tags or new waterproof cases for the tags are available to purchase separately.
Initial bundles available:
The homing tag fits a collar and weighs 5g making it suitable for kittens, comfortable and less bulky compared to some GPS trackers weighing 25g.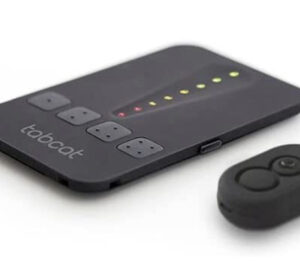 Related articles:
How does the handset and homing tag find my cat?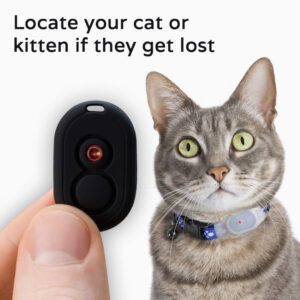 Customer review – "We bought this after losing our cat returned after being missing for three weeks….The transmitters are small and light so the cat doesn't notice it. We tried it three times and it works brilliantly. It tells you the direction (left-right and up-down) by the number of lights and the change in sound. This also changes according to the distance, so you know if the cat is moving. The collar transmitter buzzes and flashes when it's being tracked and this makes it easy to find the animal in the dark or if its hidden behind something. Our cat soon learned the buzzing means we are looking for her and she comes running. A treat reinforces good behaviour."
Crusty Camper – TabCat customer
Through radio frequency, it tracks by sending and receiving information between the handset and homing tag.
Spring and Summer can be dangerous for cats because they tend to get shut in sheds, garages and outbuildings. TabCat handset has a directional feature, meaning it can direct you to your cat's location by a series of colours and sound when it connects with the homing tag on your cat's collar. Again, a cat can be found in an outdoor building, a house, up a tree, or the place it runs in fright, a particular street or a hiding place indoors.
The colour system to locate a cat are:
Red: in range
Amber: getting closer
Green: guides you to your cat
Both can find a cat within the range of 1″ (2.5cm) to 600 feet (182m).
Can a cat tracker using radio frequency prevent cat theft?
Neither TabCat nor GPS cat trackers will prevent theft because thieves can remove the tag or collar. However, using the handset and homing tag will give a cat's last location.
Are there any privacy concerns using with cat trackers using radio frequency?
Cat trackers with radio frequency do not transmit data over the internet or by satellite, unlike GPS cat trackers, so there are fewer privacy concerns. I am waiting for a response from TabCat and will update you accordingly.
Key takeaways:
No subscription
30-day money back guarantee
One-off affordable payment
Given the hike in the cost of living, TabCat is preferable cost-wise, especially in a multi-cat home
Colours and audio on the handset direct you to your cat
Two lightweight homing tags per handset
Each handset can be assigned up to four homing tags
Silicone waterproof covers for the homing tag
Radio frequency is less likely to lose coverage and more accurate
Does not rely on mobile network coverage
Range is limited near water and metal, so consider your surroundings before buying
Even with our mobile trackers, networks and signals can be lost, and accuracy may not be 100%
Finds a cat in sheds, outbuildings, and garages within 2.5cm (1″)
You can find your cat's lost collar depending on the area
Poppys Pets is a participant in affiliate programs which compensates us for referring traffic. A selection of articles on this website contains affiliate links. Further information: Disclaimer and Privacy Policy
Poppy's Pets has a column in an East Yorkshire newspaper.