Dogs, cats, horses and birds have been known for their bravery, their ability to save others and for dogs, and their complete loyalty to their master. What can lead to a strong bond between the canine and the master? And secondly, what are the stories of devotion to them?
1: You are the first one in its life:
An example is our dog Teddy. Dave adopted him before I came along. He can be naughty but also well-behaved. Teddy knows I love and spoil him, but he plays me up on walks. For six months, it was just them two. Bonded with his master, Teddy (to this day), he always looks back for Dave when it's just him and me on a walk. And if we head down to the beach to say hello to Dave during a fishing session, Teddy won't leave. Dave is Teddy's master, who he wants to be with and is loyal to and will wait until Dave is ready to leave the beach.
2: The master gives shelter, warmth and food:
The person who gives food and everything that makes a canine happy, that dog will be loyal too.
3: The scent of their owner:
We have watched videos of dogs and owners being reunited. Visually, a dog never seems to recognise its owner. But when it approaches this person and sniffs, its positive emotions intensify because it realises this is its master.
4: Never lead a dog away from its owner:
I will use Teddy as an example again. Dave was fishing and Teddy accompanied him. He asked an acquaintance to hold Teddy's lead while he did fishing-related things! The acquaintance told Dave Teddy gave him an utter look of disapproval because he was holding the lead.
In the early days of our relationship, I would join them both on a walk. Dave and I would try and hold hands, but Teddy, a 63kg dog, would walk between us. I expect Teddy was telling me that Dave was his.
I love ready stories about an animal's dedication to someone. And those that save strangers or other animals through actions or alerting us to something wrong. So I thought I would write about animals in the U.K. that did just that.
Bobby – Skye Terrier from Edinburgh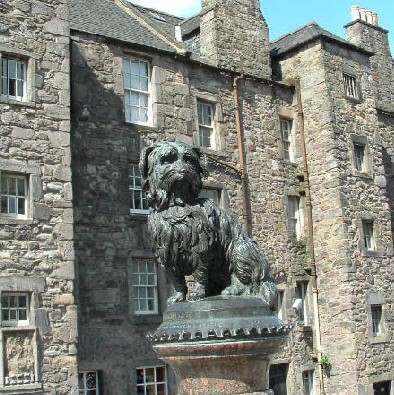 1858
We have heard of Greyfriars Bobby, the small toy that sat by his master's grave for years.
The terrier has been immortalised in so many films as a dog loyal to his master and is today, a symbol of that loyalty in Scotland. The stories are true but in books and films perhaps embellished slightly.
Although Jan Bondeson believes that Bobby and his loyalty are incorrect, he states that in the 19th century there were more than 60 documented accounts of cemetery dogs. These dogs were strays and fed by visitors and curators. Therefore, the graveyard became their home. In general, it is a known fact for any animal that if food is available, it will return regularly to the same place.
So what do we believe? I prefer the story of Greyfriars Bobby being loyal to John, his master, even after his death.
John Gray died on 15 February 1858 of tuberculosis and was buried at Greyfriars Kirkyard. He was a gardener who came to Edinburgh with his family and joined the Edinburgh City Police as a nightwatchman to avoid going to the workhouse. Around this time John looked after Bobby, and as it was known for nightwatchmen to have watchdogs, Bobby accompanied him.
It is understandable why Bobby spent every night by his master's grave until he died 14 years later on 14th January 1872. Professor Thomas Walley of the Edinburgh Veterinary College diagnosed cancer of the jaw. Bobby's resting place is Greyfriars Kirkyard, just inside the gates.
After John's death, Sir William Chambers, a director of the Scottish Society for Prevention of Cruelty to Animals, paid for a licence for Bobby and gave him a collar.
There is a commemorative statue of Bobby at the corner of Edinburgh's Candlemaker Row and George IV Bridge, and if you would like to see Bobby's collar, it is on view at the Museum of Edinburgh.
Heidi – Jack Russell Terrier – Scotland
2001
Heidi is recorded in history as guarding the body of her owner but very little information is available.
Both Heidi and her owner were out hiking in Scotland but he fell down a 500-foot drop. His faithful dog climbed down to reach her master's body and remained beside him. Two days later both were found.
Ruswarp – Border Collie – Welsh Mountains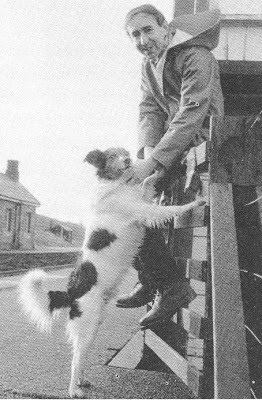 20th January 1990
Ruswarp and Graham were recognised as accompanying one another on rail line trips. His dog guarded his mother's body for weeks until both were found.
Graham Nuttall was a rail route enthusiast and both frequently walked together. Graham purchased a day-return ticket from Lancashire to Llandrindod and Ruswarp, his border collie, accompanied him. They walked in the Welsh Mountains, near Llandrindod Wells, but never returned home to Burnley.
Graham died close to a mountain stream and his body was discovered by a fellow hiker eleven weeks later. Ruswarp, aged 14, remained by his side enduring the Winter elements, and as weak and emaciated, he was carried down the mountain.
Ruswarp survived with veterinary treatment and was well enough to attend Graham's funeral. Graham was cremated and when his coffin disappeared from view, Ruswarp howled.
Sadly, Ruswarp died soon after Graham's funeral.
Garsdale rail station was a stop they made together and loved and here you will find a statue of Ruswarp on the southbound platform. And this will bring a lump to your throat; on the opposite side of the platform is a bench dedicated to his owner and Ruswarp looks across at it.
The RSPCA awarded Ruswarp the Medallion and Collar for Vigilance and the Animal Plaque for Intelligence and Courage.
Theo – English Springer Spaniel – British Army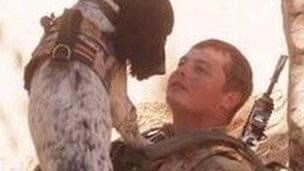 Died aged 22 months on 1st March 2011
Following his handler's death from gunfire, Theo died from a seizure but it is said he died of a broken heart.
Theo was in the Royal Army Veterinary Corps. 1st Military Working Dog Unit – Arms and Explosives Search Dog. Theo's job in the British Army was to search and find roadside bombs and anything bomb-related in Afghanistan. Lance Corporal Liam Tasker was his handler.
When Liam was killed by insurgents, Theo was taken to Camp Bastion, a British army airbase, where sadly he died soon after from a seizure despite veterinary intervention. Lance Corporal's body and Theo's ashes, were returned to England, and his family were presented with Theo's ashes in a private ceremony.
On 25th October 2012, Theo was awarded the PDSA Dickin Medal for bravery. The medal is the equivalent to the Victoria Cross and the highest award any animal can receive for life-saving achievement and bravery in conflict.
Jade – German Shepherd from Birmingham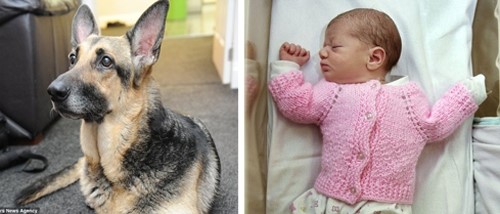 2013
This true story is slightly different. Jade saved a baby she had never met before.
Jade was being walked by her owner, Roger Wilday, and was leaving the park when his dog decided to head to bushes nearby. Suddenly she laid down and would not move.
Jade had found an abandoned newborn baby wrapped in a towel inside a bag in the park in Stechford, Birmingham. It is reported that the baby had been born that day.
That afternoon, the newborn was taken to Heartlands Hospital and named 'Jade' by hospital staff. Thanks to this dog, the baby survived.
Related Questions:
What is the PDSA Dicken Medal?
The PDSA Dicken Medal is a United Kingdon bravery award and the equivalent to the Victoria Cross.
PDSA charity (People's Dispensary for Sick Animals) was founded by Maria Dickin, as was the Dicken Medal for animals and birds serving for the British Empire armed forces or any civil defence (emergency) units.
It is a bronze medallion medal and within is a laurel wreath with the words 'For Gallantry' and 'We Also Serve'. The medal is attached to a short service ribbon with colours of striped pale blue, dark brown and green and pin.
The Dicken Medal was established in 1943; believe it or not, three Royal Air Force pigeons were awarded the medal first. The pigeons (White Vision, Winkie and Tyke) helped towards the recovery of an aircraft that came down. Quite remarkable for birds now considered vermin.
Even though the medal began in 1943, an honorary award was made in 2014 to all animals who served in World War One. As of February 2022, the Dicken Medal has been awarded 74 times (including the honorary award) and given to pigeons, horses, dogs and a cat.
Follow Poppy's Pets on Instagram & YouTube
Poppys Pets is a participant in affiliate programs which compensates us for referring traffic. A selection of articles on this website contains affiliate links. Further information: Disclaimer and Privacy Policy