Nestled in the North Cambridgeshire countryside, family-run Grey Fern Park has become a renowned equestrian centre attracting riders from around the UK. With its state-of-the-art facilities and welcoming atmosphere, Grey Fern Park offers a prime venue for riders to compete in Show Jumping, Dressage, and Showing disciplines. Competitors seeking a memorable and challenging experience are invited to enter upcoming competitions between April and October.
Grey Fern Park Equestrian Venue will appear in the Withernsea District & Community News in July
Grey Fern Park, located in Eastrea, near Peterborough, has established itself as a premier equestrian destination since its inception. Offering outstanding facilities and amenities, this centre has become a magnet for riders seeking top-notch competition opportunities. It boasts a sprawling 40m x 80m all-weather arena, equipped with floodlights, and ensures optimal conditions for riders and their equine partners. Riders can access twelve show jumps, allowing customized course configurations. These exceptional facilities create an environment that encourages riders to push their limits and showcase their skills.
The equestrian centre is also a British Horse Society-approved livery yard:
Liveries can book the arena for private lessons in the 40m x 80m arena
12′ x 12′ modern stables
All year turnout
26 acres of grazing
Miles of off-road hacking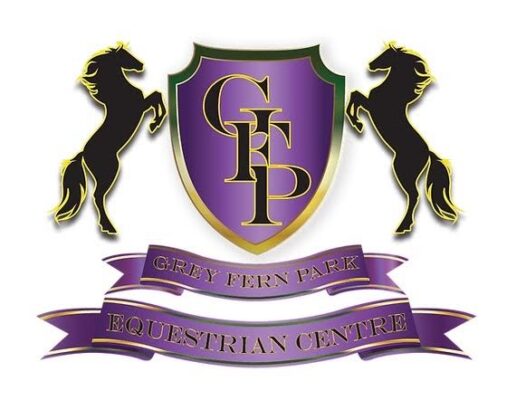 Disciplines: Showing, Show Jumping & Dressage
The three disciplines offer a well-rounded showcase of rider and horse abilities, ensuring a captivating and diverse competition experience for all participants and spectators. A warm-up ring is available before competing.
Having visited Grey Fern Park in May, I found the staff friendly, approachable and upbeat, and the riders a chatty community. Jodie explained how they'd love more 'newbies' to join them this season or in the future. View the 2023 season.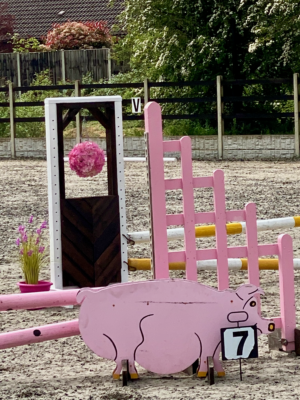 Showing: In showing, riders present their horses or ponies to both a qualified in-hand judge, and a ridden judge to highlight conformation, how the horse looks and runs.
Show jumping: Enthusiasts can tackle challenging courses with an exciting combination of fences and a variety of fillers depending on class level, and in turn, testing their accuracy and speed.
Dressage: Entrants can display their harmonious partnership with their equine partners through precise and intricate movements executed with grace and finesse.
Grey Fern Park has an exceptional reputation. The centre continues with its success of national entries from all around the UK. A shared passion among participants creates a sense of community, making each competition an event to remember and the opportunity to advance to a national level. It allows competing against riders of varying skill levels, and by accumulating points, riders attend the Grey Fern Park's Awards Evening in December, of which two trophies will be presented.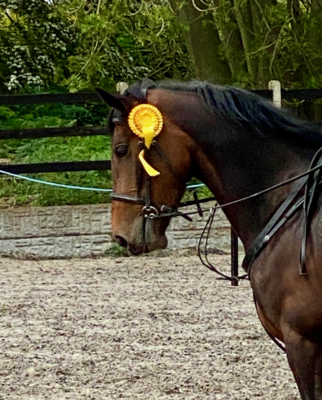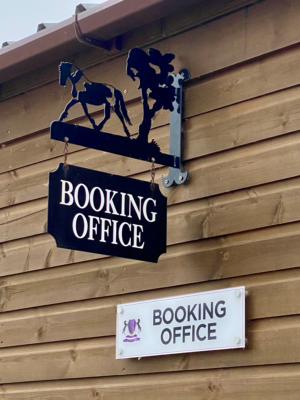 Grey Fern Park invites you to register for upcoming competitions using Equo Events. Alternatively, showing and show jumping events can be entered on the day.
Showing: £11 pre-entry or £12 on the day
Show Jumping: £12 pre-entry or £14 on the day
Dressage: £14 pre-entry only
The centre has an equipped warm-up field for entrants to use before the event, with plans for a second field because of the growing popularity of the disciplines.
Event enquiries: 07703 290923
Clinics with external elite instructors
The venue offers clinics with professional external instructors. Ben Hobday is Great Britain's top international eventer, and Stephen Pool is a qualified British dressage coach. Follow Grey Fern Park on Facebook for posts on various clinics throughout the year.
Book your Show Jumping Clinic with Bob Hobday on 17th July 2023
Book your Dressage session with Stephen Pool on 22nd June, 7th July, 15th July, 28th July 2023
Equine passports showing the latest vaccinations
It is legally required to carry a passport when travelling with your horse or pony, competing, or stabling.
The document will list all up-to-date vaccinations and must be shown before competing at Grey Fern Park Equestrian Centre. This policy is for the safety of your horse or pony, others, and the venue.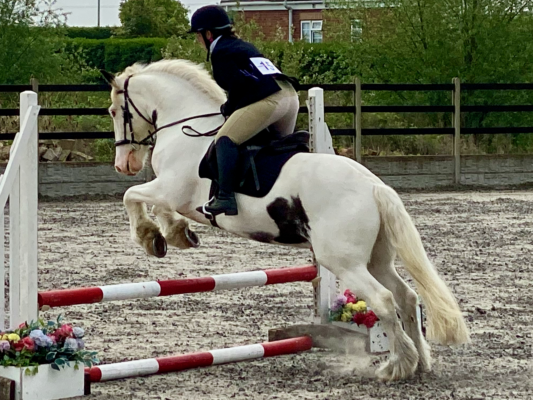 The contents of a passport include:
Breed, colour and species
Lists every vaccination, including Strangles
Name of the registered owner
Free Parking for entrants at Grey Fern Park
Riders are invited to arrive with their horse on the day of events as the centre does not have quarantine facilities for overnight stabling. Free parking is available, providing enough room for lorries and trailers.
Dogs and spectators & parking
To find Grey Fern Park, you'll see signage opposite the entrance along Coates Road. The grey entrance gate is closed for the safety of horses but opens easily; it is essential to close it after driving or walking in. To the left is a free car park and a short distance further on, the arena, log cabin tearoom, warm-up ring, stables, and booking office.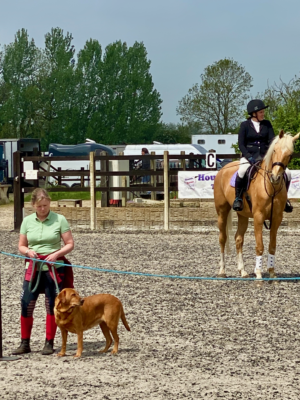 Well-behaved dogs on leads are welcome during competition weekends but Grey Fern Park asks owners not to leave dogs in vehicles or lorries, and during intense heat, recommends dogs are left at home to prevent health issues.
Grey Fern Park would love to see more spectators at its events. The opportunity to watch events is free unless a specific clinic. For example, a charge of £5 for spectators is applicable at clinics with Bob Hobday so refer to Facebook and Equo Events for updates.
Seating runs alongside the area with a lawned area for visitors to lay out a blanket or camping chairs – we found it relaxing and peaceful with ample sight of the arena and competitors.
The Grey Fern Park Loyalty Scheme card
One thing I love is the idea of a loyalty card. Every class entered gets you a loyalty stamp and by completing the card with ten stamps, the rider is awarded a free class.
Refreshments in the log cabin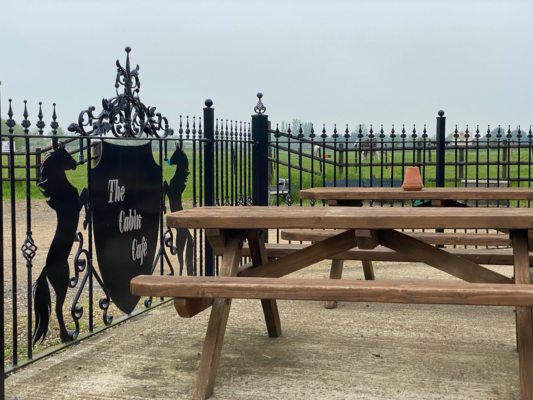 Barbara runs the Grey Fern Park log cabin tearoom, with a selection of snacks and cold and hot drinks with the choice of sitting indoors or using its outdoor private terrace.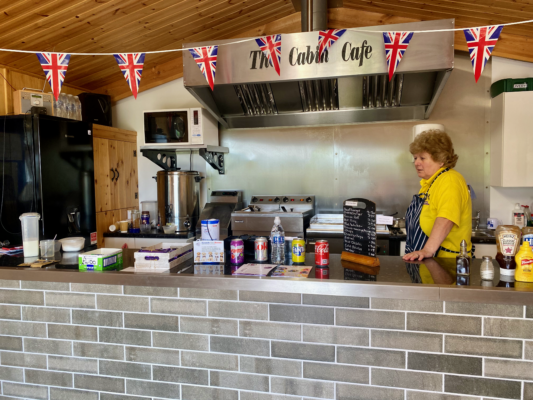 Get in touch with Grey Fern Park Equestrian Centre
Grey Fern Park attracts clients from all over the UK with its top-tier facilities, range of disciplines, annual award ceremony, livery, acres of grazing land and stables, and equine security. The atmosphere is relaxed, friendly and welcoming, and in a quiet countryside location.
And the Tack Sale is back at the centre, starting on 2nd June 2023, the first Friday of every month.
You'll meet Jodie at weekends; she can assist with more information about upcoming competitions.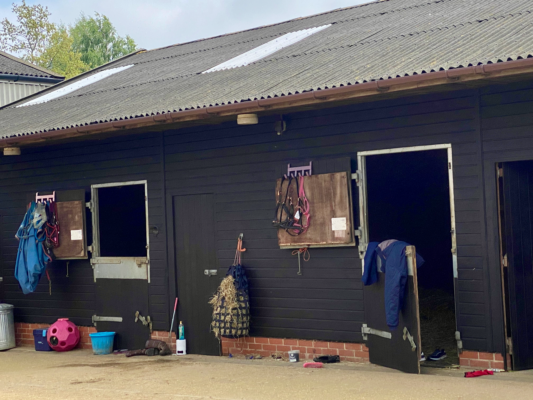 Event enquiries: 07703 290923
Email: greyfernpark22@gmail.com
Livery daytime: 07930 356308
Evenings: 01733 206679
Address: 117 Coates Road, Eastrea, Whittlesey, Peterborough, PE7 2BD
Website: www.greyfernpark.co.uk
Key takeaways
Friendly venue
Free parking
External instructors are professionals
Competitions for varying skill levels
Monthly tack sale
Livery facilities
Active Facebook
Log cabin tearoom with private terrace
Related questions
Is Grey Fern Park a riding school?
Grey Fern Park is a livery and venue for competitive events between April and October. However, private lessons are available with external instructors as clinics.
Are clinics for one rider only?
Sometimes group bookings are available, generally up to four riders depending on the external instructor.
Are there annual trophies for competing in events?
Riders accumulate points throughout the year in dressage and show jumping. In December, Grey Fern Park has an award ceremony with two trophies awarded.
I've heard there may be a country show at Grey Fern Park?
Grey Fern Park held its first Party at the Park for children and plans for more.
Yes, there are plans for a traditional country show in the future for visitors, including families, to watch. Each show will last for 30 to 45 minutes throughout the day.
Medieval Jousting
Shows
Country & western
Tractors
Vaulting with horse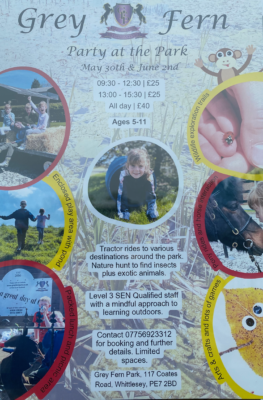 Poppys Pets is a participant in affiliate programs which compensates us for referring traffic. A selection of articles on this website contains affiliate links. Further information: Disclaimer and Privacy Policy
Poppy's Pets has a pet niche column in the Withernsea & District Community News
Recent Posts