I'm constantly exploring different ways to gather funds to cover my pet's medical bills, particularly as they grow older and vet expenses rise. Sometimes, pets might need specialised food, like Tabitha, who requires Royal Canin Anallergenic dry biscuits. To assist others facing similar situations, I've put together a collection of strategies that have proven helpful in my journey.
How can I raise money to pay for pet expenses?
There are ways to earn cash to pay for goods or contribute towards services or items. The 1p challenge may prove difficult during the living crisis, but implementing the idea for at least three months raises some cash.
Below are the systems I use.
Shopping list:
Real-life experience
The last five years, like for many, have been full of abrupt changes and worrying circumstances from redundancies from Covid and the cost of living crisis to being in a domestic abuse relationship and financies controlled. My geriatric cat Tabitha was diagnosed with hypertension in March 2022 and combined with being a timid and stressed cat, to increased veterinary costs, finding ways to generate an income was essential. Then, moving location in hours and starting again had another impact. Since July 2023 I have had an income again, but I continue to find ways to generate an income and find free products.
1: Open a Premium Bond account for tax-free savings
Winnings are tax-free.
Do not bulk buy premium bonds. Instead, purchase bonds on different days to receive a different range of bond numbers. For example, if I had £50, I would purchase £25 one day and £25 another day.
Here is some information in brief:
Opening an account is easy
Prizes start from £25 and can be reinvested or transferred to your nominated bank account
Top prize is £1,000,000
You do not accrue interest on bonds and winnings are tax-free
Download NS&I's Prize Check app from your Google or Apple store. Check if you have won around the 3rd of each month. You log onto the app using your chosen PIN
Bonds can be purchased online, by post or telephone, or a standing order
Withdrawal from bonds to your bank account is easy and takes about 3 days to transfer
There is a withdrawal cut-off at the end of the month because of the draw
Also available for children under 16
For more information about NS&I Premium Bonds or to open an account, visit their website.
My winnings in 2022 and 2023:
| 2022 | Amount won |
| --- | --- |
| January | £25 |
| June | £75 |
| July | £125 |
| August | £125 |
| September | £50 |
| November | £50 |
| December | £75 |
| | Total £430 |
| 2023 | Amount won |
| --- | --- |
| January | £50 |
| February | £25 |
| March | £50 |
| April | £75 |
| May | £25 |
| June | £50 |
| July | £50 |
| August | £50 |
| September | £300 |
| October | £150 |
| | Total £825 |
Winnings to Oct 2023 only
2: Buy a prescription from your vet
In the past, I've taken in or provided temporary care for animals in need, many of whom had health issues requiring medications that only a licensed veterinarian can provide. I faced the choice of procuring these medications from a local veterinary clinic at a significant expense or opting for a more budget-friendly approach by ordering them through a reputable online pet pharmacy.
Veterinary practices aren't regulated so prices range dramatically. In 2022, in Yorkshire, I paid £28 for a prescription. In 2023, in Cambridgeshire, I registered Tabitha with an independent veterinary practice and a prescription costs £15.
A vet must legally allow you to buy a prescription but your pet must have regular checkups. This might be every 6 to 12 months and is in your pet's best interest. I suggest requesting 6 months of medication, or 3 at the minimum.
The next stage is researching the best online pet pharmacy to buy from. Your choice must be accredited and listed on the Veterinary Medicines Directorate.
Once you select a retailer, upload the prescription. One point to remember is it's one prescription per retailer. You can order as much medication as you want to even out costs over three or six months. Just ensure your order is over the minimum for free delivery.
Remember, medication and prescriptions have an expiry date.
VioVet is one approved retailer where you can buy medication with a prescription.
Read more about prescription-only form and see an image of Molly's prescription.
3: Pet Health Club: reduce costs for boosters, worming, flea treatment and more
You pay a monthly fee for your cat, dog or rabbit. Pet Health Care is not insurance.
I paid £13.50 monthly for Tabitha, which has increased by £1 since 2019. If you join, ask about discounts for additional pets. However, Tabitha is now registered with an independent vet and they have their own pet health care package.
Pet Health Care November 2023 prices:
| Animal | Plan cost per month |
| --- | --- |
| Dog | £19.99 |
| Cat | £17.99 |
| Rabbit | £14.99 |
Always calculate your current annual costs against any care package, then decide if it saves you money annually.
What does Pet Health Care offer:
Microchip or a £10 voucher
10% off geriatric screenings
100% administration fee for insurance claims
Vaccinations
Flea and worming treatment
Nail clipping
Anal expression
20% off neutering
25% off selected pet food
50% off the first order of selected pet food
Annual urine test with a bag of Katkor – watch my video
Health check every 6 months
10% off dentistry
10% off animal health certificates
10% off in-house pet shop sales
Further details can be found by visiting their website. You can register at your veterinary practice too.
One point worth noting is that if you book a six-monthly health care appointment and that consultation becomes more than a health check, you could be charged a regular Consultation fee. However, it does seem to differ from practice to practice.
Moving to Cambridgeshire, I registered with an independent vet, and the overall cost is much lower, and quite often, they have their own pet care package.
4: Earn cashback from everyday shopping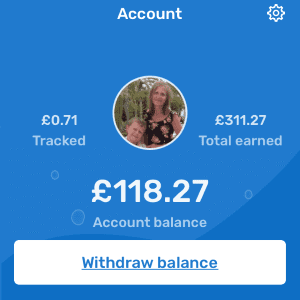 If shopping online is minimal, use the free basic version. Use cashback apps for grocery shopping, Christmas shopping, and car insurance.
My referral link for Quidco or Top Cashback. We both earn a bonus.
Quidco Basic (free) account:
Download the app or use the desktop version
Search from nearly 4000 big brand stores and access their website through Quidco
Read the terms for each store – some have a range of cashback offers
Your visit is tracked so now shop as usual – after your paid purchase either site will confirm tracked
Use Quidco to find insurance deals – the cashback can be pretty high
Monitor your tracked purchase in Activity in your Quidco account
Cashback for retail stores takes about nine months to receive
Cashback for financial products takes about nine months
Quidco's Premium account:
To upgrade, go to Settings and follow the instructions.
It costs £1 per month, which is deducted from your cashback earnings
Earn an extra 10% on cashback rates
Up to 20% on payout bonuses
Double the Difference Highest Cashback Guarantee
Information on the app:
The app is easy to navigate.
Home – Search for a brand
Compare – use Quidco Compare for home, car, bike, energy, pet, van, travel etc insurance
Referrals – You will find your unique link here. Click the Refer Your Friends button and send your link via e-mail, social media, WhatsApp or Messenger. Or visit your desktop account, copy the referral link, and send it to friends. Scroll down for Your Referrals to see how many people have signed up to Quidco using your referral link. It will not list details of their purchases or who has signed up or their data
Account – checking activity for transactions, confirmed purchases, declined purchases, cashback value, account balance and view your statement
I get email notifications when a purchase is successfully tracked or confirmed. However, occasionally, there might be a hiccup, and the transaction isn't tracked. Therefore, please make it a habit to review your account activity regularly. If you notice that a purchase has been overlooked, there's no need to stress. You can easily Raise a Claim. The retailer's information will be provided; you'll need the order number and purchase amount. Click "submit" and then wait for the resolution. It's a straightforward process
Join Quidco
Join TopCash
Related articles:
7: Get £667.95 annually with the 1p challenge
The 1p challenge is highlighted by Martin Lewis annually and starts in January.
You increment the daily savings by 1p each day, which may initially seem simple. For instance, on January 1st, you save 1p, on January 2nd, you save 2p, and this pattern continues. However, as the year progresses, the daily savings grow, and this can become challenging if your income is limited.
If you can put cash in for 12 months, you will accumulate £667.95. 
The table below shows monthly amounts to save.
1st column: month
2nd column: total saved that month
3rd column: daily amount
To reach the daily figure, divide the total by the days in the month. An example is 31 days in January divided by £4.96, which gives you a daily rate of 16p a day.
Alternatively, put aside £55.66 each month. That figure comes from dividing £667.95 by 12 months of the year. The final amount is a massive amount toward pet bills. If able to, invest in premium bonds until needed.
The first £677 paid for Tabitha's hypertension appointment.
| Month | Total saved in a month | Daily amount to save |
| --- | --- | --- |
| January | £4.96 | 16p |
| February | £12.74 | 45p |
| March | £23.25 | 75p |
| April | £31.65 | £1.06 |
| May | £42.16 | £1.36 |
| June | £49.95 | £1.66 |
| July | £61.07 | £1.97 |
| August | £70.68 | £2.28 |
| September | £77.55 | £2.58 |
| October | £89.59 | £2.89 |
| November | £95.85 | £3.19 |
| December | £108.50 | £3.50 |
Visit Money Saving Expert how to do the 1p challenge in full here.
Disclaimer:
This article does not give financial advice.
Poppys Pets is a participant in affiliate programs which compensates us for referring traffic. A selection of articles on this website contains affiliate links. Further information: Disclaimer and Privacy Policy