Cats are notorious for disappearing for days or weeks on end for several reasons. A fright, climbing into a warm engine or a car and travelling miles away from home, getting locked in a house or shed, or getting lost. Or maybe a cat has moved in with you!
Whatever the reason, they need your help to get them home. It is essential to share the details about missing pets as you may unknowingly send the information to someone who has seen these lost pets. Please take a screenshot of this article and upload it to the missing pet section of NextDoor; it doesn't matter where in the UK you are as cats are known for jumping in vehicles and being miles from home.
I have had two cats go missing now. Joey lived two minutes from home in a local woods. I found him with posters – he was feeding at a house simultaneously each night. Sam is still missing.
Poppy's Pets has a regular column in a newspaper in East Yorkshire and a different section for the stories of the missing. So cats on this page have been featured in the hardcopy edition of the Withernsea District & Community News, distributed to homes throughout the Holderness area, East Yorkshire coast and inland.
1 – Ziggy – Male black & white cat – 21.12.22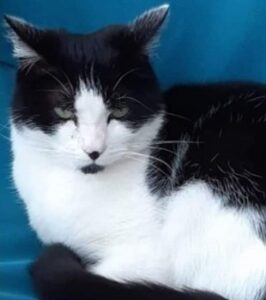 Ziggy is black and white, microchipped and a much-loved cat missing from Mixeden Road, Halifax, West Yorkshire, HX2. Dog Lost ID: 172279
Ziggy is registered with Dog Lost UK as lost. If you have any information please use his unique ID number and contact Dog Lost UK on 01633 673859 or email: admin@doglost.co.uk
Visit Dog Lost UK's website: Dog Lost UK
Related articles:
Muddy Paws Crime – coming soon
Tuks Laws campaigns against vets euthanising healthy pets
Pet Database do not charge to activate a lost pet service or to update your contact details
Invest in TabCat – thieves may remove the device but you will know your cat's last location
2 – Male black & white cat – Frightened by kids – 23.10.21
I don't have a lot of news about Milo except that this is the second time he has disappeared. Ironically, his disappearance happened in the same month in two consecutive years. Milo is microchipped.
The first time he returned, his owner said he had the scent of being with dogs. When he disappeared last October, Milo was frightened by children and ran in any direction. But there may be recent good news (July 2022) – CCTV shows a cat matching Milo's description which has been visiting the garden where Milo lives. Let's hope it is him.
Cats are active at night, and this is how I found Joey. It is the best time to search, but please do so safely.
His owner asks people to keep an eye out in the following streets in Orton Goldhay, Peterborough:
Update April 2023: Milo is still missing. If you have any news about Milo, please email poppyspets67@gmail.com.
#PoppysPets-IAmMissing
Poppys Pets is a participant in affiliate programs which compensates us for referring traffic. A selection of articles on this website contains affiliate links. Further information: Disclaimer and Privacy Policy